GMP Storage Market Outlook (2022-2032)
Worldwide revenue from the GMP storage market was around US$ 5.7 Bn at the end of 2021, with the global market estimated to move ahead at a value CAGR of 5.6% to reach a market valuation of US$ 10.2 Bn by the end of 2032.
As assessed in detail by Persistence Market Research, GMP storage products are expected to hold a market value of US$ 8.3 Bn by the end of 2032. Overall, GMP storage product & service sales account for approximately 4.7% revenue share in the global cold chain market, which was valued at around US$ 119.98 Bn at the end of 2021.
| Attribute | Key Insights |
| --- | --- |
| GMP Storage Market Size (2022) | US$ 5.9 Bn |
| Projected Market Value (2032) | US$ 10.2 Bn |
| Global Market Growth Rate (2022-2032) | 5.6% CAGR |
| Market Share of Top 5 Countries | 69.0% |
Demand Analysis of GMP Storage (2012 to 2021) Vs Market Outlook (2022 to 2032)
The global market for GMP storage recorded a historic CAGR of 4.4% in the last 9 years from 2012 to 2021.
The present focus on vaccine manufacturing has accelerated the growth of large molecule biological products that require refrigerated or frozen storage. These new products have a favorable impact on the worldwide market, although temperature-controlled GMP storage is critical.
Temperature-controlled GMP storage facilities are, first and foremost, expensive to build and maintain. Such facilities require significant security, building management/temperature monitoring, inventory management, and backup power systems in addition to refrigeration equipment. They also need competent personnel for equipment operation and maintenance, as well as regulatory compliance.
Outsourcing temperature-controlled GMP storage permits smaller pharma companies with commercial or investigational products, as well as large pharma companies with offerings in the developmental stage with an ambiguous future, to compensate only for the required services for cold chain storage, for as long as required, without having to invest in equipment and facilities.
Pharma manufacturers can more easily adapt to foreign market needs and regulatory requirements by outsourcing GMP storage services, which can vary widely from state to state and country to country. Once a drug is approved for usage in the international market, the consequence is enhanced scalability and uniformity.
In addition, a set of new factors, such as enhanced regulatory standards, an influx of new gene and cell-based medicines, and the assumption that such therapies will be more widely available at points of care, all necessitate highly flexible and infinitely more dependable cold chain storage. As a result of these factors, the industry and authorities are demanding zero deviations, which is driving up demand for GMP storage services & products.
The global GMP storage market is thus likely to exhibit high growth over the coming years a value CAGR of 5.6% and reach a global market size of US$ 10.2 Bn by 2032.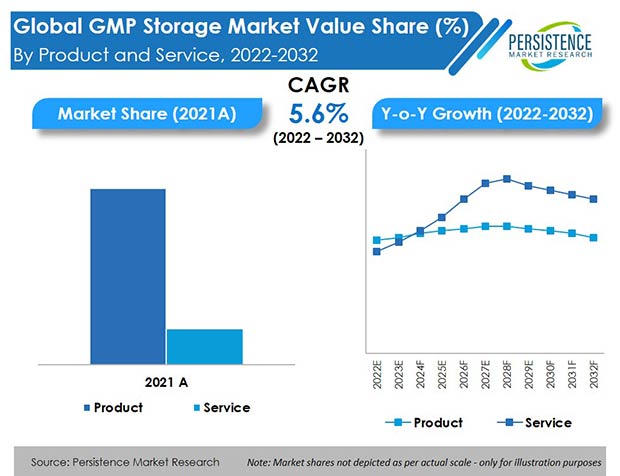 How Can GMP Storage Product Manufacturers Grow?
"Technological Adoption Rate - Transforming Cold Chain Sector"
Technological improvements have resulted in a typical shift away from traditional equipment and toward innovative technology-based equipment that uses less energy. New technologies are commendable in their ability to cut energy use and balance out temperature dispersion.
Biomedical refrigerators and freezers are being developed by companies such as ThermoFisher Scientific, Eppendorf AG, BioLife Solutions, Inc. (SCISAFE), and ThermoGenesis Holdings, Inc.
For example,
BioLife Solutions, Inc. announced the release of a new product with high capacity-controlled rate freezers in April 2021. (HCRF). With multiple allogeneic cell therapies under development, this device will be a significant addition to the cold chain storage market.
In March 2020, SY-Lab received EC Medical Device Certification for its SY-LAB IceCube® controlled rate freezers. These freezers can be controlled with a compact Tablet-PC with a touch screen, thus enhancing the user interface experience.
The introduction of these new technologies is expected to result in high adoption rates, which will, in turn, drive market growth during the forecast period.
Manufacturers are also devoting more resources to research and development to introduce cost-effective and advanced technology. Key companies' increased research & development operations will soon result in the introduction of new technologies.
These factors are expected to improve the acceptance and adoption of cold storage facilities, resulting in market growth throughout the forecast period.
Can Demand for GMP Storage Be Negatively Impacted in Any Way?
"Pressure to Provide Cost-effective Services/Products"
The pharmaceutical industry is growing exponentially by bringing in innovative products. Demand for good storage practices for product integrity is witnessing an upsurge. These products are required to follow highly specific storage conditions for efficient supply.
To meet the manufacturing rate of biopharmaceutical products, setups or expansion infrastructure is required. Compliance with the standards of the storage conditions requires heavy capital. The amount of energy consumed by such a vast build-up is also expensive.
The advanced technologies implemented to make it a growing market sector, such as real-time monitoring of products, multiple inspections, and cloud-based solutions, are pricey. The maintenance of such facilities and continuous requirement of power supply add up to the cost of the service for manufacturers.
Some Australian cold storage businesses have stated that, with increasing electricity network charges, energy costs account for up to 30% of their earnings before interest, taxes, depreciation, and amortization. Maintaining the quality of the products after manufacturing until the end user receives them is expensive. Thus, reduction in the cost of the products by manufacturers is a major challenge.
Country-wise Insights
Why is the U.S. GMP Storage Market Booming?
"Increasing U.S. FDA Approvals of Cold Storage Drugs"
The U.S. accounted for more than 89% market share in the North America GMP storage market in 2021, and a similar trend is expected over the forecast period as well.
Of the 57 new drug products approved by the FDA in 2017, twenty-eight (49%) were temperature-sensitive. Of the twenty-eight, 23 require refrigerated storage and transportation conditions between +2°C to +8°C. These 23 must be kept unfrozen for them to be effective on delivery. The rest of the 5 drugs require below 0, or cryogenic temperatures.
The USFDA, in light of the recent case of Pfizer's BioNTech COVID-19 vaccine, has approved the storage of undiluted, thawed vaccine vials in a refrigerator for up to 30 days at 2°C to 8°C (35°F to 46°F). Vaccine vials that have been thawed and undiluted can be kept refrigerated for up to 5 days.
Some biologicals such as blood components, organs, tissue transplants, stem cell therapy, etc., are used for treatments and also require cold storage to maintain stable functional conditions. Universal vaccines against conditions such as mumps, measles, yellow fever, and rubella also require a cold chain.
Thus, demand for cold storage has increased in the U.S. in consideration of these approvals, thereby promoting the value of the GMP storage market in the country.
Why is Germany Expected to Be a Lucrative Market for GMP Storage Product & Service Providers?
"Biopharmaceutical Industry Raising Demand for GMP Storage Services"
Germany held around 29.7% market share of the Europe GMP storage market in 2021.
Germany continues to be the European Union's second-largest manufacturer of active biopharmaceutical products. The BioPharma Cluster in South Germany is one of the world's most important biopharmaceutical development and production centers. In addition, dedicated biotechnology business revenue in 2019 surpassed 4.5 billion euros, the highest since 2005.
Small- and medium-sized biotechnology firms (SMEs), pharmaceutical SMEs, and multinational corporations (MNCs) are all bringing forth exciting developments in the country, whether together or separately. Pharmaceutical firms are exploring beyond traditional markets for industrialized, traceable, secure, and compliant supply chains that include services such as cold-chain solutions and GMP storage to assure product quality as the industry grows.
How is China Emerging as a Prominent Market for GMP Storage Services?
"Huge Government Investments in Biotech & Development Sector in China"
China held the largest market share of around 49.4% of the East Asia GMP storage market in 2021.
The Chinese government is working to achieve self-sufficiency, and one of the country's top priorities is to expand its biopharmaceuticals business. The Chinese government, for example, is investing billions in biotech research & development. Official estimates show that scientific R&D spending reached US$ 291 billion in 2018, or a little over 2% of GDP, and that the government plans to spend even more this year, at 2.5 percent of GDP.
The government has bolstered the development of science parks and innovation hubs, as well as invested in centers of excellence, such as Shenzhen's Institute of Synthetic Biology and Beijing's Genomics Institute (BGI). The innovation initiative is currently being driven by roughly 600 biotech scientific parks. These figures show a high need for GMP storage services in these biotech science parks for the storage of biological goods.
Category-wise Insights
Which GMP Storage Product Type Generates High Revenue?
"High Demand for Development & Manufacturing of Biologics across Regions"
The GMP storage products segment held around 83.1% share of the total GMP storage market in 2021.
Factors such as growing number of biotechnology and life science industries in developed regions (North America & Europe) and growing demand for the development & manufacturing of biological products requiring refrigerated or frozen storage are increasing the usage of biomedical refrigerators and freezers, thus accelerating market growth.
Which Application Drives Most Demand for GMP Storage?
"GMP Storage Most Commonly Used for Biologics to Protect Products & Ensure Consistent Quality"
Biologics held the largest market share of around 38.0% in 2021.
Because of the high demand for temperature-sensitive biological pharmaceuticals & biopharmaceutical supplies such as life-saving vaccinations and blood plasma in developed countries, biologics held the greatest proportion of the market among all applications.
Which End User Accounts for High Adoption of GMP Storage Products & Services?
"Growing Demand for Outsourced GMP Storage Services"
Biopharmaceutical companies held a larger share of around 42.5% with a market value of around US$ 2.4 Bn in 2021 for GMP storage requirements.
Biopharmaceutical companies can more easily react to foreign market needs and regulatory restrictions by outsourcing GMP storage services. Once a medicine is approved for usage in the global marketplace, the effect observed is enhanced scalability and standardization.
As a result, biopharmaceutical companies have a higher need for outsourced GMP storage services.
Competitive Landscape
To strengthen their product lines around the globe, leading manufacturers are developing technologically-advanced products. Similarly, several major competitors in the GMP storage industry have engaged in consolidation activities such as mergers & acquisitions.
Another significant approach noticed in the industry is the expansion of corporate collaborations to boost their GMP storage services.
For instance:
BioLife Solutions, Inc. acquired Global Cooling, Inc. in May 2021, which has a portfolio of freezers ranging in size from portable units to stationary upright freezers to suit a wide range of applications.
BioLife Solutions debuted a new high-capacity, controlled-rate freezer line in April 2021, with the first shipment going to a leading cell treatment provider.
In October 2020, BioLife Solutions, Inc. expanded its existing partnerships with SciSafe Holdings, Inc., a premier provider of biological and pharmaceutical storage as well as cold chain logistics.
GMP Storage Industry Report Scope
Attribute
Details

Forecast Period

2022-2032

Historical Data Available for

2012-2021

Market Analysis

USD Million for Value

Key Countries Covered

U.S.
Canada
Brazil
Argentina
Mexico
Germany
France
U.K.
Italy
Spain
Russia
BENELUX
India
Thailand
Malaysia
Indonesia
China
Japan
South Korea
Australia
New Zealand
Turkey
GCC
Northern Africa
South Africa

Key Market Segments Covered

Product & Service
Application
End User
Region

Key Companies Profiled

ThermoGenesis Holdings, Inc.
ThermoFisher Scientific Inc.
BioLife Solutions, Inc.
Danaher(Cytiva)
MEDIPOST
REMI GROUP
Eurofins Scientific
Eppendorf
Intertek Group Plc
Arctiko
Bioline Technologies
Hindustan Apparatus Mfg. Co.
P L Tandon & Co.
Stericox India Private Limited
SY-LAB Geräte GmbH
BioConvergence LLC d/b/a Singota Solutions
PHC Holdings Corporation
Pace Life Sciences
Haier Biomedical
Helmer Scientific Inc.

Report Coverage

Market Forecast
Competition Intelligence
DROT Analysis
Market Dynamics and Challenges
Strategic Growth Initiatives

Customization & Pricing

Available upon Request
Key Segments Covered in GMP Storage Industry Research
GMP Storage Market by Product & Service:
GMP Storage Products

Refrigerators and Freezers
Cryogenic Storage

GMP Storage Services
GMP Storage Market by Application:
Cell & Gene Therapy
Cell Banking
Biologics
Small Molecules
Others
GMP Storage Market by End User:
Biopharmaceutical Companies
Contract Manufacturing Organizations
Contract Research Organizations
Research & Academic Institutes
GMP Storage Market by Region:
North America GMP Storage Market
Latin America GMP Storage Market
Europe GMP Storage Market
South Asia GMP Storage Market
East Asia GMP Storage Market
Oceania GMP Storage Market
The Middle East & Africa GMP Storage Market