Introduction
Waste management has become a serious concern among international authorities because of the exponential rate of expansion of industrial activities and inappropriate methods of waste management.
The World Bank data reveals that 2.01 billion tons of solid waste was generated in 2016, and with rapid population growth and urbanization, it is estimated to grow up to 3.4 billion tons by 2050. Thus, authorities have been tightening regulations for municipal and industrial waste management.
In accordance with increasing population and rising municipal solid waste generation, governments are spending substantial amounts to ensure efficient working of waste water treatment and solid waste management plants. Garbage collection trucks are essential for the proper functioning of the waste management process. This factor is expected to fuel the growth of the garbage collection trucks market in upcoming years. Also, incorporating recycling facilities in most garbage collection vehicles is becoming an integral part of solid waste treatment.
China is giving high importance to environmental conditions and has dedicated a noteworthy amount of money for modernizing its infrastructure. Also, India has taken some important initiatives regarding cleanliness, such as its long-term high budget plan - 'Swachh Bharat'.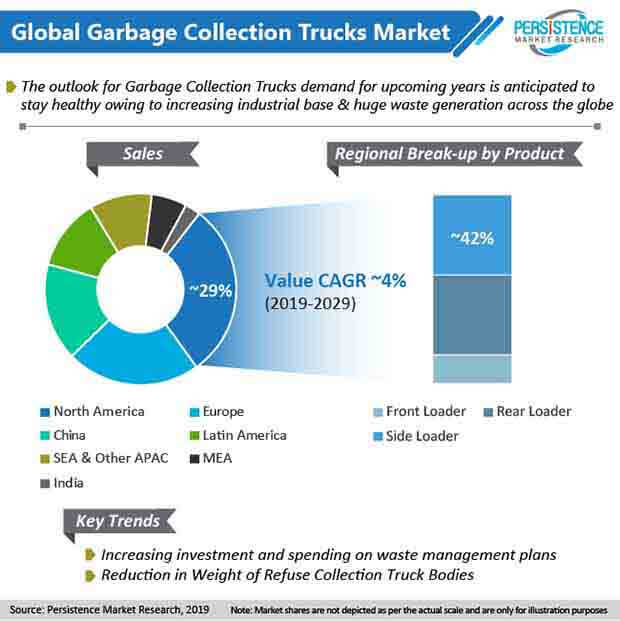 Constant Product Innovation in Garbage Collection Trucks to Propel Demand
With rising concerns regarding effective procedures for waste management, innovations in garbage collection trucks are also increasing to ease the process of waste disposal and recycling. Thus, manufacturers are focused on the incorporation of several technologies in order to increase the efficiency and productivity of their products.
Manufacturers are also focusing on bringing various technological improvements in garbage collection trucks, such as increasing efficiency through reduction of downtime, increasing the degree of automation, and noise reduction.
With increasing automation in several industrial verticals and advancements in technology, garbage collection trucks no longer lag behind. Considering that garbage collection trucks are a significant investment, demand for inculcation of high-end features among end users is surging.
Thus, manufacturers are exploring new ways to extend the life as well as imbibe additional features such as real-time monitoring and addition of several new equipment for collection of waste from streets and segregation. This is expected to create a positive impact on the garbage collection trucks market.
Adoption of Electric and Hybrid Vehicles to Drive Market Growth
According to the U.S. classification of trucks (class 1 to class 9), refuse collection trucks fall under the class 8 category, which is considered a category for heavy trucks. In the U.S., while heavy trucks contribute merely 4% of total vehicles, they are estimated to be responsible for ~30% of vehicle emission and ~26% of fuel usage.
Therefore, due to rising concerns regarding increasing pollution levels, authorities of several governments have tightened their norms regarding emission standards.
The demand for electric and hybrid electric vehicles is thus high, especially in case of heavy duty trucks, which significantly contribute to hazardous fuel emission. Furthermore, usage of electric vehicles will have a profound impact on emissions with their cleaner economics and outsized impact.
Considering this, manufacturers are also inclined towards the development of electric garbage collection vehicle technology as electric-based vehicles will form a major factor, which will supplement the growth of the garbage collection trucks market across the globe
Reduction in Weight of Garbage Collection Truck Bodies
Garbage collection trucks are not only vital for hygiene purposes in residential and industrial applications, but also important in recycling processes. Attributing to the growing concerns referring to fuel efficiency, garbage collection truck manufacturers are trying to enhance the carrying capacity of solid waste in these vehicles.
In line with this, manufacturers are focusing on weight reduction of garbage collection trucks as lighter trucks are able to load more trash. This trend is being followed by many garbage collection truck manufacturers in order to increase the efficiency of garbage trucks along with other technological advancements such as extending the hours of working and reducing the downtime.
This is expected to create significant growth opportunities for the garbage collection trucks market.
Analysts' Viewpoint
A broader view of the garbage collection trucks market has led analysts to conclude that the market is growing at an impressive rate, with North America and Europe holding a large share of the global garbage collection trucks market.
The China garbage collection trucks market is estimated to be an opportunistic market in terms of sales. Increasing number of key market players, increasing investments in waste management, increased productivity, and constant innovations will positively impact the garbage collection trucks market.
The garbage collection trucks market is characterized by the presence of few big players from Europe, North America, and China. The municipal garbage segment in end-use type in the garbage collection trucks market is anticipated to dominate the global garbage collection trucks market throughout the forecast period.
The impact of other market restraints will remain steady globally in the garbage collection trucks market is projected to grow vividly over the forecast period. Technological innovations, along with collaborations, as well as mergers & acquisitions by key market participants will also give impetus to the garbage collection trucks market.
Key Segments of the Garbage Collection Trucks Market
PMR's study on the garbage collection trucks market is divided into four significant segments- product type, technology, end use, and region. This report offers comprehensive data and information about the important market dynamics and growth parameters related to these categories.
Product Type

Front Loader
Rear Loader
Side Loader

Technology

Semi-Automatic
Automatic
Others

End use

Municipal Garbage
Industrial Garbage
Others

Region

North America
Latin America
Europe
South East Asia & Pacific
MEA
China
India
Key Questions Answered in PMR's Garbage Collection Trucks Market Report
Which region is anticipated to hold a prominent market share over the forecast period?
What will be the key driving factors propelling the demand for garbage collection trucks during the forecast period?
How current trends will impact the garbage collection trucks market?
Who are significant market participants in the garbage collection trucks market?
What are the crucial strategies of prominent players in the garbage collection trucks market to upscale their positions in this landscape?