Introduction
The flare gas recovery systems market is expected to grow at a stellar pace by the end of 2025. The growing inclination of end-use industries towards reducing H2S flaring and increasing cost-effectiveness of flare gas applications is expected to drive the advancements in the market.
The demand is augmenting with the surge in power generation applications. The oil & gas industry is projected to generate lucrative opportunities in the global market over the forecast period. Stringent government regulations regarding carbon emission also have a huge impact on the adoption of flare gas recovery systems.
The dull progress of the industrial sector, especially the oil & gas industry during the COVID-19 pandemic is projected to dampen the market pace and growth rate for a brief period of time. As the economy resumes its pace, the market is expected to gain impetus. North America along with Europe is expected to emerge as market leader with major market share at the end of the forecast period.
The market players are exploring opportunities in scaling economies where the market is gaining pace with a rise in awareness regarding carbon emissions and its environmental impact. They are leveraging technological advancements to boost the capacity of their products. Established players in the global market include Zeeco, MPR Industries, John Zink Hamworthy Combustion, and UOP Honeywell.
Natural gas production involves a refining process wherein substantial volumes of gas are flared as a part of maintenance and safety procedure. However, this flared gas results in significant carbon emissions in atmosphere, causing a lot of financial loss to natural gas producers. In addition, this process also adds up to energy. The process of flare gas recovery involves recollection of waste gas in order to generate power.
Aptly known as associated or unmarketable natural gas, flared gas can be best used for energy co-generation or captive application. Flare gas recovery systems are gaining considerable traction since the past few years and PMR indicates strong growth prospects for the global flare gas recovery systems market.
The global market for flare gas recovery systems (FGRS) was valued at US$ 1,087.5 Mn in 2015, which is poised to rise at a healthy rate through 2016 to 2020. Over the forecast period 2015-2020, the global FGRS market will expand at a robust CAGR of 13.8%.
Market Dynamics
Increasing power generation applications have been a primary factor fueling the demand for flare gas recovery systems on a global level. A majority of producers re-inject flare gas in natural gas production wells in order to maintain the optimum pressure inside the wells. This will continue to sustain the demand over the next few years as well. Rising concerns and awareness about the adverse environmental impact of various industrial production processes is another factor expected to drive the demand for FGRS.
The significance of environmental conservation activities is increasing rapidly, eventually boosting the adoption of flare gas recovery systems. Expansion of the oil and gas sector and burgeoning investments by leading companies will also be a major driver to the market growth during the forecast period.
Recently, the World Bank Group's EHS guidelines announced the target of zero flare by 2025 end. This and more such guidelines set by environmental organizations will remain a longstanding driver to the market growth. Moreover, a large number of natural gas and oil companies are increasingly seeking implementation of flare gas recovery systems to achieve the maximum energy usage. This is being considered as a corporate social responsibility by a number of companies, bolstering the demand thereby. Developing countries are likely to witness accelerated adoption of flare gas recovery systems during the forecast period, in order to mitigate carbon emission levels.
FGRS manufacturers are anticipated to capitalize on a lucrative opportunity in the next few years. The market may witness the introduction of flare gas recovery systems solution package that includes everything from design, consulting, and manufacturing, to installation, aftermarket, and post-sales services. However, high capital costs, time-sensitive installation procedure, and lower awareness among end-user industries will remain the key factors hampering the adoption, and thereby market growth through to 2020.
Segment Analysis
Based on capacity, the global flare gas recovery systems market is classified into four key segments - small, medium, large, and very large capacity flare gas recovery systems. Status of these segments is likely to depend on various factors, such as on-shore or off-shore installation venue, budget, requirement of recovery, and design and installation complexities.
Although small and medium capacity system segments were observed to dominate the market within the recent past, the market may see dominant emergence of large and very large capacity system segments. This growth is estimated on the basis of increasing preference for large capacity systems by producers. Very large capacity segment is anticipated to account for over 43% market value share by 2020 end, expanding at a CAGR of 15.1% over 2015-2020.
Regional Analysis
The global flare gas recovery systems market is geographically segmented into seven key regions viz. North America, South America, Europe, Eurasia, Asia Pacific, Middle East, and Africa. Although North America and Europe will remain the most prominent markets over the forecast period, Europe is expected to witness declining market growth owing to relatively lower natural gas production and saturated market conditions.
North America is likely to account for a value of around US$ 661.2 Mn by 2020, with over 32% market share. Europe and North America will collectively capture nearly 62% share of the market in terms of revenues over the forecast period. Markets in developing economies are however projected to witness an uptake, attributed to rising awareness about carbon emissions and environmental conservation, and surging adoption of FGRS for power generation applications.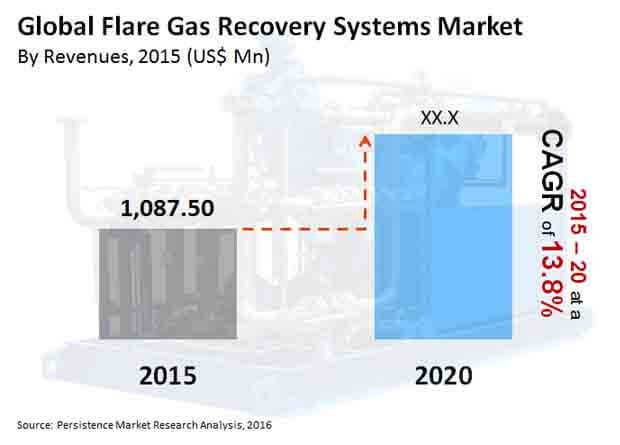 Key Players Analysis
Gardner Denver Nash, Zeeco Inc., and John Zink Hamworthy Combustion are a few of the most prominent players competing in the global flare gas recovery systems market.