Introduction
Ferric hydroxide-based products such as yellow iron oxides/iron (III) oxide hydroxide are extensively used in the construction industry to manufacture concrete products such as bricks, blocks, decorative concrete, paving stones, ready-mixed concrete, and roofing tiles. Increasing population in developing countries is a major contributor to residential construction growth.
Rapid expanse of the construction industry will boost the growth of the ferric hydroxide market. Numerous local/regional players are offering their products to the construction industry through innovative sales channels. Ferric hydroxide market is expected to witness significant growth in the Asia Pacific region on the back of the expanding construction industry in India and China.
Projected to reach the US$ 1 Bn mark by 2029 end, the global ferric hydroxide market is set for healthy progress at a CAGR of 5% during 2019 - 2029. Geographical analysis of the market reveals that East Asia and North America will continue to capture around 50% revenue share in the global ferric hydroxide market.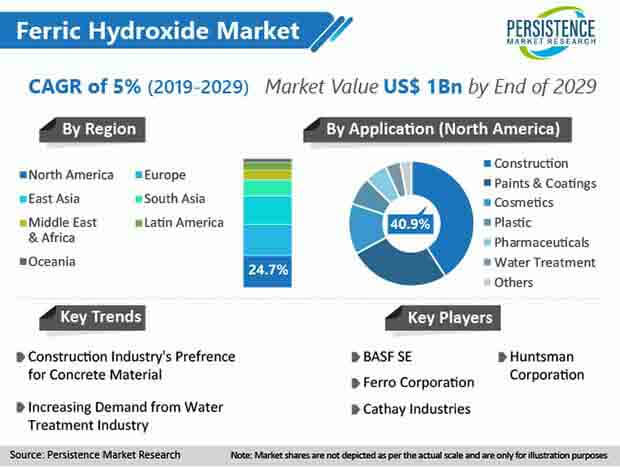 Growing Application of Yellow Iron Oxide in Paints & Coatings
Ferric hydroxide-based yellow iron oxide (Iron (III) oxide-hydroxide) is significantly used in paints & coatings industry for various purposes. Yellow iron oxide is widely used in the manufacturing of pigments and various types of coatings such as architectural & decorative coatings, automotive and commercial vehicle coatings, industrial coatings, anti-corrosive paints, etc.
Moreover, the use of yellow iron oxide pigments is increasing, owing to its cost-effectiveness as compared to organic pigments. Inorganic pigments are comparatively more popular in North America and Europe.
Moreover, ferric hydroxide-based products are also used in other applications such as colorants for ceramics, paper, rubber, plastics, glass, and textiles, animal feed, cosmetics, fertilizers, industrial chemicals, and others. Numerous market players are offering application-specific yellow iron oxide as color additive for various uses such as cosmetics, food, paper, etc. Hence, the high use of ferric hydroxide in various applications is estimated to positively shape the ferric hydroxide market growth.
Application of Ferric Hydroxide in Wastewater Treatment
To abate water pollution, many governments are implementing stringent wastewater treatment policies. Various industries such as chemical, pharmaceutical, oil & gas, paper & pulp, and others, are using chemicals for sustainable treatment of water. Ferric hydroxide granules are becoming more popular for reducing concentration of toxic metals such as arsenic, copper, zinc, etc., in industrial water due to its specific chemical properties.
Furthermore, ferric hydroxide is used in various water treatment chemicals applications such as removal of unwanted substances from mineral water, ground water remediation, treatment of spring water and therapeutic water, etc. As a result, growing water treatment industry is forecasted to accelerate the growth of the ferric hydroxide market.
Ferric Hydroxide Market Structure Remains Fragmented
The global ferric hydroxide market has a fairly fragmented competition landscape, where a number of manufactures are focusing on expanding their inorganic oxides business through expansions, joint ventures, and solid distribution partnerships.
Some of the global and regional manufacturers of ferric hydroxide are prioritizing product developments to increase offerings to the water treatment industry. To gain significant market share, manufactures may continue to focus on inorganic growth strategies such as acquisitions, expansions, product innovations, etc.
Key Segments of Ferric Hydroxide Market
PMR's study on the ferric hydroxide market is divided into three significant segments- product form, application, and region. This report offers comprehensive data and information about the important market dynamics and growth parameters related to these categories.
Attribute
Details
Product Form
Application

Paints & Coatings
Construction
Plastic
Water Treatment
Pharmaceuticals
Cosmetics
Others

Region

North America
Latin America
Europe
East Asia
South Asia
Middle East & Africa (MEA)
Oceania
Key Questions Answered in PMR's Ferric Hydroxide Market Report
Which region is anticipated to hold a prominent market share over the forecast period?
What will be the key driving factors propelling demand for ferric hydroxide during the forecast period?
Who are the significant market participants in the ferric hydroxide market?
How current trends will impact the ferric hydroxide market?
What are the crucial strategies of prominent players in the ferric hydroxide market to upscale their positions in this landscape?