Introduction
Advancements in nanotechnology and clinical developments in dural grafts used for neurosurgical procedures are the key factors driving the growth of the dural graft market. Scientific effectiveness and safety gaps are being bridged by leading industry players.
Clinical efficacy, improved safety, and minimal side-effects are factors leading to rapid adoption of dural grafts, such as synthetic and xenogeneic dural products. For instance, in 2015, a study published in the Journal of American Medical Association found that, between 2006 and 2014, the number of industry-funded clinical trials increased by 43%.
In conclusion, industries are actively engaged in the research & development of novel dural graft products as the primary sponsor for clinical research, which is anticipated to positively impact the dural graft market.
Government Initiatives for Innovative Regenerative Medicine Boosting Dural Graft Market Growth
Regenerative medicine has been recognized by governments across various countries. Government support is increasing globally for the treatment of various diseases through the formation and adoption of supportive legislative and policies, which is anticipated to benefit the dural graft market landscape.
This also includes sizeable investments for regenerative therapies to create centers of excellence, research networks, manufacturing infrastructure, and commercialization centers, among others. For example, in 2010, NIH Common Fund launched the NIH Center for Regenerative Medicine, with the goal of serving as a national resource for stem cell science to accelerate the development of new medical applications and cell-based therapies.
Also, the Orthopedic Research and Education Foundation (OREF), in collaboration with the American Orthopedic Society for Sports Medicine, funded clinical trials related to tissue repair.
As of 2013-2014, OREF contributed US$ 150,000 - US$ 225,000 (US$ 75,000 per year) to research initiatives in the U.S. The objective of this funding is to support researchers conducting collaborative efforts that are primarily focused on the study, development, and growth of new cell and tissue-based techniques to prevent tissue damage, enable repair and regeneration, or to substitute injured or damaged tissues.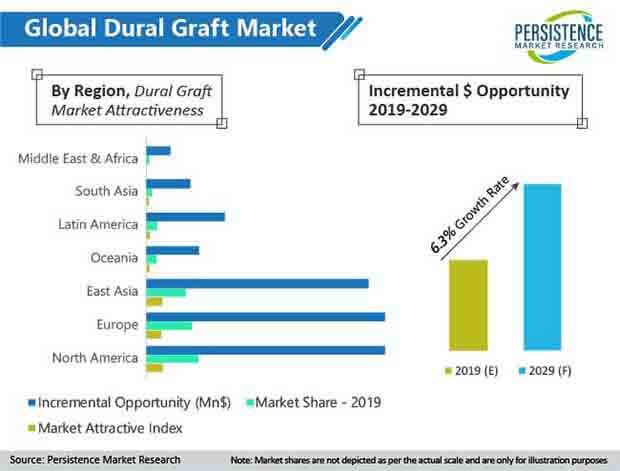 Biomimetic-synthetic-Absorbable Dural Graft Gaining Traction among Medical Professionals
Rising need for grafts with minimal side-effects, and additional functionality by neurosurgeons in hospitals, ambulatory surgical centers, and trauma centers, are increasing dural graft product adoption among medical professionals.
Post-operative complications, including immunological reaction and infections, are the major challenges associated with classical dural grafts, which is expected to hamper the growth of the dural graft market.
Neurosurgeons prefer dural grafts that are structurally similar to natural dura mater, bioabsorbable, nanostructured synthetic focusing on low cost alternative and patient comfort.
Recently, in 2015, a Chinese dural graft manufacturer - Medprine - launched an innovative biomimetic-synthetic-absorbable next generation dural graft known as ReDura®, manufactured by advanced 3D bio-printing technology. Currently ReDura® is marketed across more than 50 countries around the world.
Analysts' Viewpoint
An extensive analysis of the dural graft market has brought our analysts to a conclusion that, the market is growing at a significant pace. Currently, xenogeneic dural grafts and synthetic dural grafts are the almost equally targeted segments by major players. Hence, these segments dominate the global dural graft market by product type in term of revenue.
North America and Europe collectively hold more than 55% revenue share of the global dural graft market, owing to the high adoption of dural graft-based neurosurgical procedures in these region. Developing countries such as Brazil, India, and South Africa are expected to offer lucrative opportunities for the dural graft market, owing to increasing healthcare expenditure and healthcare infrastructure reforms of specialized hospitals and clinics.
Key Segments of Dural Graft Market
PMR's study on the dural graft market offers information divided into five important segments - product type, application, material, end user, and region. This report offers comprehensive data and information about the important market dynamics, and growth parameters associated with these categories.
Product Type

Xenogeneic Dural Graft
Synthetic Dural Graft
Autologous Dural Graft
Allogeneic Dural Graft

Application

Brain and Spine Tumor
Traumatic Brain and Spine Injury
Cerebrospinal Fluid (CSF) Accumulation
Cerebrovascular Accident
Epilepsy
Others

Material

Bovine Pericardium
Autologous Pericardium
Synthetic Polymers
Ligamentum Nuchae
Others

End User

Hospitals
Ambulatory Surgical Centers
Trauma Centers
Clinics

Region

North America
Latin America
Europe
East Asia
South Asia
Oceania
Middle East and Africa (MEA)
Key Questions Answered in Report
How much is the dural graft market worth?

The dural graft market will be worth US$ 0.68 Bn in the year 2021.

What will be the demand outlook?

The global dural graft market is expected to reach USS 1.1 Bn by the year 2031.

What was the last 5 year market CAGR?

The dural graft market witnessed a CAGR of 5% between 2015 and 2020.

What are the key trends for dural graft market?

The latest trend is that of technological advancements pertaining to dural graft products. As such, demand related to CNS dural repair is skyrocketing.

What is driving the demand for dural grafts?

Increase in clinical research coupled with increase in neurosurgical workforce is driving the demand for dural grafts.

What is the market share of top 5 players?

The top 5 players like Cook Medical, Integra Lifesciences Corporation, B Braun, Cousin Biotech, and Natus Medical Inc. hold more than 70% of the market share.

What are the top 5 countries driving demand?

The top 5 countries driving the demand include the US, UK, Australia, Russia, and China.

What is the North America's market Outlook?

North America is expected to keep the momentum for dural graft market.

At what percentage dural graft is going to register growth in Europe?

Europe is expected to grow at the rate of 4% in the dural graft market between 2021 and 2031.

What is the key market statistics in Korea and Japan?

Japan and Korea are expected to be the flag bearers for the Asia-Pacific in the dural graft market in the years to come.