Dioctyl Adipate Market Outlook (2022-2032)
According to the latest survey conducted by Persistence Market Research, the global dioctyl adipate market accounts for a valuation of US$ 1.83 Bn in 2022 and is projected to expand at a CAGR of 4.7% to reach US$ 2.9 Bn by the end of 2032.
Dioctyl adipate, also referred as DOA, is a biodegradable plasticizer. It is a clear and colorless liquid miscible with organic solvents and compatible with a wide range of materials such as polymers, cellulose, synthetic rubbers, PVC, and waxes. The biggest advantage of DOA is that it outperforms other plasticizers in terms of performance and stability-even at low temperatures. This property of DOA enables its application in cold-resistant agricultural films, food packaging films, and electrical coatings.
Global demand for dioctyl adipate is being driven by its use as an environment-friendly plasticizer. It is one of the most widely used phthalate-free PVC plasticizers, accounting for up to 2.5% by volume of the global plasticizers market alone. It is used in many final products such as shoes, slippers, artificial leather, and PVC soles.
Another aspect that bolsters the demand for dioctyl adipate is its availability in different grades. Based on application, end users opt between reagent grade dioctyl adipate, technical grade dioctyl adipate, and food grade dioctyl adipate to specifically manufacture their products in accordance with government regulations.
According to the region-wise survey in this report, the Asia Pacific region, which leads both the production and consumption of plastic and polymer products, is also a prominent consumer of dioctyl adipate accounting for around 58% of global consumption.
| | |
| --- | --- |
| Dioctyl Adipate Market Size (2022) | US$ 1.83 Bn |
| Forecasted Market Value (2032) | US$ 2.9 Bn |
| Market Value CAGR (2022-2032) | 4.7% |
| Collective Value Share: Top 3 Countries (2022E) | 45% to 47% |
Dioctyl Adipate Consumption Analysis (2017-2021) Vs. Market Forecasts (2022-2032)
According to this study, over the historical period (2017-2021), the dioctyl adipate market has seen significant growth in demand from the packaging industry as a plasticizer for PVC films.
The market for dioctyl adipate exhibited a CAGR of 3.5% between 2017 and 2021, which was down due to the disruptions in manufacturing and end-use industries as an effect of the COVID-19 pandemic in 2020. However, this CAGR was close to the growth rate of the plasticizers market over the same period. In 2021, global sales of dioctyl adipate were valued at US$ 1.76 Bn.
The market is to progress at a CAGR of 4.7% between 2022 and 2032. Rising health concerns about phthalate-based plasticizers and the subsequent rise in the demand for bio-degradable alternatives are fostering the demand for dioctyl adipate.
Medical applications of dioctyl adipate are expected to drive the market during the forecast period. The use of DOA in medical gloves, sheets, tubes, and other accessories is not only improving the quality of products but also reducing the environmental impact through a series of biodegradable medical components. Apart from this, food grade DOA, which meets the requirement for food-contact materials will foresee a surge in demand from the food packaging industry across the world.
Despite the above positive prospects, there remain certain likely challenges for the market, which include poor performance in waterproof applications. Many end users looking for waterproof eco-friendly plasticizers turn away from dioctyl adipate only due to its inability to resist hydrolysis reactions. However, for non-water applications and a broader range of thermal stability, dioctyl adipate is way ahead in providing economic solutions.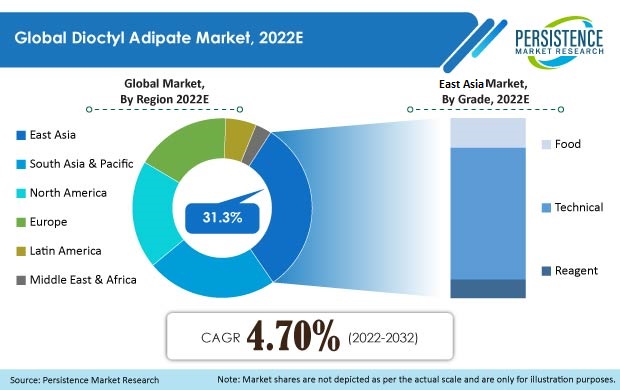 Thermal Characteristics of DOA Creating Lucrative Market Opportunities
Unlike other plasticizers, dioctyl adipate has gained prominence as an apt material for thermal applications as it remains stable and soft at low temperatures. This characteristic has led to its adoption as an insulator for cables and wiring in automobiles and electrical appliances to ensure smooth functioning even in extreme weather conditions.
Likewise, the demand for dioctyl adipate is booming with the growth of the packaged food industry. Food grade DOA, in particular, is becoming more and more favored and in demand in the commercial, residential, and industrial sectors where it is employed as a superior food packaging material. Dioctyl adipate preserves frozen food products despite suffering from temperature flections during transportation.
Owing to these thermal characteristics, in recent years, dioctyl adipate is likely to have a scope of application in aerospace and defense industries for space and extreme weather ventures.
Dioctyl Adipate Serving Medical & Healthcare Sectors with Promising Applications
Dioctyl adipate is used as a preferred raw material in the healthcare industry to improve the production quality of medical devices and devices. DOA is gaining importance as a suitable material for manufacturing various medical tubes that are inserted into a patient's body. These tubes are designed to provide optimal patient comfort without compromising on recovery and treatment.
Due to its relative softness, dioctyl adipate is considered an ideal material for the construction of hoses in the healthcare sector. It is mainly used in the production of medical flexible PVC tubing, medical gloves, and medical containers that can be implemented in managing a patient's bodily fluids, ventilators, catheters, and other applications.
Due to these aspects, dioctyl adipate applications are anticipated to significantly grow in the healthcare segment over the coming years.
Factors Hampering Dioctyl Adipate Market Progress
Although dioctyl adipate as a plasticizer provides lucrative market opportunities, the market is expected to witness strong competition from alternative materials. Biomass-based plasticizers and plant-based plasticizers are providing tough competition to dioctyl adipate.
DOA performs poorly when used in waterproof applications, which acts as a key limitation for its eclectic applications and potential replacement for phthalate plasticizers. However, blending DOA with certain materials can improve its waterproof quality and aid market growth over the coming years.
Country-wise Insights
China to Continue Dominance Over Global Dioctyl Adipate Market
Over the decade, China has dominated the global chemical manufacturing industry owing to low labor costs, rapid investments, flexible government regulations, enormous supply chains, and easy availability of raw materials. This growth of the manufacturing industry has also flourished in end-use industries, which has resulted in the cumulative growth of China as the biggest raw material manufacturer and consumer.
Owing to the same reasons, China is the world's largest producer and also the largest consumer of dioctyl adipate. Packaging material for export and transportation, cable & wire insulation films for the automotive & electronics industries, medical accessories for healthcare industries, and lubricants for the paints and coatings industries are some of the most lucrative applications of dioctyl adipate in China.
However, increasing geopolitical disputes between China, the U.S., and the EU are adversely impacting trade and resulting in a shift of the global supply chain to other geographies. However, this shift is a slow and long process and China is likely to continue its dominance over the forecast period.
Substantial Dioctyl Adipate Consumption in the U.S.
Followed by China, the U.S. is the second-largest consumer of dioctyl adipate in the world. Demand growth for dioctyl adipate in the U.S. is attributed to an increase in the demand from PVC industries. The infrastructure and construction sector within the country is snowballing the demand for PVC-based pipes, sidings, and other important plastic materials where dioctyl adipate experiences huge demand as a plasticizer.
Geographically, the U.S. witnesses a cold winter with temperatures going to subzero levels. With such weather conditions, where other materials become hard and brittle, dioctyl adipate provides excellent surface properties as insulation to cable wirings. This attribute is bolstering the demand for dioctyl adipate from electronic industries as a key insulating material.
Furthermore, the U.S., being a developed country, also has a developed healthcare sector, where DOA-based blood bags, tubes, gloves, and other accessories are proving worthy.
India's Appetite for Sustainable Chemicals Will Drive Dioctyl Adipate Demand
India is one of the world's largest manufacturers and consumers of chemicals. Along with increasing government regulations and initiatives to promote sustainable chemicals, chemical end users from India are demanding eco-friendlier products.
Particularly from the packaging industry, DOA-based PVC films and sheets are highly demanded. In 2025, the Indian food delivery market is projected to stand at US$ 10 Bn, which, in turn, will produce a huge market for dioctyl adipate for packaging use. In the same fashion, India is moving toward rapid urbanization and a booming healthcare sector. This will bolster the consumption of dioctyl adipate in electronic cables & wiring, consumer goods, paints & coatings, and medical accessories.
Category-wise Analysis
Technical Grade Dioctyl Adipate Accounts for Leading Market Share
Based on grade, dioctyl adipate is segmented into reagent grade dioctyl adipate, technical grade dioctyl adipate, and food grade dioctyl adipate. As of 2022, technical grade dioctyl adipate dominates the market with three-fourths market share by revenue.
Significant growth in demand from the electrical industry, medical industry, paints & coatings industry, and perfume industry has fostered the use of technical grade DOA. Another factor promoting the use of technical grade DOA, especially in developing countries, is its economic pricing as compared to reagent and food grade dioctyl adipate.
During the forecast period (2022-2032), the market for food grade dioctyl adipate is set to grow at a higher CAGR owing to increasing health awareness in food packaging industries. Government regulations and directives from the Food & Drug Administration regarding the quality of food packaging films & sheets will push manufacturers to shift from technical grade to food grade packaging materials. Demand growth of reagent grade dioctyl adipate is attributed to its use by chemical and perfume industries for solvent applications.
Consumer segment Steadily Contributing to Dioctyl Adipate Market Expansion
Dioctyl adipate finds applications in consumer goods where it is used as a non-flammable solvent. In the manufacturing of PVC soles for shoes & slippers, PVC pipes for outdoor purposes, imitation paper, door mats & hoses, and synthetic leather, dioctyl adipate is used as a key ingredient.
The demand for these consumer goods is set to increase with the growing population and urbanization across developing and developed nations, ultimately propelling the sales of dioctyl adipate in the consumer sector.
Competitive Landscape
Leading manufacturers of dioctyl adipate are focusing on the acquisition of other market players to increase their consumer base. Further, expansion strategies include capacity expansion and geographical expansion in emerging economies. Key players are also investing in research and innovations for product development and the introduction of sustainable products with short-period biodegradation properties.
In April 2021, BASF launched a new series of plasticizers obtained from organic wastes instead of fossil fuels. Among these plasticizers, Plastomoll DOA BMB features dioctyl adipate as a biomass-balanced plasticizer.
In August 2022, Hallstar announced its acquisition of the Lanxess manufacturing facility to improve its manufacturing efficiency and expand its product portfolio.
Similarly, other key developments related to companies manufacturing dioctyl adipate have been tracked by the team at Persistence Market Research, which are available in the full report.
Dioctyl Adipate Industry Report Scope
Attribute

Details

Forecast Period

2022-2032

Historical Data Available for

2017-2021

Market Analysis

USD Million for Value
Kilo Tons for Volume

Key Countries Covered

U.S.
Canada
Brazil
Mexico
Germany
Italy
France
U.K.
Spain
BENELUX
Russia
China
Japan
South Korea
India
ASEAN
ANZ
GCC Countries
Turkey
Northern Africa
South Africa

Key Market Segments Covered

Grade
Application
End Use
Region

Key Companies Profiled

BASF SE
ExxonMobil
Hallstar Industrial
Aarti Industries
Hanwha Chemical
BOC Sciences
Eastman Chemical Company
New Japan Chemical Co., Ltd.
Henan Qingan Chemical Hi-Tech
GJ Chemical

Report Coverage

Market Forecast
Company Share Analysis
Competition Intelligence
DROT Analysis
Market Dynamics and Challenges
Strategic Growth Initiatives

Customization & Pricing

Available Upon Request
Dioctyl Adipate Industry Survey Segmentation
By Grade:
By Application:
By End Use:
Packaging
Cable & Wiring
Consumer Goods
Medical Applications
Wall Covering & Flooring
Others
By Region:
North America
Latin America
Europe
East Asia
South Asia & Pacific
Middle East & Africa