Copaiba Essential Oil Market Outlook (2022-2032)
The global copaiba essential oil market is projected to be valued at US$ 4,109.5 '000 by the end of 2022. The market is further anticipated to exhibit a CAGR of 4.9% and a top valuation of US$ 6,601.0 '000 by the end of 2032.
Revenue from the sales of copaiba essential oil accounted for around 0.5% to 1% value share of the global essential oil market in 2021.
During the historical period 2017-2021, the global market for copaiba essential oil experienced an annual growth rate of 3.6%. The market is anticipated to enjoy optimistic growth in the near future along with increasing sales revenue due to numerous factors such as rising consumer demand for specialty oils, increasing consumer preference for vegan products, rising health awareness among consumers, and many more.
The traditional utilization of copaiba essential oil was primarily focused on medicinal purposes. But progressively, copaiba was used for various applications such as cosmetics and personal care products, food ingredients, aromatherapy, and much more. As such, demand for copaiba essential oil has developed and expanded over the years, due to which, this essential oil market is anticipated to expand at the rate of 4.9% during the forecasted period 2022-2032.
Factors such as increasing disposable income of consumers, rising urbanization, growing utilization in holistic healing treatment, and continuous changing trends in the food and beverage industry are also driving market expansion.
| | |
| --- | --- |
| Copaiba Essential Oil Market Size (2022E) | US$ 4,109.5 '000 |
| Projected Sales of Copaiba Essential Oil (2032F) | US$ 6,601.0 '000 |
| Value CAGR (2022-2032) | 4.9% |
| Value Share of Top 5 Countries (2021A) | 49.3% |
Rising Popularity of Aromatherapy Fuelling Demand for Copaiba Essential Oil
Due to the rising demand for alternatives to pharmaceutical medications and therapeutic treatments for the well-being of the mind and body, aromatherapy practices are gaining enormous traction. The application of copaiba essential oil in aromatherapy is expanding since more consumers are exploring alternative treatments for health issues. The broad acceptance of aromatherapy is due to several factors, including its perception as an urban, fashionable practice, media coverage and influence, and others.
Copaiba oil helps create a calming environment when used in a diffuser since it has high quantities of beta caryophyllene and a distinctive fragrance profile that is woody, smooth, sweet, and balsamic. Due to the therapeutic, healing, and soothing properties of copaiba essential oil, it is mainly utilized for aromatherapy purposes.
The essential oil sector appears to have a bright future because of the industrialization and urbanization of emerging economies, as well as new demand channels in mature markets.
Increasing Utilization of Copaiba Essential Oil in Personal Care & Cosmetics
Consumer demand together with international rules and regulations have spurred cosmetic industry manufacturers to seek new ingredients from organic and natural sources for the production of environment-friendly, sustainable, and safe products, with copaiba essential oil being a suitable source for these new product formulations.
Moreover, the unique chemical profile of copaiba essential oil associated with different multifunctional benefits is expected to surge its demand worldwide. Copaiba essential oil has emerged as a very common natural ingredient in toiletries and cosmetics because of its features such as its odorous character for the manufacturing and designing of fragrances and perfumes.
This essential oil is used to create light woodsy and smoky scents in the perfume business. Balsam gives the scent a structure because it is a heavier component, enhancing the background notes. Due to its rustic appeal, it can be used to support a variety of product claims such as sustainability, green labeling, and eco-friendly.
Constant R&D Activities Providing Lucrative Opportunities for Copaiba Essential Oil Manufacturers
Key suppliers of essential oil are making huge investments in research and development activities. They are taking efforts to increase the application of copaiba essential oil in various industries. This has also encouraged pharmaceutical, nutraceutical, and other businesses to include green and natural components in the development of new products and the reformulation of existing products.
Many companies are focusing on launching new blends of copaiba essential oil in the market to stay in line with changing consumer preferences in the global market. Manufacturers and researchers are continuously boosting the sales of copaiba essential oil owing to their various multi-functional benefits, which, in turn, have created long-term opportunities for them in the market.
Research and development also contribute to the development of sustainable and healthy diets. The process helps in reducing the environmental impact of the product, thereby contributing to the adequate management of raw materials and by-products as well.
Flourishing Food Industry to Benefit Copaiba Oil Producers
Copaiba essential oil is becoming an important ingredient in the food and beverage space as a natural flavor enhancer with functional benefits. Currently, the utilization of copaiba essential oil for its functional benefits in packaged food and beverages is very minimal. To capitalize on this opportunity of being a trendsetter, manufacturers can involve online chef influencers to research and develop products. Market players should research food and wellness bloggers who are already incorporating copaiba into their recipes.
Copaiba essential oil has anti-toxigenic, anti-parasitic, and anti-insecticidal properties that offer the potential for increasing shelf life and product safety. Food regulators are also expected to easily approve the use of copaiba essential oil in packaged food and beverages owing to its functional benefits.
Soaring Prices and Irregularities in Supply Chain & Production of Copaiba Essential Oil
Copaiba essential oil is sold at various price points due to several factors, such as ease of plant harvesting, botanical quantity needed to manufacture oil, purity of the oil, plant time sensitivity, rarity of the plant, shipping expenses, and others. Key players involved in the production of copaiba essential oil experience difficulties in managing their final product pricing and profit margins due to the high cost of copaiba essential oil and price fluctuations, which can hamper market growth to some extent.
Due to the high cost of copaiba essential oil, some consumers may choose to use synthetic or other inexpensive essential oils instead. This further results in variability of product demand that results in trouble for producers. Thus, price fluctuations in the worldwide essential oil market, in particular for copaiba essential oil, act as a significant restraint for market expansion.
Moreover, copaiba is majorly produced in Latin America, making the production of copaiba oil limited and scarce. Both essential oil and oleoresin production and processing are greatly dependent on the supply of quality copaiba resin. Considerable fluctuation in oleoresin yield produced by copaiba trees and the small percentage of productive trees are obstacles to its economic exploitation.
As a result, producers of copaiba essential oil would have to focus on reducing price fluctuations and stabilizing the irregularities in the supply chain and production to improve their market stance. This strategy would aid market participants in expanding their client base and driving the product market.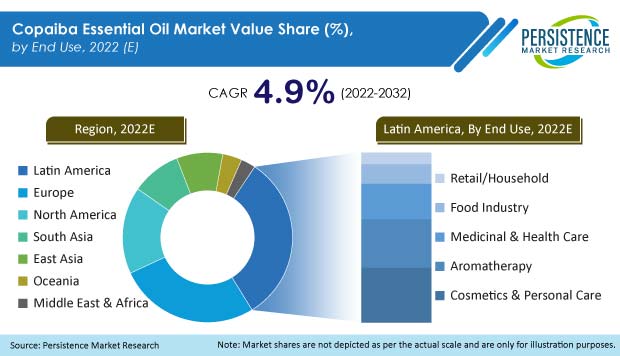 Country-wise Insights
Canada to Lead Demand Growth for Copaiba Essential Oil in North America
The Canadian market for copaiba essential oil is anticipated to experience a growth rate of 5.7% during the forecast period (2022-2032) and reach a market valuation of around US$ 259.2 '000 by 2032.
Increasing use of copaiba essential oil due to the ease of use offered by the product and utilization in aromatherapy is sure to drive the product market and increase its market share across North American countries.
India – Largest Market for Copaiba Essential Oil in South Asia
In the South Asian market, India holds the highest market share of 44.5% and will experience promising growth of 6.9% during the forecast period (2022-2032).
The market in India is currently valued at US$ 172.4 '000 and is anticipated to reach US$ 334.9 '000 by the end of 2032. The market share of India is relatively higher than that of other South Asian countries due to the fact that India has more concentration of manufacturers, distributors, and suppliers, owing to the high demand for copaiba essential oil for medicinal and health purposes.
Category-wise Insights
Copaiba Essential Oil Most Widely Used in Cosmetics & Personal Care Sector
The end-use industries considered in the scope of the report include the food industry, cosmetics & personal care, medicinal & healthcare, aromatherapy, and retail/household.
Among these end-use industries, the cosmetics and personal care industry accounts for the highest market share of around 33% and is expected to reach a market value of US$ 2,203.4 '000 by the end of 2032.
Business to Consumer Sales of Copaiba Essential Oil to Remain High
Based on distribution channel, the business to consumer category holds the highest market potential growth of 6% CAGR for the forecasted years owing to the high penetration rate of the internet across the world and the ongoing popularity of hypermarkets and supermarkets.
The business to consumer segment in the distribution channel category holds a market value of around US$ 388.3 '000 currently and is projected to reach US$ 693.4 '000 by the end of 2032.
Competitive Dashboard
The copaiba essential oil market is characterized by a significant number of regional players accounting for a majority of the market share. Companies involved in the manufacturing of copaiba essential oil are emphasizing the utilization of advanced and state-of-the-art manufacturing techniques to offer high-quality standards of this oil.
In November 2021, Beraca incorporated new technologies that allowed the company to expand its manufacturing facilities in Ananindeua, Pará. These new facilities are based on a complex multipurpose bio-extractor that allows the processing of products that are native to local biodiversity, along with other ingredients that are of natural origin and are highly demanded by consumers.
In July 2022, doTERRA, a prominent player in the essential oil industry, announced its plan of extending its global footprint by implementing a new operational hub in India. This expansion strategy would enable the company to increase its consumer base in the South Asian region.
Copaiba Essential Oil Industry Report Scope
Attribute

Details

Forecast period

2022-2032

Historical data available for

2017-2021

Market analysis

USD '000 for value

Key regions covered

North America
Latin America
Europe
East Asia
South Asia
Oceania
The Middle East & Africa

Key countries covered

U.S.
Canada
Germany
U.K.
France
Italy
Poland
Spain
Russia
China
Japan
South Korea
India
Israel
Turkey
Australia
New Zealand
GCC Countries
Turkey
South Africa

Key market segments covered

Nature
End Use
Distribution Channel
Region

Key companies profiled

AG Industries
Amazon Oil
Aromaaz International
Beraca Ingredients Naturais SA
Biofinest LLC
BONTOUX
d?TERRA International, LLC
Ernesto Ventós S.A.
Katyani Exports
Lebermuth, Inc.
Manohar Botanical Extracts Pvt. Ltd.
PRB Regional Products of Brazil
Robertet
SVA Organics
Young Living Essential Oil

Report coverage

Market Forecast
Company Share Analysis
Competition Intelligence
DROT Analysis
Market Dynamics and Challenges
Strategic Growth Initiatives

Customization & pricing

Available upon request
Copaiba Essential Oil Industry Survey by Category
By Nature:
By End Use:
Food Industry
Cosmetics & Personal Care
Medicinal & Health Care
Aromatherapy
Retail/Household
By Distribution Channel:
Business to Business
Business to Consumer

Hypermarkets/Supermarkets
Specialty Stores
Convenience Stores
Online Retail
By Region:
North America
Latin America
Europe
South Asia
East Asia
Oceania
Middle East and Africa