Introduction
The companies offering point of sale solutions are now focusing on expanding their businesses across countries in Europe and Asia Pacific where growth of modern retail and rapid urbanization are offering investment opportunities for point of sale solutions vendors. The APAC cinema point of sale (POS) solutions market is expected to witness a relatively high growth rate over the forecast period.
The revenue being generated from the cinema point of sale (POS) solutions market in North America and Europe is expected to collectively account for over 52.2% of the global cinema point of sale (POS) solutions market revenue in 2017. The market in North America is anticipated to witness a significant progress rate over the course of forecast period. As North America is an early adopter of technology, in the longer run, the region is likely to exhibit a moderate growth rate as compared to regions such as Asia Pacific and Europe who will still be on the edge of adopting new technologies.
North America to be at the Vanguard of Growth with Respect to Deployment
The burgeoning demand for IoT is driving the adoption of cinema POS in North America. Smart kiosks are integrated with IoT, and communicate and deliver data to users in real time. Smart kiosks are also installed with various sensors to record data such as user views, sales, and location. The information needed can be accessed through the web from any place at any point of time.
Digital signage is another example of IoT application. The content on digital signage can be altered remotely from any place at any time. It includes images, videos, directions, and tickets, among many others. These IoT applications are increasing the demand for POS solutions, and contributing to the growth of the cinema POS solutions market in North America.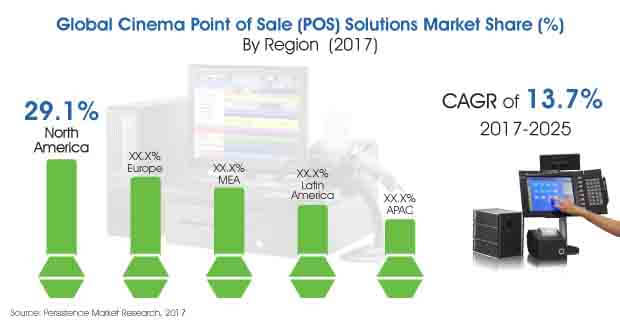 However, data security is likely to prove as a key challenge in the adoption of cinema point of sales solutions in the region. Since all the data is stored in the cloud, it can be stolen or hacked by intruders.
The personal details of customers such as CVV number, card number, and pin number can be hacked and misused. The fear of data hacking is restricting users from making online payments, and is hindering the growth of the cinema POS solutions market. However, POS solution providers are improving the level of security every day, and making them safe and secure. The governments of various countries in this region are implementing stringent laws in order to prevent cyber security and data breaches.
Asia Pacific to be the Fastest Growing Region
During the course of the forecast period, the cinema point of sales solution market in Asia Pacific is expected to exhibit a CAGR of 16.3%, thus being the leading region in terms of growth. The Asia Pacific region is witnessing a rapid change in economy and also a rural to urban shift. From being laggards in technology adoption in emerging nations, it is moving towards a more technology acceptance environment. Developing countries such as China and India are witnessing rapid urbanization and growing disposable income.
These changes are creating a huge demand for modern multiscreen theaters. Investors are spending heavily on open multiplex chains in these regions, thus ultimately creating a high demand for POS hardware and software solutions. These developing nations are expected to witness a huge potential demand during course the forecast period.
Cinema point of sales (POC) solution Market: Segment Overview
Solution/Services

POS Software Solution
Professional Services
Support Services

Deployment
Region

North America
Latin America
Europe
Asia Pacific
The Middle East and Africa
- Companies Covered in This Report -
NCR
Vista
CenterEdge Software
Allure- A Christie Company
TicketNew Box Office
OMNITERM
Diamond Ticketing Systems
Retriever Solutions
Ardhas Technology
Titan Technology Group
Bepoz
RedFynn Technologies
Reliable IT
Revel Systems
Savoy Systems
Others.