Introduction
Automation of farm equipment provide several advantages such as precise and fast operations, incessant operation, regardless of the climatic conditions and time, as well as long-term resolutions for heavy and complex operations such as harvest and plow.
Autonomous farm equipment help in saving cost and time involved in the yielding compared to standard farm equipment, thereby making this advanced equipment a preferable choice for farming procedures. Technology is developing incessantly and the manufacturers are focusing on introducing new and advanced types of autonomous equipment.
Nevertheless, the method of producing autonomous farm equipment is yet in its emerging phases and the price of existing autonomous farm equipment is quite overgenerous. As a result, the aforementioned issues is likely to affect the development of the global autonomous farm equipment market.
Leading manufacturers are involved in developing cutting-edge autonomous farm equipment for increasing reliability and efficiency by reducing their costs. Besides, the notable production of advanced robotics and electronics together with navigation and GPS systems are creating fully autonomous farm equipment efficient and more precise.
Extensive usage of tractors as well as combine harvesters induced with auto steering and rise in usage of drones attributes to the large revenue generation of the global market. High costs related to autonomous farm equipment along with training time essential for learning regarding the usage of autonomous equipment is likely to hinder the development of autonomous farm equipment industry.
However, foremost companies are working towards introducing cost-efficient and effective equipment, due to which, market for autonomous farm equipment is set to exhibit a noteworthy headway in the review period of 2017-2026.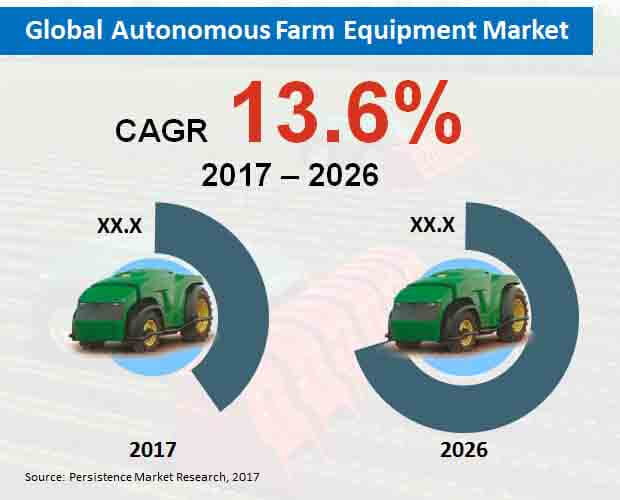 As per latest report by Persistence Market Research, the global market for autonomous farm equipment is poised to expand at an outstanding 13.6% CAGR during the forecast period, 2017-2026.
The report gauges that by 2026-end, nearly US$ 16, 9691.5 Mn worth of autonomous farm equipment will be sold across the world. The report furthermore expects that APEJ will be spearheading the global autonomous farm equipment market, in terms of revenue.
Incorporation of Drones Emerging As a Key Trend
Drones or UAV (unmanned aerial vehicles) are projected to bring about a creditable increase in the autonomous farm equipment industry. There is increase in the usage of technologically advanced drones for the purpose of health and irrigation valuation of crops, crop monitoring and spraying, planting and field & soil analysis. Drones can reach out to any position of the field swiftly and can effectually recognize problems and breakthrough solutions as and when incorporated by means of scanners, thermal sensors, cameras, ultra-sonic echo machines, 3D maps, through which, demand for the product is increasing considerably.
Autonomous Tractors to Increase Production Sales
Autonomous tractors utilize a lot of advanced systems and sensors that an efficient self-driving vehicle would possess. In countries such as the U.S., autonomous tractors hold auto-steering systems which provides superior control even in the low-visibility conditions.
By executing these advanced structures in run-of-the-mill farming, farmers can experience the influence of tech in work. Autonomous tractors can additionally be set up for serving as mobile hotspots, in order to collect data from the sensors that are located all over the field. It provides help for accurate agriculture applications by delivering swift information vis-à-vis a wide array of factors, which are likely to affect the growing operations.
Global Autonomous Farm Equipment Market
The key players leading global autonomous market have been outlined by the market analysts in the report. They include Bobcat (a Doosan company), Claas KGaA GmbH, Kubota, Deutz Fahr, Yanmar, Iseki & Co., AGCO Corporation, John Deere, Case IH, and New Holland.
Some of these firms are probable to deal with challenges by means of development of cost-efficient equipment and advanced techniques in farming. Moreover, reduction in the manufacturing costs and rising profit margins is expected to be a key focus zone for players in global autonomous farm equipment market.
Market Taxonomy
For enduring the goals of the findings, the global autonomous farm equipment market report is being segmented on the basis of region, machine type, mode of operation and output power. Based on the taxonomy described in the report, global market for autonomous farm equipment has been listed accordingly:
Attribute
Details
Region

North Americ
Latin America
Europe
Japan
APEJ
MEA

Mode of Operation

Fully Autonomous
Partially Autonomous

Machine Type

Tractors
Harvesters
Tiller
Seed Drill
Others

Output Power

Up to 30 HP
31–100 HP
101 HP and Above