Xenon Gas Market Outlook (2022-2032)
Latest industry analysis on the global xenon gas market shows that sales value is expected to reach around US$ 147.2 Mn in 2022, with the market projected to register a CAGR of around 5% through 2032 and reach a valuation of US$ 239.6 Mn.
| | |
| --- | --- |
| Xenon Gas Market Size (2021A) | US$ 141 Mn |
| Estimated Year Value (2022E) | US$ 147.2 Mn |
| Projected Year Value (2032F) | US$ 239.6 Mn |
| Value CAGR (2022-2032) | 5% |
| Collective Value Share: Top 3 Countries (2022E) | 52% |
Xenon Gas Consumption Analysis from 2017 to 2021 Vs Market Outlook for 2022 to 2032
Revenue generated through the sales of xenon gas reached US$ 141 Mn in 2021, increasing at a CAGR of 2.3% during the historical assessment period of 2017-2021. Various technological advancements and exploration of new application areas of rare gas are expected to be key factors pushing xenon gas demand over the coming years.
However, the adverse health effects of rare gasses, including xenon gas, on the human body is expected to be a longstanding challenge for xenon gas manufacturers.
Nonetheless, the global xenon gas market is expected to overcome these challenges, owing to which, Persistence Market Research anticipates the market to expand at a CAGR of 5% over the assessment period of 2022-2032.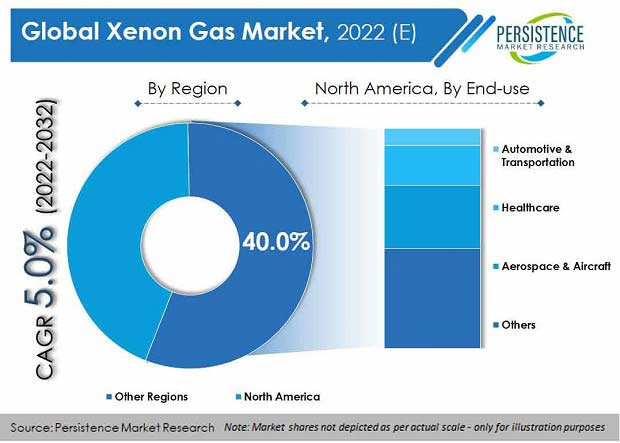 What Opportunities Await Xenon Gas Manufacturers?
"Increasing Xenon Gas Usage in Electronics & Semiconductor Sector"
When technological breakthroughs in industrial gas production are combined with advancements in end-use applications, businesses may be able to offer a larger market with better solutions. Major players are extensively spending in research & development in order to improve eco-friendliness and long-term production methods.
Through technological improvements in production technology, such as shorter production time and high-quality gas production, xenon gas suppliers can gain significant momentum from end-use customers in order to meet their on-site expectations.
Because of its multifaceted value, xenon gas is gaining favor in a variety of end-use sectors. The electronics and semiconductor industry is a fast-moving market. The semiconductor industry uses xenon gas largely in the etching process. It contributes to the project's total cost reduction. With the advancement of technology, demand for xenon-based barcode scanners and laser-operated sensors has grown.
Xenon gas is supplied in seamless steel or aluminum cylinders. These cylinders are lightweight and easy to transport, making them ideal for use in a variety of industries. Liquid xenon gas is also available, which makes it easy to store and transport.
"Xenon Gas Popular in Spacecraft Missions"
Noble gases are commonly employed in spacecraft propulsion in aerospace and aviation industries. These inert gasses work well as a propellant for electric ion propulsion technology, which is gaining popularity in the satellite sector.
Electric propulsion systems used in space travel employ xenon as a fuel. Xenon, which is easily ionized and has a high atomic mass, is the most-used propellant in ion propulsion. This produces a continuous stream of ions that gently propel a spacecraft to high speeds while using very little fuel, making it an excellent choice for long-range missions.
It also helps reduce the weight of the satellite, which is beneficial for any space mission. As such, this xenon gas aspect enables the spacecraft to carry a larger payload.
"Technological Advancements in Healthcare Sector Promoting Xenon Gas Demand"
On a global scale, the elderly population has been rapidly increasing. To balance the conditions of healthcare systems, governments throughout the world have been investing considerable sums in improving healthcare services as well as enabling 100 percent FDI in the medical device sector.
In the healthcare industry, industrial gases are employed for respiratory, cryogenic, and surgical purposes. As such, industrial gases such as xenon gas are expected to be in high demand over the coming years.
What is Hindering Demand Growth of Xenon Gas to Some Extent?
"Harmful Effects of Xenon Gas Can Stunt Market Expansion"
When an excessive amount of xenon gas is inhaled, it can cause nausea, dizziness, vomiting, and even death. When oxygen levels are low, death can occur instantly.
Mental disease and weariness have all been linked to xenon gas in rare situations. It has been used as an anesthetic and has been linked to adverse effects such as hypertension, nausea, and vomiting in a large number of people.
Emotional instability is common, and weariness sets in quickly. Nausea and vomiting, prostration and loss of consciousness, and also convulsions, deep coma, and death may occur as asphyxia continues. Such dreadful properties of xenon gas are hampering overall demand growth.
Country-wise Analysis
Why is Demand for Xenon Gas High in the U.S.?
The U.S. is a leading consumer of xenon gas, followed by China. The United States market is expected to attain a value of US$ 41.4 Mn in 2022. Rising healthcare and aerospace industry spending in the country is elevating demand growth of xenon gas across the country.
Robust rise in investment for technological developments in the healthcare sector of the United States is expected to be a key factor promoting the sales of xenon gas in the country.
In addition, the country is positively engaged in the development of the aerospace industry. Presence of organizations such as NASA and others who are leading global space research makes the country a lucrative market for xenon gas, owing to its application in satellite propulsion.
What is the Market Outlook in China for Xenon Gas?
China is among the fastest-growing nations of the world. The country is the second-largest economy in the world. China is expected to be the second-largest consumer of xenon gas across the globe.
Extraordinary presence of end-use industries is expected to be a key factor promoting the sales of xenon gas in the country. China is known as a manufacturing hub and holds a position among the top-most producers of electronics, automotive, infrastructure development, manufacturing, and a few others, which are key end-use industries of xenon gas.
Remarkable growth of xenon gas end-use industries based in China is expected to surge demand for xenon gas in the country.
Category-wise Insights
Which is the Most Preferred Supply Mode for Xenon Gas?
Transportation of bulk quantities of xenon gas through long distances is usually accomplished through tanks. Compressed or liquefied gas is filled in tanks to ensure proper supply. However, on-site supply using pipelines and other means is employed for industrial applications for continuous supply.
On the other hand, xenon gas cylinders are the most preferred supply mode. More than 43% of xenon gas produced across the globe is supplied using cylinders. High mobility of cylinders is compelling manufacturers to package xenon gas in cylinders for a variety of applications, including healthcare, electronics, and others.
Which End-use Industries are Driving Most Growth of the Xenon Gas Market?
Owing to its wide range of applications, xenon gas serves various end-use industries such as healthcare, aerospace & aircraft, automotive & transportation, electrical & electronics, manufacturing processes, construction, and a few others.
Among the various end-use industries, aerospace & aircraft is the largest consumer of xenon gas owing to its extensive use in satellite propulsion. Xenon gas is used to increase the payload capacity of a spacecraft, which is crucial factor for this industry. Growth in the number of space missions and rising trend of attaining leading positions in space among various nations are expected to drive the consumption of xenon gas over the forecast period.
Considering this factor, Persistence Market Research is projecting xenon gas consumption in the aerospace and aircraft industry to increase at a CAGR of 4.6% over the assessment period of 2022-2032.
Did COVID-19 Dent the Sales Prospects of Xenon Gas?
Due to hampered demand from end-use industries, the global xenon gas market underwent a big dip in 2020, but is expected to recoup fast following the pandemic. COVID-19 has had a detrimental impact on all countries throughout the world, resulting in a negative impact on the global economy. Most countries impacted by the pandemic were forced to impose shutdowns, impacting their industrial and commercial activities.
Supply chains and shipping were hampered by COVID-19, resulting in a drop in xenon gas sales. Many production plants were shut, causing supply and demand to be impeded. Prices rose as a result of unit closures and transportation limitations. As a result, the entire market saw a decrease in consumption, although it is predicted to expand steadily in the near future.
Competitive Landscape
The global market for xenon gas is a highly consolidated space where key players account for a majority of the market share. Key xenon gas manufacturers are laying emphasis on research & development to discover new applications to increase their sales.
Small- and medium-sized xenon gas providers are engaged in strengthening their market presence through strategic collaborations and mergers with leading players for overall development.
For Instance,
In July 2018, Air Liquide signed several new multi-year contracts worth more than € 50 million, and started supplying xenon and krypton to the semiconductor and satellite sectors in three regions: Europe, USA, and Asia.
In October 2018, Linde AG and Praxair successfully completed a merger. The deal was valued at US$ 35 Bn, with an overall merger value of US$ 65 Bn, leading to the creation of one of the biggest players in the global industrial gases business.
Similarly, other key developments related to companies manufacturing xenon gas have been tracked by the team at Persistence Market Research, which are available in the full report.
Xenon Gas Industry Report Scope
Attribute

Details

Forecast Period

2022-2032

Historical Data Available for

2017-2021

Market Analysis

US$ Mn for Value
Kilograms for Volume

Key Regions Covered

North America
Latin America
Europe
East Asia
South Asia Pacific
MEA

Key Countries Covered

U.S.
Canada
Brazil
Mexico
Germany
Italy
France
U.K.
Spain
Russia
Poland
China
Japan
South Korea
GCC Countries
Turkey
South Africa

Key Market Segments Covered

Supply Mode
End-use Industry
Region

Key Companies Profiled

Air Liquide
The Linde Group
Matheson Tri-Gas, Inc.
American Gas Products
Air Products & Chemicals, Inc.
Air Water Inc.
Proton Gases (India) Pvt. Ltd.
Axcel Gases
Messer Group GmbH

Pricing

Available upon Request
Key Segments Covered in Xenon Gas Industry Research
Xenon Gas Market by Supply Mode:
Cylinders
Bulk & Micro Bulk
Drum Tanks
On-site
Xenon Gas Market by End-use Industry:
Healthcare
Aerospace & Aircraft
Automotive & Transportation
Electrical & Electronics
Manufacturing Processes
Construction
Others
Xenon Gas Market by Region:
North America Xenon Gas Market
Latin America Xenon Gas Market
Europe Xenon Gas Market
East Asia Xenon Gas Market
South Asia Pacific Xenon Gas Market
Rest of MEA Xenon Gas Market