Transglutaminase Market Outlook (2021-2031)
The global transglutaminase market is currently valued at US$ 474.1 Mn, and is anticipated to surge at a value CAGR of 7.4% to close in on a valuation of US$ 967.5 Mn by 2031.
| | |
| --- | --- |
| Transglutaminase Market Size (2021E) | US$ 474.1 Mn |
| Projected Sales of Transglutaminase (2031F) | US$ 967.5 Mn |
| Global Market Growth Rate (2021-2031) | 7.4% CAGR |
| Value Share of Top 5 Countries (2020A) | 54% |
The European transglutaminase market currently holds the highest value share of over 29%. By value, transglutaminase consumption accounts for 16% to 17% share of the global food enzymes market.
Transglutaminase (Meat Glue) Consumption Analysis (2016-2020) Vs Market Estimations (2021-2031)
The global market for transglutaminase, also known as meat glue, expanded at a CAGR of 6.1% during 2016-2020. In the food industry, bakery, meat processing, and dairy are the major segments that account for high transglutaminase demand, followed by other products. Food enzymes play a significant role in the processing of food products in bakeries, dairy, and others.
Consumer interest in convenient food products is expected to create robust demand for food additives such as meat glue in variety of food applications. The U.S., U.K., Germany, Italy, France, and countries of Asia Pacific represent the most lucrative markets for transglutaminase manufacturers owing to increasing demand for clean label and natural food ingredients.
As per detailed analysis by Persistence Market Research, from 2021 to 2031, the global transglutaminase food enzyme market is expected to surge at a CAGR of 7.4%.
What's Driving Transglutaminase Market Growth?
"Growing Consumption of Fermented Food Products Driving Market Progress"
Fermented foods are produced by controlled microbial growth and the conversion of food components through enzymatic action. Many foods such as meat & fish, dairy, vegetables, soybeans, legumes, cereals, and fruits undergo fermentation.
Consumption of fermented food is increasing rapidly due to the various health and nutritional benefits associated with them. Consumer awareness is also driving demand for these products. Food enzymes are mostly used during the fermentation process to accelerate the production process and provide nutritional benefits.
Microbial Fermentation Sourced Transglutaminase (MTG) is used in various food applications, including meat products, cheese, yogurt, and bread. Consumer preference for such products will remain strong in the future, which will positively impact the global market for bakery enzymes.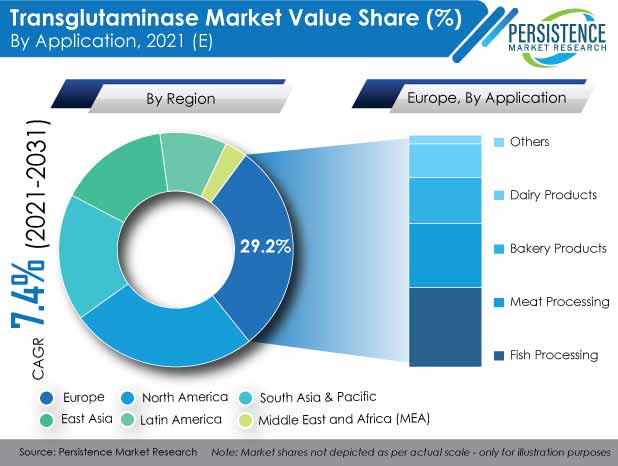 Will Use of Microbial-sourced Transglutaminase Instead of Animal-sourced Variants Aid Market Growth?
"Enzymes Synthesized by Microorganism to Enjoy Wider Scope"
The market for transglutaminase is set to witness significant growth in Microbial Fermentation (MTGs) at a value CAGR 8.1%. Extremely high cost of manufacturing transglutaminase from animal sources has compelled scientists to look for new sources of this enzyme. Efforts are targeted at producing enzymes that are synthesized by microorganisms and may enjoy wider scope of use.
Application of isolated transglutaminase enzymes from a microbiological source has contributed to the simplification of certain processes and provided energy and economic savings. Established transgenesis procedures have given rise to growing adoption of microbial transglutaminase.
Transfer of microbial genes to expression systems such as Escherichia coli has increased production efficiency. It is also observed that these enzymes are safer for consumers and easily biodegradable, which, in contrast to chemical substances, provides great advantages for the market to grow. Development of new technologies leading to increase in production will significantly aid market growth of transglutaminase.
Will Increased Investments in Research & Development of Meat Glue Bring in Lucrative Business Opportunities?
Transglutaminase is a calcium-activated multifunctional enzyme, well known for the formation of ε-(γ-glutamyl) lysine isopeptide bonds that lead to protein cross-linking and provide resistance to proteolytic cleavage, and ultimately, stabilization and increased stiffness of the Extracellular Matrix (ECM). Transglutaminase is reported to have various pathological roles, including cancer metastases, celiac disease, and tissue fibrosis.
Idiopathic Pulmonary Fibrosis (IPF) is an incurable and life-threatening disease with an average survival rate of 2–3 years. Use of transglutaminase in the cure of such diseases will create lucrative business opportunities in the near future.
Which Factors are Restraining Transglutaminase Demand Growth?
"Rising Popularity of Non-GMO Products to Dent Market Expansion"
Factor restraining market growth is rising preference for non-GMO products. Food enzymes are primarily produced from microorganisms, plant, and animal sources. Some food enzyme sources such as yeast, bacteria, and fungi are genetically modified organisms.
Consumers across the world are adopting non-GMO, natural, and organic food, which is affecting the use of genetically-modified enzymes in the food industry. Since most food enzymes are produced from microorganisms, the non-GMO movement is influencing consumers to avoid food products made from genetically modified organisms. This can affect the sales of transglutaminase.
Another factor retraining market growth is the consumption of MTG leading to complications in patients with celiac disease. MTG is a cross-linker that is heavily consumed as a protein glue in multiple processed food industries. However, various scientific observations are coming forth concerning its undesirable effects on human health. Functionally, MTG acts as an autoantigen (that works against the autoantibodies produced by the immune system) for celiac disease and further impacts the gut health.
Country-wise Insights
Which Country is Witnessing Highest Value CAGR in the European Market?
"Sales of Transglutaminase in France to Surge"
The France transglutaminase market is set to witness significant growth at a value CAGR 7.3%. Demand for transglutaminase in Europe is increasing at a significant rate, which provides a favourable growth opportunity for transglutaminase product manufacturers in France and across the continent.
Who is the Market Leader in South Asia & Pacific for Transglutaminase?
"Rising Processed Food Sales Driving Transglutaminase Usage"
India dominates the South Asian & Pacific transglutaminase market. India exhibits the highest value CAGR of 9.4% with a market value share 47.21%. This is mainly due to increased spending of consumers on processed products.
Category-wise Insights
Which Transglutaminase Source is Most Popular?
"Microbial Fermentation (MTGs) Highly Demanded in the Global Market"
Based on source type, Microbial Fermentation (MTGs) are mostly demanded and consumed in the transglutaminase sector, with a market value share 80.30% in 2021.
Which Transglutaminase Application Would Be Profitable for Market Participants?
"Transglutaminase for Fish Processing to Generate Huge Revenues"
Transglutaminase plays an important role in the food industry, in both, traditional and novel products. According to projections by Persistence Market Research, market value of transglutaminase in fish processing, which is the leading segment, is expected to reach US$ 312.7 Mn by the end of the forecast period.
Competitive Landscape
With rising demand from various food processing manufacturers, key producers of transglutaminase are focusing on investing in advancement of technology to improve efficiency and production.
Companies operating in this market are offering different formulations of the product that can be used for various applications in the food industry. This has enabled manufacturers to acquire new customers from the food processing and manufacturing sector.
In 2021, Ajinomoto Co., Ltd. announced the completion of the construction of a new research & development building and the modification of an existing R&D building at its Kawasaki Plant. This construction completes the consolidation of the domestic R&D bases of three Ajinomoto Group companies that are involved in the food products business.
In November 2021, BDF Natural Ingredients entered into a strategic partnership with A&B Ingredients for BDF Probind (transglutaminase) distribution in the North American market. A&B Ingredients is a leader in providing unique, clean label, and functional ingredient solutions in the food & beverage industry.
In December 2020, Creative Enzymes announced the launch of several new enzyme products. Newly-developed product ranges include cellulase, chitinase, and lipase. New enzymes are being developed at Creative Enzymes to meet all types of needs in pharmaceuticals and catalysis.
Creative Enzymes uses its core technology in enzyme modification and expression to provide early protection, detection, diagnosis, and isolation, which are the key methods to prevent and control an infectious disease such as COVID-19. It also provides coronavirus nucleic acid detection and other products to fight against the disease.
Transglutaminase Industry Report Scope
Attribute

Details

Forecast period

2021-2031

Historical data available for

2016-2020

Market analysis

US$ Million for Value

Key regions covered

North America
Latin America
Europe
East Asia
South Asia
Oceania
The Middle East & Africa

Key countries covered

U.S.
Canada
Germany
U.K.
France
Italy
Spain
Russia
China
Japan
South Korea
India
Thailand
Malaysia
Indonesia
Australia
New Zealand
GCC Countries
Turkey
Northern Africa
South Africa

Key market segments covered

Source
Application
Region

Key companies profiled

BDF Ingredients
C&P Group Ingredients
Creative Enzymes
Guangdong Kelong Biotechnology Co., Ltd.
Haihang Industry
Jiangsu Yiming Biological Technology Co., Ltd.
Micro-Tech Foods Ingredients, Inc.
Ultreze Enzymes Pvt. Ltd.
Yesil Arma
Ajinomoto Co., Inc.
Antozyme Biotech Pvt. Ltd.
Apex Biotechnol

Report coverage

Market Forecasts
Company Share Analysis
Competition Intelligence
DROT Analysis
Market Dynamics and Challenges
Strategic Growth Initiatives

Customization & pricing

Available upon request
Transglutaminase Industry Research by Category
Transglutaminase Market by Source Type:
Animal and Plant Tissues (TTGs)
Microbial Fermentation (MTGs)
Transglutaminase Market by Application:
Transglutaminase for Meat Processing
Transglutaminase for Fish Processing
Transglutaminase for Dairy Products
Transglutaminase for Bakery Products
Transglutaminase Market by Region:
North America Transglutaminase Market
Latin America Transglutaminase Market
Europe Transglutaminase Market
East Asia Transglutaminase Market
South Asia Transglutaminase Market
Oceania Transglutaminase Market
Middle East & Africa Transglutaminase Market