Global Traction Inverter Market Report Overview
Traction inverters are used for the conversion of supplied energy, which is then used to drive motors in the most efficient way.
In this report, we have considered the traction inverters installed in electric vehicles and rails, forklifts and golf carts. Industrial traction inverters have not been considered under the scope of research. Since the last couple of years, traction inverters are being used in most of the electric vehicles as they are one of the most important components of the electric propulsion system. The global traction inverter report is segmented on the basis of vehicle type, technology, sales channel and regions.
Factors influencing the Traction Inverter Market Growth (Market Dynamics)
The need for a higher level of integration in automotive and transport industries is growing day by day. The concept of electro-mobility and an electrical machine combined with all the power electronics required for a traction inverter is attractive when it comes to sensitive factors such as weight restrictions and system costs. Nowadays, most electrified vehicles including locomotive, trams and metros, contain semiconductor modules of SiC (silicon carbide) and Si-IGBTs. The evolving trend of mechatronics to integrate electric components of a vehicle and mechanical parts and assemblies requires modules such as semiconductors with a high level of power density. Thus, semiconductor is the only molded packaged technological solution for this ongoing demand to achieve high-performance and cost-effective solutions.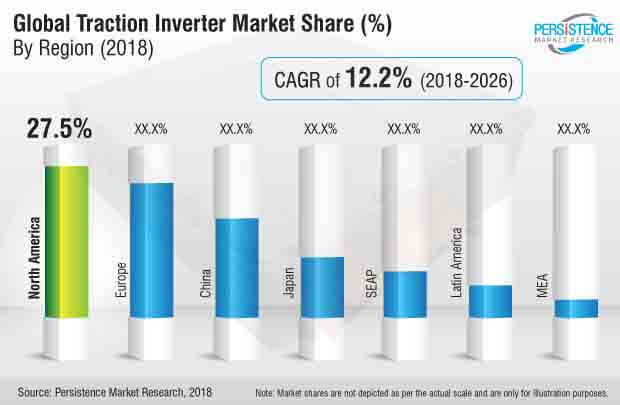 Key Developments in the Traction Inverter Market
In the traction inverter market, manufacturers such as BorgWarner Inc., Delphi Technologies, Siemens AG, Mitsubishi Electric Corporation, ABB and Toshiba Corporation, among others are some of the prominent players. These manufacturers are keenly focused on joint ventures with small-scale players to create a strong customer base across the globe so as to gain a higher market share in the traction inverter business. Moreover, these players are also opening new traction inverter manufacturing facilities in developing countries. Furthermore, most of the companies are introducing innovative products to sustain in the traction inverter market as this strategy helps companies to grow their business in the traction inverter segment in the global market. By introducing new categories of traction inverters, businesses can target previously untapped customer markets and gain modest traction in the traction inverter market.
In June 2018, BorgWarner Inc. inaugurated its state-of-the-art technical center in Pendleton, Indiana to support its production of hybrid and electric vehicle products in order to enhance its sales services and maintain its brand name
In March 2016, Prodrive Technologies announced a RapidIO 3.x collaboration agreement with Integrated Device Technology, Inc. to developed third generation products
In September 2017, Delphi Automotive PLC divided its business into two companies: Aptiv PLC for Mobility Business & Delphi Technologies for Powertrain Business in Massachusetts, U.S.
Traction Inverter Market Structure
The traction inverter market is a highly consolidated one, owing to the presence of several tier 1 & 2 players in the traction inverter market. The leading players have high presence across the globe. Tier-1 players are projected to account for a substantial share in the global market and are also projected to generate more revenue in the traction inverter market. Some of players hold more than 50% of the overseas business in traction inverter market across the globe. These factors are projected to positively impact the global traction inverter market during the forecast period.
A Brief Intro of Research Methodology for the Global Traction Inverter Market
Our research methodology for the traction inverter market is based on six basis points:
Defining Research Problem and Objective

During this step, we performed a deep-dive research analysis on the applications of traction inverters. Then, our team defined the traction inverter market in terms of installation location, application and benefits. During the next step, we made research objectives so that we were contrastable in crunching the traction inverter market. During the course of the research, our team found out that OEM is expected to be the most prominent segment in the global traction inverter market

Collecting, Analyzing and Interpreting Information

During this step, our team collected data pertaining to automotive vehicle production per region and per country from various sources, such as IMF, OICA, UN Data, IEEMA, TEEAM, DOE, PPIB, PEC, BEMMA, PUCSL and others government websites
We also conducted primary interviews with traction inverter manufacturers, suppliers and experts who have vast experience in the Traction Inverter market. Then interpreted the data collected from various sources and made a perfect frame model for automotive vehicle production and vehicle fleet.

Selecting Methods of Data Collection

In this step, our team selected the useful data with the help of sorting tools such as Excel. Moreover, the combined data collected from secondary and primary resources was sorted and arranged as per the requirement in the global market. During this step, we also multiplied data with the penetration rate for traction inverters in the regional as well as the global market

Deciding the Type of Data

During this step, our team regrouped the useful data for traction inverters. For instance, value share for BPS analysis, final year production of traction inverters and initial year production of traction inverters for year-over-year growth were collected. We also used this data to show the incremental $ opportunity charts for the global traction inverter market

Developing the Final Research Plan

During this step, valuable insights collected by our team during the course of study were collated into a market research report. The traction inverter market covers diverse sections such as the executive summary, analysis and forecast, supply demand scenario, competition assessment and research methodology & assumptions
Key Players Dominating the Traction Inverter Market
Some of the market participants identified across the traction inverter market include BorgWarner Inc., Delphi Technologies, Siemens AG, Mitsubishi Electric Corporation, ABB, Toshiba Corporation, Hitachi, Ltd., Voith GMbh, Infineon Technologies AG, Curtiss-Wright, TM4 Inc. and Prodrive Technologies, among others.
Market Segment
Propulsion Type

Output Power Type

Semiconductor Materials Type

Gallium Nitride (GaN)
Silicon (Si)
Silicon Nitride (SiC)

Technology Type

Vehicle Type for ICE vehicles

Passenger Cars
Commercial Vehicles

Region

North America
Latin America

Brazil
Argentina
Mexico
Rest of LATAM

Europe

Germany
France
Italy
U.K
Spain
Russia
Poland
Rest of Europe

Asia Pacific

China
India
Japan
South Korea
Australia & New Zealand
ASEAN Countries
Rest of Asia Pacific

Middle East & Africa

GCC Countries
Turkey
Northern Africa
South Africa
Rest of MEA
- Companies Covered in This Report -
BorgWarner Inc.
Delphi Technologies
Siemens AG
Mitsubishi Electric Corporation
ABB
TOSHIBA CORPORATION
Hitachi, Ltd.
Voith GMbh
Infineon Technologies AG
CURTISS-WRIGHT
TM4 Inc.
Prodrive Technologies
Others