Introduction
On an average, a woman uses around 11,000 tampons in her lifetime. It is important for women to understand the significance of hygiene products in their life. Talking about the tampon market space, demand for regular tampons across the world is higher as compared to other types.
Demand is also based on the applicator and non-applicator aspect, as demand for the non-applicator type is high as it is less expensive than applicator tampons. Non-applicator tampons are easily available in developed markets.
Tampons with applicators are costlier, as they include plastic, which also makes them harmful to the environment. In many countries, applicator tampons are banned due to the plastic involved in them, as governments are keen on promoting organic tampons instead.
Government Initiatives to Support Organic Feminine Hygiene Products to Remain Key Success Factor
The feminine hygiene products market is expected to register considerable growth in the coming years, as government authorities are emphasizing on increasing the production of organic feminine hygiene products such as tampons, which are less harmful to the environment.
Regulations for tampon products vary from region to region. In high-income countries, governments are stressing on tampons with less content of chemicals and plastic. There are fewer regulations and standards for the tampon market in developing and low-income countries.
Moreover, prominent players in the tampon market are based in the U.S. and Europe, as the consumption of tampons is high in these regions, as most women prefer tampons over sanitary pads.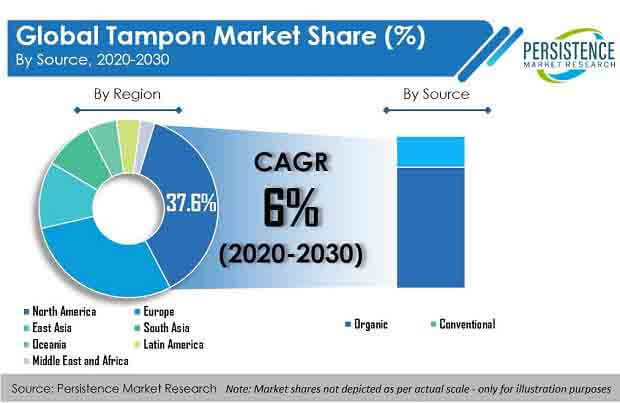 Regional Outlook of Tampon Market
North America and Europe are hubs for innovation and consumer-oriented products. According to an independent research, the consumption rate of tampons in the U.S. is around 65-70%, and 60-65% in Europe. Around one-third of the global tampon market share is generated from these two regions.
With rising preference for sustainable products, demand for tampons is rising in Asia Pacific, especially in countries such as India, Malaysia, and Thailand.
Tampon Market: Competition Analysis
The global tampon market represents a fairly consolidated competition landscape, where a majority of key players maintain their strategic focus on new product development, patents, sustainability products, frequent product launches, and inorganic growth through strategic partnerships with domestic stakeholders.
In 2019, The Procter & Gamble Company introduced an organic tampon under the Tampax brand, which is free of dyes and chlorine bleaching, with fragrance, to meet growing consumer demand for chemical-free products.
In 2019, The Procter & Gamble Company acquired L. brand from L. products to meet growing consumer demand for natural period products.
Sales through e-Commerce Gaining Traction amidst COVID-19 Pandemic
In developed regions of America and Europe, tampons are majorly sold through hypermarkets and supermarkets. However, the COVID-19 pandemic has declined the demand for tampons through stores, due to the lockdown effect.
It is here that online players have a significant opportunity to increases their share by offering multi-brand tampons with strategic pricing, discounts, and multi-offers to attract customers toward online shopping.
The major aspect for online retailers is to meet growing demand by catering to customer expectations and use strategic pricing to face the competition from specialty stores and multi-brand stores.
Analysts' Viewpoint
A brief overview of the changing landscape of the tampon market has led our analysts to conclude that, the market is gaining momentum. Key manufacturers in the tampon market such as Johnson & Johnson Inc., Procter and Gamble Co., Kimberly-Clark Corporation, and Edgewell Personal Care Company are prioritizing innovation and new product development to gain a competitive edge in the market. Most companies are currently focusing on sustainability and environmental-friendly products. Moreover, demand for organic tampons is going to rise in the coming period, as they are less harmful to the environment. Significant demand for organic tampons will be from South Asia and the Pacific over the coming years, due to increasing campaigns and awareness about hygiene products during menstruation.
Tampon Market: Segmentation
PMR's research study on the global tampon market offers a detailed market taxonomy, wherein, key segments have been discussed in detail. The tampon market is segmented on the basis of source, nature, pack size, price range, sales channel, and region. Every segment is analyzed in detail, and data pertaining to the growth of each segment has been included in the study.
Source

Nature

Pack Size

Less Than 10
10-30
31-50
50 & Above

Price Range

Economy
Mid-range
Premium

Sales Channel

Wholesalers/Distributors
Hypermarkets/Supermarkets
Drug Stores/ Pharmacies
Multi-brand Stores
Specialty Stores
Online Retailers
Other Sales Channels

Region

North America
Latin America
Europe
South Asia
Latin Asia
Oceania
Middle East & Africa
The tampon market research report includes a competitive landscape that provides a dashboard view of the key competitors operating in the market. Some of the market players included in this section are Svenska Cellulosa AB, Procter and Gamble Co., Edgewell Personal Care Company, Masmi, Lil-Lets UK Limited, Cora, Kimberly-Clark Corporation, Unicharm Corporation, Johnson & Johnson Inc., First Quality Enterprises Inc., Corman SpA, First Quality Enterprises Inc., Bella, Bodywise Ltd., and others.
Tampon Market: Key Questions Answered in the Report
The research study on the tampon market offers inclusive insights about the growth of the market in the most comprehensive manner. Key insights offered in the tampon market report answer some of the most salient questions that assist stakeholders in gauging all the emerging possibilities.
How is the rapidly changing business environment impacting the growth of the tampon market?
What are the key trends that are constantly shaping the growth of the tampon market?
Which are the prominent regions that offer plentiful opportunities for players in the tampon market?
What are the differential strategies adopted by key players to hold a significant share in the global tampon market?