Servo Motors Drives Market
Global Market Study on Servo Motors and Drives: 'Automation' to Augment Deployment
Servo Motors and Drives Market Segmented By Single Axis Servo System, Multi Axis Servo System Technology with AC Servo Motors, DC Servo Motors Configuration
Servo Motors Drives Market
Introduction
Servo motors & drives have emerged as one of the most advanced motion control devices over the years, as they incorporate precise dimensional tolerance, advanced design methods, and high-force magnet materials.
With an increasing number of industries shifting their focus towards maintaining a high level of precision, reduced labor costs and production wastages, and improved production output, the deployment of servo motors & drives continue to pick pace.
While the industry 4.0 trend is already underway in several regions, the lucrativeness of the servo motors & drives is likely to grow in the years to come.
In view of rapid shift of industries towards automation and robotics, Persistence Market Research (PMR) analysts decided to evaluate the opportunity prospects of the servo motors & drives market. Rising penetration of robotic technology in daily life is envisaged to push the global sales of servo motors & drives market.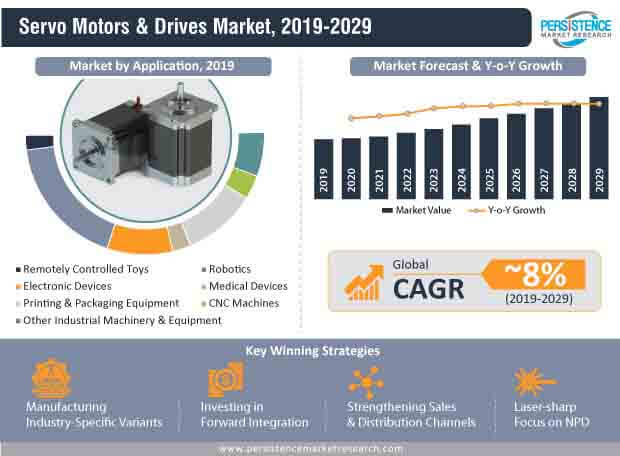 Find Out More about the Report Coverage
Companies
Company Profiles:
Siemens AG
Altra Industrial Motion Corp.
Panasonic Corporation
Nidec Motor Corporation
Parker Hannifin Corporation
Delta Electronics Inc.
Fuji Electric Co., Ltd.
Hitachi Ltd.
Rozum Robotics Inc.
Mitsubishi Electric Corporation
Schneider Electric
FANUC CORPORATION
Rockwell Automation, Inc.
ABB
Applied Motion Products
Baumüller
Nippon Pulse America, Inc.
YASKAWA ELECTRIC CORPORATION.
Evolution of Servo Motors & Drives Market
The servo motors & drives market tracks back to 1800's when the first working rotating electric motor was introduced in May 1834 by Moritz Jacobi. Over the years, the motors have transformed completely, from conventional ones to high-tech modern variants.
Starting from DC motors, the technology roadmap witnessed AC motors and steeper motors before the advent of servo motors, which continue to revolutionize the industrial operations considerably. With an increased number of industries leveraging advanced technology and inclining towards automation, the demand for servo motors & drives have grown considerably in recent years.
As per the PMR analysis, the sales of servo motors & drives reached US$ 12,177.3 MN in 2018, and are envisaged to grow by ~6% in 2019. Versatile profile of servo motors & drives with low maintenance and impressive durability is increasingly compelling manufacturers to look forward to servomotors as an integrated part of their facility, which in turn, is highly likely to fuel the market growth.
Customize this Report
Explore Intelligence Tailored to Your Business Goals.
Compelling Trends Shaping the Growth Prospects of Servo Motors & Drives Market
Industry 4.0 Paving the Way for Deployment of Servo Motors & Drives
Automation in industrial processes has resulted into high production, low cost, more precision, and reduced man-power requirement in the recent years. For that matter, the automation industry continues to grow by leaps and bounds, thereby creating extensive applications for advanced instruments and machines.
Rapidly growing trend of industry 4.0 has created a stream of opportunities for market players, with large number of industries continuing to replace conventional motors with servo motors & drives to streamline operations and enhance overall production.
Numerous industries have shifted to servo motors & drives to conduct precise operations led by the input signals. This falls in line with the fact that as multicore servo motors & drives promise higher precision, give better feedback, and provide greater control, they have emerged as a key foundation for Industry 4.0.
Growing Penetration of Robotics in Operations Promising Umpteen Market Gains
With a growing number of manufacturing industries placing their focus on leveraging advanced technology and embracing automation, the demand for industrial robots continues to remain unprecedented. Growing use of industrial robots in extensive range of assembly, pick-up, and manufacturing applications across automotive, electrical/electronics, automotive, metal, and other machining industries, continues to fuel deployment of servo motors & drives across various verticals.
Adoption of servo motors & drives for robotics applications has grown in recent years, and attributed to sales worth ~US$ 5,712 Mn in 2018. This is envisaged to grow further in the years to come, as conventional motors continue to lose their grip, and are increasing getting replaced by faster, more efficient and durable variants.
Light Weight Material Finding Way in Servo Motors & Drives
In view of the growing demand for servo motors & drives for light applications, manufacturers are utilizing iron alloys to make light weight gear systems of servo motors to design efficient products. For light applications, such as remotely assisted products, such as toy airplane or toy automotive car, light weight gear systems are witnessing adoption to make efficient power to weight ratio. Moreover, several manufacturers are also leveraging plastic gears for low power applications, such as for making tiny robots and scanning type sensors.
East Asia to Outpace Europe through 2029
Gains continue to remain concentrated Europe for servo motors & drives' manufacturers, owing to the healthy presence of end-use industries, such as automotive manufacturing plants, and food & beverages. However, the table is likely to turn for European servo motors & drives market in the forthcoming years, with East Asia anticipated to surpass the region by the latter half of the forecast period. With growing manufacturing industries in East Asia, PMR estimates the market to grow at ~10% CAGR in the region during the foreseeable period.
What's Bothering the Manufacturers of Servo Motors & Drives?
Though wide applications of servo motors & drives have been increasing their adoption across various verticals, the small scale companies continue to utilize conventional motors owing to their comparatively lower costs. Low cost stepped motors continue to maintain their standpoint across small scale companies that often face budget crunch. Easy availability of various cheap substitutes, including serviced motors are also narrowing down the growth path of stakeholders.
Market Research Methodology - Perfected through Years of Diligence
A key factor for our unrivaled market research accuracy is our expert- and data-driven research methodologies. We combine an eclectic mix of experience, analytics, machine learning, and data science to develop research methodologies that result in a multi-dimensional, yet realistic analysis of a market.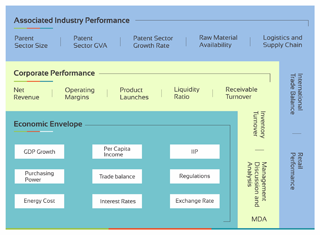 Winning Strategies
Manufacturing Industry-Specific Variants
Several players in the servo motors & drives market have placed their focus on manufacturing products that are designed to cater to application specific requisites in a more enhanced way to secure considerable increment sales. For instance, in view of the growing traction from meat processing industry, numerous manufacturers have launched steel servomotors with exceptional anti-corrosive properties.
Stakeholders are witnessing an increased demand for anti-corrosive servomotors, as these variants not only showcase feasibility but also aid to maintain proper hygiene in medical and food & beverages verticals. For instance, in April 2019, Altra Industrial Motion Corp. launched stainless steel servomotors, which are ideal for meat processing equipment as it utilizes hygienic material.
Forward Integration at Play
With the growing competition in the servo motors & drives market, an increasing number of market players are collaborating and making deals with end-use companies to secure the sales of servo motors. This falls in line with their growing focus on not only attaining an edge in competition but to obtain the liberty to customize products as per their client's demand.
Furthermore, market frontrunners are also collaborating with end-use industries for setting up and installing servo systems. Such long-term contracts with end-users continue to promise stability in the revenue generation of companies and are creating opportunities for growth.
Experimenting with Sales & Distribution Channels
Growing number of manufacturers in servo motors & drives market have shifted their focus on providing hassle-free door delivery to customers. For instance, in 2019, Siemens AG launched a new programs to provide its customers reliable, door to door and promising delivery worldwide.
Stakeholders are solidifying their sales channel to expand customer reach and make it easy for customers to purchase products. Additionally, in March 2019, Siemens AG also announced its plans to acquire KACO New Energy, which is a leading electronics manufacturer in the U.S. to fortify its position in the global market.
Lazer-sharp Focus on New & Better Product Development
As the servo motors & drives market continues to pick pace in terms of competition, market players are increasingly working on new product development with a sharp focus on overcoming the shortcomings of the precursors. For instance, in May 2019, Parker Hannifin launched PSD servo drives that provides enhanced safety and reliability to the customer. In April 2017, Panasonic Corporation launched its new and improved servomotor segment of Minas A6 family to cater to the growing customer demand. In November 2018, Altra Industrial Motion Corp. introduced a new dual axis servo drive, which covered substantial shortcomings of the existing drives in the market.
Explore Persistence Market Research's expertise in promulgation of the business !
Mapping the Market Structure
In April 2019, Siemens launched an enclosed IEC motor for industrial and construction application, with an aim to strengthen its position in the servo motors & drives market.
In June 2019, Mitsubishi Electric Corporation opened a new office in Boston, U.S. to expand its geographical presence in North America.
The global servo motors & drives market is moderately fragmented due to the presence of adequate players across the globe. The top three players in the servo motors & drives market- Panasonic Corporation, Nidec Motor Corporation, and Nidec Motor Corporation accounted for more than half of the market share in 2018, and continue to remain the trailblazer with their unique product, channel, development, and go-to market strategies.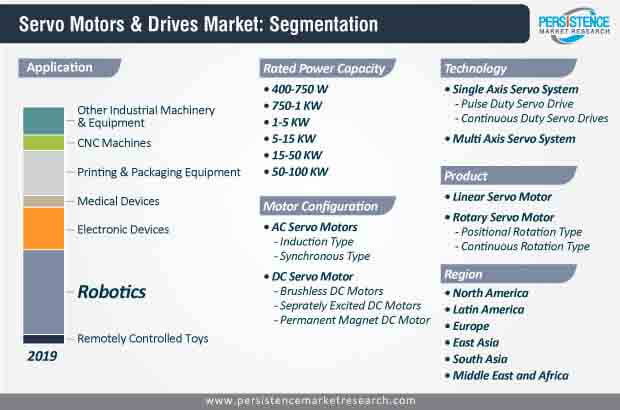 Analyst's Viewpoint 
The authors of the servo motors & drives market anticipate 2.3X growth in servo motors & drives market by the end of 2029, while expanding at a CAGR of ~8% during the foreseeable period. Though the high costing aspect of servo motors & drives has been restraining small-scale industries from purchasing servomotors, sales have grown considerably in companies with mass production and bulk manufacturing capacity.
Moreover, rapid industrial automation continues to set the stage for the deployment of servo motors & drives across a wide range of industries, thereby solidifying the growth prospects of the market. Market players that are increasingly setting their bets on innovative and diverse servo motors & drives are envisaged to gain a stronger hold in the market through 2029.
Servo Motors & Drives Market - Segmentation
PMR's report on servo motors & drives market can be bifurcated on the basis of technology, application, motor configuration, rated power capacity, product and region. The study offers information about the rapidly shifting market trends and dynamics related to the different market segments, and how they are influencing the development prospects of the servo motors & drives market.
Technology

Single Axis Servo System

Pulse Duty Servo Drive
Continuous Duty Servo Drives

Multi Axis Servo System

Application

Remotely Controlled Toys
Robotics
Electronic Devices
Medical Devices
Printing & Packaging Equipment
CNC Machines
Other Industrial Machinery & Equipment

Motor Configuration

AC Servo Motors

Induction Type
Synchronous Type

DC Servo Motor

Brushless DC Motors
Seprately Excited DC Motors
Permanent Magnet DC Motor

Rated Power Capacity

400-750 W
750-1 KW
1-5 KW
5-15 KW
15-50 KW
50-100 KW

Region

North America
Latin America
Europe
South Asia
East Asia
Middle East and Africa

Product

Linear Servo Motor

Rotary Servo Motor

Positional Rotation Type
Continuous Rotation Type
What are the Salient Questions Answered in PMR's Research Study on Servo Motors & Drives Market?
The report offers incisive information pertaining to the servo motors & drives market based on an in-depth research pertaining to the macro as well as microeconomic factors that are playing a significant role in impacting the growth prospects of the servo motors & drives market.
The information presented in the study gives answers to salient queries of the currently operating market players and the companies that want to enter into servo motors & drives market, to assist them in making winning strategies to take their business forward.
Which technology based servo motors & drives are estimated to witness highest sales in 2023?
How market frontrunners are successfully cashing in on the increasing demand for servo motors & drives to make robots?
What are the unique strategies formulated by market goliaths in servo motors & drives market?
Which configuration of servo motors & drives witnessed considerable traction in 2018?
How does growing applications of servo motors and drives in electronic devices shaping the growth of the market?
What will be the Y-o-Y growth of servo motors & drives market between 2019 and 2022?
Our Clients