Ringing Ears Treatment Market Outlook (2021-2031)
Global revenue from the ringing ears treatment market was estimated at US$ 2.5 Bn in 2021, with the market projected to move ahead at a CAGR of 2.8% to reach a valuation of US$ 3.2 Bn by the end of 2031.
Subjective tinnitus indication is expected to account for a market value of US$ 3.1 Bn by 2031. Overall, ringing ears treatment product sales accounted for approximately 25.3% revenue share of the global audiology market, which was valued at around US$ 9 Bn in 2020.
| | |
| --- | --- |
| Ringing Ears Treatment Market Size (2021) | US$ 2.5 Bn |
| Projected Market Value (2031) | US$ 3.2 Bn |
| Global Market Growth Rate (2021-2031) | 2.8% CAGR |
| Market Share of Top 5 Countries | 72.6% |
Demand Analysis of Ringing Ears Treatment from 2016 to 2020 Vs Market Outlook for 2021 to 2031
Sales of ringing ears treatment systems increased at a CAGR of approximately 2.4% from 2016 to 2020.
Hearing level has been found to be the single-most important factor linked to tinnitus. Prevalence of tinnitus rises at a faster pace as one's hearing level rises. Growing prevalence of tinnitus and increasing investments in the research & development of the management for tinnitus are expected to drive the sales of tinnitus management devices.
According to the World Health Organization, around 466 million people are affected by debilitating hearing loss worldwide, with this number likely to rise by 2050.
This has revealed that the prevalence of hearing loss is increasing at a rapid rate. As a result, patient preferences have shifted away from old and conventional treatments and toward more complex and advanced treatments.
Hearing aids are considered to be the primary treatment option for ringing ears. Hearing aids used for ringing ears therapy allow patients with hearing loss to listen to sounds they might be missing, which can effectively remove and cover the focus from the ringing sounds.
In 2020, Tinnitus Today released an article stating that Neuromod Devices Limited, based in Ireland, has products that use bimodal neuro-modulation, which blends sound and tongue modelling to modify brain functions in order to treat tinnitus.
Manufacturers are actively focusing on adopting collaboration and expansion policies, which is expected to increase the sales of tinnitus masking devices.
Neuromod Devices Ltd, in August 2021, expanded its base with the establishment of a new subsidiary in Oak Brook, Illinois.
In November 2020, Starkey entered into a partnership with Inventis in order to provide access of advanced cutting-edge technology to healthcare professionals across the globe.
The global ringing ears treatment market is set to expand at a CAGR of 2.8% and reach a market size of US$ 3.2 Bn by 2031.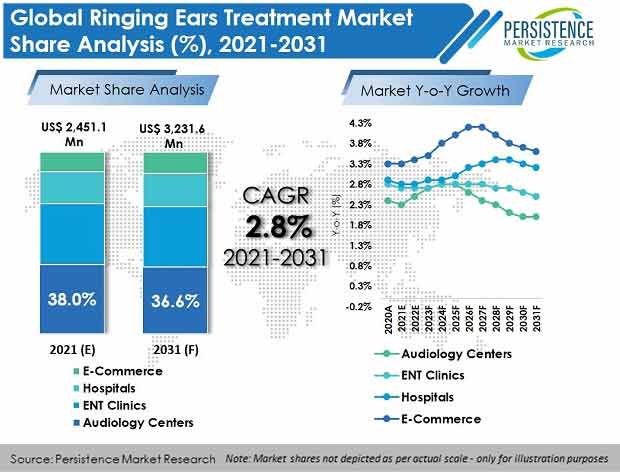 How Can Ringing Ears Treatment Device Manufacturers Grow?
"Cater to Rising Prevalence of Hearing Dysfunction"
The coming years are set to provide many lucrative opportunities for manufacturers of ringing ears treatment devices around the world. Cases of hearing dysfunction are higher in Asia Pacific, Sub Saharan Africa, and South Asia. Several studies have shown that tinnitus confers a significant socio-economic impact.
It is estimated that a high number of elder age people reside in the above-mentioned regions and are prone to hearing disabilities. Current methods for ringing ear management include cognitive behaviour therapy and pharmaceuticals drugs; however, cognitive therapy is only effective in managing distress associated with the disorder rather than curing the disorder per se.
As the global geriatric population is on the rise, patients are preferring pharmaceutical/ drug treatment since these come with many advantages and offer rapid results as compared to behavioural therapies. This factor is important, as key players in the market can get associated with pharma giants in order to manufacture drug therapy products, and, in turn, boost their market growth.
"Targeting Untapped Markets in Emerging Regions"
Countries such as India and China have a high population that is suffering from hearing impairment issues. Young adults and middle-aged people are the population who suffer from this disability the most. As such a large fraction of the population is affected, adoption of treatment methods is expected to be very high.
Moreover, with a boom in technology and innovative advancements in digital and AI integrated software, market growth in these regions is likely to gradually rise during the forecast period.
Why is Demand Growth of Ringing Ears Treatment Being Affected?
"Dearth of Related Reimbursement Policies"
Hearing-impaired people receive financial help from governments in a majority of countries across the world. Over the projected period, the low reimbursement scenario for hearing aids is expected to stifle the growth of the tinnitus management market.
The Irish Republic, for example, has a voucher system that covers half of the cost of hearing aids. But the lack of entirely public-funded reimbursement policies, just like in most other countries, may limit demand for ringing ears treatment equipment.
"Risk of Drug-induced Tinnitus"
Despite some of the benefits of pharmacological therapy in the treatment of ringing ears, several of these medicines have the potential to cause tinnitus. These include both, over-the-counter and prescription medications.
Diuretics, antibiotics, blood pressure meds, chemotherapeutic drugs, pain relievers, and other pharmaceuticals are among them. This could be a crucial issue in limiting the usage of certain types of medicines for the treatment of ringing in the ears.
Country-wise Insights
Why is the U.S. Ringing Ears Treatment Market Proliferating?
"Government Initiatives & Rising Per Capita Expenditure"
The U.S. is projected to account for around 96.5% share in the North America ringing ears treatment market in 2021.
High occurrence and rise in the incidence of tinnitus, rapid surge in the geriatric population, and high per capita healthcare spending in the country are primary factors that are anticipated to drive the market in the U.S. over the forecast period.
In addition, the government in the country is taking initiatives to standardize tinnitus treatment outcomes.
Will the U.K. Be a Lucrative Market for Ringing Ears Treatment Solution Providers?
"High Digitalization of Healthcare Processes Aiding Market Expansion"
The U.K. is expected to hold around 31.5% share of the Europe ringing ears treatment market in 2021, owing to enhanced digitization of healthcare processes and a rise in favourable government policies.
According to the British Tinnitus Association, around 90% of tinnitus patients experience hearing loss.
The market for smart tinnitus devices is booming in the United Kingdom, thanks to an increase in tinnitus patients and rising awareness. Many significant players in the European region are investing heavily in R&D in order to develop the best hearing aids/devices for persons with hearing loss, as well as working and partnering with other market players to expand their global footprint.
Will China Emerge as a Prominent Market for Ringing Ears Treatment?
"Surge in Hearing Impairment Issues in China's Population"
China is set to project a CAGR growth value of 3.8% in the East Asia ringing ears treatment market due to rising geriatric population.
According to census data from 2021, people aged 60 and above account for 18.7% of China's population, and people aged 65 and above account for 13.5% of the country's population.
China has one of the fastest-growing ageing populations in the world. With this, there has been an increase in hearing impairment incidence, which is increasing the treatment-seeking rate in the country.
The Chinese Federation of People with Disabilities estimates that approximately 130 million Chinese suffer from ringing or buzzing in their ears.
Demand for ringing ears treatment is further expected to grow with an increasing number of hospitals and audiology centers adopting e-health solutions over the coming years.
Category-wise Insights
Which Ringing Ears Treatment Product Sees High Demand?
"High Adoption of Device Therapy for Treatment Purposes"
Ringing ears treatment devices are estimated to hold around 93.8% market value share, by product, in 2021. The use of medical devices for the treatment of tinnitus improves patient communication by reducing the irritating sensation of voices and sounds instigated by tinnitus.
Currently, there are no FDA-approved drugs for ringing ears treatment. Also, drugs and medicines used for the management of ringing ears also pose several side effects, and hence, have a lower adoption rate as compared with devices for the treatment of ringing ears.
Which Indication Leads Ringing Ears Treatment Demand?
"Widely Prevalent Acoustic Stimuli Complementing Market Growth"
Subjective tinnitus held the largest market share of 95.6% in 2020. Among all the types of tinnitus, subjective tinnitus accounted for the highest prevalence across the globe. In the subjective condition of tinnitus, patient perception of sound exists in the absence of an acoustic stimulus.
According to a study published in JAMA Network, the contemporary national prevalence of subjective tinnitus in the U.S. is approximately 1 in 10 adults.
Owing to this increasing incidence of subjective tinnitus, this indication is gaining the most traction in ringing ears treatment.
Competitive Landscape
Companies involved in the treatment of ringing ears are actively attempting to strengthen their positions through product approvals, partnerships, mergers, acquisitions, and partnership agreements with both, existing and new market participants.
Manufacturers' goal to acquire major share within the industry space is accelerated by product launches and acquisitions.
Some of the recent instances include,
Merck signed a collaboration agreement with Innervia Bioelectronics in the Bioelectronics innovation space in July 2021. This is a new company that is a subsidiary of Inbrain Neuroelectronics in Spain.
Teva Pharmaceutical Industries Ltd announced a partnership with Alvotech in order to commercialize certain biosimilar candidates in the U.S. This partnership was enforced from August 2020.
Oticon announced the new revolutionary Oticon More hearing aids. These hearing aids are enabled with the Deep Neural Network (DNN), which supports the brain functioning of patients as well. They launched these hearing aids in November 2020.
In April 2020, GN Hearing launched their new in-ear testing, also known as in situ tests. They were introduced as an addition to the ReSound Assist live-at-home services that were already offered.
Ringing Ears Treatment Industry Report Scope
Attribute

Details

Forecast Period

2021-2031

Historical Data Available for

2016-2020

Market Analysis

USD Million for Value

Key Countries Covered

U.S.
China
Germany
U.K
Benelux
India
France
Canada
Australia
Japan
Brazil
South Korea
Italy
Malaysia
GCC Countries
Spain
Mexico
Russia
South Africa
Northern Africa
Turkey
Argentina
New Zealand
Thailand
Indonesia

Key Market Segments Covered

Product
Indication
Distribution Channel
Region

Key Companies Profiled

Pfizer Inc.
Sanofi
Teva Pharmaceutical
GlaxoSmithKline
Eli Lilly and Co.
Bayer AG
Takeda Pharmaceutical Company Ltd.
Boehringer Ingelheim
Merck & Co.
Abbivie
Starkey Laboratories, Inc.
GN Hearing A/S
Widex A/S
Oticon Inc.
Neuromod Devices Ltd.
Neuromonics, Inc.
Puretone Ltd.
Signia

Report Coverage

Market Forecast
Competition Intelligence
DROT Analysis
Market Dynamics and Challenges
Strategic Growth Initiatives

Customization & Pricing

Available upon Request
Key Segments Covered in Ringing Ears Treatment Industry Research
Ringing Ears Treatment Market by Product:
Ringing Ears Treatment Devices

Sound Masking Devices
Notched Music Devices
Hearing Aids

Ringing Ears Treatment Drugs

Tricyclic Anti-depressants
Anti-Convulsants
Anti-Anxiety
Ringing Ears Treatment Market by Indication:
Subjective Tinnitus
Objective Tinnitus
Ringing Ears Treatment Market by Distribution Channel:
Audiology Centres
ENT Clinics
Hospitals
E-Commerce
Ringing Ears Treatment Market by Region:
North America Ringing Ears Treatment Market
Latin America Ringing Ears Treatment Market
Europe Ringing Ears Treatment Market
South Asia Ringing Ears Treatment Market
East Asia Ringing Ears Treatment Market
Oceania Ringing Ears Treatment Market
Middle East & Africa Ringing Ears Treatment Market