Rhum Agricole Market: Online Sales Complementing Traditional Channels
As the fad apropos of the 'Tiki Culture' picks momentum, restaurants, lounges, and bars are reimagining their businesses in terms of aesthetics and ambience. Such trends, limited to the developed world for a long time, are being also witnessed in developing countries.
Classic rum has been ruling the roost since time immemorial; however, rhum agricole is emerging as the 'Next Big Drink', in light of its vibrant and vegetal flavor. Being produced from primary rather than secondary cane sugar products, purity of flavor sets rhum agricole apart. Currently, the distribution of rhum agricole is limited to some countries; however, with the drumbeat of digitalization, cross-border sales through e-Commerce are likely to grow and govern the overall value in the future.
Sensing the growing adoption trends of rhum agricole in established as well as emerging markets, Persistence Market Research (PMR), in its recent report, analyzes this fledgling category, and offers recommendations on leveraging the upcoming opportunities.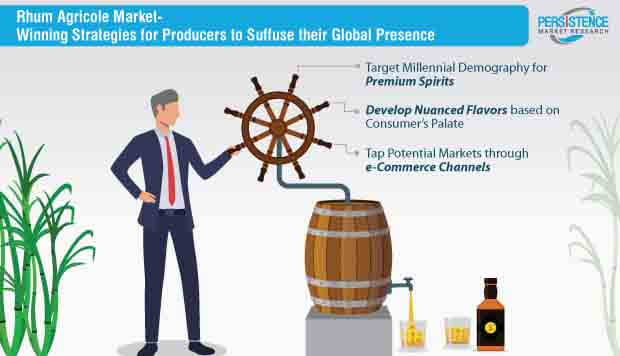 Evolution of the Rhum Agricole Market - Extending Frontiers of Rum
Unlike the production of conventional rum from molasses, rhum agricole tracks its roots to the financial necessity that ascended from the collapse of the cane sugar market in the 1870s, in the island of Martinique, France. Being produced directly from the fresh cane juice, rhum agricole catered to aficionados who were looking for a unique drinking experience.
The character of rhum agricole, however, differs in itself, given the influence of varying parameters – microclimate, cane variety, as well as differentiation in processes such as distillation, blending, and ageing. In contrast to the conventional consumers who evinced a marked predilection for sweet-flavored rum, millennials lean towards the dryer and unusual flavors, which makes them a key demography of the market. In 2018, rhum agricole sales were recorded at approximately 37 million liters, equating a market value worth US$ 1.3 billion.
Rhum agricole manufacturers and suppliers are hoping that declining reluctance to experimentation among drinkers can introduce this category to a larger target audience. However, considering that among other variables, 'price' remains a key influencing factor for buying behavior, rhum agricole continues to witness competition from rum and other affordable variants.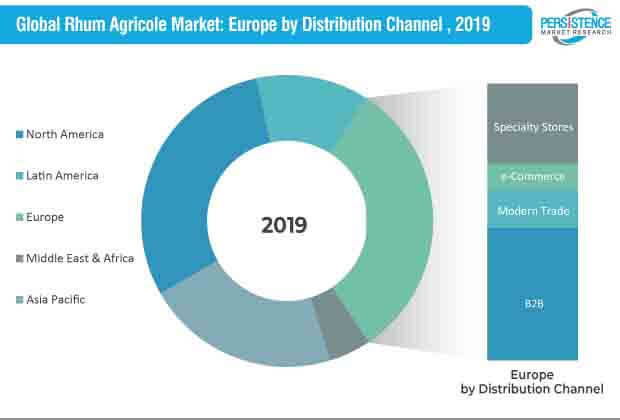 Premium is No Longer 'Not-an-Option'
Given the high price tag attached to rhum agricole, hotels, restaurants, and cafes (HoReCa) account for significant sales i.e. ~62%, with a view to satisfy the appetite of consumers for 'unusual drinks'.
However, once muted, consumers' liking for premium beverages has been witnessing an upward tick, given the influence of their stabilizing financial status, which when coupled with the ease of buying rhum agricole from online – e-Commerce-and offline - B2B - channels has been turning the household segment into a high-potential end use segment.
Since the popularity of rhum agricole is limited to its native regions and some of the others, owing to the growing tourist activities, producers resort to distribution partnerships to facilitate sales through B2B channels, which is likely to remain a key distribution channel. However, as consumers increasingly turn towards e-Commerce to suffice their needs for cross-cultural food and beverages, sales through online channels are likely to grow impressively during the forecast period.
Currently, these channels are spectating improved exponential performance in terms of sales, which are likely to move to a higher value in the future. However, with limited production and growing popularity of rhum agricole, there is likely to be a mismatch in the demand-supply ratio. In addition, there still exists some regions, where rhum agricole demands a proper introduction, which limits the sales of rhum agricole only to developed countries of Europe and North America and some developing countries of APAC.
Rhum Agricole Market – Winning Strategies for Producers
Target Millennial Demography for Premium Spirits
In recent times, a resurgence in the leisure spending of the millennial populace has surfaced new demography in lines with sales opportunities for numerous industries. This particularly holds true for increased spending on alcoholic beverages by millennial, which is chiefly influenced by their proclivity for distinguished flavor and taste. In addition, since rhum agricole spectates high demand for a unique blend in cocktails like Mojito, producers can target millennial demography to increase sales of premium and super-premium spirits.
Develop Nuanced Flavors based on Consumers' Palate
Rhum agricole tastes relatively livelier and grassier as compared to the classic rum, which aligns with the evolving preference of consumers for unusual tastes. Producers of rhum agricole can capitalize on the opportunity to develop nuanced flavors based on the quest of consumers for alcoholic beverages with new flavors. They can develop new variants of rhum agricole by experimenting with types of canes and processes to differentiate their offerings and stand out in the competitive landscape.
Tap Potential Markets through e-Commerce Channels
Since rhum agricole is produced in only a handful of regions – West France, Caribbean Islands, Mauritius, and some parts of North & Central America – this variant of classic rum hasn't been able to make a mark in terms of popularity, which restricts it from realizing its true sales potential. However, this serves as an instrument for broadening exposure in overseas territories by leveraging the high-penetration prowess of e-Commerce channels. Producers of rhum agricole can run marketing campaigns on various Social Media Platforms to create awareness regarding this variant of rum and, in turn, widen their consumer base.
Competitive Sphere of the Rhum Agricole Market
The rhum agricole market spectates numerous established players, which are heavily concentrated in Martinique, France. However, Europe and North America collectively are home to some of the key market players.
The leading players of the market - Rhum Clement, Distillerie Saint-James, and Distillerie Damoiseau - are focusing on expanding their production capacity. In addition, these players strive to build production and distribution partnerships with the local players of other regions to broaden their geographical exposure.
For instance, rhum agricole produced by Rhum Clement is considered as one of the high quality rums across the world. The company expends its efforts in marketing to grow awareness regarding rhum agricole through exhibitions and promotional events. It offers its products in over 65 countries across the globe.
The strategies employed by regional players, however, differ than the market goliaths. For instance, La Favorite Distillery prioritizes investment in diversification of its product portfolio, the one that includes Hors d'Age Rums, Old Rums, and White Rums. It focuses on attracting tourists by offering tours of its distillery and free tasting sessions to promote its products.

Analysts' Inference of the Rhum Agricole Market
Author(s) of PMR's study maintain a propitious outlook on the growth prospects of the rhum agricole market and anticipates a CAGR of 3.5% during the forecast period 2019-2027, given the high influence of bars, lounges, and restaurants.
As per their analysis, increasing penetration of the Internet and social media platforms on the millennial populace is likely to grow intelligence apropos of this nuanced category of rum. The rapidly growing cocktail culture among adults coupled with their financial lucidity are likely to offer new growth tangents to the rhum agricole market.
Given the fact that rhum agricole is native to Europe, production facilities, distribution channels, and consumer awareness are high in the region, which makes it a high-value market. However, as consumers of eastern countries strive to match the progressive footsteps of the western culture, developing countries of Asia Pacific are likely to create lucrative business opportunities for rhum agricole producers.
Sales of rhum agricole are anticipated to remain high in hotels, restaurants, and cafes while growing knowledge among consumers will offer exponential sales opportunities in the household segment, facilitated by e-Commerce channels. However, producers need to rethink and act on the low demand-supply ratio of rhum agricole to expand their presence in the global market.
Rhum agricole
Rhum agricole is a type of rum, which is distilled from sugar cane juice rather than molasses. Rhum agricole is mainly produced in Martinique, a French West Indies area, and few other areas including some Indian Ocean islands and in some parts of South America. Rhum agricole is different from rum because of its unique specialties.
In Martinique, rhum agricole can only be produced when the maturity of sugarcane is at its peak. This results in limited production of the product. Rhum agricole is further classified into three categories based on its aging process, which are Blanc or white, amber or brown, and Vieux or aged.
Vieux is kept uninterrupted for 36 months. Rhum agricole is presumed to be a premium drink, widely used in different hotels, restaurants, and cafes. It is also the best suited drink for making a cocktail. Rhum agricole is also named as an "agricultural" drink as it is sourced from freshly-pressed sugarcane juice. Rhum agricole is distributed through varied distribution channels, including e-commerce and specialty stores, and is traded on business to business platforms.
Growing Cocktail Culture among Youngsters
Alcohol consumption by young adults varies in different countries and cultures. The study of per capita consumption in various countries provides some information about the drinking patterns of adolescents. Moreover, analyzing the social norms along with alcohol availability and pricing of alcoholic beverages among young adults and adolescents also provides a perspective on their drinking patterns.
Thus, the growing cocktail culture among youngsters due to the growing demand for different combinations of alcohols, will eventually enhance the sales of rum cocktails, as rum has become a popular ingredient in many cocktails, owing to its strong taste. The increasing popularity of cocktails is thus, expected to ultimately leave a positive impact on growth of the rhum agricole market.
Penetration in Untapped Markets to Increase Revenue
Companies could focus on reaching the consumer base in several untapped markets in order to generate sales and increase revenue from regions such as the Middle East. There are several regions where premium alcoholic beverages are imported from other countries.
This leads to high cost of premium products, hence, affecting sales in these regions. Companies are focusing on expanding and manufacturing their premium products in their region itself, leading to comparatively lower costs. Low penetration in few regions, coupled with high costs of premium imported products creates an opportunity for manufacturers to expand in such regions.
Popularity of Alcoholic Drinks among Adolescents and Millennials
Increasing number of individuals are consuming alcoholic drinks across the globe, owing to the perception that these reduce stress and relax the mind. With the growing influence of internet, as well as social media, there is an increase in the number of social parties and group outings, which ultimately lead to an increase in the consumption rum and its variants such as rhum agricole. Increasing disposable incomes, especially in developing countries of the Asia Pacific region, are leading to lifestyle changes in youngsters in the region, leaving a positive impact on the rhum agricole market. Increasing number of people with high income as well as good social network influence, is making it easy for alcohol companies to increase their consumer base. The increasing number of alcohol consumers ultimately proves to be a positive factor for the growth of the rhum agricole market.
Premiumisation Trend Propelling Overall Growth
Consumers, particularly millennials, are bypassing the value and premium liquor store shelves in search of high-end, super-premium alcohol products such as rhum agricole. From 2012 to 2017, the super-premium spirits and high-end premium spirits segments grew 6-7% per year by volume, significantly outpacing the growth of the premium and value segments, and driving the overall increase in the consumption of spirits.
At present, premium products such as rhum agricole, are gaining popularity in the regular retail market. Furthermore, rising influence towards premium products among millennials and adolescents is a crucial factor for the growth of the rhum agricole market.
The alcohol beverage industry has further adopt the trend and utilized it to influence consumers to try premium alcoholic products. In developed regions such as Europe and North America, consumption of premium products is very high, and emerging nations are frequently following the western culture and creating more demand for premium alcoholic drinks.
Rhum agricole is recognized as a premium alcoholic drink and witnessing more demand due to the premiumization trend.
Rhum Agricole Market – Segmentation
This comprehensive guide on the rhum agricole market offers an in-depth analysis of the market attractiveness by assessing the key segments. The global study also encompasses a country-wise assessment, with a view to comprehend the demand and supply ratio of the rhum agricole market.
Each of these segments is included and studied in a detailed manner in order to obtain actionable intelligence on the rhum agricole market. The study on the rhum agricole market offers historical, current, and futuristic trends shaping the growth of the segment, in particular, and of the market, in general.
In addition to this, it includes value chain analysis, Y-o-Y growth analysis, and supply chain analysis. The research report provides an assessment based on the variant, end use, distribution channel, and region.
Variant
End Use
Distribution Channel

B2B
Modern Trade
e-Commerce
Specialty Stores

Region

North America
Latin America
Europe
MEA
APAC
Rhum Agricole Market – Key Questions Answered
This global study on the rhum agricole market encapsulates a brief overview, providing rare insights into the growth prospects over the course of the forecast period. This comprehensive research report provides salient answers to the crucial questions concerning the stakeholders of the rhum agricole market. Some of the important questions addressed in the report comprise:
What is the rhum agricole demand scenario in terms of value and volume?
What are the relevant drivers shaping the growth of the rhum agricole market?
How will the rhum agricole market evolve during the forecast period?
What are the key challenges and threats restraining the growth of the rhum agricole market?
What are the macroeconomic and microeconomic factors that are impacting the growth of the rhum agricole market?
Which end use segment will remain a key contributor in terms of value and volume?