Growing digitization and cloud adoption to boost the ransomware protection market
Workplace digitization is growing at an explosive pace and this is particularly felt in the APAC region that can be considered the perfect example of a 'mobile first, cloud first' region. While this may well lead to greater ransomware attacks, it represents a limitless opportunity for widespread adoption of cloud based security solutions. Other regions are widely expected to follow APAC's example in the adoption of cloud based ransomware protection software.
Small and Medium size enterprises did not see cyber security as a priority in the past as it was considered an unnecessary additional expenditure. The recent ransomware attacks such as WannaCry and Peyta have necessitated a larger commitment to online security and small and medium enterprises have begun to invest in cloud based security.
Web filtering and threat intelligence solutions gaining traction
Most ransomware is delivered via unauthorized links or through email attachments. These ransomware attacks are easily able to bypass traditional security solutions such as firewalls or antivirus software that may be installed. That is why enterprises are increasingly seeking out non-traditional solutions to avoid ransomware attacks in the future.
As these organizations move their entire or a part of their operations to the cloud, players actively involved in the ransomware protection market will also have to make the resultant shift. Startups have often come forward with innovative and out-of-the-box solutions as they are not tied down by legacy software and can seamlessly shift to emerging technologies such as cloud computing.
Cloud segment most preferred mode of deployment in the global ransomware protection market
A growing deployment of cloud based security solutions by both large enterprises and SMEs makes the cloud deployment type the most attractive segment in the global ransomware market, anticipated to increase 3.7x between 2017 and 2025. This segment will also register steady Y-o-Y growth rates throughout the forecast period and expand at a CAGR of 17.7% in terms of value.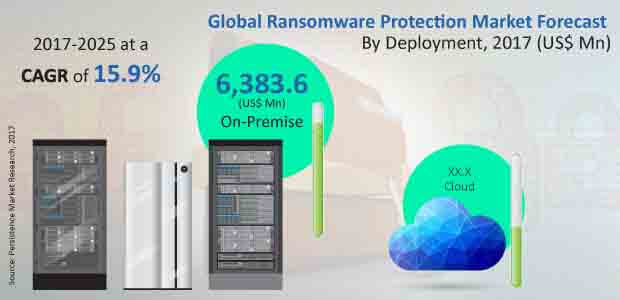 Prevalence of unsecure connected devices a key challenge
Enterprises across the world have increasingly warmed up to the concept of BYOD or bring your own devices, keeping pace with the 'cloud first, mobile first' era we now live in. More often than not, these devices are unprotected when it comes to ransomware attacks. While devices such as thermostats and connected cameras may not directly be affected by ransomware, they can easily serve as the entry point for ransomware attacks that can make their way to the cloud.
BYOD policies are desired by employees for their convenience and flexibility but they can pose major security threats to organizations. Without strict implementation of Mobile Device Management or VPN's, BYOD can have a direct impact on the security of cloud computing.
Lack of awareness a major restraint in the ransomware protection market
A study conducted in the U.K. by Axelos proved that most enterprises in the country were relying on outdated practices for basic cyber security. It is not impossible for even the best security systems to be compromised by an unaware employee inadvertently opening a malicious attachment and this threat is compounded several times when cloud computing comes into the picture. This is because the ransomware can spread its tentacles across the organizational cloud and bring it almost to a virtual standstill.
Cloud deployment in North America to witness a high growth rate
North America is the largest regional market in the global ransomware protection market because the continent is a virtual goldmine for hackers. The region's well-developed internet infrastructure and its faster adoption of technologies such as cloud computing makes it particularly vulnerable. The cloud deployment segment in the North America ransomware protection market is expected to register a CAGR of 15.8% from 2017 to 2025. The cloud segment was valued at just under US$ 1.4 Bn in 2016 and is predicted to cross US$ 5 Bn by end 2025, representing an incremental opportunity of approx. US$ 3.5 Bn.
Ransomware Protection Market: Taxonomy
Attribute
Details

Component

Solution

End Point Security Solution
Network Security Solution

Service

Consulting Service
Support and Management Services

End User

Commercial
Residential
Deployment

Region

North America
Latin America
Europe
APAC
MEA
- Companies Covered in This Report -
Microsoft Corporation
Sophos Ltd.
Trend Micro Incorporated
Symantec Corporation
Kaspersky Lab
Malwarebytes Corp
McAfee Inc.
Avast Software s.r.o
Cisco System Inc.
Palo Alto Networks Inc.
Zemana Ltd.
Webroot Inc.
Barracuda Networks Inc.
Alien Vault Inc.
Check Point Software Technologies Ltd.
Bitdefender S.R.L.
Others.