Raman Analyzers Market Outlook (2022-2032)
Worldwide revenue from the Raman analyzers market was US$ 585.5 Mn in 2021, with the global market estimated to surge ahead at a value CAGR of 4.8% to reach a market valuation of US$ 970.8 Mn by the end of 2032.
Sales of Raman analyzers accounted for approximately 9% revenue share of the global molecular spectroscopy market in 2021.
| Attribute | Key Insights |
| --- | --- |
| Raman Analyzers Market Size (2021) | US$ 585.5 Mn |
| Projected Market Value (2032) | US$ 970.8 Mn |
| Global Market Growth Rate (2022-2032) | 4.8% |
| Market Share of Top 5 Countries | 54.0% |
Sales Analysis of Raman Analyzers (2017 to 2021) Vs. Industry Outlook (2022 to 2032)
The Raman analyzers market expanded at 3.7% CAGR, mainly due to their enhanced precision, during the 2017-2021 historical period.
One of the primary analytical methods employed in optical metrology is Raman spectroscopy. It is a vibration-based, marker-free method that offers insights into the molecular makeup of tissues and cells. Raman spectroscopy is an excellent method for identifying materials. This makes it a highly accurate tool for the analysis of highly complicated plant tissues since it provides spatial information of vibrations from complex biological samples.
For a very broad spectrum of substances, a Raman analyzer can be utilized as a fingerprinting technique. Raman spectroscopy has gained significance in the identification and definition of tissues and the processes occurring in them as a result of the implementation of new, improved Raman techniques by investigators as well as ongoing technological advancements in the system.
The structure, dynamics of change, and functions of biomolecules are investigated using Raman spectroscopy. Data with a high spatial resolution is collected in conjunction with microscopy. Raman spectroscopy is a vibrational method without any markers. As such, it plays a critical role in biological research by enabling the investigation of the molecular composition of tissues and cells, as well as by providing the ability to gain insights into their structure.
Raman spectroscopy is a molecular-specific technology that can assist with tissue diagnostics and monitoring by extending the understanding of the biochemistry of tissue physiology and pathology. The method's optical nature allows for the non-invasive, or at the very least, minimally-intrusive extraction of this information, which makes it more practical to use in a clinical context.
The global Raman analyzers market is set to expand at a CAGR of 4.8% and reach a global market size of US$ 970.8 Mn by 2032.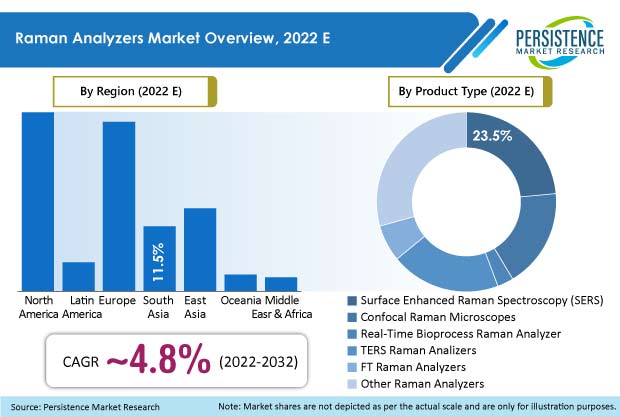 How Can Raman Analyzer Product Manufacturers Excel in This Market?
"Wide Areas of Utilization of Raman Analyzers"
Because of the extremely poor efficiency of typical Raman scattering and the high cost of spectrometer components, which were also unsuitable for on-site investigation, the application of Raman spectroscopy was restricted for many decades. These limitations were eliminated due to advancements and enhancements of Raman analyzers, which created the opportunity to utilize the technique in a wide range of scientific disciplines.
Fluorescence, low sensitivity, and a weak Raman signal are issues that have been solved in recent years by the Raman spectroscopy approach. Many improved Raman techniques have been developed to meet the ever-increasing demands of analysis.
There are currently more than 25 different types of Raman spectroscopy methods. For instance, the issue of fluorescence interference is resolved by a Fourier transformation (FT) Raman spectrometer utilizing a near-infrared (NIR) laser. The Raman scattering signal is strengthened by the surface-enhanced Raman spectroscopy method.
Raman confocal microscopy offers a crisp, three-dimensional view of the material's structure and composition with micrometric resolution. Spectral data is provided via coherent anti-Stokes Raman scattering (CARS), which has a low laser power requirement and high sensitivity. A variety of materials can be studied using Raman resonance scattering (RRS) in the photon energy range.
Handheld Raman spectrometers that are portable and reasonably priced are increasingly accessible. A practical, precise, and non-invasive method for on-site evaluation and assessment of fruits and vegetables in crop production, in storage, or shops, is getting more and more common owing to increasingly advanced portable Raman technology.
How is Demand for Raman Analyzers Being Adversely Affected?
"Poor Efficacy and Low Spectroscopic Repeatability of Raman Analyzers"
Raman analyzers have a significant drawback, in that, they have low spectroscopic repeatability, which makes it very challenging to get accurate quantitative data. When analyzing the distribution of fluorescence in plant tissues, the issue of low repeatability is considerably greater.
For quantitative analysis in biomedical and pharmaceutical applications, Raman spectroscopy has widely been used. However, weak Raman scattering results in consistently low signal-to-noise ratios (SNR) in Raman spectra. The precision of the quantitative analysis is hampered by the noise in the Raman spectral dataset.
There are two main restrictions on the research and use of Raman spectroscopy in life sciences. Firstly, the Raman scattering process has very poor efficiency. Due to poor scattering efficiency, it frequently takes tens of minutes or even hours to acquire multiple Raman spectra.
Secondly, a measured spectrum frequently shows an overlap between the Raman bands of several molecules within a sample. Raman bands of molecules with low scattering effectiveness and/or in small quantities cannot be detected, particularly in cells and tissues made up of a range of chemical components. Due to this restriction, it is challenging to do a complete molecular study of a living cell or tissue in practice.
Due to these limitations, the market for Raman analyzers is anticipated to experience a restrictive impact upon sales growth as well as product adoption, across the forecasted years.
Country-wise Insights
Why is the U.S. Raman Analyzers Market Booming?
"Emergence of Digital Farming Concepts in the U.S."
The U.S. accounted for around 92.3% market share of the North American Raman analyzers market in 2021.
A modern agricultural philosophy called 'digital farming' promises to increase crop productivity while posing the least negative impact on the environment. To practice digital farming, technology that can provide information about a plant's health straight from the field must be developed.
Raman spectroscopy (RS) can be utilized for non-invasive, non-destructive, and conclusive diagnostics of diseases as well as the detection of nutritional inadequacies in plants. This facilitates the digital selection of plants and Raman-based phenotyping. The high selectivity and specificity of this method demonstrate how RS may transform U.S. agricultural production.
Thus, growing advances in the food and agriculture sector in the U.S. is set to present lucrative growth opportunities for the U.S. Raman analyzers market throughout the projected period.
Will Germany Be a Lucrative Market for Raman Analyzer Product & Service Providers?
"Biopharmaceutical Industry Driving Demand for Raman Analyzers in Germany"
Germany held around 11.7% market share of the Europe Raman analyzers market in 2021.
Market growth was influenced by the country's surge in the usage of solid-state therapeutic drugs across both, industry and academia. Some of the current pharmaceutical applications of Raman analyzers in the nation include identifying morphologies, managing real-time operations, spotting counterfeit and contaminated prescription drugs, and evaluating solid dose compositions.
The Raman spectroscopy market in the European region is also being driven by growing healthcare expenditure by government entities and their contractors' initiatives to develop unique healthcare technologies.
Category-wise Insights
Which Product is Driving High Growth of the Raman Analyzers Market?
"Immense Popularity of Surfaced Enhanced Raman Spectroscopy (SERS)"
The surface enhanced Raman spectroscopy (SERS) segment held around 23.2% share of the market in 2021.
SERS substrates are used to identify low-abundance biomolecules, and as a result, they can identify proteins in biological fluids. The use of a SERS-based immunoassay method allows for the early detection of pancreatic cancer biomarkers.
The market for Raman analyzers is anticipated to exhibit a lucrative growth outlook due to the broad range of bio-therapeutic applications of surface enhanced Raman spectroscopy over the coming years.
Which Modality of Raman Analyzers is Most Popular?
"Higher Adoption Rate of Bench-top Equipment"
Benchtop/standalone modality held the largest market share of around 42.8% in 2021.
The main benefit of benchtop instruments is that they come with a high-powered laser with a choice of sample accessories to personalize applications and provide excellent spectral resolution of the collected spectra.
Due to their higher excitation wavelength, benchtop equipment typically offers a superior signal-to-noise ratio and fewer fluorescence disruptions. Large spectrum library databases are yet another resource to help reliably and promptly identify substances.
Competitive Landscape
Due to the growing interest in and acceptance of cloud-based spectroscopy, the Raman analyzers industry has experienced impressive growth. The market will have even more attractive and profitable growth prospects with greater investments in R&D.
Growth of the Raman spectroscopy market is also fuelled by advances in technology and a rise in the demand for real-time sample analysis in complex conditions. The high cost of spectroscopic installations, however, could drastically restrict the rate of industry growth.
In March 2021, Agilent Technologies Inc. announced the introduction of a new instrument in its portfolio of Raman technology. The new 'Agilent Vaya Raman raw material identity verification system' is a portable device that facilitates quality control testing in the pharmaceutical and biopharmaceutical industries.
Thermo Fisher Scientific Inc. announced the launch of a new Raman spectroscopic analyzer in April 2022 for process monitoring for several applications, including the production of biopharmaceuticals.
Raman Analyzers Industry Report Scope
Attribute
Details

Forecast Period

2022-2032

Historical Data Available for

2017-2021

Market Analysis

USD Million for Value

Key Countries Covered

U.S.
Canada
Brazil
Argentina
Mexico
Germany
France
U.K.
Italy
Spain
Russia
BENELUX
India
Thailand
Malaysia
Indonesia
China
Japan
South Korea
Australia
New Zealand
Turkey
GCC
Northern Africa
South Africa

Key Market Segments Covered

Product
Modality
End User
Region

Key Companies Profiled

Agilent
Bruker
Thermo Fisher Scientific
Renishaw plc.
B&W Tek
Mettler-Toledo International, Inc.
Horiba, Ltd.
Metrohm AG
Kaiser Optical Systems, Inc.
Rigaku Corporation
PerkinElmer, Inc.

Report Coverage

Market Forecast
Competition Intelligence
DROT Analysis
Market Dynamics and Challenges
Strategic Growth Initiatives

Customization & Pricing

Available upon Request
Key Segments Covered in Raman Analyzers Industry Research
Raman Analyzers Market by Product:
Surface Enhanced Raman Spectroscopy (SERS)
Confocal Raman Microscopes
Real-Time Bioprocess Raman Analyzers
TERS Raman Analyzers
FT Raman Analyzers
Other Raman Analyzers
Raman Analyzers Market by Modality:
Bench-top/Standalone Raman Analyzers
Portable Raman Analyzers
Handheld Raman Analyzers
Raman Analyzers Market by End User:
Pharmaceuticals
Life Science
Forensics
Oil, Gas, and Chemical Industry
Food Industry
Security, Defence, and Military
Raman Analyzers Market by Region:
North America Raman Analyzers Market
Latin America Raman Analyzers Market
Europe Raman Analyzers Market
South Asia Raman Analyzers Market
East Asia Raman Analyzers Market
Oceania Raman Analyzers Market
The Middle East & Africa Raman Analyzers Market