Healthcare "Extra" IT Spending to drive the Radiology Information Systems (RIS) Market
As per Persistence Market Research, the global Radiology Information Systems (RIS) Market will witness a CAGR of over 9% between 2020 and 2030.
The Radiology Information Systems (RIS) market is driven by excessive spending in healthcare IT sector. RIS providing cloud-based data along with image sharing assessment services do show a promising scope as hoards of market key players are looking out for spending more on advancement and enhancement in healthcare IT.
The sophisticated database system provided herein is likely to accelerate its adoption in medical and clinical verticals all across the Europe, Japan, and the US.
Radiology Information Systems Market: What's in Store?
Radiology Information Systems have also been finding an increasing acceptance in dental healthcare in the form of dental radiology equipment. They are inclusive of intraoral plate scanners, cone-beam computed tomography imaging, intraoral X-Ray systems, and extraoral X-Ray systems.
The dental radiology equipment market is expected to reach US$ 3.2 Bn by 2026.
Demystifying Radiology Information Systems is all set to go a long way in bolstering the Radiology Information Systems (RIS) market. Close to 41.4 Mn diagnostic imaging tests were performed in the UK between Feb 2017 and Jan 2018. This figure is expected to increase manifold going forward.
Interventional radiology implies performance of a wide range of imaging procedures for obtaining images of inside the body. The techniques like MRIs, X-Rays, Fluoroscopy, ultrasounds, and scans are used herein. These factors are expected to give further impetus to the Radiology Information Systems (RIS) market in the upcoming period.
Radiology Information Systems (RIS) Market: By Type
Amongst the types of products, i.e. standalone and integrated, the latter one holds the largest market share, mainly due to the fact that it is inclusive of RIS-PACS solution, that too, with single worklist formed at the time of registration. This helps in enhancing workflows across all the business platforms.
Emergency Information System does play a vital role in extending support to ED (emergency department) workflow. RIS in this form is expected to take the entire medical imaging industry by storm.
The above-mentioned radiology software's are expected to move around with greater cashflow in the years to come.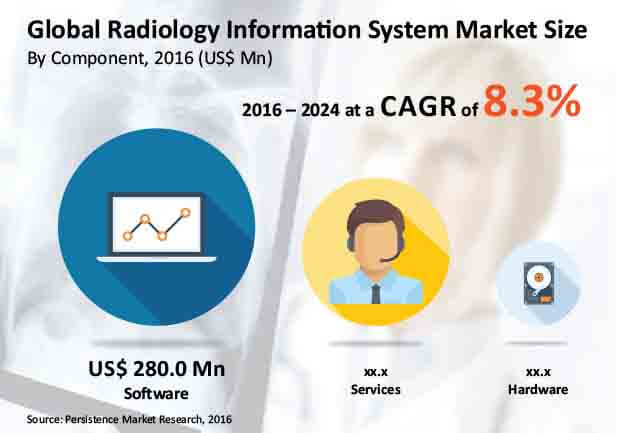 Costs Restraining the Radiology Information Systems?
The installation costs of radiology information systems is so much to bear for new entrants. This factor is bound to restrict them from investing more into RIS market.
There is a likelihood of these key players teaming up with the large players, so as to outsource the process of imaging. This could boil down to high expenses incurred by the patients and hamper the RIS market further.
Covid-19 Impact
Though the outbreak of Covid-19 has resulted in slowing down of research in RIS, the demand for the same does not seem to stop, as the advanced stage of Covid-19 calls for RIS. The year 2021 is expected to bring in new hopes in terms of research.
Region-Wise Specifications
North America leads the Radiology Information Systems (RIS) market. This could be attributed to growth in the number of radiologists along with new software's getting introduced therein. Asia-Pacific is expected to witness an impressive CAGR from 2020 to 2030 due to increasing awareness over here.
Competitive Insights
The major players in the Radiology Information Systems (RIS) market include Cerner Corporation, Merge Healthcare, Siemens Healthcare, McKesson Corporation, Epic Systems Corporation, GE Healthcare, Philips Healthcare, Allscripts, and MedInformatix, Inc.
On an inorganic expansion front, Philips, in Mar 2019, did ink an agreement with Carestream Health, Inc.'s HCIS (Healthcare Information Systems) for reaching out to more geographies (on the part of the former one).
Market Segmentation
By Region

North America
Latin America
Europe
APAC
MEA

By Platform

By Component

Services
Consulting Services
Custom Application Development
System Integration
Support and Training Services
Other Services
Hardware
Software

By Deployment

By End User

Hospitals
ASCs
Clinics
Diagnostics Labs
Others