Push To Talk Over Cellular Market
Global Market Study on Push-to-Talk Over Cellular (PTToC): Long-Term Evolution (LTE) Devices to Dominate Demand Growth
Push-to-talk over Cellular Market Segmented By PTToC Equipment, PTToC Software, PTToC Services Components in PTToC LMR, PTToC LTE Device
Market Snapshot
Push-to-talk over cellular (PTToC) market revenue totalled US$ 3.9 Bn in 2020, according to Persistence Market Research, and is expected to reach US$ 12.4 Bn by 2031, increasing at a CAGR of over 11% through2031. Demand for PTToC equipment and solutions will accelerate with the top 5 providers holding around 60% of total market.
Newly released data on the PTToC market analysis indicates 9.9% y-o-y growth in 2021. Among the device types available, market share of LTE devices is the largest. Moreover, the LTE segment will expand at over 12% CAGR to remain dominant through the assessment period.
Find Out More about the Report Coverage
Companies
AT&T
Verizon
Sprint Corporation
Mobile Tornado
Bell Canada
Motorola Solutions
Azetti Networks
Qualcomm
Servicom
Simoco Wireless Solutions
Key Points Covered in Push-to-Talk Over Cellular Industry Survey
Market Estimates and Forecast 2016-2031
Key Drivers and Restraints Impacting Market Growth
Segment-wise, Country-wise, and Region-wise Analysis
Competition Mapping and Benchmarking
Brand Share and Market Share Analysis
Key Product Innovations and Regulatory Climate
COVID-19 Impact on PTToC Services and How to Navigate
Recommendation on Key Winning Strategies
Customize this Report
Explore Intelligence Tailored to Your Business Goals.
2016-2020 Push-to-Talk over Cellular Market Analysis Compared to 2021-2031 Industry Outlook
The global push-to-talk over cellular market size is estimated to be valued at US$ 4.3 Bn in 2021. The push-to-talk over cellular solutions is expected to witness an increase at a CAGR of 11.2% during the forecast period 2021-2031.
Increased mobility of the workforce coupled with popularity and proliferation of mobile computing devices has boosted the popularity of applications for mobile workers. Moreover, with increasing number of mobile applications and continuous development in mobile wireless technologies, the need for advanced PTT solutions is growing constantly. Various companies are moving forward to adopt push-to-talk solutions to manage multiple devices and networks.
PTT solutions enable customers to consolidate to a single device platform and deploy mobile applications to increase productivity and drive efficiency in the workforce. For instance, a study by Information Systems Audit and Control Association (ISACA) has forecasted that, by 2021, 72.3% of the U.S. workforce will be remote.
The global PTToC market is anticipated to witness growth in revenue from US$ 3.9 Bn in 2020 to over US$ 12.4 Bn by 2031.
Market Research Methodology - Perfected through Years of Diligence
A key factor for our unrivaled market research accuracy is our expert- and data-driven research methodologies. We combine an eclectic mix of experience, analytics, machine learning, and data science to develop research methodologies that result in a multi-dimensional, yet realistic analysis of a market.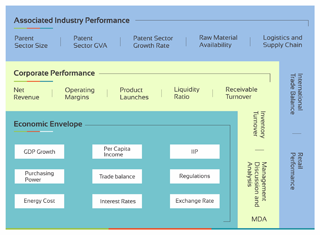 How is Development in LTE Networks Escalating PTToC Solution Sales?
LTE networks are multipurpose & data centric, and are capable of supporting different types of voice, data, and video services that include full-duplex voice communications (telephony and voice chat) as well as push-to-talk voice. With the rapid development of LTE, various companies are offering push-to-talk-enabled mobile devices to take advantage of commercial networks.
Furthermore, commercial cellular companies provide push-to-talk via POC applications which is designed for different user groups. Also, various companies are offering push-to-talk solutions by taking advantage of LTE network for incident response and mission-critical applications.
For instance, Motorola Solutions, Ericsson, and Telstra delivers the 3GPP LTE broadcast-enabled PTT (Push-to-talk) on Telstra's live LTE network. This technology offers highly secure and mission-critical LMR services and can cost-effectively extend PTT service to a greater number of users via mobile devices.
Explore Persistence Market Research's expertise in promulgation of the business !
How Will New Innovations By Key PTToC Players Propel Market Expansion?
Many cellphone providers are launching new cellphones with advanced push-to-talk over technology. These cellphones implants an artificial intelligence assistant and it can help in decoding and also it can exchange common messages among public authorities during emergencies. It also attributes a smart-screen similar to smartphone.
There are similar product innovations that are gripping the PTToC market. The technology of PTT is improving day by day, as there are some devices that are implementing radio communication alongside 4G LTE technology. Thus, continuous rise in application of push-to-talk over technology in new cellphones is driving the global market.
What are the Key Challenges Impacting Demand for Push-to-Talk Solutions?
Commercial cellular push-to-talk is a critical communication tool for various industries due to its capability to deliver instant voice and enable group communication with the PTT button. Compatibility is one of the major concerns for push-to-talk solution providers, as smartphones can consolidate push-to-talk and multiple other applications into a single device.
Moreover, due to increasing functionality of push-to-talk devices, maintenance and processing speed is likely to be a restraining factor. Thus, device compatibility is one of the major challenges for the growth of the market for PTToC solutions. However, constant evolution of advanced mobile communication technologies helps addresses customer needs in a continuously changing business environment.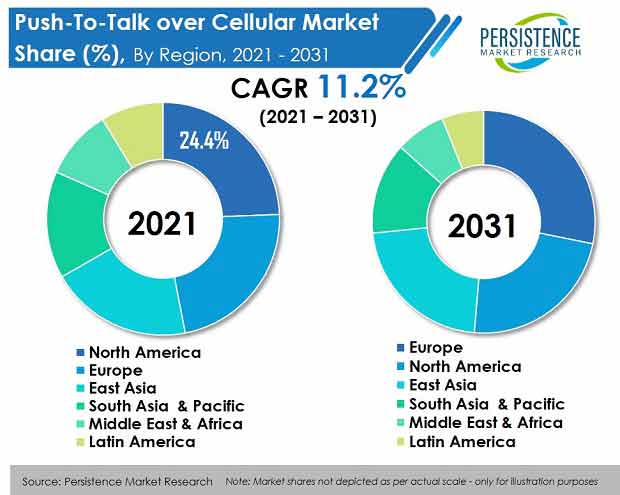 Country-wise Insights
Why is Demand for Push-to-Talk Over Cellular Surging in the U.S.?
According to Persistence Market Research's analysis, overall push-to-talk over cellular spending in the U.S. alone is likely to increase at a rate of almost 10% from 2021 to 2031, with a market being valued at US$ 681 Mn at present.
The U.S. is the largest technology market in the world, and has clearly established itself as a major player. United Stated is spending a good amount of money in technology services and software, which is significantly higher than the rate in many other global regions.
Demand for push-to-talk hardware and services has increased over the past few years, as there is a rise in adoption of PTT solutions in the public safety sector in the country. The public safety sector in the country is immensely investing in LMR (land mobile radio) systems for rising criminal activities, natural disasters, and cross-border terrorism. Such factors are fueling demand for PTToC solutions in the country.
Which Country in Europe is Anticipated to Offer Lucrative Growth Opportunities for PTToC Suppliers?
The United Kingdom has majority of key players of push-to-talk solutions. The country has been on the forefront of leading the 5G deployment. Owing to such factors the U.K. holds the largest share of 18% in entire European market, moreover U.K. is expected to remain dominant throughout the forecast period.
Key players in the country are adopting PTT technology in order to increase the level of productivity with the help of 5G networks. Long-range two-way radio communication and live GPS location tracking are the challenges faced by many businesses and organizations across the U.K., which are further solved by PTT solutions and services.
Continuous developments in the telecom sector will definitely add new platform potential for PTT services. The country is continuously moving toward digital era, innovation and entrepreneurial dynamism, and this is creating potential growth opportunities for PTT solution providers to enhance their customer base and sales revenue in the country.
Why is Adoption of Push-to-Talk Solutions Surging in China?
According to Persistence Market Research analysis, the market for push-to-talk over cellular in China has a value of around US$ 313 Mn, and the country holds the largest share around 41% in the East Asia region.
Various industries in China are functioning out of multiple locations across the country, owing to favorable business policies and free mobility of the workforce allowed by the government. Thus, the number of mobile workers is increasing continuously, which is encouraging organizations to adopt advanced connectivity solutions that can help their employees communicate with each other in an efficient manner.
Moreover, continuous demand for integrated voice and data on mobile devices and the growth of push-to-talk-enabled smartphones in China is creating potential growth opportunities for push-to-talk over cellular solution providers.
What is the Demand Outlook for PTToC Solutions in Brazil?
The market in Brazil is anticipated to be valued around US$ 295 Mn by 2031. In the past few years, continuous digitization of the workspace has increased demand for remote solutions in various organizations. Demand for remote solutions has increased rapidly in various manufacturing and utility sectors in major economies such as Brazil and Mexico, which has created potential growth opportunities for PTToC solutions.
Furthermore, due to rapid digitization at the workspace, several key industrial developments have changed the dynamics of push-to-talk and made this service even more useful in Latin American countries.
Category-wise Insights
Which Device Type is Anticipated to Fuel Sales of PTToC Solutions?
Long-term evolution (LTE) is dominating the market and is anticipated to expand at a CAGR of 12.2% from 2021 and 2031, holding a market value of around US$ 2.2 Bn in 2021.
Land mobile radio (LMR) has been one of the most preferred communication networks for a variety of industries in the past few years. However, various limitations of LMR systems, such as short network range and high capital investment, are responsible for the growth of LTE technology.
Push-to-talk over cellular removes the limitation of short network range and provides users a wide network range without the need to develop and maintain a costly and complex network. Due to the significant benefits of push-to-talk technology, these systems are now widely used in a variety of industries, which include public safety, construction, utilities, and transportation.
Thus, several advantages of push-to-talk over traditional LMR technology is one of the major factors fueling sales of PTT equipment and solutions.
Why is Demand for PTToC Rising from the Public Safety & Security Sector?
Public safety and security has seen high adoption of PTToC due the wide area coverage and bandwidth. It is also easy to accommodate voice and video communications through the better bandwidth of push-to-talk over cellular.
Thus, demand of PTT solutions in public safety and security is anticipated to grow at a significant rate of 12.8% over the forecast period.
The public safety and security industry is dependent on push-to-talk over cellular because of its highly reliable network. The network does not require maintenance or operational expenses, which is further an advantage for security market.
Push-to-talk over cellular in the security industry is growing at healthy rate. The security segment accounted for the highest share in the market, as the technology is continuously helping in improving interoperable capabilities.
What Is the Impact of COVID-19 on PTToC Demand?
Push-to-talk over cellular technology has experienced an adverse as well as positive impact owing to the COVID-19 pandemic outbreak. Initially, lockdowns imposed by governments disrupted the supply chain, and also the demand for push–to-talk components decreased, as the workforce was not allowed to work.
However, as soon as the situation improved and work started in rotational shifts, surge in demand for mission critical solutions was seen. For instance, Motorola Solutions saw a notable decline in land-mobile-radio (LMR) sales during the first quarter of 2020, but public safety-LTE plays a crucial role during mission-critical services, and adoption as the communication standard is expected to rise.
In addition, dealing with customers in this pandemic is becoming tricky and thus telecom operators are investing heavily to minimize customer churn in order to retain their customers. They are offering virtual support services to customers to keep them engaged and solve their issues more quickly.
Competitive Landscape
Over the years, it has been observed that the PTT providers are continuously focusing on collaborations and partnerships with each other to offer advanced solutions to address the growing and changing demands.
Moreover, due to availability of high-bandwidth 3G and 4G technologies, push-to-talk providers focus on delivering high-performance solutions to customers. This trend is expected to continue over the next few years due to increase in advanced mobile communication technologies.
For instance, in December 2020, Mobile Tornado collaborated with Telrad, a global provider of innovative LTE telecom solutions to offer an integrated, end-to-end solution for PTT communication over broadband. This pairing will allow customers to use a single mobile device for cellular as well as PTT communication in both one-to-one and group scenarios.
In March 2018, AT&T collaborated with Sprint Corporation, T-Mobile, and Verizon Wireless and developed a mobile authentication solution to help protect enterprises and consumers from identity theft, bank fraud, fraudulent purchases, and data theft. In addition, advanced analytics and machine learning capabilities are used in this solution to evaluate risk and protect customers.
Scope of Report
Attribute

Details

Forecast Period

2021-2031

Historical Data Available for

2016-2020

Market Analysis

USD Million for Value

Key Countries Covered

US
Canada
Germany
U.K.
France
Italy
Spain
Russia
China
Japan
South Korea
India
Thailand
Malaysia
Indonesia
Australia
New Zealand
GCC Countries
Turkey
Israel
Northern Africa
South Africa

Key Segments Covered

Component
Device Type
Industry
Region

Key Companies Profiled

AT & T
Verizon
Sprint Corporation
Mobile Tornado
Bell Canada
Motorola Solutions
Azetti Networks
Qualcomm
Servicom
Simoco Wireless Solutions
Samsung
GroupTalk
NexusTalk
Kyocera Corporation
Sonim Technologies Inc.
Telo Systems Corporation Limited
AINA Wireless
SIYATA Mobile

Report Coverage

Market Forecasts
Vendor Share Analysis
Competition Intelligence
DROT Analysis
Market Dynamics and Challenges
Strategic Growth Initiatives

Customization & Pricing

Available upon Request
Market Segmentation by Category
Component
PTToC Equipment

Mobile Devices
Network Devices
Ruggedized Devices
Hybrid Devices
Accessories

PTToC Software

Carrier-integrated PTT Solutions
OTT PTT Solutions

PTToC Services

Network Services
Integration and Deployment Services
Maintenance and Support Services
Device Type
Industry
PTToC for Public Safety & Security
PTToC for Construction
PTToC for Energy & Utility
PTToC for Transportation and Logistics
PTToC for Manufacturing
PTToC for Defense
PTToC for Hospitality
Others
FAQs Answered in Market Study
How much is the push-to-talk over cellular (PTToC) market worth?

The global push-to-talk over cellular (PTToC) market is valued at around US$ 4.3 Bn, and is estimated to grow at a healthy pace.

Which region is expected to showcase significant growth in demand for PTToC?

The push-to-talk over cellular (PTToC) market in Europe is projected to register strong growth at a CAGR of above 13% during the forecast period, due to increase in number of mobile workforce and continuous developments in telecommunication infrastructure.

Which is the most attractive software in the PTToC industry?

Carrier-integrated PTT solutions are currently the most attractive in the market, accounting for over 56% of revenue generated.

Which are some of the leading companies offering push-to-talk over cellular solutions?

Some of the leading PTToC solution providers are Sprint Corporation, BCE Inc., Motorola Solutions, AT&T, and Verizon Wireless. More than 40% of the market share is currently held by the top 15 players.

Who are the leading end-user industries of PTToC solutions?

The public safety & security sector is expected to dominate the market, generating revenue of US$ 3.7 Bn by 2031, owing to advancements in the safety and security of communication equipment.

What was the last 5 year market CAGR for PTToC?

From 2016 to 2020, demand for PTToC increased at a CAGR of 9.6%.

What are the key trends related to push-to-talk over cellular?

Growth in adoption of PTToC technologies for public safety & security and in the transportation sector, and implementation by government and disaster management agencies are key trends in this space.

Which are the top 5 countries driving demand for PTToC?

Top 5 countries driving demand for push-to-talk over cellular include the U.S., U.K., Brazil, China, and Australia.

What is the North America market outlook for PTToC?

North America is predicted to remain one of the most attractive markets during the forecast period, with the U.S. accounting for over 60% market share of the region.

What are the key market statistics for PTToC in South Korea and Japan?

The push-to-talk over cellular market in Japan and South Korea was valued at US$ 244.3 Mn and US$ 206.1 Mn, respectively, in 2020, and is projected to register CAGRs of 12.7% and 13.3% through 2031.
Enquiry before Buying
Is the market research conducted by Persistence Market Research?

Yes, the report has been compiled by expert analysts of Persistence Market Research, through a combination of primary and secondary research. To know more about how the research was conducted, you can speak to a research analyst.

What research methodology is followed by Persistence Market Research?

Persistence Market Research follows a methodology that encompasses the demand-side assessment, and triangulates the same through a supply-side analysis. This methodology is based on the use of standard market structure, methods, and definitions.

Who are the respondents for primary research?

Persistence Market Research speaks to stakeholders across the spectrum, including C-level executives, distributors, product manufacturers, and industry experts. For a full list of primary respondents, please reach out to us.

What are the sources of secondary research?

Persistence Market Research conducts extensive secondary research through proprietary databases, paid databases, and information available in the public domain. We refer to industry associations, company press releases, annual reports, investor presentations, and research papers. More information about desk research is available upon request.

Is a sample of this report available for evaluation?

Yes, you can request a sample, and it will be sent to you through an email.

How can I buy this report?

Persistence Market Research provides a secure online payment system to buy reports seamlessly. You can buy the report securely and safely.
Our Clients