Introduction
Proximity sensors are widely adopted for automotive applications to detect objects nearby vehicles. These sensors provide the driver with warnings and information regarding the vehicle status. Some prominent applications of proximity sensors in automobiles include engine temperature, battery charging check, speed control, fuel level, and others.
In some use cases, these sensors are deployed on the doors and handles to detect objects in case of any collision or warning required. Due to such wide adoption of proximity sensors for automotive applications, the expansion of the global proximity sensor market size is expected to progress at a high rate through 2030.
The Industrial Internet of Things that calls for sensor-based measurements for decision support and analysis and purposes, continues to drive the growth of proximity sensor market. The growth of the market is also based on non-professional end-users as the need for innovative devices with artificial intelligence is in demand, especially amongst the youth. Access is also possible through various gadgets such as laptops and smartphones. This study also analyses a slew of factors influencing the global sales of proximity sensors for the forecast period, 2017 – 2025. The assessment period has been employed to develop accurate market size estimations for the near future, instead of presuming its growth for the undecided extended year period.
The study is comprehensive, and has been compiled by a team of subject matter experts from the IT and Telecommunication sectors, research consultants and industry analysts. Qualitative information on industry trends and market dynamics have been infused with quantitative data, to create accurate market size estimations. The report serves as a reliable source of information for companies manufacturing proximity sensors in the global market. By availing the report, the leading proximity sensors manufacturers in the world can develop new strategies, change the existing devices, and head dynamically towards future market direction.
Proximity Sensor Market Trends       
Rising Demand for Proximity Sensors in Consumer Products: In today's smart and interconnected world, the number of consumer electronic devices, such as smartphones, laptops, and smart home devices, is increasing at a predominating rate. Sensing components are been increasingly used in smartphones to improve overall functional efficiency and convenience.
Furthermore, the use of position detection proximity sensors that detect the position of objects is generating rapid demand for proximity sensors in the consumer electronics industry. Therefore, high growth of the consumer electronics industry in business regions such as North America and China plays an important role in the growth of the global proximity sensor market.
Increasing Demand for Proximity Detection Due to Rapid Urbanization: Today's modern facilities are becoming more complex and diverse with urban expansion and population growth. Sensor information data will help manage different urban facilities and also help respond effectively to emergencies and accidents, through information sharing. Intelligent urban vehicles will need multiple sensors, looking at different sorts of phenomena. These different types of proximity sensors constantly monitor the position and control of the vehicle, which increases their demand in urban infrastructures, thereby propelling the growth of the proximity sensor market.
Technological Developments in Proximity Sensors: In the era of technology development, new innovative proximity sensor - Time of Flight (ToF) sensors, can protect health in many ways, while maintaining social distancing with all kinds of products. For instance, in July 2020, STMicroelectronics introduced high-performance proximity and ranging sensors, based on FlightSense Time of Flight technology. These Time of Flight (ToF) sensors help enable 3D sensing capabilities for all kinds of products that we use every day.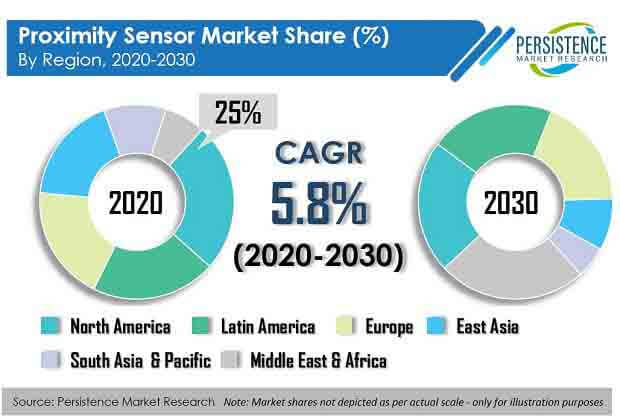 Regional Outlook of Proximity Sensor Market
North America will have the largest proximity sensor market share due to developments in autonomous systems and automotive vehicles. Moreover, there is rapid increase in industrial automation in the U.S., which would enable the adoption of proximity sensors for factory automation, control systems, and safety devices.
Moreover, rapid urbanization and economic development in South Asia & Pacific is anticipated to account for the fastest growth of the proximity sensor market in the region. Countries such as India, Indonesia, Singapore and Australia are rapidly adopting such detection technologies for a wide range of applications in robotics, industrial inspection, consumer products, and others.
Proximity Sensor Market – Competition Landscape
Introduction of new product innovations and strategic partnerships are key strategies followed by top players in the proximity sensor market, to increase their business revenue. Proximity sensor manufacturers are focusing on innovation in products/services to improve their market shares.
Some of the leading players in the proximity sensor market are Panasonic Corporation, ST Microelectronics NV, Autonics Corporation, OMRON Corporation, SICK AG, Riko Opto-electronics Technology Co. Ltd, Pepperl+Fuchs GmbH, Keyence Corporation, NXP Semiconductor, and others.
Impact of COVID-19 on Proximity Sensor Market
Due to the COVID-19 pandemic, the proximity sensor market has been positively impacted. As of now, due to the virus outbreak, large number of people are staying indoors with less physical contact between them. Proximity sensors on consumer electronics safety devices have enabled contactless sensing and detection. This, in-turn, would drive the growth of the proximity sensor market in the consumer electronics industry.
With the increasing impact of COVID-19 on different industries, companies are changing their business policies to maintain social distancing by using advanced technologies. Hence, in the COVID-19 scenario, demand for proximity sensors has increased to enhance workplace safety and ensure contact tracing via proximity detection tags, so as to ensure business continuity.
Analysts' Viewpoint
In this market study, the global proximity sensor market is followed in terms of market value, and is correlated and set to obtain market revenue estimates for the forecast period of 2020 – 2030. The proximity sensor market in North America is expected to be the most dominating market space during the forecast period. The coronavirus pandemic has further complemented the growth of the market across the world.