Polysulfide Sealants: Sealing Off Joints and Preventing Leaks
The adhesive and sealants industry, like other industries, is influenced by various social developments and global trends. While new innovative ways of building housing apartments and other commercial buildings come with the necessity of new materials to build with, aerospace community has been struggling to fight corrosion on metal airframes.
Such high unmet needs across wide-range of industries have triggered rapid developments in adhesives sector in terms of resistance, enhanced sealing performance, and other specialized functionalities.
Many of today's sealants were originally developed for general or specific applications; of particular interest is to determine how they add value to a number of industries.
Persistence Market Research (PMR), in its new offerings, turns the spotlight on 'polysulfide sealants market' and provides important facts and figures determining the potential growth prospects of the market.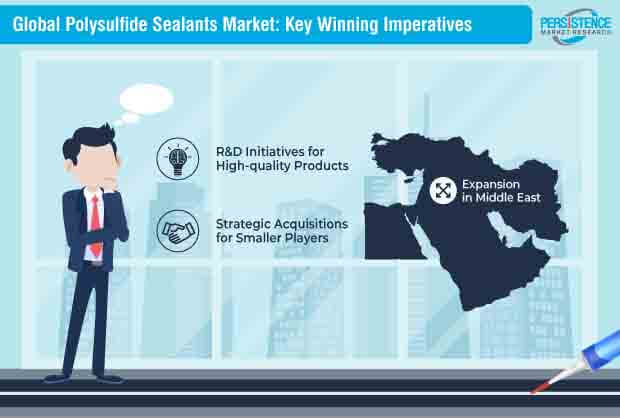 Polysulfide Sealants Market – Evolutionary Landscape & Future Prospects
The first use of polysulfide sealants dates back to 1950s when synthetic polymeric adhesive began displacing many naturally occurring products for their greater adhesion and superior resistance to operating environments.
With increased popularity of modern wall construction and high demand for sealing aircraft fuel tanks and offshore structures, the widespread use of polysulfide-based sealants grew rapidly over the years.
In 2018, worldwide sales of polysulfide sealants recorded over US$ 1,000 million, and a large number of manufacturers continue to supply different products to various end users for multitude of applications.
However, it is imperative to note that key manufacturers of polysulfide sealants are being challenged by the high cost of products and strong competition from polyurethane and silicone sealants.
As polysulfide sealants are manufactured using minimal or negligible solvent, manufacturing costs cannot be monitored by developing products with a variable solvent to polymer base ratio, thereby creating another key challenge for manufacturers.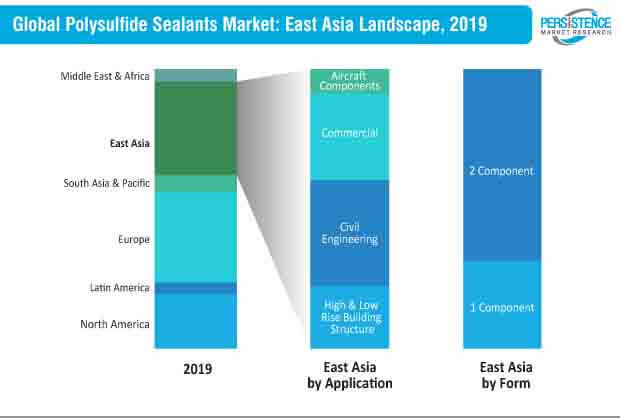 2 component Polysulfide Sealants Continue to Gain Center Stage
2 component polysulfide sealants account for higher demand as compared to 1 component variants. With improved miscibility and rate of curing, 2 component polysulfide sealants have also witnessed higher investment and innovation. As the 2 component polysulfide sealants account for 65% share of the market, manufactures have specifically focused on this category.
Considering the broader evolutions in number of end-use industries, polysulfide sealants manufacturers have also been forced to innovate. With continuous building and development of bridges, underpasses & tunnels, and roadways & culverts across the globe, the manufacturers are competing to develop high-quality products, especially for infrastructure and civil engineering projects.
As governments are keen to encourage innovations in the infrastructure and megaprojects are being proposed and progressed, polysulfide sealants market players are targeted towards leveraging opportunities created by evolving trends in civil engineering and the world's infrastructure market.
In addition, product innovations and development strategies are highly influenced by growing need for advanced sealants to fight against corrosion of aircraft components and prevent leaks arising from aircraft fuel tanks.
Expansion of airports along with rising demand for aircrafts, especially in developing regions, to sustain the needs of ever-increasing number of air travelers have also led to realignment of these strategies.
Stakeholders' Strategies to Win a Strong Position in the Market
R&D Initiatives for High-quality Products
As high cost and limitations to change chemical compositions continue to challenge the growth of polysulfide sealants market, key manufacturers are focused on innovations for the development of new products in association with chemical researchers and other stakeholders.
In addition, they are making high investments in R&D activities to address any complications associated with adhesion of polysulfide sealants and other variants. Considering the nature of the product and its scope of application, polysulfide sealants market players are also directing their investments towards launching new products and diversifying their product portfolios for wide-range of applications.
Eyes Shift to Emerging Market Opportunities
Expansion and establishments of new production facilities in new markets, particularly Middle East & Africa (MEA), remain a key focus area of the polysulfide sealants market stakeholders.
As competition for investments opportunities in developed markets rises, a number of leading market players are targeting developing regions for new opportunities along with better yields and margins. These players are not only viewing these regions from manufacturing perspectives but also from target market perspectives.
For instance, Sika AG, a key polysulfide sealants market player, has invested in 51 new plants, 21 new national subsidiaries and 22 acquisitions since 2012, focusing on developing markets in MEA.
The Competitive Landscape
The polysulfide sealants market shows a fair level of consolidation, where local or country-level players account for significant share of the market. Top three global players including Sika AG, Henkel AG & Co. KGaA, and H.B. Fuller continue to maintain a strong presence in the market by promoting bulk procurement of products for large industrial applications.
Leading players of polysulfide sealants market are no stranger to acquisitions; many of the companies' important strategies revolve around strengthening their presence in particular regions by acquiring small players in those regions. In addition, a number of manufacturers are entering into strategic partnership with industry-related companies to extend their reach across several industries. For example, in 2018, GCP Applied Technologies Inc. announced that it has acquired R.I.W Limited, a supplier of waterproofing products in around $30 million deal.
Key business strategies of polysulfide sealants market players include selling of products through several distribution channels in different regions across the globe, along with establishing long-term contracts with distributors, especially in developing countries. It is highly likely that leading players H.B Fuller and 3M will continue to strengthen their sales and distribution channels.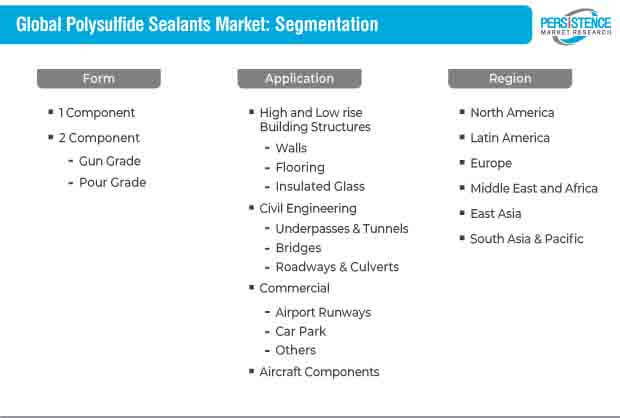 The Analyst Viewpoint
Report authors maintain a positive outlook of the polysulfide sealants market, which is projected to record a CAGR of over 3.5% during the period, 2019-2029. As continued urbanization and industrialization in developing countries such as China and India have led to rapid expansion of construction industry, polysulfide sealants manufacturers will need to capitalize on this sector.
Polysulfide sealants contain negligible amount of solvents in its formulation, and are noted to showcase no VOC emissions throughout its service life; with increasing implementation of stringent regulations regarding VOC emissions, market players should be looking at a period of sustained demand.
Free Analysis Part 2
Sealants based on polysulfide elastomers are called polysulfide sealants. They have a wide application in sealing joints designed for prolonged liquid immersion. Polysulfide sealants usually require the addition of catalysts and other activating agents for curing.
These are cured under room temperature and can take up to 3-7 days to reach its maximum strength. Polysulfide elastomers are noted to be high viscosity polymers and hence, do not require solvents during its formulation. These are available in two forms: 1 component polysulfide sealants and 2 component polysulfide sealants.
Normally, the polysulfide sealants market can be classified into 1 component polysulfide sealants and 2 component polysulfide sealants (gun grade and pour grade).
Polysulfide sealants are employed in several applications on a commercial scale including high & low rise buildings; civil engineering including civic infrastructure such as roads and bridges; commercial structures such as airport runways, car parks, and others; and aircraft components, among others.
The global polysulfide sealants market was worth over US$ 1 Bn at the end of 2018. Escalating with an average annual growth rate of nearly 3.6%, the polysulfide sealants market is estimated to be valued at nearly US$ 1.5 Bn by the end of the forecast period i.e. 2029.
A sizeable potential is forecasted in the global polysulfide sealants market. On a volumetric basis, polysulfide sealants consumed globally are anticipated to remain well over 180 Kilo Tones by the end of 2019 while impending around 250 KT by 2029 end, witnessing an average annual growth rate of over 3%.
2 Component Polysulfide Sealants are anticipated to Account for a Prominent Proportion and witness above Average Growth over the Forecast Period
Polysulfide sealants are available commercially in two forms such as 1 component and 2 component. Polysulfide sealants are largely employed in applications where substrates are intended for prolonged immersion in fluids. Hence, due to its better resistance to solvents, grease, oils, and water alike, polysulfide sealants are employed in applications such as aircraft fuel tanks, swimming pools, etc.
2 component polysulfide sealants are extensively consumed due to its relatively low cost and short curing time as compared to 1 component polysulfide sealants. Hence, the segment is noted to be widely consumed across demographics and is also forecasted to witness high growth in terms of both market value and market volume.
2 component polysulfide sealants can be further subdivided into two grades viz. gun grade and pour grade. However, pour grade 2 component polysulfide sealants find limited applications, which makes it suitable only for horizontal joints. Gun grade 2 component polysulfide sealants are anticipated to account for a prominent proportion in the global market.
Commercial and Civil Engineering Segments are expected to Expand, owing to Large-Scale Investments in the Construction Industry
Rising construction activities prominently in developing countries or regions such as Asia Pacific, Latin America, and Middle East & Africa are anticipated to boost the polysulfide sealants market. With several countries focusing on upscaling their residential as well as civic infrastructure, the sales of polysulfide sealants are also expected to remain influenced by the same.
Based on applications, the commercial segment is expected to dominate the global polysulfide sealants market with a slight edge over the civil engineering segment. Whereas, in terms of the growth rate, the civil engineering segment is anticipated to expand with a high CAGR. The growing urbanization compels administrative authorities to provide better infrastructure facilities such as roads and bridges.
The increasing buying power of end consumers and the rising affordability of automotive vehicles raises the alarm for the parking issue. This has further resulted in the construction of commercial car park infrastructures and created unlimited opportunities in the global polysulfide sealants market.
The remaining application segments including aircraft components and building structures, are estimated to cumulatively generate a revenue opportunity worth over US$ 350 Mn, expanding with a significant growth rate throughout the forecast period.
East Asia to Lead the Consumption of Polysulfide Sealants Market due to Extensive Construction Activities in Regions such as China
The increasingly large scale investments, from both private as well as public funds, are expected to remain a prominent contributing factor in the regional polysulfide market growth. New opportunity areas are anticipated to open up for manufacturers of polysulfide sealants due to the construction of several airports in the western part of China.
With new roads being laid out to ease traffic problems in urban areas, the civil engineering sector is anticipated to dominate in several regions. Prominence in the maintenance and repair applications is also noted to remain a driving factor for the polysulfide sealants market up to a certain extent.
Market Participants of the Global Polysulfide Sealants Market
Some of the market participants reported in this study in the global polysulfide sealants market includes BASF SE, H.B. Fuller, Nouryon B.V. PPG Industries, Inc., The 3M Company, Pidilite Industries Ltd., Henkel AG & Company, KGaA, Sika AG, Mapei S.p.A., Fosroc Inc., RPM International Inc., W. R. Meadows Inc., TKK d.o.o., Toray Fine Chemicals Co. Ltd., and GCP Applied Technologies Inc., among others. The market is anticipated to remain fragmented with several small scale and large scale manufacturers operating at local and regional level.
Polysulfide Sealants Market – Segmentation
The information on polysulfide sealants market has been classified into three broader categories – form, application, and region. PMR's study includes segment-wide analysis on how multiple dynamics and changing trends associated with each segment will impact the future development of polysulfide sealants market.
Attribute
Details

Form

Application

High and Low rise Building Structures

Walls
Flooring
Insulated Glass

Civil Engineering

Underpasses & Tunnels
Bridges
Roadways & Culverts

Commercial

Airport Runways
Car Park
Others

Aircraft Components

By Region

North America
Latin America
Europe
South Asia
East Asia
Oceania
MEA
What are the Key Question Answered in the Polysulfide Sealants Market Report?
Analyzing the macro- and microeconomic factors shaping market growth, PMR's study brings to fore actionable insights into growth of polysulfide sealants market. n-depth information featured in the polysulfide sealants market report can provide answers to various questions for industry participants to gain deeper understanding of the polysulfide sealants market. Some of these questions include:
What are the latest developments in polysulfide sealants market in terms of innovations and expansion?
What are different approaches and procedures endorsed by the key players in polysulfide sealants market to make critical business decisions?
What are the business risks and competitive threats in the polysulfide sealants market?
Which production processes and solutions are adopted by polysulfide sealants market to mitigate development risks?
How is polysulfide sealants market expected to evolve in the future?
How are developing markets for polysulfide sealants anticipated to perform in the next ten years?