Introduction
Phenolic resins are thermosetting plastics that continue to witness considerable traction for a plethora of applications. Rising demand for plastics that showcase high thermal resistance, strength, and fire-resistant properties has led to a substantial increase in the adoption of phenolic resins over the years.
They continue to garner increasing adoption for a variety of applications in forest products, and in molding, abrasive, refractories, friction, and rubber processing. Until very recently phenolic resins market has been growing but not at the same rate as for plastic materials in general. For instance, in 1950's production of phenolic resins was similar to that for PVC and for polyethylene and almost double than polystyrene. Today, it has become 1/10th to that of polyethylene and roughly one-third that of polystyrene. This growing volatility in the production of phenolic resins propelled analysts at Persistence Market Research (PMR) to gauge the future development prospects of phenolic resins market.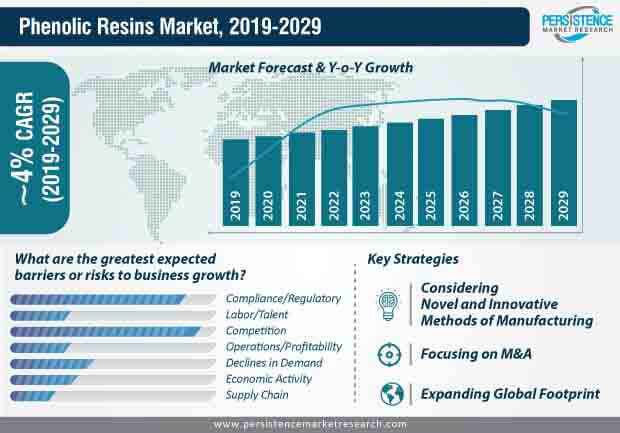 Changing Dynamics of Phenolic Resins Market 
Phenolic resins have been widely adopted since the early twentieth century and are considered the first class of synthetic polymers to attain commercial success. With their origin tracing back to 1872 when Adolf von Baeyer first obtained phenolic resins, they have come a long way. However, it wasn't until Baekeland patented his 'heat and pressure' method of processing in 1907 that these resins become a commercially viable product.
At the beginning of the twenty-first century, applications of phenolic resins expanded to polymer and composite with production in North America alone to be more than a million tons in 1998. Since then, there has been no looking back for phenolic resins in terms of demand and applications.
Phenolic resins continue to witness significant traction for a wide variety of applications, such as adhesives, moulding powders, binders, laminating resins, surface coatings and impregnants. As per the PMR analysis, the global sales of phenolic resins valued ~US$ 6,516 Mn in 2018, and is estimated that sales will rise by ~3% in 2019.
Technology Roadmap of Phenolic Resins Market 
Unique properties of phenolic resins garnered limelight in early 1990s, when manufacturers realized the resins utility in a plethora of applications. The versatile nature of phenolic resins witnessed some improvement between the 90's and early 2000's, as manufacturers leveraged nanotechnology to improve selective properties of these resins.
In view of the rapidly advancing technology, phenolic resins manufacturers are increasingly looking for novel and innovative approached of manufacturing phenolic resins.
Compelling Trends that are Shaping Growth Prospects of Phenolic Resins Market Players 
Wood Adhesives Hotbed of Applications for Phenolic Resins
Rising demand for innovative and aesthetically-driven wood products and molding compounds has been creating a dire need for engineered wood, which in turn continues to drive the demand for wood adhesives. Wood adhesives have been driving the phenolic resin consumption on a global scale and held a significant market share in 2018. Adoption of phenolic resins for composite boards continues to remain significant in North America, as growing number of regional Oriented Strand Board (OSB) and softwood plywood producers have been using these resins at a large scale.
They continue to gravitate for phenolic resins over competitive adhesives, such as melamine-urea-formaldehyde- (MUF-) or diphenyl methylene diisocyanate (MDI-) based ureaformaldehyde (UF) based resins. Whereas, in several regions, lucrativeness of phenolic resins continues to remain concentrated among plywood producers.
What does Lightweight Trend in Auto Sector Holds for Stakeholders?
Lightweight trend is in full swing in the auto industry, as manufacturers are increasingly replacing metal components with plastic or fiber-based substitutes. Weight savings for improved fuel efficiency are associated with the replacement of ceramics and metals in the automotive industry by several newly developed phenolic molding compounds, such as long glass fiber and carbon fiber reinforced phenolic molding compounds.
As the automotive sector continues to address the dire need for fuel efficiency that involves corresponding reduction in vehicle body weight, auto makers will also reduce the weight of friction parts. Thus the frictional load applied to the friction element is highly likely to increase, while necessitating the adoption of phenolic resins that demonstrate exceptional heat resistance.
Renewable Raw Materials Garnering Limelight 
Renewable raw materials for manufacturing phenolic resins, specifically those that would alleviate the amount of expensive phenol, have emerged as the key area of focus for manufacturers. Lucrativeness of materials, including soy, cashew shell nut oil, furfural, and tannins continues to grow in line with their potential economic benefits in manufacturing phenolic resins, without compromising on the product performance.
Several other materials, including linseed oil and tung oil are also witnessing demand for their potential use in friction and electrical laminates applications. Lignin has also emerged as a viable substitute to phenol for manufacturing phenolic resins, over recent years. In 2017, for instance, Prefere Resins became Europe's first manufacturer to produce phenolic resins by replacing a large amount of phenol content with lignin.
Similarly, Hexion LLC launched novel Bakelite phenolic resins for the production of coatings with below 0.1% formaldehyde (ULEF) content. Hexion is also working on a novel phenolic resin technology which substitutes phenol with lignin, a material which holds substantial potential as an adhesive substitute for wood panel production.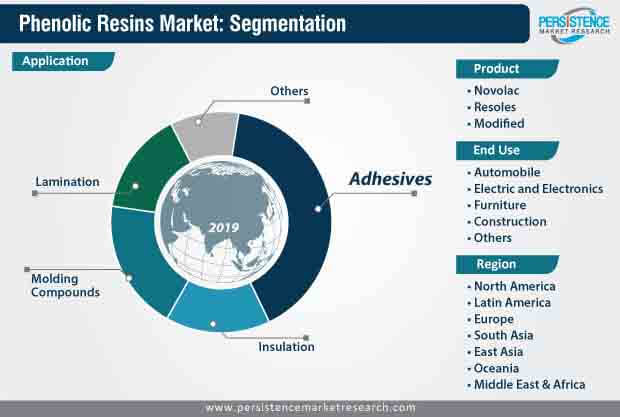 Winning Imperatives 
Banking on M&A for Better Market Positioning
Growing number of companies in the phenolic resins market have placed their focus on forming long-term relationships with customers and vendors to acquire durable and stable contracts for the supply of phenolic resins. They are particularly investing in mergers and acquisitions to solidify their position in the highly competitive market. For instance, Prefere Resins Holding GmbH has recently acquired INEOS Melamines & Paraform business, and created three new and robust business units: Prefere Phenolic, Prefere Melamines, and Prefere Paraform.
Consolidating Position in East Asia
As East Asia continues to emerge and grow as a goldmine of opportunities, both in terms of production as well as applications, numerous market players are focusing on consolidating their position in the region. The phenolic resins market in East Asia, which accounted for ~30% market value share in 2018, is envisaged to grow at a notable pace. This falls in line with the significant rise in the demand for phenolic resin based adhesives, and molded compounds across the proliferating construction, furniture, automotive and electric and electronics industry in the region.
Additionally, rapidly changing trade flow has been creating significant expansion opportunities for market players, while China, US and Germany continue to remain the prime importers as well as the exporters of phenolic resins.
Mapping the Market Competition Landscape
The phenolic resins market can be characterized as highly fragmented, with top 12 leading players accounting for only ~23-25% of the overall market share. Amid the growing competition in the phenolic resins market, expansion of current product portfolio and penetration in the developing regions, wherein end user industries continue to pick pace, have emerged as one of the prime growth strategies of market players.
Analyst's Viewpoint 
The analysts of the report set their bets on a steady rise in the phenolic resins market, which is anticipated to expand at ~4% CAGR during 2019-2029, owing to a significant rise in the demand for wood adhesives for a plethora of applications across furniture and construction verticals.
The market players that are laying focus on leveraging advanced technology to develop eco-friendly and energy-efficient variants are highly likely to outshine in the years to come. Tie-ups with leading distributors and key end use industries will also emerge as profound approach to secure sales.
Phenolic Resins Market - Segmentation
PMR's research study evaluates the phenolic resins market based on end use, application, product, and region. The report presents info0rmation about the rapidly changing market dynamics and trends pertaining to the different market segments, and how they are shaping the growth prospects of the phenolic resins market.
Attribute
Details
Product
Application

Adhesives
Insulation
Molding Compounds
Lamination
Others

End Use

Automobile
Electric and Electronics
Furniture
Construction
Others

Region

North America
Latin America
Europe
South Asia
East Asia
Oceania
Middle East & Africa
What are the Salient Questions Answered in PMR's Report on Phenolic Resins Market?  
The report presents detailed information related to the phenolic resins market based on the exhaustive research related to the macro as well as microeconomic factors that are playing a key role in shaping the growth potential of the market.
The information enumerated in the study provides answers to queries for the currently operating market players and the companies that are looking forward to enter into phenolic resins market, to help them strategize smart approaches and take business-driving decisions.
Which phenolic resins product promise highest gains for the market in 2023?
How market big shots are successfully capitalizing the growing traction for phenolic resins to make adhesives?
What are the key strategies of market goliaths in phenolic resins market?
Which end use witnessed highest traction for phenolic resins in 2018?
What rate of ROI can phenolic resins market players can anticipate from the growing application of these resins in molding compounds in the next five years?
What will be the Y-o-Y growth of phenolic resins market between 2019 and 2025?