Pasteurization Vessel Market Outlook (2022-2032)
According to Persistence Market Research, global pasteurization vessel market revenue totaled US$ 3.52 Bn in 2021. Worldwide demand for pasteurization vessels is expected to close in on US$ 6 Bn by 2032, increasing at a CAGR of 5% between 2022 and 2032.
Over the coming years, the increasing use of pasteurization vessels in the food processing industry is likely to propel overall market growth. Europe is projected to hold 25% share of the global market.
Pasteurization vessel sales account for 3% share of the global automotive parts/components market at present.
| Attribute | Key Insights |
| --- | --- |
| Pasteurization Vessel Market Size (2021A) | US$ 3.52 Bn |
| Estimated Market Size (2022E) | US$ 3.66 Bn |
| Projected Market Value (2032F) | US$ 6 Bn |
| Value CAGR (2022-2032) | 5% |
| Collective Value Share: Top 3 Countries (2021) | 33.5% |
Sales Analysis of Pasteurization Vessels (2017 to 2021) Vs. Market Projections (2022 to 2032)
From 2017 to 2021, the market for pasteurization vessels expanded at 3.8% CAGR. This was mainly due to the growing dairy sector and beverage industry, globally.
The COVID-19 outbreak had a significant impact on the food and beverage business in 2020 as supply chains were messed up by trade restrictions and consumption fell as a result of lockdowns imposed by governments across the world. Manufacturers were forced to suspend production due to a shortage of raw materials as several governments imposed restrictions on international and domestic trade, as a result of which, there was a slump in the demand for the targeted product.
As we have entered a new normal, end-use industries have recovered, which has positively impacted the demand for pasteurization processing equipment. Global sales of pasteurization vessels are anticipated to grow 1.6X by the end of 2032.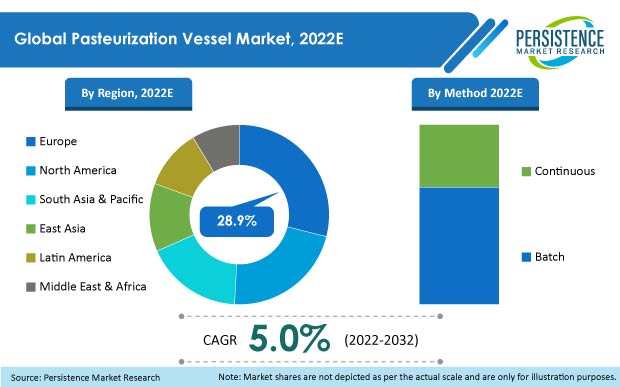 The image above presents market share by method and region in the pasteurization vessels market. The batch method of pasteurization holds a larger market share, whereas, usage of pasteurization vessels is the most in Europe and Asia, closely followed by North America.
What Opportunities Await Pasteurization Vessel Manufacturers?
"Maintain Product Differentiation through Industry-specific Releases"
By releasing application-specific products that are exclusive to specific industries and offering a range of operational advantages, while also adhering to current regulations, beverage pasteurizer manufacturers can maintain product differentiation and solidify their positions in the global pasteurization vessel market.
"Manufacturing System Parts with Advanced Parts Based on Powder Metallurgy"
Pasteurization vessels are under more stress as a result of the increased temperature and combustion pressure brought on by engine reduction. To prevent frequent wear and tear of automotive pasteurization vessels, advanced materials based on powder metallurgy are being incorporated into system parts, providing a significant opportunity for manufacturers actively seeking to enhance their stance in the global automotive pasteurization vessel market over the coming years.
Country-wise Insights
Where Does the U.S. Stand in the Aftermarket for Pasteurization Vessels?
The United States market is estimated to expand at 4.3% CAGR and hold a prominent share of the North America pasteurizer vessel market during the forecast period of 2022-2032.
The U.S. dairy industry is well-positioned and able to satisfy the developing demand for dairy products in the world, thanks to its ever-increasing milk production capacity and competitive product portfolios of market players.
In many U.S. states, the dairy industry makes a sizable contribution to the country's overall economy.
What is the Outlook for Pasteurization Vessel Manufacturers in China?
China is anticipated to hold around 50% share of the East Asian pasteurization vessel market by 2032.
China's food processing industry is growing rapidly. The food & beverage industry in China is presently growing at a high rate as more and more consumers are interested in consuming healthier foods.
The trend for natural, healthy, and easy ready-to-drink food illustrates China's shift from eating full to eating well. Food processing makes up 60% of the sector. Exporters are urged to view China as a country with regional variations and culinary traditions, rather than as a single market.
In the global market, one of the markets with the highest growth potential for pasteurization vessels is Asia Pacific. Growing demand for processed food products in emerging and developing nations such as India, China, Indonesia, and Thailand is driving the need for milk pasteurization equipment across the continent.
Why is Germany a Lucrative Market for Pasteurization Vessel Manufacturers?
Over the forecast period, the Germany pasteurization vessel market is projected to create an incremental opportunity of US$ 184.63 Mn.
The food and beverage sector in Germany plays a significant role in the economy of the country. In terms of employment and revenue, manufacturing is still a significant industry in Europe.
Germany continues to be one of the top markets for producers of food and beverages, representing the largest production value category. The German food and beverage industry is projected to grow at a steady rate due to the relatively stable economy, which will bode well for pasteurization vessel suppliers in the country.
Category-wise Insights
Pasteurization Vessels of Which Capacity are Most Widely Used?
The 1001-5000 L, 5001-10000 L, and > 10000 L capacity of pasteurization vessels are together projected to hold 90% of the global market share by 2032.
This is directly associated with the wide range of applications of these capacities of pasteurization vessels.
Why is the Batch Processing Method Most Popular in Pasteurization Vessels?
The batch processing method is projected to account for more than 63% share of the global pasteurization vessel market by the end of 2032.
A majority of pasteurization vessel manufacturers especially concentrate on designing their products for the dairy and beverage sector with a wide range of production capacities as well as batch processing.
Batch pasteurizers are easy to use, simple to manage, and ideal for milk manufacturing plants.
Which End-use Industry Creates the Most Demand for Pasteurization Vessels?
As per analysis, the dairy industry, beverage industry, and fruit & vegetable processing industry are together estimated to hold around 80% of the global market share in 2022.
The beverage industry is projected to create an absolute dollar opportunity of US$ 762.14 Mn owing to the rapidly growing demand for pasteurization vessels in the sector over the forecast period.
How Did COVID-19 Impact Market Growth?
The COVID-19 pandemic had a significant effect on the global economy, and also significantly impacted the operations of pasteurization vessel producers, and caused significant demand instability.
Long-term effects of the COVID-19 pandemic were felt by manufacturers of pasteurization vessels. A sustained decline in consumer demand that occurred as nations experienced various lockdown scenarios led to a substantial decline in demand.
However, with things back to normal, and demand from end-use industries rising, global demand for pasteurization vessel units is expected to increase steadily over the decade.
Competitive Landscape
Market growth is fueled by the growing dairy sector and food processing industry across the world. To cater to this demand, manufacturers are putting their efforts to provide a wide range of products in terms of capacity and integration with advanced technologies.
Suppliers are emphasizing globalization and developing products that will follow market emission norms of the present and future. For this reason, suppliers are working closely with regional partners and OEMs to develop innovative technologies to lower development costs and offer practical solutions.
Pasteurization Vessel Industry Report Scope
Attribute
Details

Forecast Period

2022-2032

Historical Data Available for

2017-2021

Market Analysis

Units for Volume
USD Million for Value

Key Regions Covered

North America
Latin America
Europe
East Asia
South Asia & Pacific
The Middle East & Africa

Key Countries Covered

U.S.
Canada
Mexico
Brazil
Germany
France
Italy
Spain
U.K.
Russia
China
Japan
South Korea
India
ASEAN
Oceania
GCC
Turkey
South Africa
Northern Africa

Key Market Segments Covered

Capacity
Method
End Use
Region

Key Companies Profiled

SPX FLOW
GEA Group
Bolz Intec GmbH
Sordi Impianti
Voran Maschinen GmbH
KHS Group
Daritech inc
Focus Technology Co., Ltd
Neologic Engineers Private Limited

Report Coverage

Market Forecast
Brand Share Analysis
Competition Intelligence
DROT analysis
Market Dynamics and Challenges
Strategic Growth Initiatives

Customization & Pricing

Available upon Request
Key Segments Covered in Pasteurization Vessel Industry Analysis
Pasteurization Vessel Market by Capacity:
< 500 L
500-1000 L
1001-5000 L
5001-10000 L
> 10000 L
Pasteurization Vessel Market by Method:
Pasteurization Vessel Market by End Use:
Dairy Industry
Beverage Industry
Fruit & Vegetable Processing Industry
Others
Pasteurization Vessel Market by Region:
North America Pasteurization Vessel Market
Latin America Pasteurization Vessel Market
Europe Pasteurization Vessel Market
East Asia Pasteurization Vessel Market
South Asia & Pacific Pasteurization Vessel Market
Middle East & Africa Pasteurization Vessel Market