NPK Fertilizers Market Outlook (2022-2032)
The global NPK fertilizers market currently enjoys a valuation of US$ 118 Bn and is predicted to expand at a CAGR of 3% to reach US$ 158.16 Bn by the end of 2032.
The sales value of NPK fertilizers accounts for around 55% to 75% share of the global fertilizers market.
| | |
| --- | --- |
| NPK Fertilizers Market Size (2022E) | US$ 118 Bn |
| Projected Sales of NPK Fertilizers (2032F) | US$ 158.16 Bn |
| Global Market Growth Rate (2022-2032) | 3% CAGR |
| Value Share of Top 5 Countries (2021A) | 60% |
Demand Analysis of NPK Fertilizers (2017-2021) Vs. Market Estimations (2022-2032)
During the historical period (2017-2021), the global NPK fertilizers market registered a value CAGR of 1.9%.
Nitrogen, phosphorus, and potassium (NPK) are vital nutrients in commercial fertilizers. The major factor that drives the market for NPK fertilizers is the elimination of nutritional deficiency in crops and other plants that can be caused due to intensive cropping.
Nitrogen is considered an important nutrient as compared to others for crops and plants. It is essential in the formation of protein and the healthy growth of crops and plants. Phosphorus enhances the plant's ability to use and store energy, such as the process of photosynthesis. It also helps plants in their healthy growth.
Lastly, potassium helps in strengthening the abilities of plants to limit diseases and plays a vital role in increasing the yield of crops and their overall quality. It also protects crops during dry and cold weather by strengthening their root systems and preventing wilt diseases.
The global market for NPK fertilizers is expected to offer an incremental opportunity of US$ 40.17 Bn by 2032, expanding at a value CAGR of 3%.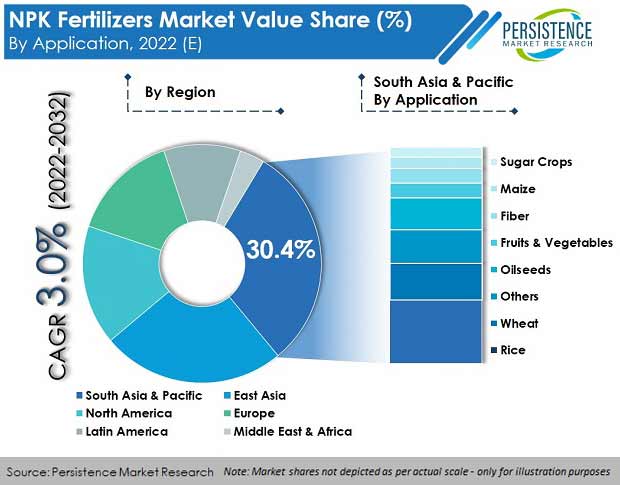 What's Complementing Demand Growth of NPK Fertilizers?
"Increasing Production Coupled with Need for Higher Yield of Crops"
Increased consumption of vegetables and fruits, along with the rising productivity of crop-based products, is anticipated to drive NPK fertilizers' growth in the global market. Adoption of the latest farming technologies in line with enriched crop productiveness and the widespread usage of NPK fertilizers are factors augmenting the global market stance.
NPK fertilizers are in high demand in the market as they improve soil nutrients, boost plant water content, and improve the overall health of plants. Water-soluble NPK fertilizers enjoy higher demand in the market due to their usage in drip irrigation and foliar applications. Thus, the balanced and adequate utilization of NPK fertilizers can increase crop yield and support the surge in production.
Furthermore, rising awareness regarding quality food products and disease outlook in livestock has amplified the demand for NPK fertilizer products in the international market.
"Growing Agricultural Sector in Developing Countries"
In developing countries, agriculture is regarded as one of the major sources of livelihood, employment, and income, especially for rural economies. The structure of agricultural production in developing regions such as India, Africa, China, and others has radically changed over the last few decades due to the increasing industrialization of agriculture, incorporation of new technologies, and various agricultural initiatives taken by governments.
Since agriculture development is regarded as one of the most crucial tools to end poverty in developing regions, governments are also taking initiatives to tackle the issue. Well-developed agriculture also provides export revenues and foreign exchange for governments.
Thus, developing regions will require high-quality fertilizers such as NPKs to facilitate agricultural growth, market development, poverty reduction, and others, thus providing growth opportunities to NPK fertilizer manufacturers.
According to Greenstar Fertilizers Limited, a manufacturer of fertilizers, over 58% of rural households in India depend on agriculture as their principal means of livelihood.
"Increasing R&D Activities by NPK Fertilizer Manufacturers"
Fertilizer manufacturers collaborate continuously with their respective national/state agricultural universities and apex research institutes to accelerate their research processes. Growing health concerns and advancements in R&D activities have led to the growth of the fertilizer market. Fertilizer manufacturers are committed to research and development to offer new and innovative products with improved functional benefits.
The R&D teams of companies aid in finding solutions to different problems in the usage of fertilizers for various kinds of crops or plants, depending upon the nature of weather, soil, and climate conditions. These research activities also help researchers inform and educate farmers about the best quantity and combination of NPK fertilizers that can be used to achieve an increase in their agricultural outputs and subsequently minimize the over-application of these fertilizers to minimize costs.
For instance, EuroChem Group announced the formation of a research and development partnership with Aphea.Bio, a Belgium-based biotechnology company. This partnership focuses on the development of next-generation technologies for fertilizers that help enhance the take-up of vital nutrients by plants.
"Rising Demand for High-quality Plant-based Foods"
With an increase in demand for good quality plant-based food products, there has been a rise in the adoption of precision farming. This has led to increased demand for high-efficiency fertilizers. NPK fertilizers provide enhanced crop protection and aid in increasing crop productivity. They deliver nutrients to the plants slowly and are effective for long-term usage.
As such, the adequate and optimal usage of these fertilizers can allow the production of nutrient-rich plant-based foods. This is likely to influence the market growth of NPK fertilizers positively.
According to the Plant Based Food Association, one-third of Americans are actively reducing their consumption of dairy and meat. A small share of the American population identified as vegetarian or vegan, but the flexitarian population represents the highest growth potential for plant-based foods.
How is Market Growth of NPK Fertilizers Being Limited?
"Rising Cost of Fertilizer Raw Materials"
The prices of raw materials required in the fertilizer industry are increasing. These raw materials include ammonia, nitrogen, phosphate, potash, and others. Since agricultural production mainly depends on the cost and quality of fertilizers, the high prices associated with fertilizers and manure can consequently affect the prices of plant-based foods as well.
Due to the limited availability of raw materials, there is also a fluctuation in the prices of fertilizers. Farmers located in regions such as Northern Africa, the Indian subcontinent, Brazil, and some parts of China have lower income levels, due to which, they are unable to cope with the increasing prices of fertilizers.
Moreover, the ongoing conflict between Russia and Ukraine is also expected to hinder fertilizer market growth, including the sales of NPK fertilizers.
In recent years, the pace of trade liberalization has slowed down, and restrictive trade measures have increased. Some of the trade policy actions taken in 2020 have impacted the movement of several commodities, including fertilizers. These trade policy actions include a variety of initiatives such as trade defense measures, lifting of export tariffs, and administrative import barriers.
Russia, which is one of the major exporters of fertilizers, has suspended outgoing trade for an undefined period, which is projected to have a strong ripple effect on the cost of fertilizers and lead to a negative impact across global food markets.
Country-wise Insights
Which South Asia and Pacific Country is a Lucrative Market for NPK Fertilizer Suppliers?
The India NPK fertilizers market shows dominance in the South Asia and Pacific region and holds an approximate market value share of 49.6%.
Market growth is mainly due to the growing agricultural sector in the country along with the increasing globalization of food and agriculture. Agriculture is the third-largest sector in India, which contributes a significant amount to the GDP growth of the country, after the service and industry sectors.
Why is Poland Showing High Growth Potential for NPK Fertilizers?
In the European region, Poland is showing high growth potential for NPK fertilizer sales and is slated to register a value CAGR of 4.3% during the forecast period.
Most of the county's land is medium quality with low fertility, which leads to increased utilization of fertilizers for the proper growth of crops and plants.
Category-wise Insights
Will Farmers Give Preference to Chlorine-based Compound Fertilizers?
Chlorine-based compound fertilizers hold approximately one-tenth of the NPK fertilizers value market share based on product type.
The reason behind the increasing utilization of chlorine-based compound fertilizers is to meet the nitrogen and potassium requirements of plants.
The chlorine-based products segment is projected to expand at a volume CAGR of 1.5% between 2022 and 2032.
Which Applications of NPK Fertilizers are Expected to Bring in High Revenue?
Based on application, sugar crops and fiber are expected to represent the highest growth potential and register value CAGRs of 4.4% and 4.2%, respectively, during the forecast period.
Manufacturers are utilizing fertilizers in these crops for proper growth and also to add nutritional content to the crops. The application of NPK fertilizers in sugar crops is projected to be valued at US$ 7.36 Bn by the end of 2032.
Competitive Landscape
Key manufacturers of NPK fertilizers are focusing on boosting their production capacity. Market players are also establishing strong distribution networks to enhance market penetration globally and meet the ever-rising demand for fertilizers.
In November 2021, Coromandel International Ltd. announced the establishment of its new sulfuric acid plant in Vishakhapatnam, India.
In August 2021, Helena Agri-Enterprises signed a distribution agreement with Vive Crop.
In 2021, Acron Group completed the upgrade of its unit at the Veliky Novgorod site, and increased its capacity from 600 to 2,050 tons per day.
NPK Fertilizers Industry Report Scope
Attribute

Details

Forecast period

2022-2032

Historical data available for

2017-2021

Market analysis

USD Million for Value

Key regions covered

North America
Latin America
Europe
East Asia
South Asia and Pacific
The Middle East & Africa

Key countries covered

U.S.
Canada
Germany
U.K.
France
Italy
Spain
Russia
China
Japan
South Korea
India
Thailand
Malaysia
Indonesia
Australia
New Zealand
GCC Countries
Turkey
Northern Africa
South Africa

Key market segments covered

Form
Nature
Product Type
Application
Region

Key companies profiled

Acron Group
Aries Agro Limited
Azomures
Borealis AG
Carbotecnia SL
COMPO Expert GMBH
Coromandel International Ltd.
EuroChem Group
Haifa Negev Technologies Ltd.
Helena Agri-Enterprises, LLC
ICL Group
IFFCO
J.R. Simplot Company
MAPCO Fertilizers
PhosAgro Group
Sino Arab Chemical Fertilizer Co. Ltd
Stanley Fertilizer Co. Ltd.
URALCHEM Group
Xinyangfeng Fertilizer Co. Ltd.
Yara International ASA

Report coverage

Market Forecasts
Company Share Analysis
Competition Intelligence
DROT Analysis
Market Dynamics and Challenges
Strategic Growth Initiatives

Customization & pricing

Available upon request
Segmentation of NPK Fertilizers Industry Research
NPK Fertilizers Market by Form:
Liquid NPK Fertilizers
Powder NPK Fertilizers
NPK Fertilizers Market by Nature:
Organic NPK Fertilizers
Synthetic NPK Fertilizers
NPK Fertilizers Market by Product Type:
Phosphorus and Potassium (PK) Fertilizers
Sulphur-based (NK) Compound Fertilizers
Nitro-based Compound/ Nitrophos (NP) Fertilizers
Urea-based (NPK) Compound Fertilizers
Chlorine-based Compound Fertilizers
NPK Fertilizers Market by Application:
Wheat
Rice
Maize
Oilseeds
Fiber
Sugar Crops
Fruits & Vegetables
Others
NPK Fertilizers Market by Region:
North America NPK Fertilizers Market
Latin America NPK Fertilizers Market
Europe NPK Fertilizers Market
South Asia and Pacific NPK Fertilizers Market
East Asia NPK Fertilizers Market
Middle East and Africa NPK Fertilizers Market