Isobutane Market Outlook (2022-2032)
Newly-released data on the isobutane market shows that global sales are expected to reach US$ 17.9 Bn in 2022, registering Y-o-Y growth of 5.7%. The market for isobutane is projected to expand at a CAGR of 6.5% and reach a value of US$ 33.56 Bn by the end of 2032.
The South Asia and Pacific market is anticipated to remain key in the isobutane business owing to growing consumption in India and ASEAN countries; this regional market is forecast to expand at a CAGR of 6.9% through 2032.
| Attribute | Key Insights |
| --- | --- |
| Isobutane Market Size (2021A) | US$ 16.94 Bn |
| Market Estimations (2022E) | US$ 17.9 Bn |
| Market Forecasts (2032F) | US$ 33.56 Bn |
| Value CAGR (2022-2032) | 6.5% |
| Collective Value Share: Top 3 Countries (2022E) | 44% |
Consumption Analysis of Isobutane (2017 to 2021) Vs. Market Outlook (2022 to 2032)
In the past few years, the global market for isobutane registered year-over-year growth of 5.2%.
High demand for isobutane to form isobutylene, which forms MTBE (methyl tert-butyl ether), high purity isobutylene (HPIB), and other petrochemical products for various applications, such as lubricants, fuels, rubbers, and additives, have resulted in considerable consumption of isobutene across regions.
The market is greatly influenced by the growing petrochemical and chemical sectors, increasing demand for isobutane from end-use industries, and rising industrial activities across emerging economies.
Higher demand for isobutane as a feedstock for the petrochemical industry and increasing preference for isobutane as a refrigerant for domestic and commercial refrigeration systems will result in the high growth of the market, which is expected at around 6.5% CAGR between 2022 and 2032 on a value basis.
Further, owing to the versatile properties of isobutane, the market is also expected to witness significant demand from a diverse range of tire and non-tire applications, such as tire inner liners, hoses, seals, stoppers, and rubber products, and in the medical sector and other industries.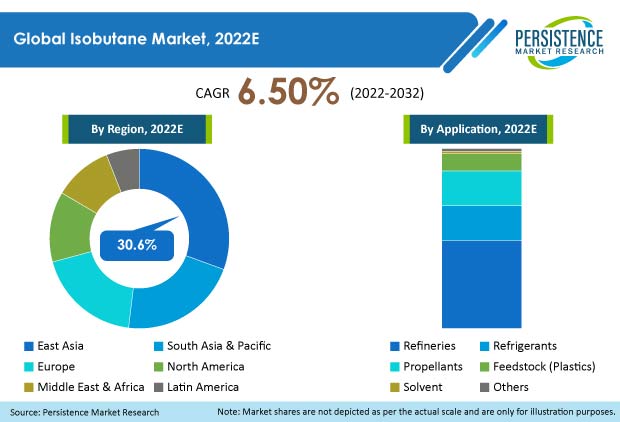 What are the Demand Drivers for the Isobutene Market?
"Growth of Petrochemical Sector Bolstering Demand for Isobutene"
The petrochemical sector is witnessing significant growth due to the growing demand for downstream products from various end-use industries such as construction, pharmaceuticals, and automotive. The petrochemical sector contributes a fair share of the GDP, especially in developing countries.
The expanding petrochemical sector leads to the growing requirement for isobutane for the production of various end-use products for diverse applications, such as lubricants, fuels, rubbers, and additives.
Demand for plastics is increasing steadily and has resulted in an increase in the consumption of isobutene, plastic industries use isobutane as a feedstock to manufacture propylene oxide for use in making polyurethane plastics.
Further, isobutane is also widely used in geothermal power generation and portable camp stoves, which is also expected to drive isobutane manufacturers' growth during the forecasted period.
"Trend of Environment-friendly Products to Create Significant Opportunities for Isobutene Suppliers"
Several manufacturers are altering their production technology to reduce carbon emissions and hazard generation from their production facilities. Manufacturing and industrial sector market players are opting for environment-friendly and sustainable products to reduce greenhouse emissions. To reduce global warming, key players are targeting net zero emissions for the future.
Isobutane has very low global warming potential and insignificant ozone depletion potential and has been proven to be nature-friendly. Various end-use industries are considering it as an excellent replacement for R-12, R-22, R-134a, and other chlorofluorocarbon or hydrofluorocarbon refrigerants in conventional refrigeration systems.
Further, Isobutane is used as an aerosol propellant, which finds application in cosmetics and household cleaners.
What is Hindering Market Growth of Isobutane?
"Isobutene is Inflammable and Can Be Unsafe"
Demand for isobutane for various applications can be hampered due to its high inflammable nature and its safety-related issues. Isobutane poses explosion hazards and needs to be used with utmost precautions.
Therefore, isobutane usage as a refrigerant in air conditioners and refrigerators for domestic and commercial purposes can be hazardous, resulting in a significant decline in the adoption of isobutane in home appliances.
Further, high fluctuation in the prices of natural gas and stringent government regulations and trade policies are also expected to impact the demand for isobutane over the coming years.
Country-wise Analysis
What is the Consumption Outlook of Isobutane in China?
China is a key manufacturer and consumer of isobutane. Substantial production of chemicals and petrochemicals has driven the consumption of isobutane, which is also supported by the presence of several manufacturers in the country.
China is set to provide an incremental dollar opportunity of US$ 4.3 Bn during the forecasted period.
Development in the manufacturing and industrial sectors has led to substantial supply and demand capability of isobutane in recent years. This is mainly attributable to the rapidly growing presence of major manufacturers and rising industrial infrastructure.
Owing to these prominent factors, the China isobutane market is expected to surge ahead at a CAGR of 6.6% over the decade.
Why is India a Key Market for Isobutane Manufacturers?
India is considered an emerging market in South Asia and Pacific, where the industrial sector's contribution to overall GDP growth is high. Significant growth of the petrochemical and chemical sectors and increasing demand for isobutane as a feedstock in these industries have resulted in high market expansion.
Further, the rapidly increasing plastic industry and growing demand for plastic products among various industries such as automotive, medical, construction, and others are also bolstering isobutane market growth.
The rapidly growing rubber industry and a significant increase in the demand for isobutane from synthetic rubber manufacturing companies is also expected to drive market growth in India.
Besides, rapid urbanization and growing demand for home appliances and cosmetic products are also expected to create growth opportunities in the country.
The India isobutane market is expected to exhibit a growth rate of 7.4% during the forecasted period.
Category-wise Insights
Why is 99.5% Purity Isobutane Most Widely Used?
The share of the 99.5% purity isobutane segment is expected to be on the higher side due to the increasing demand for refrigeration and the alkylation process. 99.5% purity isobutane is generally used by major OEMs in domestic refrigeration applications due to its superior energy efficiency and lower global warming potential.
The segment is predicted to expand at a high CAGR of 6.6% over the next ten years.
High consumption of refrigerant grade isobutane as a replacement for R12 and R134a in a variety of high-temperature refrigeration applications is expected to drive the demand for purity 99.5% isobutene over the coming years.
Which Application Accounts for the Highest Consumption of Isobutane?
Refineries are prominent end users with high market attractiveness. The sector is expected to create an incremental dollar opportunity of US$ 7.5 Bn by 2032.
High growth of the segment can be attributed to the increasing use of isobutane in petrochemical refineries, as a gasoline additive. Isobutane is treated through an alkylation unit to make an alkylate, which is used to make isooctane. Isooctane is a high octane gasoline component that raises the octane rating and anti-knock properties of gasoline.
Further, the refrigerant segment is expected to witness a significant growth rate over the forecasted period. Increasing environmental concerns and ozone depletion and rising adoption of environment-friendly and sustainable products are key factors propelling segment growth.
Competitive Landscape
Key isobutane suppliers are focusing on increasing production to cater to the rising demand from end users. To increase their market stance, they are acquiring other manufacturers and increasing their consumer base. Several manufacturers are investing in R&D to increase the applications of isobutane.
In April 2022 Evonik, a leading specialty chemicals manufacturer, increased its isobutane derivative production capacity at the C4 Verbund site in Marl, Germany by over 50%.
In July 2020, Thyssenkrupp Industrial Solutions AG and BASF SE signed an agreement to expand their cooperation on the STAR process.
Similarly, other key developments related to companies manufacturing isobutane have been tracked by the team at Persistence Market Research, which are available in the full report.
Isobutane Industry Report Scope
Attribute
Details

Forecast Period

2022-2032

Historical Data Available for

2017-2021

Market Analysis

US$ Mn for Value
Kilo Tons for Volume

Key Regions Covered

North America
Latin America
Europe
East Asia
South Asia & Pacific
The Middle East and Africa

Key Countries Covered

U.S.
Canada
Brazil
Mexico
Germany
U.K.
France
Italy
Spain
Russia
China
Japan
South Korea
India
ASEAN
Australia and New Zealand
GCC Countries
Turkey
Northern Africa
South Africa

Key Market Segments Covered

Purity
Source
Application
Region

Key Companies Profiled

PBF Energy
Sinopec
Linde LLC.
Valero Energy Corp., Ltd.
ConocoPhillips
Airliquide
Evonik Industries
Chevron Phillips Chemical
Amcor
Matheson
Shandong Yuean Chemical
Aditya Air Products
Verni Gas Corporation
Bhuruka Gases Limited

Pricing

Available upon Request
Key Segments Covered in Isobutane Market Research
Isobutane Market by Purity:
Isobutane Market by Source:
Bio-based Isobutane
Synthetic Isobutane
Isobutane Market by Application:
Refineries
Refrigerant
Propellants
Feed Stock (Plastics)
Solvents
Others
Isobutane Market by Region:
North America Isobutane Market
Latin America Isobutane Market
Europe Isobutane Market
East Asia Isobutane Market
South Asia & Pacific Isobutane Market
Middle East & Africa Isobutane Market