Introduction
Owing to the convenience and inherent advantages, Huber needles are witnessing a growth worldwide. Huber needles are being widely used with an increase in patients undergoing chemotherapy treatment. Manufacturers of Huber needles are focusing on safety and comfort for patients while developing Huber needles. Hence, innovation in design and specially lubricated Huber needles are being developed by manufacturers to reduce the penetration force and pain caused while the needle is inserted.
Manufacturers are also focusing on using standardized coring test. This can help companies to develop a well-tested product, avoiding adverse health effects. Manufacturers are also selling Huber needles with specification on the compatibility of Huber needle with specific ports. In case of cancer, Huber needles are finding large application in intravenous cancer treatments and in blood transfusion.
The U.S. is the largest market for Huber needles. However, the fastest growth in the market for Huber needles is seen in India and China. Meanwhile, in Latin America, Brazil is expected to remain dominant. Owing to the availability of the largest private health insurance in Brazil compared to other countries in Latin America. Expansion of health insurance in the country is driving the demand for medical devices and equipment.
New cancer cases are being reported every year across the world, this is also contributing to the growth of the global market for Huber needles. According to the report by Persistence Market Research, the global Huber needles market is likely to see a strong growth between 2017 and 2024. The market is also projected to bring in US$ 55.0 Million revenue by 2024 end.
Curved Huber Needles to be Highly Preferred in the Global Market for Huber Needles
Huber needles are available in two forms including straight and curved. Straight needles are usually finding application in short-term procedures. However, the curved Huber needles are used to deliver nutritional fluids, medications and in chemotherapy.
Curve needles are more convenient than straight needles as they can be left in the place for few days. It also prevents the need to stick many needles. In recent time, increasing number of people have found to be suffering from cancer and other deadly diseases. This has resulted in a rise in the delivery of chemotherapy fluids and medication fluids, thereby, fueling the demand for Huber needles.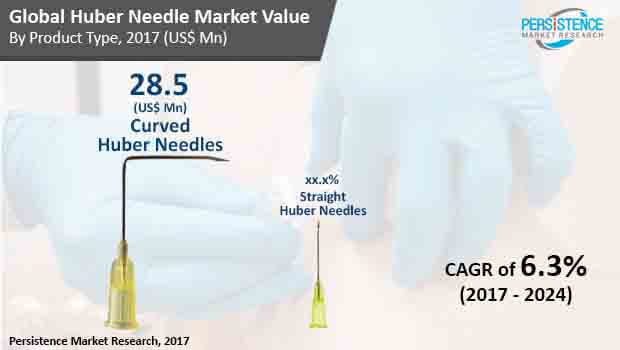 Rapid Rise in Chemotherapy Treatment for Cancer to Drive the Growth of the Global Huber Needles Market
Diagnosis and access to the high-quality chemotherapy treatment are increasing across the globe. According to the estimation from International Agency for Research on Cancer (IARC), the globally by 2030, new cases of cancer are expected to increase to 21.7 million.
Increase in smoking, physical inactivity and poor lifestyle are some of the factors driving the cancer growth globally. With increasing cases of cancer, the number of people undergoing a chemotherapy will also increase. This is likely to drive the demand for all the medical devices and equipment used in chemotherapy.
Manufacturers are working on improving the quality of Huber needles. Special non-coring Huber needles are being developed to make it possible to access port system. Also, more than 2000 punctures are possible by using non-coring Huber needles. Anti-coring Huber needle tests are also being used on a large scale by manufacturers worldwide.
- Companies Covered in This Report -
Baxter International Inc
C. R. Bard, Inc
NIPRO Medical Corporation
B. Braun Medical Inc.
Smiths Medical
Exel International, Inc.
Vygon S.A.
AngioDynamics, Inc.
Thiebaud S.A.S.
Others