High Flow Oxygen Therapy Devices Market Outlook (2022-2032)
Worldwide revenue from the high flow oxygen therapy devices market reached US$ 1.7 Bn in 2021. However, the global market is estimated to decline at a CAGR of -2.4% to end up at a market valuation of around US$ 1.4 Bn by 2032.
Overall, high flow oxygen therapy device sales accounted for 9.2% revenue share of the global respiratory care devices market in 2021.
| Report Attribute | Details |
| --- | --- |
| High Flow Oxygen Therapy Devices Market Size (2022) | US$ 1.8 Bn |
| Projected Market Value (2032) | US$ 1.4 Bn |
| Global Market Decline (2022-2032) | -2.4% CAGR |
| Market Share of Top 5 Countries | 61.8% |
Sales Analysis of High Flow Oxygen Therapy Devices (2017 to 2021) Vs. Market Projections (2022 to 2032)
The global market for high flow oxygen therapy devices recorded a historic CAGR of 34.6% in the last 4 years (2017 to 2021).
Oxygen therapy is among the sectors where there are great prospects for better care at a cheaper cost. Health systems and hospitals are more closely examining the impacts of various products and therapies on both, financial and clinical outcomes, including their impact on complications and duration of stay, in response to the pressure to provide better quality care at a cheaper cost.
Value analysis committees now play a more significant role in healthcare organizations because these interdisciplinary teams need reliable research and data to help them decide what is best for patients and their healthcare organizations.
High flow oxygen is delivered to patients at flow rates that are at or above their peak inspiratory flow rates, often 40 to 70 L/min. Nasal cannulas or facemasks are generally used to administer oxygen to patients. A majority of the time, they provide a low flow of non-humidified oxygen frequently without a specified percentage of inspired oxygen (FiO2) concentration.
These traditional oxygen delivery methods are unable to match a patient's peak inspiratory flow rate with oxygen flow rates high enough to meet their needs. Therefore, instead of receiving the desired oxygen concentration, the patient entrains room air with inspiration.
With a flow rate of up to 70 L/min and a FiO2 close to 100%, high flow nasal oxygen (HFNO) is administered by a specialized nasal cannula. Its usage in intensive care for patients who are breathing on their own is well known, and new applications in anaesthesia are beginning to emerge.
In terms of equipment cost and productivity, high-flow nasal cannula oxygen therapy delivers a cost-effective alternative to traditional oxygen therapy. Utilizing a single system for oxygenation and ventilation therapy decreases the need for biomedical supplies as well as the cost of upkeep for many devices, including replacement parts, preventative maintenance, and asset tracking.
These systems are now able to transfer data, including flow rate values and Fi02 concentration through an appropriate communication protocol to the EMR system to support clinical documentation as well as operational and financial procedures (such as patient invoice and reimbursement).
Growing advances in device development and manufacturing, high disease epidemiology of acute respiratory diseases, and rising initiatives by regional governments to support comprehensive patient care are a few additional factors driving the growth of the overall high flow oxygen therapy devices market, globally.
Overall, worldwide demand for high flow oxygen therapy devices is likely to display a decline at a value CAGR of -2.4% and reach a market size of US$ 1.4 Bn by the end of 2032.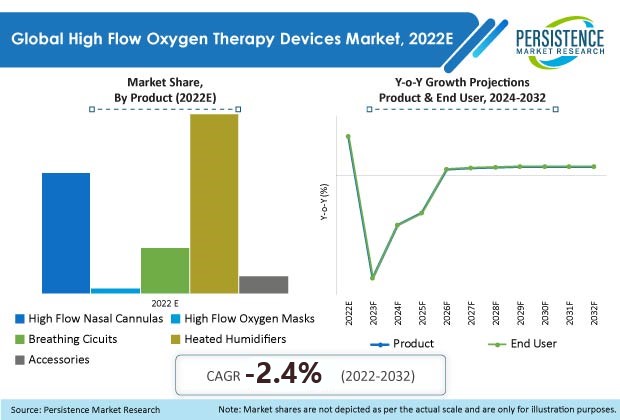 What Can Improve the Stance of High Flow Oxygen Therapy Product Manufacturers?
"Product Inception as First-Line Treatment for Respiratory Distress Syndrome"
After initially being utilized in pre-term infants and for paediatric care, high-flow nasal cannula oxygen therapy (HFNC) is now being employed in adult critical care units (ICUs) as the first line of treatment for respiratory distress syndrome and prematurity apnoea.
Recent physiological, pilot investigations, and controlled trials have highlighted the potential function of HFNC in adults. HFNC offers good comfort by delivering a humidified and warm gas flow using nasal prongs.
Furthermore, HFNC appears to be better tolerated than non-invasive ventilation (NIV) and regular oxygen despite having a high oxygen flow rate. Given its physiological effects in patients with hypoxemic acute respiratory failure (ARF) for whom non-invasive ventilation indications are still debatable, HFNC can be thought of as an alternative to NIV for ARF even though its use has been steadily growing for the past 20 years.
Keeping in view the above-mentioned factors, manufacturers are presented with opportunities for the introduction of novel devices to address patient-specific needs, which will aid the growth of the high flow oxygen therapy devices market over the forecasted years.
What is Adversely Affecting Demand for High Flow Oxygen Therapy Devices?
"Several Product Limitations and Recalls"
In cases of acute respiratory failure, oxygen therapy administered using a facemask with a reservoir bag is typically used as the initial treatment. However, there are significant restrictions to this approach and it is unable to support ventilation.
Dry gas affects comfort and reduces mucociliary clearance, which limits the delivered fraction of inspired oxygen (FiO2). Additionally, several recent product recalls have slowed market expansion for high flow oxygen therapy devices.
For instance:
In August 2021, to address a safety concern that could unintentionally reduce the oxygen flow rate in some ventilators, the FDA issued Philips' sleep and respiratory care division its second Class I recall.
Country-wise Insights
Why Does the U.S. Hold a High Share of the High Flow Oxygen Therapy Devices Market?
"Greater Product Adoption with Increasing Incidence of ARF"
The U.S. accounted for 96.4% market share of the North America high flow oxygen therapy devices market in 2021. This high share is due to the high incidence of acute respiratory failure in the country.
As per epidemiological data for acute respiratory failure in the U.S. from 2002-2017, the incidence of ARF rose by 83%, from 249 to 455 cases per 100,000 individuals, whereas, hospital mortality dropped by 48%, from 34% to 23%.
With the presence of advanced medical assistive devices as well as a robust healthcare infrastructure, the U.S. market for high flow oxygen therapy devices is anticipated to expand in terms of increased product adoption over the forecasted years.
Will India Be a Lucrative Market for High Flow Oxygen Therapy Device Manufacturers?
"Increasing Collaborations to Provide Patient Accessibility to Care"
India held 58.4% share of the South Asia high flow oxygen therapy devices market in 2021.
The country displays a high market share owing to growing initiatives by regional players in supporting patients with respiratory disorders such as COPD. Leading market players have formed strategic alliances due to the advent of the COVID-19 pandemic to manufacture medical devices that are beneficial for COVID patients.
To create high-performance high flow oxygen therapy (HFOT) equipment for COVID-19 patients, Max Ventilator collaborated with Amptron Medical Healthcare in India.
How is China Emerging as a Prominent Supplier of High Flow Oxygen Therapy Systems?
"Robust Industrial Support and High Revenue-based Export of Medical Devices"
China held a market share of 36.4% of the East Asia high flow oxygen therapy devices market in 2021.
China's full industrial support and ecological systems, strong financial competence, mature workforce, and increased investments in scientific research have allowed it to sustain supply chain stability despite economic disruptions amid the COVID-19 crisis.
The China Chamber of Commerce for Import and Export of Medicines and Health Products, based in Beijing, reports that China exported medical equipment, including ventilators, oxygen generators, and pre-filled vaccine syringes, worth US$ 99.41 billion in 2021.
The market for high flow oxygen therapy devices in China is thus set to surge in terms of growth over the forecasted years.
Category-wise Insights
Which Product is Driving Higher Market Growth?
"Operational Device Application and Positive Compliance"
Heated humidifiers held around 48.1% share in the sale of high flow oxygen therapy systems in 2021. Since heated humidifiers have no contraindications, they enjoy a considerable market share.
These humidifiers do not create any instrumental dead space because they are located in the inspiratory branch. They do not raise the resistance if used properly. They feature alert systems, are more effective, and can deliver exact temperatures, which improves patient compliance and treatment tolerance.
With associated benefits to the adoption of heated humidifiers, the segment is set to project a greater market share over the forecasted years.
Where is the Application of High Flow Oxygen Therapy Devices More?
"Growing Respiratory Diseases across the World"
Acute respiratory failure held the largest global market share of 90.5% in 2021, by application. With the increasing worldwide prevalence of infectious diseases as well as the associated prevalence of respiratory disorders, the acute respiratory failure segment holds a larger market share and will continue to do so over the coming years as well.
Competitive Landscape
With increasing health concerns after the emergence of COVID-19, key market players have established a significant market presence by aiding developing countries with product adoption through collaborations and distribution agreements. The market displays moderate consolidation with the presence of regional, emerging, and established players.
For instance:
In 2020, Goa Medical College purchased 274 Carina ventilators from Draeger at the beginning of the COVID-19 pandemic.
In May 2020, Inspired Medical declared that its Inspired O2FLOTM had received FDA approval for emergency use in hospitals to treat patients with hypoxemia and other acute respiratory symptoms.
High Flow Oxygen Therapy Devices Industry Report Scope
Attribute

Details

Forecast Period

2022-2032

Historical Data Available for

2017-2021

Market Analysis

USD Million for Value

Key Countries Covered

U.S.
Canada
Brazil
Argentina
Mexico
Germany
France
U.K.
Italy
Spain
Russia
BENELUX
India
Thailand
Malaysia
Indonesia
China
Japan
South Korea
Australia
New Zealand
Turkey
GCC
Northern Africa
South Africa

Key Market Segments Covered

Product
Application
End User
Region

Key Companies Profiled

Teleflex Medical GmBH
Philips Respironics
Vapotherm, Inc.
ResMed
VYAIRE MEDICAL, INC.
Fisher & Paykel Corporation Ltd.
Armstrong Medical
Flexicare Medical
Hamilton Medical Inc.
Intersurgical Inc
Inspired Medical
WILAMed GmBH
Besmed Health Business Corp
Shenzhen Micomme Medical Technology Development Co., Ltd
Shenyang RMS Medical Tech Co. Ltd.
BMC Medical Co., Ltd.
Draegerwerk AG & Co. KGaA

Report Coverage

Market Forecast
Competition Intelligence
DROT Analysis
Market Dynamics and Challenges
Strategic Growth Initiatives

Customization & Pricing

Available upon Request
Segmentation of High Flow Oxygen Therapy Devices Industry Research
High Flow Oxygen Therapy Devices Market by Product:
High Flow Nasal Cannulas
High Flow Oxygen Masks
Breathing Circuits
Heated Humidifiers
Accessories
High Flow Oxygen Therapy Devices Market by Application:
Pneumonia
Acute Respiratory Failure
High Flow Oxygen Therapy Devices Market by End User:
Less than 100 Bed Hospitals
100-250 Bed Hospitals
250-500 Bed Hospitals
500 and Above Bed Hospitals
High Flow Oxygen Therapy Devices Market by Region:
North America High Flow Oxygen Therapy Devices Market
Latin America High Flow Oxygen Therapy Devices Market
Europe High Flow Oxygen Therapy Devices Market
South Asia High Flow Oxygen Therapy Devices Market
East Asia High Flow Oxygen Therapy Devices Market
Oceania High Flow Oxygen Therapy Devices Market
Middle East & Africa High Flow Oxygen Therapy Devices Market