Hazelnut Market Thrives on Back of Diverse Application Range
Hazelnuts have a high nutritional quotient and is enriched with vitamins B, E, and K. Along with these vitamins, hazelnut provides minerals, good fats, and proteins, which makes it a viable ingredient in vegetarian products. It also contains low sodium and can lower cholesterol levels.
Consumption of hazelnuts is considered as one of the natural remedies for alleviation of various human health issues such as celiac disease. Additionally, can be used to aid in weight loss.
These properties make it a versatile ingredient with many applications in a wide range of industries. For instance, a large amount of hazelnut is used in food as well as beverage applications, and is used in powdered, whitened, sliced, pureed, and minced forms. Hazelnuts are used as side ingredients for preparation of various confectioneries, bakery products, frozen desserts, salads, and meals.
Hazelnut oil is already being used in the hair care products and as a carrier oil for the aromatherapy or massage oils. The hazelnut oil can also be used as the skin care product as it contains the essential fatty acids and vitamins which are considered as the skin nourishing elements and they protect again sun damage, and increases the collagen production. For instance, the hazelnut is used in the production of various cosmetics such as lotions, massage oils, creams, facial oil, and soaps owing to the presence of essential skin care ingredients.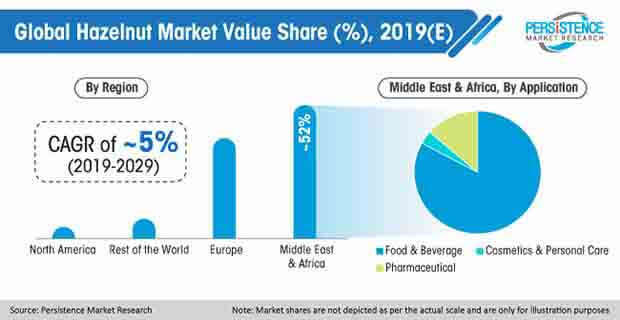 Increasing Investments in Enhanced Hazelnut Production Capacity
In recent years, the chocolate industry has emerged as the largest consumer of hazelnut. Nonetheless, the global gap between demand and supply in hazelnut production will have a negative impact on the businesses of leading chocolate companies, including Ferrero, Nestlé, and Cadbury.
For instance, in 2014, the yield of hazelnut was affected due to climate volatility, which saw decline in productivity, which ultimately affected these large businesses globally. The prices of hazelnut have increased approximately by more than 60% in the last decade as a result of limited supply. This creates an urgent need for confectioners to find alternatives to hazelnut.
However, confectioners are investing in increasing the production of hazelnut to reduce scarcity. Additionally, this allows them to maintain the quality and ensure smooth supply of hazelnut required for production of their most popular confectionary products.
In 2016, Agri Australis, the Australian local arm of Italian food giant Ferrero Group, invested US$ 70 Mn into hazelnut production project situated in the Riverina, Australia.
Ferrero Group, a leading confectionery food company, invested US$ 119 Mn into a hazelnut production project in Turkey, to ensure high-quality and continuous supply of hazelnuts.
Mondelez International, a leading food company, invested US$ 25 Mn for the expansion of the production capacity of its Turkey plant by 20%.o
Hazelnut Producers to Leverage Consumers' Willingness to Pay a Premium for Exotic Ingredients
Emerging economies in the South Asian and East Asian regions are anticipated to experience high growth rate with regard to the global hazelnut market in 2019, as well as in the foreseeable future. Increasing disposable incomes and urbanization are factors driving the growth of the hazelnut market in these regions. Consumers are willing to pay premium prices for exotic products such as frozen and confectionery products. Increasing consumers' inclination towards products containing exotic ingredients such as hazelnut, including ice cream and chocolates, is expected to benefit manufacturers in the South Asia and East Asia regions.
Increasing usage of hazelnut in various cosmetic products is promoting the growth of the global hazelnut market. North America and Europe together hold the maximum share in the cosmetic industry, as well as in terms of hazelnut consumption. The flourishing cosmetic industry in these regions is also expected to boost the demand for hazelnut over the forecast period. Demand for hazelnut is increasing in various end-use industries, and is benefiting manufacturers associated with the global hazelnut market. However, uncertainties in climatic conditions are restricting the hazelnut market from reaching its full potential.
Analyst's Viewpoint
The global hazelnut market is witnessing substantial growth in emerging economies of South Asia and East Asia region over the forecast period. Increasing use of hazelnut for production of innovative products in different industries is anticipated to provide a boost to the growth of the global hazelnut market. Leading manufacturers in the global hazelnut market have strategically invested in leading hazelnut producing countries with an aim to increase production yield.
This allows manufacturers to ensure that the quality of their hazelnut-infused product is maintained. Leading market players also focus on strategic acquisitions to increase the production capacities of their units, and to improve their value chain in the global hazelnut market. However, the impact of changing global climatic conditions is expected to affect the growth of the global hazelnut market.
Key Segments of Global Hazelnut Market
PMR's study on the global hazelnut market offers information divided into four important segments- type, form, application, and region.
Form

Application

Food & Beverage

Confectionary
Bakery
Frozen Desserts
Coffee
Liquors
Others

Pharmaceutical
Cosmetics & Personal Care

Distribution Channel

Business to Business
Business to Consumer

Hypermarkets/Supermarkets
Specialty Stores
Online Retail

Region

North America
Latin America
Europe
South Asia
East Asia
Oceania
Middle East & Africa
Key Questions Answered in PMR's Global Hazelnut Market
Which region will hold the highest market share in the global hazelnut market during the forecast period?
Which region is experiencing the highest growth (CAGR)?
Which factors are impacting the global hazelnut market?
Which are the global trends impacting the hazelnut market?
What strategies must the emerging players adopt to capture opportunities in various regions in the hazelnut market?
What is the structure of the global hazelnut market?