Introduction
Gynaecological cancers are being diagnosed among women on a large scale and are also emerging as one of the leading causes of death in various regions. There are various drugs available in the market to treat different types of gynaecological cancer. However, advanced cancer therapies and new drugs are being introduced with the increasing number of drugs currently in clinical trial and approval process.
Antitumor Antibiotic to Gain Highest Traction as a Drug Class
Among various drug class, antitumor antibiotic drug class is likely to gain maximum traction in the global gynaecological cancer drugs market. Antitumor antibiotic drug class is projected to surpass US$ 13,700 million in terms of revenue towards 2026 end. Antitumor antibiotic are being used on a large scale as it helps to stop or slow cancer cell for multiplying. Also, these medicines have proved to work well in treating cancer.
Hospitals to Emerge as the Largest End-Users of Gynaecological Cancer Drugs
Hospitals are likely to emerge as one of the largest end users of gynaecological cancer drugs between 2017 and 2026. Towards 2026 end, hospitals are projected to bring in close to US$ 16,400 million revenue. Availability of advanced cancer treatment diagnosis at hospitals are resulting in increasing number of patients.
Moreover, increasing investment by government and the private sector in hospitals and presence of specialist surgeons is also resulting in increased number of patients, thereby leading to the increased use of gynaecological cancer drugs.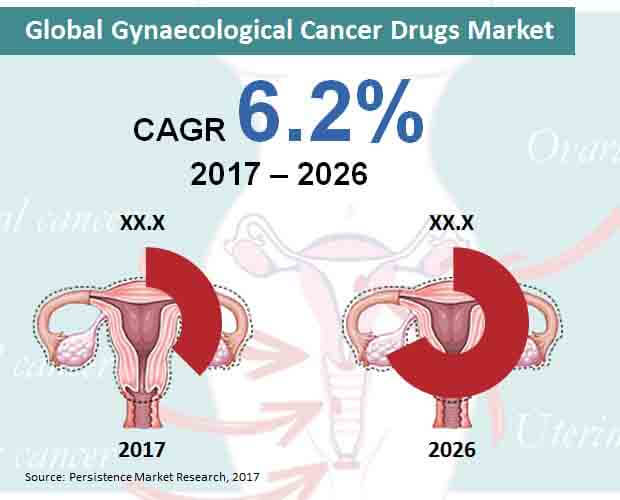 Uterine Cancer to Account for the Highest Revenue Share as an Indication in the Global Market for Gynaecological Cancer Drugs
Uterine cancer is likely to account for the largest share in terms of revenue between the forecast period 2017-2026. Uterine cancer is projected to reach close to US$ 22,600 million revenue by the end of the forecast period. Uterine cancer is the most common type of gynaecological cancer diagnosed among women. Hence, the discovery of new therapies and drugs is growing on a faster phase in order to treat uterine cancer. Moreover, endometrial cancer or cancer on the inner lining of uterus is the second most common type of cancer in women, especially in developed countries.
Hospital Pharmacies to be the Largest Distribution Channel
Among various distribution channels, hospital pharmacies are anticipated to emerge as the largest distribution channel for gynaecological cancer drugs. Hospital pharmacies are projected to create an absolute dollar opportunity surpassing US$ 5,900 million between 2017 and 2026. Hospital pharmacies are the largest distributors of gynaecological cancer drugs because a lot of drugs are only approved to be sold by hospital pharmacies in the government hospitals. Moreover, the rise in generic drugs for cancer treatment is also driving the sales of gynaecological cancer drugs through hospital pharmacies.
North America to Emerge as Major Revenue Generating Market
North America is projected to emerge as the major revenue generating market owing to the high prevalence of gynaecological cancer. By 2026 end, North America is projected to surpass US$ 14,700 million revenue. Meanwhile, Europe followed by Asia Pacific Excluding Japan (APEJ) are also likely to witness substantial growth in the coming years. Ongoing research and development and clinical trials of drugs in the U.S. are driving the market growth in the region.
Competition Tracking
Key companies in the global market for gynaecological cancer drugs are GlaxoSmithKline (GSK), Johnson & Johnson (Alza Corporation), Dr Reddy's Laboratories, Merck & Co., Bristol-Myers Squibb, Takeda Pharmaceuticals Co. Ltd., Pfizer Inc., Eli Lilly & Co., Sanofi, AstraZeneca, and Roche Holdings AG.
Global Gynaecological Cancer Drugs Market- Segmentation
Attribute
Details
Region

North Americ
Latin America
Europe
Japan
APEJ
MEA

Drug Class

Alkylating Agent
Plant Alkaloid
Anthracyclines
Antitumor Antibiotic
Other Drug Class

End Users

Hospitals
Clinics
Specialized Cancer Treatment Centers
Other End Users

Indication

Cervical Cancer
Uterine Cancer
Ovarian & Fallopian Tube Cancer
Vulvar Cancer
Vaginal Cancer

Distribution Channel

Hospital Pharmacies
Retail Pharmacies
E-commerce
- Companies Covered in This Report -
Roche Holdings AG
AstraZeneca
Sanofi
Eli Lilly & Co.
Pfizer Inc.
Takeda Pharmaceuticals CoLtd.
Bristol-Myers Squibb
Merck & Co.
Dr Reddy's Laboratories
Johnson & Johnson (Alza Corporation)
GlaxoSmithKline (GSK)