Introduction
The growing demand for advanced agricultural equipment in the developing economies such as China and India are fueling the growth of gardening and agricultural equipment market. The growing DIY trend amongst the people is significantly contributing to increasing the demand in the market. The favorable government policies highlighting the importance of community gardens is is expected to fuel the demand for gardening equipment in the coming years.
The rise in consumer interest in the commercialization of private gardens is pushing ahead the sales in the market. Owing to the high demand for egronomic designs in the gardening equipment, many companies are investing in such products. Lack of any physical labor in operating the ergonomic equipment is inflating the adoption rate of this equipment, especially in people with physical ailments such as arthritis.
With booming real estate segment, the demand for these equipment in rising in city planning projects and residential complexes in developing and developed economies. Government support in terms of loan and credit schemes provided to farmers for the procurement of agricultural tools has a major role to play in the market expansion. Prominent players profiled in the global market are Briggs & Stratton Corporation, The Toro Company, Deere & Company, Hitachi Construction Machinery Co. Ltd., Mahindra & Mahindra Ltd., Robert Bosch GmbH and Honda Motor Co., Ltd.
The population explosion across the globe, especially in developing countries such as India and China has triggered the need for advanced agriculture equipment. It has been projected that the world population will increase by over 30% by the end of 2050.
The population is anticipated to be more prosperous and urbanized in upcoming years, with a better standard of living and healthier diet needs. Pressing need for food is expected to surge the demand for agricultural products, which will increase the demand for technologically advanced gardening and agricultural equipment.
Use of gardening equipment is expected to surpass agricultural equipment
The increasing DIY trend amongst people is a factor contributing towards the increase of the o the growth of gardening equipment market. The obtainability of various versatile equipment with ergonomic designs has resulted in a rise in the demand for gardening equipment globally.
As per U.S. Government's instructions and guidelines, community garden plots are also deliberated as an important part of society, which will continue to fuel the need for gardening equipment in near future. The accessibility of modern designed equipment for various sizes of gardens assists the users to choose different gardening equipment.
Tautened rules and protocols concerning periodic conservation of gardens in community and private premises seem to boost consumer interest in gardening, which in turn pushes the sales of gardening equipment in the DIY market. Ergonomic designs for gardening equipment is one of the most significant driving factors for the global gardening equipment market. Many companies are adopting ergonomic designs in gardening equipment; AMES Companies, Inc. has developed products with ergonomic designs, as people prefer equipment that cause less strain while gardening.
Digging equipment developed by Radius Garden have eGrip and comfort GEL technology in them. Gardening equipment can be daunting to people who have arthritis or any other joint problems, and hence, people prefer to opt for ergonomic gardening equipment. People tend to choose gardening equipment that are ergonomic, which eradicate pressure and give a good grip so as to eliminate the possibility of injuries.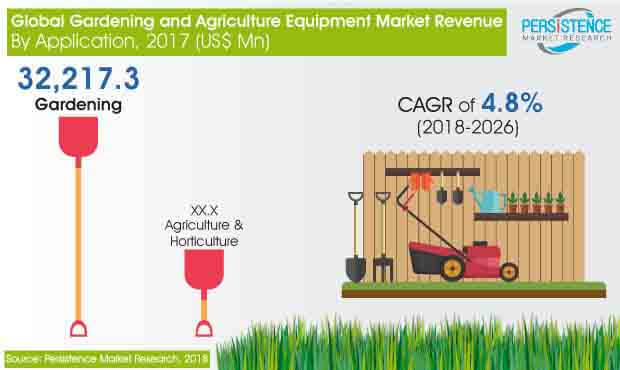 Among city planners and real estate agents, the demand for landscaping in commercial as well as residential areas has risen substantially. Around more than 60% of people tend to pay more for an apartment or residential space with more gardening area. The demand for landscaping is rising in order to provide an artistic appeal to residential and commercial properties. Landscaping adds to the resale value of a building, and speeds up its sale.
A few other advantages of landscaping include restoring native plants to residential landscapes, adding plants indoors to improve the quality of air and human productivity, using plants as a food source within the residence, and for efficient waste removal by creating residential composting systems.
Adoption of agriculture equipment is likely to rise owing to shift in work format and growing government subsidies
In many countries, the governments provide extensive upkeep to farmers to procurement agricultural tools to work more efficiently. Government offers crop loans, credit schemes, and subsidize interest rates, which trigger the growth of agricultural equipment market. The demand for agricultural equipment is anticipated to foresee noteworthy growth over the course of the forecast period.
This strong growth can be attributed to shift of agricultural activities from animal or manually operated to professional work. Dynamics such as rising urbanization rate, government initiatives, and timesaving are altering the focus of farmers to automation and refining their investment power.
Market Taxonomy
The global gardening and agriculture equipment market has been segmented into:
Attribute
Details

Equipment type:

Walk behind Wheeled String Trimmers
Field & Brush Mowers
Chipper & Shredders
3 point Tractor Implements

Cutters & Mowers
Rakes
Planters
Spreaders
Tillers
Others

Leaf and Litter Vacuums

Application:

Agriculture & Horticulture
Gardening

Region:

North America
Asia Pacific
Europe
Latin America
The Middle East and Africa