Increasing Penetration of LED Technology to Drive Flashlight Market Growth
LEDs are next generation lighting technology that are more flexible and efficient in terms of colors, form factors, and power consumptions as compared to conventional incandescent lightning products. The LED lighting industry continues to make great developments to achieve a better light experience for customers and end users, including customizable technology, efficiency, and lower costs.
There has been advancements in LED technology in flashlights for high performance and durability in residential and industrial sectors. A variety of flashlights are introduced, which include spotlights, headlamps, and weapon lights. Durability and high-performance features of these flashlights create the demand for LED flashlights in the market.
Rising Demand for Rechargeable LED Flashlights
Rechargeable LED flashlights are one of the key opportunities for the flashlight market. LED flashlights are adopted as a replacement for incandescent flashlights. LED flashlights are rechargeable, which makes them easy for customers to charge, instead of using dry dell batteries.
A rechargeable flashlight usually plugs into an electrical outlet for more power, and this eliminates the need for solid-state batteries and battery chargers. Rechargeable flashlights are widely used for outdoor recreation and homeland security. Due to the advanced LED technology in flashlights, there has been a huge opportunity for manufacturers in the market.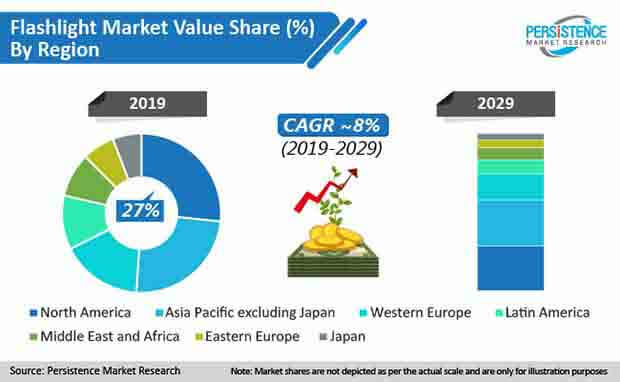 Innovative Flashlight Products for Outdoor Recreation Activities
The demand for flashlights used in outdoor recreational activities is increasing, such as camping, hunting, diving, and fishing, as the youth population most often go for adventurous trips to explore nature. Flashlights are used for safety purpose during night trekking or camping. So, manufacturers are focusing mainly on providing flashlights and headlamps with ergonomic designs and water resistant features, which are ideal for camping, hunting, and other activities.
For instance, Indiegogo, Inc. launched flashlights used in outdoor recreation, such as Mule Light V2, which is a multi-function flashlight with sleek and rugged features, and provides a glow stick illumination for over 500 hours. This unique design offers exceptional versatility and battery longevity for adventures.
Innovations Centered Around Efficient Batteries
Flashlight manufacturers are emphasizing product upgrades with the use of advanced illumination technologies. With visible rise in adoption of these technologies, durability and lifespan of battery are expected to emerge as the most critical parameters.
These parameters would be prominently impacted by product innovations in the LED flashlight space. Multi-level LED flashlight is one such innovation that allows for extension of life and more efficient usage of battery.
Limited Awareness about Availability of Modern Flashlights
Lack of awareness and understanding about benefits of modern flashlights for various applications among potential customers has been a major impediment to the growth of the flashlight market.
Additionally, the entry of substandard lighting devices with low product lifespan, and misperception that modern lighting solutions are more expensive than fuel-based lighting are further forming bias among consumers against the usage of advanced flashlight products. These factors have been restraining the flashlight market growth to a great extent.
APEJ to Display High Growth Potential for Flashlight Market
Asia Pacific excluding Japan (APEJ) is anticipated to witness an impressive growth rate in the flashlight market during the forecast period. In Asia Pacific region, flashlight manufacturers are focusing on investing in R&D activities to develop advanced and cost-effective lighting products in order to gain a competitive advantage in the flashlight market.
For instance, LED headlamps are made for hands-free operations in outdoor activities such as hiking, biking, caving, and hunting, as well as work-related applications such as line work, mining, and construction. For this type of application, companies provide battery-powered, rechargeable, and power corded models. This advancement in flashlight features is fueling the growth of the flashlight market in Asian economies.
Analyst's Viewpoint
A comprehensive view of the flashlight market has led our analysts to conclude that, the market is proliferating at a remarkable rate. Regions such as the Asia Pacific Excluding Japan is holding a large part of the flashlight market. Among product, LED flashlight is expected to grow rapidly as the penetration of LED technology is increasing, with enhanced performance of LED flashlights.
LED technology in flashlights is used for high performance and durability in residential and industrial sectors. New product innovations and strong financial position of key market players will also give momentum to the flashlight market. Regional expansions and collaborations with providers of other flashlight are some strategies opted by key players to boost their sales of distributed acoustic sensing.
Flashlight Market: Taxonomy
PMR's research study on the global flashlight market offers a detailed market taxonomy, wherein the key segments have been discussed in detail. The segmentation of the flashlight market has been offered on the basis of product type, end-user, application and region. Every segment has been analyzed in detail and data pertaining to the growth of each segment has been included in the study.
Attribute
Details
Product

LED Flashlight
Incandescent Flashlight

End-User
Application

Homeland Security
Home Inspection
Outdoor Recreation Activities
Construction & Auto Repairing
Doctor Visit
Games

Region

orth America
Latin America
Western Europe
Eastern Europe
Asia Pacific Excluding Japan
Japan
Middle East & Africa
Flashlight Market: Key Questions Answered in the Report
The research study on the flashlight market offers inclusive insights about the growth of the market in the most comprehensible manner for better understanding of users. The insights offered in the flashlight report answer some of the most salient questions that assist the stakeholders in gauging all the emerging possibilities.
How has the rapidly changing business environment turned into a major growth engine for the flashlight market?
What are the key trends that are constantly shaping the growth of the flashlight market?
Which are the prominent regions offering plentiful opportunities for the flashlight market?
What are the key differential strategies adopted by key players to command a significant chunk of the global market share?