Introduction
The global fishing net fibers market is expected to be valued at over US$ 3.5 Bn in 2018, and is evaluated to grow at more than 3% CAGR over 2018–2026. On the basis of consumption, China and Southeast Asia & Pacific are expected to witness significant value and volume growth in the fishing net fibers market in the coming years. With significant increase in the consumption and demand for fish food products, the fishing net fibers industry is expected to grow steadily over the forecast period.
In 2016, APAC constituted around ~60% of the global fish production, in which, China alone was responsible for around 20% of the global production. China, where income growth and urbanization have been major factors, dominates in terms of consumption of fish products, owing to the increase in the demand for fishing net fibers from fishing industries.
Similarly, countries such as India and Indonesia are witnessing an increase in the number of fishing activities, which has boosted the consumption of fishing net fibers in these countries too.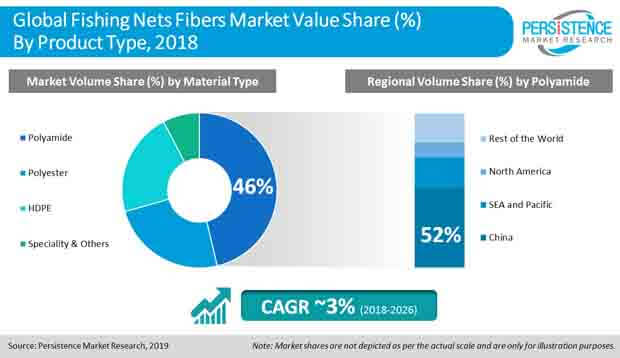 The markets in developed countries are evaluated to experience moderate growth in the fishing net fibers market. The total consumption of fish has somewhat declined in developed countries. The rising demand for fish and aquaculture products such as cod liver oil & shark liver oil, in developing countries, is creating growth opportunities for the manufacturers of fishing nets. Hence, this increasing demand for fish products is estimated to positively influence the fishing net fibers market.
The adoption of technologically-advanced products by fisheries is resulting in the growth of the fishing net fibers market. Recently, fisheries have adopted advanced technologies to carry out fishing activities. Technological developments such as hull design optimization, and improvements in engine performance that include turbo charging, hydraulic hauling machinery, improved navigation equipment, and fish-finding electronics, have also had a major impact on the efficiency and profitability of fishing net fibers.
Introduction of Advanced Materials for the Development of Efficient Gear
Fishing net fiber technology has witnessed significant advancements following the introduction of modern fishing net fibers. Earlier, netting used to be fabricated manually, which is laborious and time-consuming. In recent years, machine-made nettings are almost exclusively used for the fabrication of fishing nets, which results in creating positive influence the market of fishing net fibers.
Polyamide (PA), polyester (PES) fibre, polyethylene (PE), and polypropylene (PP) are among the fishing net fibers that are commonly used for the manufacturing of fishing nets. Recently, newer materials with better high tensile strength, such as the Dyneema brand of Ultra-High Molecular Weight Polyethylene (UHMWPE), which is 15 times stronger than steel, have been introduced in the market of fishing net fibers, which is surging the market of fishing net fibers, globally.
The introduction and widespread use of outboard engines has significantly changed small-scale fishing operations in developing countries. Some of the instruments used for fishing operations include navigational instruments that are used for navigating vessels at sea and at harbors; other instruments used for the detecting of fish, which include sonar and electronic aids for operation; and radio communications that are important for safety and for general communication.
The adoption of advanced technologies is estimated to increase the number of fishing activities due to increased safety, which is expected to have a positive impact on the fishing net fibers market.
Competition Scenario in the Global Fishing Net Fibers Industry
The global fishing net fibers market is a moderately fragmented market, due to the presence of numerous local manufacturers. Moreover, fluctuation in raw material costs of fishing net fibers have been observed in developing and developed regions. Increasing regulations relating to overfishing and anti-dumping duties act as a restraining factor in the market of fishing net fibers.
Some of the main market participants operating in the global fishing net fibers market include BASF SE, Advan Six Inc., TORAY INDUSTRIES, INC., Royal DSM N.V., Indorama Ventures, Amco Polymers, Formosa Chemicals, and Fiber Corporation, among others. Numerous key players of fishing net fibers are maintaining strategic focus on the Asia Pacific market, due to surging industrial applications and technological developments in the region.