Dextrose Monohydrate Market Outlook (2022-2032)
The global dextrose monohydrate market is currently valued at US$ 4.5 Bn, and is forecasted to expand at a value CAGR of 4.5% and top a valuation of US$ 7 Bn by 2032.
| Attribute | Key Insights |
| --- | --- |
| Dextrose Monohydrate Market Size (2022E) | US$ 4.5 Bn |
| Projected Sales of Dextrose Monohydrate (2032F) | US$ 7 Bn |
| Value CAGR (2022-2032) | 4.5% |
| Value Share of Top 5 Countries (2021A) | 61.5% |
The North America dextrose monohydrate market accounts for the highest value share of the global market at 39.4%. By value, dextrose monohydrate consumption accounts for around 5% to 6% share of the global sweeteners market.
Dextrose Monohydrate Consumption Analysis (2017-2021) Vs Market Estimations (2022-2032)
The global market for dextrose monohydrate witnessed a CAGR of 3.6% during 2017-2021. Producers of beverages, confectionery, and bakery items are working on natural ways to keep their portfolios fresh for a longer period in order to make food products more appealing.
Dextrose derived from natural components serves an important role in the preservation process, as chemical preservatives today fail to fulfil the expectations of modern customers.
Dextrose has the ability to preserve food and improve the safety of many food products. It does not hydrolyse in the same way as sucrose does, allowing many food products to have a longer shelf life.
Customers' preferences for sugar alternatives have been increasing, owing to a growing population that suffers from various diseases and is intolerant to synthetic sweeteners, which has benefited sweeteners such as dextrose monohydrate. Dextrose is a sugar that is produced from corn starch and is naturally available.
As a result, rising demand for ingredients originating from natural sources is likely to boost dextrose monohydrate usage in various food products. Based on detailed analysis by Persistence Market Research, across 2022-2032, the global dextrose monohydrate market is expected to expand at a CAGR of 4.5%.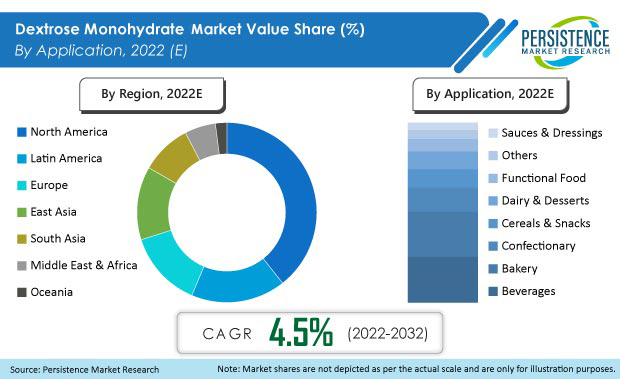 Dextrose Monohydrate Market Drivers
"Dextrose Monohydrate Imparting Increased Shelf Life & Flavor to Processed Meat Products"
Consumers are increasingly expecting higher-quality, ready-to-eat, and ready-to-cook meat products. Rise of the processed meat market is being fueled by an increase in customer awareness and acceptance of the convenience of meat products.
Due to changing palates and consumer readiness to try new food products, as well as the desire for more proteins in the diet, an increasing number of customers are choosing meat-based breakfast options, including bacon, over other meal options such as pancakes.
Dextrose monohydrate is used in both, injection and immersion curing brines for meat curing to improve color development and salt access into the tissue. Dextrose also helps balance out salt's abrasiveness, improve overall flavor, and keep pH in check.
A variety of carbohydrates are utilized in the fermentation of dry sausages to ensure optimum balance in the formation of a defined microorganism population during fermentation and a well-controlled pH. Carbohydrate blends, including dextrose monohydrate, are increasingly being employed for quickly metabolizing finished sausages with good sensory characteristics, body, and flavor, boosting market sales.
"Increasing Application of Dextrose Monohydrate Powder in Beverages"
Expansion of functional beverages has been fueled by an increase in health-conscious customers. Sugary soft drinks are being phased out in favor of healthier options. Functional beverages are also renowned for having an improved taste, flavor, and nutritional characteristics, making them appealing to health-conscious consumers.
Dextrose monohydrate is becoming more popular as an energy source for diabetics, as it helps with glycemic management. It's also recognized for having a high glycemic index, which is why it's becoming more popular as a crucial ingredient in functional beverages.
Dextrose monohydrate powder is utilized for enhancing flavor in functional beverages such as high-fiber drinks, Ready-to-Drink (RTD) teas, fruit drinks, and other beverages to give them a sweet taste while lowering their calorie count.
The addition of quickly fermentable dextrose to the wort generated from malt and others in the brewing of low-calorie beers improves the proportion of sugar instantly accessible for fermentation, which results in a low-calorie beer with the usual alcohol level.
Dextrose monohydrate can carefully adjust the sweetness and flavor balance in soft drinks manufactured from concentrated or pulp fruit depending on the specific fruits utilized. Dextrose monohydrate is also completely compatible with high-intensity sweeteners, resulting in increasing demand for dextrose monohydrate.
"Thriving Confectionery Industry in Developing Countries Driving Growth Opportunity for Dextrose Monohydrate Providers"
Due to rising consumer expenditure on food and a desire for happy indulgence, the confectionery business is gaining pace quickly across developing countries. Countries such as India, China, and Brazil are increasingly adopting the Western culture, with growing interest in gourmet cuisine.
Furthermore, as the incidence of diabetes and obesity rises in these emerging countries, food manufacturers are being influenced to utilize healthy sweeteners such as dextrose monohydrate in their confectionary items to entice consumers.
In these developing countries, the sugar substitutes business is in its early stages of development, and the confectionery industry appears to be rapidly expanding as disposable income rises. This is projected to provide profitable prospects for dextrose monohydrate suppliers to tap into unexplored markets and expand their global market presence.
What are the Factors Hindering Market Growth of Dextrose Monohydrate?
"Huge Popularity of Artificial Sweeteners Stifling Dextrose Monohydrate Sales Growth"
Excess dextrose consumption has been linked to disrupting body fat regulation and contributing to obesity. It has also been linked to a reduction in liver function and an increase in uric acid levels in the body. Dextrose monohydrate may have negative health consequences such as blood sugar issues, weight gain, and an increased risk of certain cardiac diseases.
Due to the predetermined extent of dextrose monohydrate used in consumable foods, rules and regulations relating to the manufacturing of dextrose and its derivatives are projected to inhibit the flexibility of dextrose formulations in diverse manufacturing bases, as such hindering dextrose monohydrate demand growth.
Due to the need for low-calorie food items, manufacturers are increasingly researching artificial sweeteners as sugar alternatives, which are generated synthetically and help maintain low blood sugar levels while being readily available. Artificial sweeteners' widespread use in processed foods such as sweets, jellies, and powdered drink mixes is helping to drive up their sales.
Saccharin, sodium benzoate, and aspartame are examples of FDA-approved artificial sweeteners that have gained popularity in the food & beverage sector due to their ability to maintain taste. Aspartame is becoming more popular as a table-top sweetener, because of increased demand from manufacturers. As it is considerably sweeter than sugar, manufacturers can use less of it to achieve the same amount of sweetness, saving money.
During the projected period, increased use of artificial sweeteners is expected to stifle dextrose monohydrate market growth.
Country-wise Insights
Why is the U.S. a Leading Market for Dextrose Monohydrate in North America?
Major driver for growth of U.S. dextrose monohydrate market is the soaring demand for convenience and packaged food & beverage products. Currently, dextrose monohydrate sales in the U.S. is valued at US$ 1.78 Bn, and is set to cross US$ 2.4 Bn by the end of 2032.
Which Country is Propelling the Latin America Dextrose Monohydrate Market?
Increasing research & development activities in the alternative sweeteners market by leading players in the Brazil dextrose monohydrate market are propelling market growth.
The market in Brazil leads the Latin American region and is set to reach a valuation of US$ 517 Mn by the end of 2032.
Category-wise Insights
Which Application of Dextrose Monohydrate is Offering Promising Growth Opportunities?
Based on application, bakery and beverages together account for a market share of more than 50%.
Consumer preference for low-sugar or no-sugar products is pushing manufacturers to utilize sugar alternatives in their products. Market value of beverage dextrose monohydrate in 2022 is US$ 1.15 Bn, and is slated to increase at a CAGR of 3.7% through 2032.
Will Demand for Organic Dextrose Monohydrate Increase?
Demand for organic products is increasing due to rising health-conscious consumers across all regions. As such, consumption of organic dextrose monohydrate is expected to increase at a value CAGR of 5.4% to reach a valuation of US$ 589.6 Mn by the end 2032.
Impact of COVID-19 Crisis
Worldwide spread of coronavirus had a severe influence on the global alternative sweeteners business. Many food & beverage companies have overseas production facilities in China, the Eurozone, and other Asia Pacific countries where coronavirus interrupted production and supply chains, affecting economies.
The sugar replacement market saw a diminishing growth trend due to partial/complete closures of international borders, trade restrictions, state-wide lockdowns, and reduced production facilities and workforces.
Due to disruptions in the supply chain and value chain, the demand-supply gap in the alternative sweeteners market has widened. According to the Institute of Supply Management (ISM), more than 75% of organizations around the world experienced supply chain disruptions.
Some of the most important manufacturers of dextrose monohydrate are based in the U.S. Import-export activities of the U.S. were significantly impeded because it was one of the countries hardest afflicted by COVID-19.
For instance, The Coca-Cola Company witnessed a disruption in the supply of its non-nutritive sweeteners such as sucralose and fructose, as its suppliers in China experienced delays in the production and supply of such ingredients. This had an impact on the production of its diet and no-sugar drinks offered under the brands Coca-Cola, Fanta, Sprite, Minute Maid, and Aquarius
Competitive Landscape
Key manufacturers of dextrose monohydrate are strategically investing in scaling up processing capacities to improve production and strengthen their presence in the market. Market players are also prioritizing new product development as well as strengthening their distribution capabilities.
In 2019, Tate and Lyle PLC opened a new application lab in Singapore. The laboratory included state-of-the-art technology with pilot-scale capabilities in beverage, dairy, bakery, sauce, and dressing processing, which enabled the company to work in collaboration with food and beverage partners to develop great-tasting products that meet consumers' needs in Asian countries.
In 2019, Atlantic Chemicals Trading GmbH opened a new warehouse in Stelle near Hamburg for the efficient delivery of its products. The new warehouse enabled the company to procure raw materials on time.
In 2020, Roquette Frères S.A. set up a new digital marketplace for its customers in the U.S. This made it more convenient, innovative, and easy for customers to order the right products.
Dextrose Monohydrate Industry Report Scope
Attribute
Details

Forecast period

2022-2032

Historical data available for

2017-2021

Market analysis

USD Million for Value

Key regions covered

North America
Latin America
Europe
East Asia
South Asia
Oceania
The Middle East & Africa

Key countries covered

U.S.
Canada
Germany
U.K.
France
Italy
Spain
Russia
China
Japan
South Korea
India
Thailand
Malaysia
Indonesia
Australia
New Zealand
GCC Countries
Turkey
Northern Africa
South Africa

Key market segments covered

Nature
Application
Region

Key companies profiled

Archer Daniels Midland Company
Cargill, Incorporated
Tate & Lyle PLC
Atlantic Chemicals Trading GmbH
Roquette Frères S.A.
Belgosuc
NOW Foods
Tereos Starch & Sweeteners
Gulshan Polyols Ltd.
Sinofi Ingredients
Penta Manufacturing Company
Global Sweeteners Holdings Limited
Foodchem International Corporation
Spectrum Chemical Manufacturing Corp.

Report coverage

Market Forecasts
Company Share Analysis
Competition Intelligence
DROT Analysis
Market Dynamics and Challenges
Strategic Growth Initiatives

Customization & pricing

Available upon request
Dextrose Monohydrate Industry Research by Category
Dextrose Monohydrate Market by Nature:
Organic Dextrose Monohydrate
Conventional Dextrose Monohydrate
Dextrose Monohydrate Market by Application:
Bakery
Cereals & Snacks
Dairy & Desserts
Sauces & Dressings
Confectionery
Functional Food
Beverages
Others
Dextrose Monohydrate Market by Region:
North America Dextrose Monohydrate Market
Latin America Dextrose Monohydrate Market
Europe Dextrose Monohydrate Market
East Asia Dextrose Monohydrate Market
South Asia Dextrose Monohydrate Market
Oceania Dextrose Monohydrate Market
Middle East & Africa Dextrose Monohydrate Market