Desktop Calculator Market
Global Market Study on Desktop Calculators: Demand from Finance, Retail, & Professional Services Domains to Sustain Adoption
Desktop Calculators Market Segmented By Basic functional Calculator, Scientific Calculator, Financial Calculator, Graphical Calculator Type Used in Household, Retail, Consumers
Introduction
Global desktop calculators market size in 2018 - nearly US$ 1,366.0 Mn.
The desktop calculator market is expected to grow at a CAGR of approximately 2.8% during the forecasted period of 2018 to 2028.
The basic functional calculator sub-segment is expected to hold a compelling market value share in the type segment for the desktop calculator market in 2018. The growing use of desktop calculators at schools, universities and other educational institution to reduce the complexity of solving problems, is significantly promoting the desktop calculator market.
Various educational bodies across the United States and Europe have imposed regulations pertaining to the compulsory use of desktop calculators after the eight-grade, owing to which the desktop calculators market is estimated to witness significant growth during the forecasted period.
The basic functional calculator sub-segment is expected to hold the highest market value share in the type segment for the desktop calculators market. Due to the increasing number of financial institutions such as depository institutes such as banks, building societies, credit unions. Contractual institutions such as insurance companies and investment institutions such as investment banks and brokerage firms.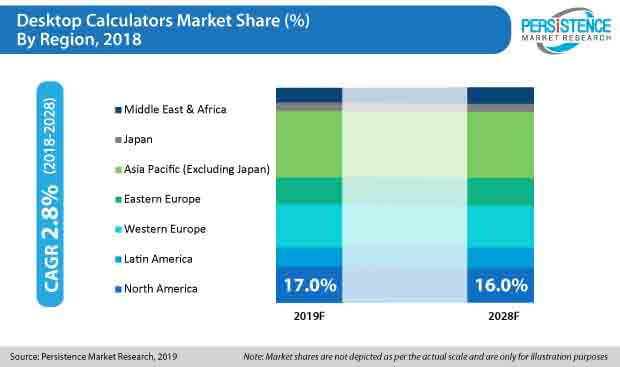 Find Out More about the Report Coverage
Companies
Company Profiles:
Lyreco
Casio Computer Co. Ltd.
Texas Instruments Incorporated
Canon USA Inc.
Citizen Systems
Sunway Electronics Company
Ultmost Technology Group
Hewlett Packard Development Company
Orpat Group
Flair Calculators
Liquidware Labs, Inc.
Sharp Electronics Corporation
Claro Calculators
Desmos
Regional Outlook Analysis
East Asia and Europe are estimated to remain the largest regional markets for desktop calculators. Technology is playing an important role in the electronics market which in turn is affecting the desktop calculators market in a positive way. The desktop calculators market in Middle East & Africa is estimated to register the highest CAGR during the forecast period.
The economy of Middle East & Africa is increasing rapidly where every country is trying to develop an increasing number of desktop calculator products pertaining to the emerging number of educational institutions, which is expected to fuel the growth of the desktop calculators market in Middle East.
The desktop calculator market in East Asia is expected to witness a significant incremental opportunity. The presence of a large number of young small-scale regional players in the region is responsible for substantial growth for the desktop calculators market in East Asia. The adoption of the latest technologies and advanced systems pertaining to desktop calculators is already providing significant growth opportunities to the desktop calculators market in the region.
Adoption of new technology implementations in desktop calculators
The digitization of technology have forced many improvements in basic desktop calculator such as the improved version of graphical calculators and desktop calculators.
Digitization have offered enormous opportunities for growth across several industries, sectors, regions and company sizes. With several technological innovations and M&A activities, various vendors are offering specific application products for varied end-users. With the improvement in scientific education, scientific desktop calculators are predominantly being demanded. Moreover, several budding schools in the United States and other European countries have made it compulsory to use desktop calculator for basic arithmetic after the eight-grade.
Endorsing the use and benefits of desktop calculators in primary schools
Calculators in the elementary grades serve as an aiding tool to help advance the students understanding without replacing the need for other calculation methods
. The use of desktop calculators can develop higher-order thinking and reasoning needed for problem solving within the information and technology based society. Desktop Calculators are also being used as an assistance for students and teachers for understanding and building fluency with arithmetic operations, algorithms and numerical relationships. Desktop calculators today are playing a key role in nurturing the student's fluency with numbers and operations.
Demand for vintage style calculators
In February 2017, Canon USA dispatched new series of business and tax calculators in order to revamp their product offerings and improve overall customer experience. A company named Bowmar LLC developed the "Bowmar Brain" which was synonymous with the early pocket electronic calculator.
Originally an LED (light emitting diode) display manufacturer the company found out that they could not sell their displays to Japanese electronic calculator makers. However, in 2012, the company that sold these vintage style calculators have come into business again and have put forward their vintage calculators for the unsuspecting public.
Customize this Report
Explore Intelligence Tailored to Your Business Goals.
Our Clients