Dermatophytic Onychomycosis Therapeutics Market Outlook (2022-2031)
The global dermatophytic onychomycosis therapeutics market was valued at US$ 5.47 Bn in 2021, with a projected CAGR of 6.5% for the next nine years. Detailed industry analysis reveals that revenue from dermatophytic onychomycosis therapeutics will surge to a market valuation of US$ 10.30 Bn by the end of 2031.
| | |
| --- | --- |
| Dermatophytic Onychomycosis Therapeutics Market Size (2022) | US$ 5.86 Bn |
| Projected Market Value (2031) | US$ 10.30 Bn |
| Global Market Growth Rate (2022-2031) | 6.5% CAGR |
| Share of Top 5 Countries | 61% |
According to Persistence Market Research, drugs used for the treatment of dermatophytic onychomycosis enjoyed a market value of US$ 4.36 Bn in 2021, accounting for nearly three-fourths of the overall market share. Dermatophytic onychomycosis therapeutics (DOT) accounted for nearly 39% share in the global anti-fungal therapeutics market in 2021.
Demand Analysis of Dermatophytic Onychomycosis Therapeutics from 2013 to 2021 Vs Market Outlook for 2022 to 2031
The global dermatophytic onychomycosis therapeutics market expanded at a CAGR of 10.3% over the last eight years (2013-2021).
Dermatophytic onychomycosis is a common nail disorder that causes releasing or parting of the nail - either a fingernail or toenail - from its nail bed. Nearly 50% of nail deformities result from a fungal infection. Generally, onychomycosis occurs in 10% of the population but is more commonly seen in older adults; prevalence is 20% in those older than 60 years and 50% in those older than 70 years.
The main cause for high prevalence in adults is peripheral immunologic disorders, vascular disease, and diabetes mellitus. However, the risk of onychomycosis is 1.9X to 2.8X greater in patients suffering from diabetes as compared with the general population. Additionally, prevalence ranges from 15% to 40% in patients with human immunodeficiency virus infection.
Prevalence of dermatophytic onychomycosis is estimated to be around 4%-5% in tropical Asian countries, between 10% and 12% in North America, and up to 17% in European countries.
The global dermatophytic onychomycosis treatment market is predicted to surge ahead at a CAGR of 6.5% and record sales worth US$ 10.30 Bn by the end of 2031.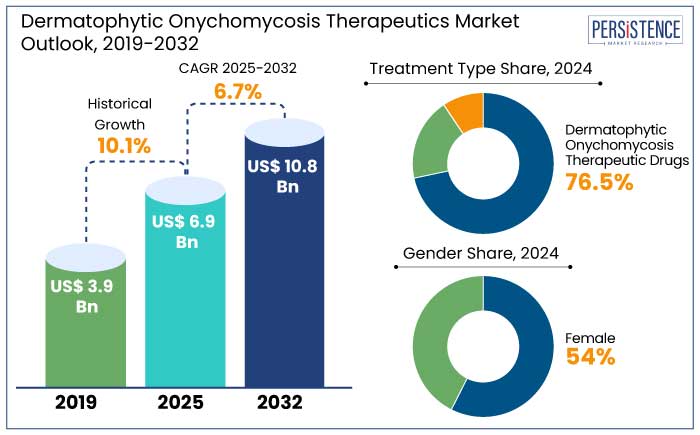 What Lies Ahead for Dermatophytic Onychomycosis Therapeutic Product Manufacturers?
"Focus Shift toward Antifungal Susceptibility Testing"
The forecast period is set to present numerous beneficial opportunities for dermatophytic onychomycosis therapeutic drug manufacturers globally. Rising demand for diagnosis and antifungal testing will offer lucrative opportunities in the market.
Patients that do not respond to primary treatment of antifungal therapy are strongly advised to undergo antifungal susceptibility testing.
Dermatophytic onychomycosis can have significant negative effects on a patient's emotional, social, and occupational functioning. Although socioeconomic concerns and health issues for other diseases are prioritized, the introduction of improved systemic treatment regimens in the last two decades is helping create a higher population that undergoes treatment for dermatophytic onychomycosis.
Awareness regarding fungal infection of the nails has risen lately. Besides, increasing awareness regarding onychomycosis among podiatrists and dermatologists has led to a rise in the demand for effective medications.
Furthermore, combination therapy is leading traction in the current era. Although topical therapy for dermatophytic onychomycosis is quite effective, factors such as prolonged treatment period and inability to reach the nail bed are factors surging demand for combination therapy.
Ongoing clinical studies for several promising drug pipelines that indicate disease-modifying properties with safety and efficacy profiles ultimately attract more players to the market.
For instance, in June 2020, Moberg Pharma AB met the primary endpoint in the European Phase 3 study for MOB-015 (topical terbinafine) that showed non-inferiority versus topical ciclopirox. However, mycological cure was achieved in 84 percent of patients, which was not responded in the topical treatment and even higher than reported for oral treatments.
Thus, such ongoing clinical studies and developments by manufacturers of DOT drugs drive a positive impact on the market.
What is Restraining Demand for Dermatophytic Onychomycosis Therapeutics to Some Extent?
"Low Elasticity of Demand and Non-Life-threatening Nature of Condition"
Generally, dermatophytic onychomycosis is not a life-threatening disease, although sepsis has been reported. Dermatophytic onychomycosis hospitalization increases among persons with altered immune competence, with approximately 30% of patients having immune-compromising conditions such as malignancies and HIV infection.
Despite the availability number of treatments for dermatophytic onychomycosis, not all onychomycosis patients are completely cured. Several factors are responsible for dermatophytic onychomycosis treatment failure; for example, nonadherence to treatment, incorrect diagnosis, or advanced disease. Additionally, for a patient who appears to be cured, recurrent infection is a point of risk, with several factors that increase the chance of recurrence.
Additionally, poor efficacy of treatment and the non-life-threatening nature of dermatophytic onychomycosis has resulted in large competition from alternative treatment options that are not effective. For example, alternative products such as tea tree oil are increasingly used for nail infections. Current drugs approved for the systemic treatment of onychomycosis carry the risk of serious side effects, and hence, require hepatic assessment and monitoring.
Country-wise Insights
Why are DOT Device Manufacturers targeting the U.S.?
"Frequent FDA Approvals in the U.S."
The U.S. accounted for a market share of 84.4% in the North America dermatophytic onychomycosis therapeutics market. Increasing prevalence of chronic diseases such as diabetes has led the country to account for the highest market share in the North American region.
According to the Diabetes Organization, in 2018, nearly 34.2 million Americans were undiagnosed. Also, social stigma and increasing elderly population are leading to an increase in the demand for dermatophytic onychomycosis therapeutic drugs.
How is Demand for Dermatophytic Onychomycosis Treatment Shaping Up in Germany?
"Several Leading Dermatophytic Onychomycosis Therapeutics Industry Players Present in Germany"
Germany is amongst the top countries that have high healthcare expenditure. The country accounted for 19% of the Europe dermatophytic onychomycosis therapeutics market share in 2021, and is projected to gain steady growth over the coming years at 6.9% CAGR.
This high market share percentage is because many major players in this industry are active in Germany, which increases the availability of products in the country.
Why is China Emerging as a Prominent Market for DOT?
"High Level of Research Activities Ongoing in China"
In 2021, the China dermatophytic onychomycosis therapeutics market was valued at US$ 134.1 Mn and held a market share of 34.9% in East Asia.
Development of medical infrastructure and strategic planning to collaborate for expansion are key factors that have a positive impact on the growth of this industry in China.
For instance, in March 2021, HUYABIO International and Tianjin Institute of Pharmaceutical Research, a joint venture, submitted a New Drug Application (NDA) to the Chinese National Medical Products Administration's Center for Drug Evaluation. The application requested the approval of a topical formulation Jublia™, an antifungal drug efinaconazole for dermatophytic onychomycosis treatment.
Such collaborative research activities would drive the market in China and would offer lucrative opportunities for local manufacturers.
What is the Outlook for India Regarding Dermatophytic Onychomycosis Treatment?
"High Presence of Qualified Staff and Low Manpower Costs"
India accounted for 44.5% of the total value of the South Asia dermatophytic onychomycosis therapeutic products market valued at US$ 94.9 Mn in 2021.
India is one of the leading countries for pharmaceutical drug manufacturing. Growing global burden of dermatophytic onychomycosis disease and associated rise in the patient pool ratio for its treatment are set to drive demand for dermatophytic onychomycosis treatment drugs as key manufacturers continue to develop effective therapeutics.
Category-wise Insights
Which Dermatophytic Onychomycosis Treatment Product is Driving High Market Growth?
"High Demand for Dermatophytic Onychomycosis Treatment Drugs Leading Market Growth"
The drugs segment amongst other treatment options accounted for the highest market share of 75.1% by revenue in 2021 in the global market for dermatophytic onychomycosis treatment.
Although topical drugs have fewer adverse effects, due to poor penetration of topical therapy, the keratin-rich structure of the nails results in improper penetration. Thus, these types of limitations have led to the high preference for oral drugs over topical therapy.
Which Type of Indication Accounts for Most Demand for Dermatophytic Onychomycosis Therapeutics?
"Distal Subungual Onychomycosis Continues to Account for Highest Market Share"
Distal subungual onychomycosis held the highest market share of 78.3% in 2021 and is projected to dominate the overall market over the forecast period.
Dermatophytic onychomycosis is most commonly seen in distal and the lateral parts of the body. Rising prevalence of this type of infection is set to surge the need for dermatophytic onychomycosis therapeutics over the coming years.
Competitive Landscape
Key manufacturers of dermatophytic onychomycosis therapeutic products are aiming to expand their product demand and sales footprint across countries. Market players are focused on gaining FDA approval and collaborating with local distribution partners to increase their market share and revenue.
In July 2021, Almirall S.A. entered into a license and distribution agreement with Kaken Pharmaceutical. This will give it exclusive rights to develop as well as commercialize topical formulation of efinaconazole in Europe.
In November 2017, BRIEF-Kaken Pharmaceutical signed a distribution agreement exclusively for Clenafin/Jublia in Taiwan. This agreement aims to accelerate their product sales in Japan.
In September 2016, Erchonia Corp. received 510(k) approval from the U.S. FDA for its low-level Lunula Laser. It is the first low-level laser for the treatment of onychomycosis or nail fungus that received marketing clearance.
Dermatophytic Onychomycosis Therapeutics Industry Report Scope
Attribute

Details

Forecast Period

2022-2031

Historical Data Available for

2013-2021

Market Analysis

US$ Million for Value

Key Countries Covered

U.S.
Canada
Brazil
Mexico
Argentina
Germany
France
Spain
Italy
U.K.
BENELUX
Nordics
Russia
Poland
India
Thailand
Malaysia
Indonesia
China
Japan
South Korea
Australia
New Zealand
GCC Countries
South Africa

Key Market Segments Covered

Treatment Type
Indication
Gender
Age Group
Distribution Channel
Region

Key Companies Profiled

Bausch Health
Galderma S.A.
Novartis AG
Pfizer, Inc.
Moberg Pharma AB
Bayer AG
Dr. Reddy's Laboratories Ltd.
Cipla Ltd.
Medimetriks Pharmaceuticals, Inc.
Sanofi S.A.
GlaxoSmithKline Plc.
Teva Pharmaceutical industries Ltd.
Cardinal Health Inc.
Viatris Inc.
Almirall, S.A

Report Coverage

Market Forecast
Competition Intelligence
DROT Analysis
Market Dynamics and Challenges
Strategic Growth Initiatives

Customization & Pricing

Available upon Request
Key Segments Covered in Dermatophytic Onychomycosis Therapeutics Industry Survey
Dermatophytic Onychomycosis Therapeutics Market by Treatment Type:
Dermatophytic Onychomycosis Therapeutic Drugs
Dermatophytic Onychomycosis Therapeutic Lasers

C02 Ablative Lasers
Nd:YAG Lasers
Dual-wave length near-infrared Lasers

Photodynamic Therapy
Dermatophytic Onychomycosis Therapeutics Market by Indication:
Distal Subungual Onychomycosis
White Superficial Onychomycosis
Proximal Subungual Onychomycosis
Candidal Onychomycosis
Total Dystrophic Onychomycosis
Dermatophytic Onychomycosis Therapeutics Market by Gender:
Dermatophytic Onychomycosis Therapeutics Market by Age Group:
0-18 Years
18-39 Years
40-64 Years
65 Years and Above
Dermatophytic Onychomycosis Therapeutics Market by End User:
Institutional Sales

Hospitals
Dermatology Clinics

Retail Sales

Retail Pharmacies
Drug Stores
Mail Order Pharmacies & Online Sales
Dermatophytic Onychomycosis Therapeutics Market by Region:
North America Dermatophytic Onychomycosis Therapeutics Market
Latin America Dermatophytic Onychomycosis Therapeutics Market
Europe Dermatophytic Onychomycosis Therapeutics Market
South Asia Dermatophytic Onychomycosis Therapeutics Market
East Asia Dermatophytic Onychomycosis Therapeutics Market
Oceania Dermatophytic Onychomycosis Therapeutics Market
Middle East & Africa Dermatophytic Onychomycosis Therapeutics Market