North America to dominate the global deep learning market in 2017; significant potential exists in Asia Pacific Excluding Japan
While North America is expected to hold the maximum value share in the global deep learning market (more than 40% during the forecast period), the APEJ deep learning market is expected to be a key regional market for sustainable revenue generation in the coming years.
This market in North America is anticipated to increase 71.3X during the forecast period while the market in APEJ is anticipated to increase 95.2X during the period of study. The North America deep learning market is estimated to reach a valuation of around US$ 110 Bn by the end of the forecast period in 2027. This region will register a CAGR of 47.3% in terms of value. APEJ is slated to generate revenue to the tune of US$ 66 Bn by 2027 end with a CAGR of 51.2%.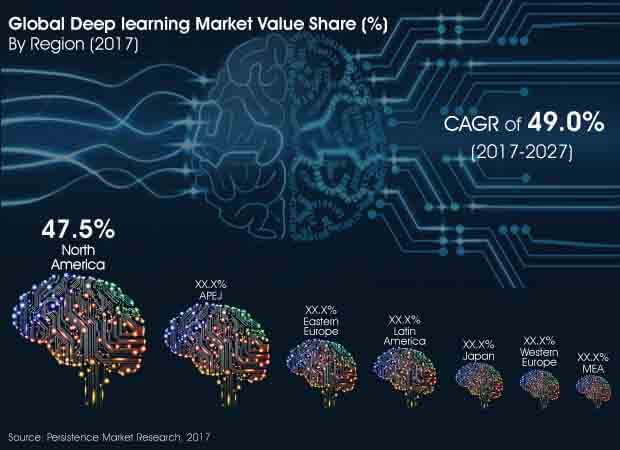 Factors boosting revenue growth of the deep learning market across the assessed regions
North America: The use of deep learning algorithms helps cut down labor and machine costs. Deep learning algorithms adapt by themselves and additional data points are not required to be provided. This improves system efficiency and reduces costs. This is a key driver boosting revenue growth of the market in North America.
Latin America: The rampant manufacturing sector in Latin America requires specific shapes of manufactured goods as finished products. Deep learning algorithms when applied to industrial machinery help detect defects in products that could be very challenging in normal circumstances. Deep learning particularly helps when consistent images are a challenge owing to ambient conditions, product reflection, or lens distortion. These algorithms can account for such types of variations and learn interesting features to make inspection robust. The deep learning market in Latin America is witnessing relatively significant growth owing to these factors.
Europe: Machine Learning can't consistently inspect irregular shapes and patterns that do not have repeatable edges. But with the help of deep learning algorithms that inspect some of the features of the products and make the decisions on the self-basis is what gives more accuracy and efficiency to the product. Deep learning technology can amplify if there is an equally best hardware to support. The other driver for the market in Europe would be drastically increased chip processing abilities (e.g., general-purpose graphical processing units or GPGPUs), which creates a very good base (infrastructure) for the technology to work.
This amplification by hardware enables deep learning methodologies to effectively exploit complex, compositional nonlinear functions, to learn distributed and hierarchical feature representations, and to make effective use of both labeled and unlabeled data. These factors are fueling growth of this market in Europe.
Asia Pacific Excluding Japan: Increase in research and development activities across the APEJ is a primary growth driver for the deep learning market in the region. Countries such as India and China are increasing investments in deep learning. There are a lot of startups in these two countries that are conducting research in the deep learning field and are identifying different applications of deep learning. This increase in the research of deep learning technology would bring about new and quality applications in the market, thereby leading to growth in market revenue.
Japan: Adoption of cloud based technologies is driving this market in Japan. Deep learning is gradually moving to cloud based technology, which is anticipated to increase the adoption of deep learning in the near future. This will significantly impact the growth of the deep learning market across the region.
Middle East & Africa: GPU-accelerated deep learning solutions are used to design sophisticated neural networks for healthcare and medical research applications from real-time pathology assessment to point-of-care interventions to predictive analytics for clinical decision-making. Innovations in deep learning are advancing the future of precision medicine and population health management in several ways. This is fueling revenue growth of the MEA deep learning market, given the region's sustained focus on betterment of medical and healthcare facilities.
Persistence Market Research Report Methodology Flowchart
Data Collection → Data Filter & Analysis → Research & Intelligence → Actionable Insights → Business Solution Market Taxonomy
Attribute
Details

By End Use Industry

Manufacturing
Healthcare
Media & Entertainment
Security
Finance
Others

By Region

North America
Latin America
Western Europe
Eastern Europe
Asia Pacific Excluding Japan
Japan
Middle East and Africa
- Companies Covered in This Report -
Google Inc.
Microsoft Corp.
IBM Corporation
Facebook Inc.
Qualcomm Technologies, Inc.
NVIDIA Corp.
Amazon.com, Inc.
Intel Corporation
Clarifai, Inc.
Deep Instinct Ltd.
Others.