Compartment Syndrome Monitoring Market Outlook (2021-2031)
The global compartment syndrome monitoring market recorded a market value of US$ 245.7 Mn in 2021, and is slated to expand at a steady CAGR of 4.6% and reach a market valuation of US$ 386.6 Mn by 2031.
| Attribute | Key Insights |
| --- | --- |
| Compartment Syndrome Monitoring Market Size (2020) | US$ 236.4 Mn |
| Projected Market Value (2031) | US$ 386.6 Mn |
| Global Market Growth Rate (2021-2031) | 4.6% CAGR |
| Market Share of Top 5 Countries | 58.3% |
In 2021, intra-compartmental monitoring systems witnessed a market value of US$ 140.4 Mn, which accounted for more than 50% of the global compartment syndrome monitoring market. Overall, compartment syndrome monitoring revenue accounted for approximately 2.8% of the global pressure monitoring devices market in 2020, which was valued at US$ 8.5 Bn.
Sales Analysis of Compartment Syndrome Monitoring from 2016 to 2020 Vs Market Outlook for 2021 to 2031
The global compartment syndrome monitoring market expanded at a CAGR of 3.3% over the last five years (2016-2020).
Increasing burden of chronic illnesses needing ICU admissions, continuous monitoring, and mechanical ventilation are some of the key factors that lead to intraabdominal hypertension and abdominal compartment syndrome.
Since the life expectancy of the population has been increasing over the past few decades, occurrence of critical illnesses has risen around the world. Abdominal compartment syndrome almost always develops after a severe injury, surgery, or critical illness. Conditions associated with abdominal compartment syndrome include trauma, especially when it results in shock during abdominal surgery, particularly liver transplant. In an article published in the StatPearls Journal 2021, in mechanically ventilated patients, prevalence of abdominal compartment syndrome was around 35%.
Acute compartment syndrome is a condition where there is increased pressure in the muscle compartments, which is mostly caused due to recent trauma, crush injuries, severe burns, and long bone fractures, and needs immediate surgical attention. According to John Hopkins Medical Centre, more than 3.5 million sports injuries occur every year during some kind of sports event.
Incidence of chronic exertional compartment syndrome in patients suffering from leg pain was around 7.6% in the U.S., according to an article published in the PubMed journal. Chronic compartment syndrome requires regular monitoring by healthcare professionals. It also affects people who regularly work out in the form of running, swimming, playing tennis, etc. Since many people around the world are opting to stay fit and exercise, prevalence of this condition is increasing. Thus, it will positively impact compartment syndrome monitoring demand growth over the coming years.
The global compartment syndrome monitoring market is expected to expand at a CAGR of 4.6% over the forecast period (2021-2031).
What are the Opportunities on Offer for Compartment Syndrome Monitoring Devices Manufacturers?
The coming years are set to witness many lucrative opportunities for manufacturers in the compartment syndrome evaluation market around the world. The industry is consolidated by a few key players manufacturing these devices. Emerging economies of the world are offering many opportunities for key players to expand their businesses. With the growing rate of product adoption, untapped compartment syndrome monitoring markets will offer numerous beneficial opportunities for medical device manufacturers around the world.
Lack of precise clinical diagnostic methods is one of the biggest factors driving adoption of compartment syndrome monitoring devices across the world. Since compartment syndrome cannot be detected by clinical signs and symptoms, especially in crush injuries or severe burns, or in critically ill patients, these monitoring systems are proving to be efficient and easy for healthcare professionals to diagnose and monitor compartment syndrome.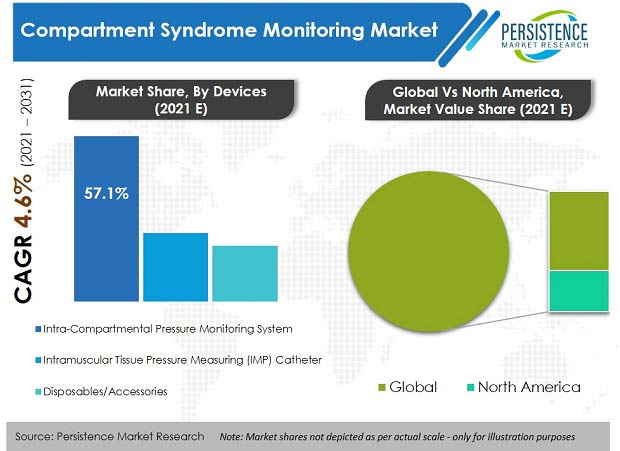 What's Restraining Demand Growth of Compartment Syndrome Monitoring?
Compartment syndrome can be diagnosed and monitored by only a few standard devices, which include the Stryker's STIC pressure monitoring system, Centurion's novel Compass Universal pressure transducer, an innovative product by MY01, and a pressure monitoring system by Medline industries.
Less number of devices and systems can negatively affect product adoption rate. Thus, limited product portfolio with a medium-level pricing of the devices can hinder market growth.
Many emerging markets and developed regions do not consider compartment pressure monitoring as a distinctive procedure. It is usually counted in critical care and is considered accordingly. Thus, many insurance agencies across the world do not have distinctive coverage for the monitoring of compartment syndrome. Little to no reimbursements will prove to be detrimental for the growth in demand for compartment syndrome monitoring.
Country-wise Insights
Which is the Largest Market for Compartment Syndrome Monitoring Solutions?
"U.S. Leading Global Market for Compartment Syndrome Evaluation"
North America, in 2020, accounted for 34.2% global market share, of which, a little above 90% market share was seen to be contributed by the U.S. alone. High product adoption rate, better accessibility to healthcare, and developed healthcare infrastructure contribute positively to the growth of this market in the U.S.
According to annual reports published by Becton, Dickinson and Company, the company's urology and critical care business segment accounted for more than 30% of its overall revenue in 2020. This is due to the rise in demand for critical care products and services in the U.S. in the past 2 years.
Which Country is Driving Most Demand for Compartment Syndrome Monitoring in Europe?
"Germany Home to Key Compartment Syndrome Monitoring System Manufacturers"
Germany accounted for 26.9% market share in the Europe compartment syndrome monitoring market. This high share can be attributed to the fact that many key players in this industry operate out of Germany, which makes the availability of products higher in the country.
Since the devices and catheters used for compartment pressure are cost-effective and user-friendly, they are preferred by a lot of healthcare professionals in Germany.
How is China Emerging as a Prominent Market for Compartment Syndrome Monitoring?
"Fast-developing Healthcare Sector in China Boding Well for Market Players"
The China market for compartment syndrome monitoring accounted for more than 50% of the market share in East Asia. The market in China was recorded to be worth US$ 22.6 Mn in 2020.
Rapidly developing healthcare infrastructure and increasing healthcare spending by the government are key factors that will positively affect the growth of this industry in China over the forecast period.
Category-wise Insights
Which Compartment Syndrome Monitoring Device is Hugely Popular?
"Usage of Intra-compartmental Pressure Monitoring Systems Highest"
Intra-compartmental pressure monitoring systems are driving demand in this market, wherein, they accounted for more than 55% market share in 2020.
These monitoring systems prove to be most efficient in the diagnosis of compartment syndrome in all the cases.
For instance, Stryker Corporation's STIC pressure monitoring system is considered to be gold standard for the diagnosis of acute compartment syndrome all over the world.
Which Indication Sees Highest Need for Compartment Syndrome Monitoring?
"Market Growth Driven by High Incidence of Acute Compartment Syndrome"
Acute compartment syndrome occurs most commonly and accounted for nearly 50% market share in the year 2020. Sports injuries are the most common causes of acute compartment syndrome.
According to the John Hopkins Medical Centre, more than 3.5 million children ages 14 and younger get hurt annually playing sports or participating in recreational activities.
The segment is expected to expand at a CAGR of 4.9% over the forecast period.
Which End User Benefits the Most Through Employment of Compartment Syndrome Evaluation?
"Hospitals Account for Major Share in Pressure Monitoring Landscape"
Hospitals captured 37.9% share of the total market by value in the year 2020. This can be attributed to the fact that a majority of acute injuries cases, severe burns cases, and critically ill patients are directed to hospitals for their management.
The hospitals segment in this market is expected to expand at a CAGR of 4.1% over the decade.
Impact of COVID-19
The COVID-19 pandemic and resulting lockdowns had a catastrophic impact on all the industries in the world. The healthcare industry experienced an overhaul during this period. Many pharmaceutical, biotechnological, and medical device industries experienced both, positive and negative impacts of the pandemic.
Several industries, including healthcare, have undergone significant changes. Other elective medical treatments were put on hold while hospital admissions and therapies for COVID-19-affected patients were prioritised. The market for compartment syndrome monitoring devices slowed down as a result of these developments during the peak of the pandemic.
Competitive Landscape
Strategies of gaining approvals from various regulatory authorities around the world, product launches, and acquisitions for increasing market presence are used by key manufacturers of compartment syndrome monitoring equipment.
In June 2019, C2Dx, a medical device manufacturing company, acquired the STIC compartment pressure monitor product line from Stryker Corporation.
In September 2019, ConvaTec Inc. announced the acquisition of South lake Medical Supplies, which specializes in catheter-based devices.
In December 2021, The MY01 Continuous Compartmental Pressure Monitor earned FDA approval for the Bluetooth-enabled MY01.
Compartment Syndrome Monitoring Industry Report Scope
Attribute
Details

Forecast Period

2021-2031

Historical Data Available for

2016-2020

Market Analysis

USD Million for Value

Key Countries Covered

U.S.
Canada
Germany
U.K.
France
Italy
Spain
BENELUX
Russia
China
Japan
South Korea
India
Thailand
Malaysia
Indonesia
Australia
New Zealand
GCC Countries
Turkey
South Africa

Key Segments Covered

Product
Application
End User
Region

Key Companies Profiled

C2DX
MY01
Raumedic AG
ConvaTec Inc.
Medline Industries
Becton Dickinson & Company.

Report Coverage

Market Forecast
Competition Intelligence
DROT Analysis
Market Dynamics and Challenges
Strategic Growth Initiatives

Customization & Pricing

Available upon Request
Key Segments Covered in Compartment Syndrome Monitoring Industry Research
Compartment Syndrome Monitoring Market by Device:
Intra-Compartmental Pressure Monitoring Systems
Intramuscular Tissue Pressure Measuring (IMP) Catheters
Disposables/Accessories
Compartment Syndrome Monitoring Market by Indication:
Acute Compartment Syndrome
Chronic Compartment Syndrome
Abdominal Compartment Syndrome
Compartment Syndrome Monitoring Market by Anatomy:
Upper Extremities
Lower Extremities
Abdomen
Compartment Syndrome Monitoring Market by End User:
Hospitals
Ambulatory Surgical Centres
Orthopaedic Office-Based Clinics
Compartment Syndrome Monitoring Market by Region:
North America Compartment Syndrome Monitoring Market
Latin America Compartment Syndrome Monitoring Market
Europe Compartment Syndrome Monitoring Market
South Asia Compartment Syndrome Monitoring Market
East Asia Compartment Syndrome Monitoring Market
Oceania Compartment Syndrome Monitoring Market
Middle East & Africa Compartment Syndrome Monitoring Market