Cassia Extract Market Outlook (2022-2032)
The global cassia extract market is projected to surge at a value CAGR of 6.9%, thereby increasing from a valuation of US$ 406.4 Mn in 2022 to US$ 794.7 Mn by 2032.
| Attribute | Key Insights |
| --- | --- |
| Cassia Extract Market Size (2022E) | US$ 406.4 Mn |
| Projected Sales of Plant-based Milk (2032F) | US$ 794.7 Mn |
| Value CAGR (2022-2032) | 6.9% |
| Value Share of Top 5 Countries (2021A) | 59% |
As of 2022, by value, cassia extract consumption accounts for approximately 0.5% to 1% of the global herbs & spices market share. South Asia is projected to hold more than 45% of global market value share for cassia extracts through 2032.
Cassia Extract Consumption Analysis (2017-2021) Vs Market Estimations (2022-2032)
During 2017-2021, the global market for cassia extracts rose at a value CAGR of 5.7%. Expansion of the global cassia extract industry has been fuelled by increase in demand and consumption of products made from plant extracts in rising economies of Asia Pacific, such as India and China. Market expansion has been aided by increase in disposable income as well as changes in lifestyles and healthy eating habits of consumers.
Major demanding regions of cassia extracts are South Asia and East Asia. Rapid rise in consumer awareness regarding the multiple health benefits of cassia extracts is fuelling demand across the world. The U.K. market is estimated to hold the highest value share of more than 15% in Europe, followed by Germany and Russia.
The global cassia extract market is expected to surge ahead at a value CAGR of 6.9% through 2032.
Innovative Product Launches by Cassia Extract Manufacturers
Growing demand for scent products is leading manufacturing companies to shift their focus toward releasing new varieties of fragrance products. Due to shifting preferences, majority of regular buyers of scent items want new and sophisticated products. As such, key cassia extract producers are improving their products and making them more beneficial for their customers.
Customers desire novel and unusual scented goods that offer relaxation and other advantages. Manufacturers are also offering products that can be used in different end-use industries, including food & beverages, pharmaceuticals, and others. Companies have begun to produce creative products such as room fresheners, perfumes, and other aromatic items made from cassia extracts, in response to changing client demands.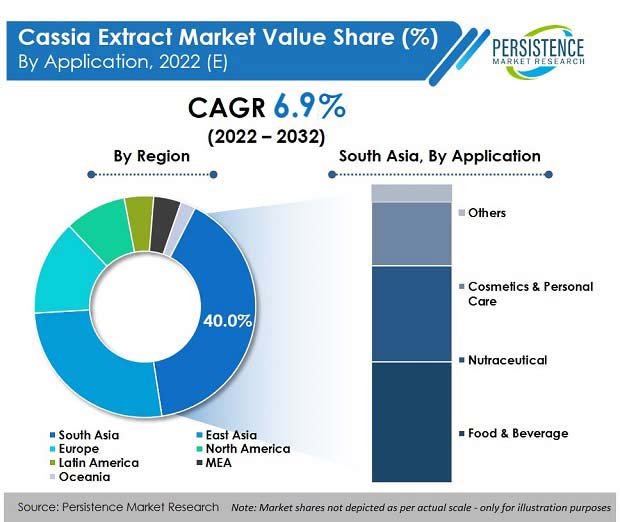 Which End-use Industry is Set to Provide Lucrative Opportunities Going Ahead?
"Increased Use of Plant Extracts in Pharmaceutical Industry Aiding Market Growth of Cassia Extracts"
A variety of therapeutic beverages are made using medicinal plants. Complex studies are currently being conducted to comprehensively analyze plant extracts in order to develop innovative formulations with functional and therapeutic applications. As a result, herbal extracts such as cassia extracts are being employed in the pharmaceutical business.
Combining herbal medicine and nanotechnology is the best strategy, as the nanostructured system may be able to boost plant extract efficacy while minimizing dose, toxicity, and side effects.
Cassia extract contains biological properties that include chemoprevention of peptic ulcers and stomach cancer, as well as protection from gastritis and inflammation. Cassia extract has anti-inflammatory and cytoprotective properties as well. It also has key bioactive qualities that can help with gastritis, diabetes, blood circulation, and inflammation. Many pharmaceutical firms are including it in their formulations because of these qualities.
Market volume for cassia extract in various applications is around 37,698 tons in 2022.
How is Rising Popularity of Ethnic Cuisines Providing Growth Opportunities for Cassia Extract Suppliers?
"Foodservice Sector to Complement Cassia Extract Demand Growth"
As the foodservice sector began to develop on a worldwide scale, there was a need for regional cuisines to go global. Several regional foodservice companies went worldwide as a result of this globalization, and regional dishes such as Italian, Mexican, and Chinese became ethnic in other countries. Because of widespread use of cassia extract in ethnic dishes, this trend is assisting the global rise of the cassia bark extract market.
As customers become more cosmopolitan, there has been noticeable growth in ethnic cuisine consumption. In emerging markets, consumer interest in ethnic cuisines is growing, which presents an opportunity for cassia extract manufacturers and exporters.
Cassia extract is being used in place of traditional spices by a number of food manufacturers since it has advantages over other herbs and spices such as prolonged seasonality, year-round availability, and simplicity of usage.
According to a survey conducted by The International Organization of Scientific Research - Journal of Business and Management (IOSR-JBM), more than half of the consumers (61%) responded that they prefer consuming ethnic cuisines, whereas, 37% responded that they go to restaurants to consume ethnic cuisines once a month.
How Should Market Players Capture the Untapped Potential of Cassia Extracts?
"Medicinal Properties of Cassia Extract Augmenting Sales Prospects"
Medicinal plants are seen as a gift from nature since they contain a vast and unexplored reservoir of active chemical components with tremendous medicinal potential. Plants such as cassia have medicinal potential, making them an attractive source for producing phytomedicines.
Antimicrobial, anti-inflammatory, anticancer, antioxidant, hypoglycemic, antimutagenic, hyperglycemic, and antiviral properties are all cassia extract benefits. According to a few phytochemical studies, cassia contains around 200 chemical components, including anthracene derivatives, flavonoids, pentacyclic triterpenoids, sterols, and others.
All of these characteristics make it a great product for use in treatments, providing further growth opportunities for cassia extract producers.
What's Restraining Market Growth of Cassia Extract to Some Extent?
"Cassia Extract Substitutes Stifling Market Growth"
Cassia is mostly grown in Asian countries such as India, China, Indonesia, and Vietnam. This extract is commonly used in Western countries for seasoning and as a spice, particularly in the Americas and Europe. Cost of exporting cassia extract for use in food and medication manufacturing is too expensive for food and pharmaceutical industries.
Availability of high-quality raw materials such as herbs and spices is critical for the synthesis and processing of essential oils and oleoresins. Food, pharmaceutical, nutraceutical, and other product producers may experience manufacturing issues as a result of restricted raw material availability.
Many essential oils are derived from extracts such as cassia, which have a variety of health advantages. Plethora of alternatives or substitutes on the market is stifling cassia extract industry growth. These alternatives are used in a range of end-use industries for a variety of reasons, including cost-effectiveness, convenience of supply, and so on.
For example, fragrance oils are the most cost-effective alternative to essential oils. Essential oils are more expensive since they are derived from natural substances, whereas, fragrance oils are made from synthetic chemicals and are therefore less expensive.
Country-wise Insights
Which Country Accounts for the Largest Share in South Asia Cassia Extract Market?
"India Leads Cassia Extract Consumption in South Asian Region"
The market for cassia extracts is witnessing significant growth in India in the South Asian market at a value CAGR of 7.3%. High demand for cassia extract in the South Asian region is due to changes in consumers' consumption habits, increasing dietary requirements, and high production of nutritional supplements.
Which Country is Driving Growth of the East Asia Market?
"High Domestic Production of Cassia Extract in China"
China holds a major share in the East Asia cassia extract market. This is due to increase in domestic production of cassia extract and also rise in consumption by the population in the country. Moreover, increasing demand for convenience foods will have a positive impact on market growth in China, which is projected to expand at 6.9% CAGR through 2032.
Category-wise Insights
Which Form of Cassia Extract is Most Demanded in the Global Market?
"Cassia Powder Market Leading Industry Expansion"
Based on form, powdered cassia extract is mostly demanded and consumed across the world. Market value of powder cassia extract in 2022 is US$ 437.8 Mn.
Demand for cassia extract from nutraceutical product manufacturers is rising owing to its high availability and nutritional properties. There is also high demand for cassia seed extracts across regions. Many end users also demand high quantities of cinnamon cassia bark extract and cassia leaf extract for different purposes.
Which Applications of Cassia Extract are Offering Sales Opportunities for Market Growth?
"Rising Application of Plant Extracts in Nutraceuticals"
Sales of cassia extract are increasing due to increasing application of plant extracts in multiple applications such as food & beverages, nutraceuticals, cosmetic & personal care, and others. The nutraceutical segment is expected to surge at a value CAGR of 7.8% over the decade.
Impact of the COVID-19 Crisis
A worldwide health emergency was declared due to the global pandemic caused by COVID 19. Despite a paucity of clinical evidence, persuasive evidence from literature shows that some nutraceuticals and plant-based substances obtained from herbal extracts can be utilized to treat COVID 19. This influenced many people around the world to consume extracts derived from natural sources such as cassia.
Many people believed that natural extracts are beneficial to treat respiratory complications. There are numerous researches going on to develop medications from herbal extracts that help improve immunity, respiration, and have anti-inflammatory properties. This would pave the way for the creation of innovative nutraceutical herbal formulations as an alternative medicine for COVID-19 prevention and treatment.
Competitive Landscape
Key cassia extract suppliers are focused on promotional activities, gaining certifications from international and national organizations, and product launches. Manufacturers are also adopting new technologies to offer better products and improve efficiency.
In November 2021, Edens Garden introduced 3 new room sprays - fresh snowflakes and other products. These products introduced were with the theme of Christmas and winter. The products are in glass bottles, which makes them environmentally friendly.
In September 2021, Mane KANCOR Ingredients Private Limited started a new innovation center in Angamaly, which will have highly equipped and modern technologies. It is one of the biggest buildings in Angamaly Campus where all research activities and product development will be conducted.
Key players such as Naturalin Bio-Resources Co. Ltd., Xuancheng Quality Herb Company Ltd, and Katyani Exports are working with leading certification organisations and have received certifications such as USDA Organic, ISO 9001, GMP, FSSC, and many more, to gain customers' trust and sustain in this dynamic market.
In September 2021, d?TERRA and the University of Utah Athletics announced a new six-year partnership, where d?TERRA will be the official partner for essential oil and will be sponsoring the sports events of Utah Utes.
Cassia Extract Industry Research Scope
Attribute
Details

Forecast period

2022-2032

Historical data available for

2017-2021

Market analysis

USD million for value

Key regions covered

North America
Latin America
Europe
East Asia
South Asia
Oceania
The Middle East & Africa

Key countries covered

U.S.
Canada
Germany
U.K.
France
Italy
Spain
Russia
China
Japan
South Korea
India
Thailand
Malaysia
Indonesia
Australia
New Zealand
GCC Countries
Turkey
Northern Africa
South Africa

Key market segments covered

Nature
Form
Application
Region

Key companies profiled

AG Industries
AGRIM PTE LTD
Changsha Botaniex Inc.
De Monchy Aromatics
d?TERRA
Edens Garden
FYZ Ingredients
Hawaii Pharm LLC
Janvi Herbs
Katyani Exports
Mane KANCOR Ingredients Private Limited
Naturalin Bio-Resources Co., Ltd.
NOW® Foods
Nutraonly (Xi'an) Nutritions Inc
Prescribed For Life
S.A. Herbal Bioactives LLP
Shaanxi Yongyuan Bio-Tech Co., Ltd.
Xi'an Nature Choice Co. Ltd.
Xi'an Sost Biotech Co., Ltd
Xuancheng Quality Herb Co. Ltd.

Report coverage

Market Forecast
Company Share Analysis
Competition Intelligence
DROT Analysis
Market Dynamics and Challenges
Strategic Growth Initiatives

Customization & pricing

Available upon request
Cassia Extract Industry Survey by Category
Cassia Extract Market by Nature:
Organic Cassia Extract
Conventional Cassia Extract
Cassia Extract Market by Form:
Powder Cassia Extract
Oil Cassia Extract
Cassia Extract Market by Application:
Food & Beverages
Cosmetic & Personal Care
Nutraceuticals
Others
Cassia Extract Market by Region:
North America Cassia Extract Market
Latin America Cassia Extract Market
Europe Cassia Extract Market
East Asia Cassia Extract Market
South Asia Cassia Extract Market
Oceania Cassia Extract Market
Middle East & Africa Cassia Extract Market