Market Overview
Calf milk replacers produce faster growth rates, which results in faster rumen development and enables earlier separation of calves from their source of milk. They reduce the risk of various diseases, including Septicemia, Johne's diseases, E. coli, salmonella, and mycoplasma caused due to the consumption of whole milk. Calf milk replacers also help reduce the risk of diarrhea, which is a common cause of death among young calves. This risk can be reduced if calves are reared with calf milk replacers in the right proportion. Digestive enhancers used in calf milk replacers help promote better digestive systems and increase the rate of absorption.
These health benefits offered by calf milk replacers over whole milk are expected to drive demand over the coming years. As such, the global calf milk replacer market size is set to expand at a decent 1.6X volume growth over the forecast period of 2020 to 2030.
Calf Milk Replacer Market Trends
Rising Demand for Ready-to-consume Animal Nutrition Products to Bolster Sales: Calf milk replacers are formulated correctly from good-quality ingredients to ensure proper development of calves, right from the initial stage. Calf milk replacers are fine, dry powders, with a distinct flavor of components and feed additives added into them. This ensures easy mixing, wettability, and suspendibility of the products in the solution. Growing calf population and increased demand and application of whole milk in the dairy industry have increased the demand for ready-to-consume calf milk replacers.
Calf milk replacers can be easily mixed with water in specific quantities until all the powder is dissolved or suspended without clumps of undissolved powder, and can be fed easily using automated feeding systems or nipple bottles. Owing to these factors, the value growth of the calf milk replacer market is expected to exhibit a CAGR of over 5% during the forecasted period.
Increasing Number of Dairy Farmers Adopting Non-medicated Nutritional Products: Increasing need for animal nutrition products without the use of medications, and without compromising on animal welfare and productivity, has led to increased demand for non-medicated types of calf milk replacers. Non-medicated calf milk replacers have dominated the calf milk replacer market, owing to their cost-effectiveness. Use of non-medicated calf milk replacers helps reduce animal stress, which is an important factor in animal welfare. Impacts of stress can have negative effects on the health and development of calves.
For instance, Hi-Pro Feeds manufactures a range of non-medicated calf milk replacers, which result in faster start, greater gains, and improved health of the calves.
Therefore, the non-medicated type of calf milk replacers is expected to witness 1.7X growth during the forecaster period.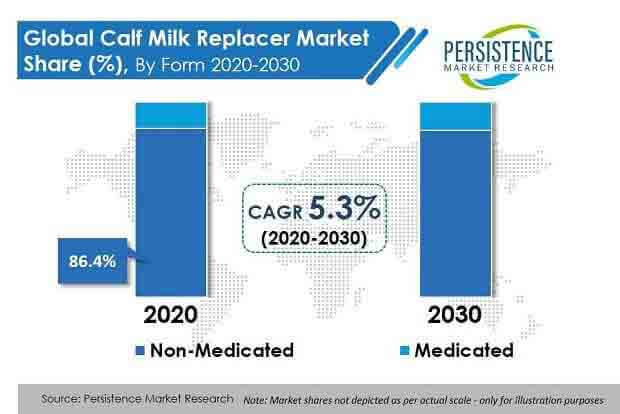 Regional Outlook of Calf Milk Replacer Market
The global calf milk replacer market share is dominated by established markets such as North America and Europe. These regions together will account for more than 50% of the total value share, globally, in 2020. Europe will dominate the global calf milk replacer market with the highest value share of 32% in 2020. This is attributable to strong government mandates toward improving animal health in the early growth stage.
Factors such as rapid urbanization, improved international and domestic economic conditions, increased purchasing power, and widespread awareness of nutritional values have led to increased demand for dairy products in Asian countries. Hence, tier-1 companies are targeting the potential market of Asia. Calf replacers, being a nutritive substitute, are expected to offer lucrative opportunities for manufacturers in the calf milk replacer market in the Asian region, with an impressive expected value CAGR of more than 7% in South Asia and 8% in East Asia.
COVID-19 Impact on Calf Milk Replacer Market
COVID-19 has impacted numerous industries, and the global economy is facing the aftermath of the pandemic. Production outcome for animal nutrition in 2020 is expected to show a moderate decline, as top producing countries have witnessed serious implications due to the COVID-19 outbreak. With restrictions being eased gradually, manufacturers have started production, which is subsequently expected to benefit the animal feed industry.
Animal nutrition has emerged as a major contributor to support and enhance animal health. Animal nutrition, including calf milk replacer demand is rising, as animal health concerns are growing in the livestock industry. With demand remaining steady, the impact of COVID-19 is expected to be low on the calf milk replacer market.
Analysts' Viewpoint
Key players operating in the calf milk replacer market are focusing on enhancing their brand names, and are advertising and promoting their products on various platforms. The sale of products on online platforms has made it easy for customers to access different products and order them as per their requirements.
The sale of products through various distribution channels, including a network of retailers, distributors, and online retailing is expected to increase demand for calf milk replacers, and create opportunities for key players to increase production capacity. Manufacturers are investing in research & development activities to develop innovative products and technologies to boost immunity and support the gut health of calves, which is expected to further contribute toward high market growth, with expected volume of 3,696 KT in the year 2030.
Key Segments of Global Calf Milk Replacer Market
PMR's report on the global calf milk replacer market offers information divided into four segments - type, source, form, and region.
Type

Canola
Medicated
Non-medicated

Source

Dairy-based
Non-dairy-based

Form
Region

North America
latin America
Europe
South Asia
East Asia
Oceania
Middle East and Africa