Bandsaw Machine Market Outlook (2022-2032)
By value, Persistence Market Research has estimated 3.6% CAGR for the global bandsaw machine market between 2022 and 2032. As a result, worldwide revenue from bandsaw machine sales is expected to increase from US$ 3.2 Bn at present to US$ 4.7 Bn by the end of 2032.
The top 5 bandsaw machine manufacturers account for 25% to 30% share in the global market.
| Attribute | Key Insights |
| --- | --- |
| Band Saw Machine Market Size (2021A) | US$ 3.1 Bn |
| Estimated Market Value (2022E) | US$ 3.2 Bn |
| Projected Market Value (2032F) | US$ 4.7 Bn |
| Value CAGR (2022-2032) | 3.6% |
| Collective Value Share: Top 3 Countries (2022E) | 29.7% |
Sales Analysis of Bandsaw Machines (2017 to 2021) Vs. Market Projections (2022 to 2032)
The global bandsaw machine market expanded at a CAGR of 1.9% between 2017 and 2021.
As all of the market's leading players pursue a strategy of expanding their reach via superior technical evolution in their product lines. As there are high investments in the market by large players for technical improvement, there is also an increase in investment for intangible assets.
Among other factors supporting the growth of the bandsaw machine market, growth of the biomass energy industry, development of the automotive sector, rise in demand from the metal-cutting sector, and increasing R&D activities are significant trends that are accelerating market expansion.
Furthermore, rising demand from emerging nations, as well as technological advancements and modernization in production techniques, will open up new opportunities for bandsaw machine suppliers over the coming years.
The global market for bandsaw machines is estimated to progress at 3.6% CAGR through 2032.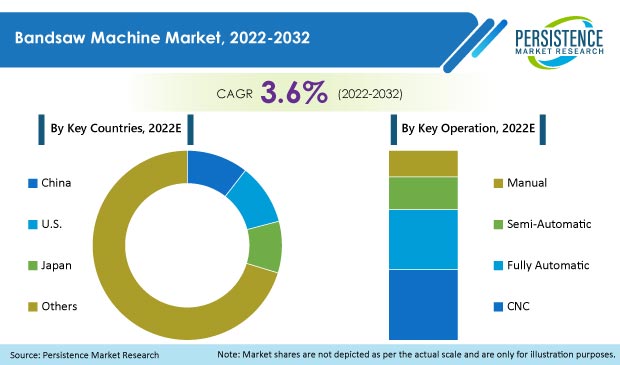 What's Driving Demand for Bandsaw Machines?
"Rising Popularity of Digitally-Controlled Bandsaw Machines"
Significantly less human contact is now required in the manufacture of sheet metal because of digital controls in bandsaw machines. For instance, touchscreen controls on CNC (computer numerically controlled) bandsaw machines provide the user the ability to quickly and easily change back gauges.
Furthermore, production capacity has risen as a result of increased efficiency in bandsaw machines and decreased errors in sheet metal processing. Modern bandsaw machines with digital controls have also reduced setup time for workers, enhancing production efficiency and output.
"Significant Untapped Potential in Precision Cutting Tools Industry"
High-end, high-precision equipment such as laser cutting machines and water jet cutting machines, which generate smooth, exact cuts, dominate the metal cutting industry. Because of their slower speeds and lesser precision, automated bandsaw machines are not as widely used for cutting delicate edges.
Bandsaw machines may be able to tap into a broader market of machine cutting tools due to advancements in bandsaw machine manufacturing technology and the incorporation of PLC and robots. Bandsaw machines can facilitate high precision cutting equipment used in automotive, metal sheet cutting, and other industries.
What are the Factors Restraining Demand Growth of Bandsaw Machines?
"Fluctuation in Prices of Raw Materials"
Bandsaw machine production costs are determined by a range of raw materials such as steel, blades, motors, pumps, and several other parts that must be obtained from various suppliers. The target market will be significantly impacted by its reliance on a handful of suppliers for raw materials, as well as price variations in import and export.
"Increased Repair & Compliance Costs"
Power tool OEMs and suppliers are adopting methods to deal with the demand-growth trend to maintain or gain a market share. However, the high cost of ownership, maintenance, and associated policies are restricting their (OEMs) market expansion.
Bandsaw machine manufacturers are required to follow government regulations such as OSHA (Occupational Safety and Health Administration), maintain workplace safety & security, and conduct regular audits. As a result, the aforementioned concerns are likely to affect bandsaw machine volume sales to a certain extent over the years ahead.
"Requirement of Highly-Skilled Operators"
Bandsaw machines are well-known for their ability to cut unique curves in wood and metal while maintaining sharp edges. Cutting irregular and complicated curves is a tough and time-consuming task that demands extreme precision and skill.
Growing automation in industrial industries has influenced worker deployment on-site, with the bulk of equipment becoming automated. Bandsaw machines, particularly manual and semi-automatic bandsaw machines, require the presence of skilled operators and more time to achieve the required precision of curved cuts, which significantly increases operating time and cost while diminishing production efficiency.
Country-wise Insights
Why is China the Most Prominent Market in East Asia?
In 2022, the China bandsaw machine market is predicted to expand 4.1% year on year.
The market in China is expected to increase steadily over the forecast period thanks to the development of new and creative goods as well as cheaper machine availability.
According to the study by Persistence Market Research, the Chinese market is expected to reach US$ 489.9 Mn in sales by the end of 2032.
Why is Demand for Bandsaw Machines Increasing in India?
The India bandsaw machine market is expected to expand at a high CAGR of 6.2% between 2022 and 2032.
Demand for bandsaw machines is predicted to be strong throughout the forecast period due to growth in the industrial sector, which is also helping the country's economy. India is one of the fastest-growing economies in the world, and urbanization is accelerating at a fast pace in the country.
By the end of 2032, the Indian market is set to reach a valuation of US$ 346.7 Mn.
Category-wise Insights
Why Does CNC Dominate Overall Operation Type?
CNC machining is becoming more and more popular for creating metal and plastic components because technology enables OEMs to create intricate patterns that are just not possible using manual processes.
CNC machines are quicker and more accurate than other potential machines. The worker can advance in different types of manufacturing jobs thanks to CNC bandsaw machines.
Between 2022 and 2032, it is anticipated that CNC bandsaw machines would provide an absolute monetary opportunity of around US$ 586.5 Mn.
Which End-use Sector Dominates Market Share?
Increasing production activity and development in the fields of automotive and transportation has led to the enormous requirement of bandsaw machines for sheet metal and steel cutting, and also for making different kinds of shapes.
The automotive and transportation end-use industry is projected to create an absolute dollar opportunity of US$ 275.88 Mn between 2022 and 2032.
Russian-Ukraine Conflict Impact on Market
After being hammered by the COVID pandemic, supply chain disruptions, and price increases, the global economy is about to see yet another unexpected path due to the armed conflict in Europe. Russia's onslaught might stymie Europe's economic recovery by driving up already high energy costs.
Europe, a net importer of energy, gets around 40% of its natural gas from Russia. A disruption in this energy source might have a negative impact on the economies of the continent. Soaring natural gas costs have resulted in rising household utility bills for both, natural-gas heat and gas-generated electricity, squeezing consumer expenditure.
Brent crude futures temporarily surpassed US$ 119 per barrel in March 2022, the highest level since May 2021, on worries of more supply disruptions as a result of sanctions on Russia due to its invasion of Ukraine. In the first week of March, Chicago wheat futures hit an all-time high of US$ 13.5, as the Russian invasion of Ukraine disrupted supplies from two of the world's top producers.
Russia targeted Ukraine's Zaporizhzhia nuclear reactor, the biggest in Europe and responsible for more than a fifth of the country's total electrical generation.
All this is likely to affect the bandsaw machine market, especially in countries of Europe that are close to the conflict.
Competitive Landscape
Along with the growing automotive sector, rising metal cutting demand, increasing market R&D activities, and other factors supporting bandsaw machine market growth, the growth of the biomass energy industry is a crucial factor accelerating market progress.
In 2022, Amada Press System Co., Ltd. announced the debut of ARPAS, a high-speed line system with articulated robots and stamping servo presses that significantly speed up the transfer of processed products between stamping press machines.
In 2021, The SDEW-8010i3 + ALFAS03ARZ automation system for progressive stamping press manufacturing was released by Amada Press System Co., Ltd. This is a new product for the EV industry designed for high-speed, high-precision processing.
Bandsaw Machine Industry Report Scope
Attribute
Details

Forecast Period

2022-2032

Historical Data Available for

2017-2021

Market Analysis

Units for Volume
USD Million for Value

Key Regions Covered

North America
Latin America
Europe
East Asia
South Asia Pacific
The Middle East and Africa

Key Countries Covered

U.S.
Canada
Mexico
Brazil
Germany
Italy
France
U.K.
Spain
BENELUX
Russia
China
Japan
South Korea
India
ASEAN
ANZ
GCC Countries
Turkey
Northern Africa
South Africa

Key Market Segments Covered

Cutting Type
Operation
Orientation
End Use
Region

Key Companies Profiled

Starrett
Amada Machine Tools Co. Ltd
Pedrazzoli IBP
SOITAAB Group
Mega Machine Co Ltd
Everising Machine Co
ADS Precision Ltd
Petra Stroji d.o.o
Meba Metall Bandsagemaschieen GmbH
Cobrea Bandsaw
Multicut
Cosen Saws
ITL
Prosaw Industries
Burt Group
Baileigh Industrial

Report Coverage

Market Forecast
Brand Share Analysis
Competition Intelligence
DROT Analysis
Market Dynamics and Challenges
Strategic Growth Initiatives

Customization & Pricing

Available upon Request
Key Segments Covered in Bandsaw Machine Industry Research
Bandsaw Machine Market by Cutting Type:
Mitre Bandsaw Machines
Circular Bandsaw Machines
Ring Bandsaw Machines
Straight Bandsaw Machines
Bandsaw Machine Market by Operation:
Manual Bandsaw Machines
Semi-Automatic Bandsaw Machines
Fully-Automatic Bandsaw Machines
CNC Bandsaw Machines
Bandsaw Machine Market by Orientation:
Horizontal Bandsaw Machines
Vertical Bandsaw Machines
Bandsaw Machine Market by End Use:
Automotive and Transportation
Construction
Mining
Aerospace
Shipbuilding
Food
Others
Bandsaw Machine Market by Region:
North America Bandsaw Machine Market
Latin America Bandsaw Machine Market
Europe Bandsaw Machine Market
East Asia Bandsaw Machine Market
South Asia Pacific Bandsaw Machine Market
The Middle East and Africa Bandsaw Machine Market