Introduction
The US$ 4.65 Bn global atrophic scar treatment market is presumed to exhibit 1.3x growth by the end of 2025. Over the forecast period 2017-2025, the global market for atrophic scar treatment will reportedly grow at a CAGR of 4.6%. The overall outlook remains moderate yet positive.
Multiple affirmative factors to drive atrophic scar treatment market growth
While soaring demand for atrophic scar treatment and evolving regulatory landscape in developed as well as developing economies are identified to predominantly fuel the market growth within the assessment period, the report also throws light on a range of other prominent drivers responsible for steady growth of the global atrophic scar treatment market.
Rising instances of skin disorders
Growing need for advanced treatment alternatives and product innovations
Growing demand for age-defying treatment therapies worldwide
Surging awareness and preference for personal care
Improving economy of emerging countries
Increasing healthcare expenditure by consumers as well as governments
Favorable reimbursement scenario in certain developed countries
International exchange of treatment ideas and scope widens growth opportunities
Increasing consumer demand for short treatment period offering quick results
Topical scar treatment to remain most preferred type during the period of study
Based on product type, the global market for atrophic scar treatment is segmented into topical scar products, laser products, surface treatment, and injectable products. Among these four, topical scar product segment will continue to dominate with over 50% value share despite a slight decline in the market share by 2025 end. Laser segment is expected to witness a declined market share by value but laser therapy is emerging as a popular treatment among affluent consumers.
Surface treatment is likely to capture over 20% share of the total market value by 2025 end, followed by injectables. An important observation by Persistence Market Research indicates that topical treatments are gradually losing popularity among wealthy consumer pockets, whereas lasers and injectables are gaining evidently higher traction. However, expensive pricing of the latter two are still a major constraint that will persist throughout the forecast period.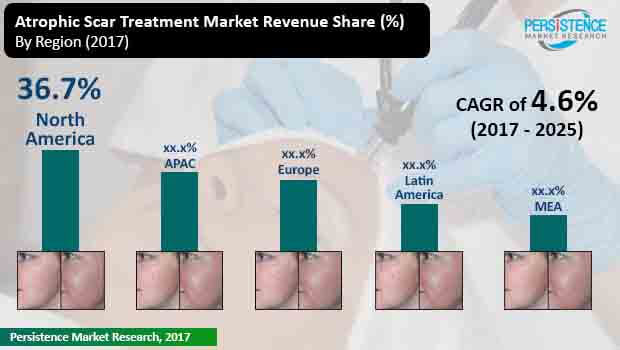 Latin America to emerge most lucrative regional market
Among the various regional markets, North America is foreseen to remain dominant, possibly reaching revenue beyond US$ 2.6 Bn by 2025 end. APAC is identified to be the second largest regional market for atrophic scar treatment, closely trailed by Europe. China, India, and Japan will be the key regions within the Asian Pacific rim.
While MEA seems to be a stably growing market, Latin America is expected to witness the fastest growth over the forecast period. According to Persistence Market Research, the market in Latin America will be most lucrative for leading players, led by Brazil due to growing popularity of cosmetic interventions.
Market Taxonomy
The global market for atrophic scar treatment has been classified on the basis of product type and end-user. The report analyses each segment and sub-segment to provide historical, current, and estimated scenario in the global atrophic scar treatment market during the assessment period.
Attribute
Details

Product Type

Topical
Laser

CO2 Lasers
Pulsed Dye Laser

Surface treatment
Injectable

Distribution Channel

Hospitals
Clinics
Pharmacies and drug stores
E-Commerce

Region

North America
Latin America
Europe
Asia Pacific
Middle East & Africa
Key Questions Answered
How the market has performed over the past few years?
What have been the challenges for market participants and how did they overcome them?
How has the technology landscape evolved over the past years?
How the competitors have performed and what have been their growth strategies?
What is the market potential expected to look like in near future across the globe?
How to sustain and grow market share?
What should be the future course of action?
Where do I currently stand?
Which are the segments, factors, regions offering promising growth potential?
What are the trends in the market and am I ready for them?
- Companies Covered in This Report -
Merz Inc.
Enaltus LLC
Oculus Innovative Sciences Inc.
CCA Industries Inc.
Cynosure Inc.
LUMENIS
Syneron Medical Ltd.
NutraMarks Inc.
Mölnlycke Health Care
Pacific World Corporation
Valeant Pharmaceuticals International Inc
Shanghai Fosun Pharmaceuticals Ltd(ACAlma Lasers)
Beijing Toplaser Technology Co. Ltd
Sonoma Pharmaceuticals Inc.
Others