Aniline Oil Market Outlook (2022-2032)
Persistence Market Research estimates that the global aniline oil market is valued at US$ 13.06 Bn in 2022. Sales of aniline oil are expected to increase at a CAGR of 5.6% and top a market valuation of US$ 22.55 Bn by the end of 2032.
A majority of the aniline oil produced is used to make Methylene DiphenylDiisocyanate (MDI), which plays a critical role in the production of polyurethane (PU) foams that are in high demand in the automobile and construction industries, among other sectors. Primarily, PU foams used in the expanding construction industry are anticipated to fuel the consumption of aniline oil. Growing demand for rigid PU foam in the construction and electronics industries, as well as flexible PU foam in the furniture and transportation sectors, will majorly drive overall target market growth.
Demand for novel MDI materials for energy-efficient insulating materials in refrigeration systems and buildings is anticipated to skyrocket over the coming years and thereby accelerate the demand for aniline oil as well.
The aniline oil market exhibited a CAGR of 2.6% over the historical period of 2017 to 2021. The global COVID-19 emergency had a significant impact on the market. Blockades and quarantine procedures to combat numerous rounds of COVID-19 infection limited aniline oil production and supply. Many manufacturers halted or reduced their production capacities, putting pressure on the overall industry. Demand for aniline oil was plagued by trade restrictions, reduced demand for final products, and delays in operations. Value chain efficiency depends heavily on logistics and supply chain partners. Due to the low supply of raw materials, the market growth rate declined during this period.
Looking forward, the manufacturing industry is expected to expand significantly, alongside the automotive and transportation industries, which will increase the usage of aniline oil in PU foam. The market's growth prospects are likely to accelerate further due to technological improvements in many end-use sectors resulting in the increased use of aniline oil in various formulations by major end-use industries.
| | |
| --- | --- |
| Aniline Oil Market Size (2021A) | US$ 12.45 Bn |
| Estimated Market Value (2022E) | US$ 13.06 Bn |
| Projected Market Value (2032F) | US$ 22.55 Bn |
| Value CAGR (2022-2032) | 5.6% |
| Collective Value Share: Top 3 Countries (2022E) | 58.2% |
Why is Automotive & Transportation End Use of Aniline Oil So Prominent?
Aniline, also known as aminobenzene or phenylamine, is utilized in automotive interiors such as aniline leather covers for car seats. This aniline leather is very soft and luxurious to the touch. Aniline oil is an important feedstock in the production of MDI, a fundamental element in PU foams. The automobile industry sees huge demand for polyurethane foam, which is boosting aniline oil consumption in the process.
PU foam is commonly used in car bumpers, doors, interiors, windows, body panels, and seats, among others. In automobiles, PU foam reduces overall weight, enhances insulation, improves fuel economy, facilitates corrosion resistance, and increases sound absorption.
Growing demand for passenger vehicles, combined with increased electrification and a desire to improve vehicle performance, has fueled global market growth. Ever-changing lifestyle is a primary element driving the demand for polyurethane foam, which bodes well for aniline oil producers.
How is the Polyurethane Rigid Foam Industry Bolstering Aniline Oil Consumption?
Polyurethane rigid foams are in high demand due to their numerous applications in the construction and automotive industries. Polyurethane foams are lightweight, adaptable, flexible, chemically stable, and long-lasting, and they are resistant to water, heat, and electricity. Due to their low compression property, they provide superior cushioning, vibration, and sealing control features.
Aniline oil-based PU foams are employed in the construction of residential and non-residential buildings, as well as in the automobile and oil and gas sectors, among other areas. Polyurethane foams are used to insulate onshore and offshore pipelines. As a result, there is high demand for polyurethane rigid foams, which is further bolstering the aniline market.
What are the Hurdles to Market Growth?
Although aniline has numerous advantages and applications in various end-use sectors, there is a potential risk to human and environmental health. Aniline irritates the eyes, skin, and respiratory tract. It induces methemoglobinemia, which impairs oxygen delivery to tissues.
Aniline also damages red blood cells, resulting in acute hemolytic anaemia. Aniline has also been linked to heart, kidney, and liver damage. Environmental norms and regulations continue to limit the use and disposal of harmful chemicals, forcing the industrial sector to seek more environment-friendly and safer substitutes. As a result, the health and environmental concerns related to aniline will impede market expansion to some extent.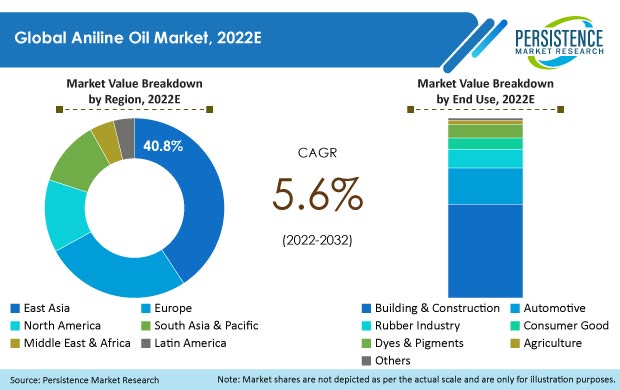 Country-wise Insights
What is the Outlook for the U.S. Aniline Oil Market?
The U.S. is expected to remain one of the prominent markets for the consumption and production of aniline oil in North America since aniline is not produced in Canada. The U.S. aniline oil market is also driven by its growing automotive and construction industries. Housing construction is one of the fastest-growing sectors, with significant developments taking place in the country.
Another factor driving the demand growth for aniline oil in the United States is the presence of key aniline oil manufacturers in the country. Domestically, increasing production of PU foam is projected to boost the demand for aniline oil in the U.S. This market is estimated to exhibit a CAGR of 4.9% between 2022 and 2032.
Why are Aniline Oil Manufacturers Lining Up in China?
China is one of the leading markets owing to the high growth of end-use industries; China remains one of the leading consumers of aniline oil. Manufacturing sector development, infrastructure industry in the country, rising urbanization, growing automotive industry, and advantageous trade regulations are projected to drive aniline oil sales in the future.
China dominates the global aniline market as a result of huge investments in construction projects and the automobile industry. China is the world's major producer and consumer of polyurethanes, and the largest automobile manufacturing hub. However, due to the slowing of the economy as a result of inter-country political upheavals, China's construction industry is predicted to grow at a slower rate in the coming years.
The aniline oil market in China is expected to expand at a CAGR of 5.9% during the forecast period in terms of value.
Category-wise Insights
Which End-use Industry is a Prominent Consumer of Aniline Oil?
Based on end use, the aniline oil market is segmented into building & construction, automotive, rubber industry, consumer goods, dyes & pigments, agriculture, and others.
Due to increased demand for PU foam and aniline oil in the construction industry, the construction segment is anticipated to account for a considerably large revenue share over the projection period. The building & construction segment is projected to create a total incremental $ opportunity of US$ 5.26 Bn between 2022 and 2032.
Polyurethane foams are in great demand due to the global expansion of the construction industry. MDI is the primary material employed in the manufacturing of polyurethane foams.
Because of the increasing use of aniline oil in the automotive sector, the automotive segment is predicted to increase at a significant CAGR of 6.1% over the projection period. The rising trend for fuel-efficient and lightweight automobiles is likely to drive target market revenue growth.
Why is MDI the Backbone of the Aniline Oil Market?
MDI holds the largest share of the aniline oil market and is expected to maintain its dominancy during the forecast period. MDI is primarily used in the production of polyurethanes for a variety of uses, including the production of rigid polyurethane foams for home furnishings and insulation. Insulation made from MDI aids in energy conservation.
Methyl diphenyl diisocyanate is used in the production of insulation, adhesives, sealants, furnishings, and vehicle interiors. It is also used in elastomers that are further used in items such as glues, paints, and weather-resistant materials, as well as footwear, leisure, and sports products.
Furthermore, MDI is used as a wood binder and to make mold cores for the foundry sector. MDI exhibits features that make it a favored application segment over other aniline uses.
The MDI segment is anticipated to expand at a CAGR of 5.6% from 2022 to 2032 in terms of value.
Competitive Landscape
Key manufacturers of aniline oil are acquiring other small-scale market players to boost their annual production capacity and meet the rising demand for PU foam from several end-use industries and strengthening their market presence globally.
For instance:
On October 12, 2022, Covestro announced the opening of a new world-scale aniline production facility. This capacity expansion strengthens the company's European production network for the foam component MDI.
On March 24, 2021, Wanhua Chemical and Fujian Petrochemical announced plans to form a joint venture, Wanhua Chemical (Fujian) Co, to build 400,000 tons/year MDI and aniline auxiliary plants.
Aniline Oil Industry Report Scope
Attribute

Details

Forecast Period

2022-2032

Historical Data Available for

2017-2021

Market Analysis

US$ Million for Value
KiloTons for Volume

Key Countries Covered

U.S.
Canada
Brazil
Mexico
Germany
Italy
France
U.K.
Spain
BENELUX
Nordics
Russia
China
Japan
South Korea
India
ASEAN
ANZ
GCC Countries
Turkey
Northern Africa
South Africa

Key Market Segments Covered

Application
End Use
Region

Key Companies Profiled

BASF
BorsodChem MCHZ, s.r.o.
Gujarat Narmada Valley Fertilizers & Chemicals Limited
MEISSNER
Laxness
Wanhua Chemical Group Co., Ltd
Bondalti
EMCO Dyestuff
Covestro AG
Jinling Chemical Co
Sumitomo Chemical Co Ltd

Report Coverage

Market Forecast
Company Share Analysis
Competition Intelligence
DROT Analysis
Market Dynamics and Challenges
Strategic Growth Initiatives

Customization & Pricing

Available Upon Request
Aniline Oil Industry Research Segmentation
By Application:
Methylene Diphenyl Diisocyanate (MDI) Production
Others
By End Use:
Building & Construction
Automotive
Rubber Industry
Consumer Goods
Dyes & Pigments
Agriculture
Others
By Region:
North America
Latin America
Europe
East Asia
South Asia & Pacific
Middle East & Africa