Anhydrous Caffeine Market Outlook (2022-2030)
The global anhydrous caffeine market is currently valued at US$ 1.9 Bn and is anticipated to exhibit a CAGR of 4.9% and reach a market value of US$ 2.77 Bn by the end of 2030.
Revenue from the sales of anhydrous caffeine accounted for 5% to 10% value share of the global caffeine market in 2021.
| | |
| --- | --- |
| Anhydrous Caffeine Market Size (2022E) | US$ 1.9 Bn |
| Projected Sales of Anhydrous Caffeine (2030F) | US$ 2.77 Bn |
| Value CAGR (2022-2030) | 4.9% |
| Value Share of Top 5 Countries (2021A) | 51.7% |
Anhydrous Caffeine Consumption Analysis (2017-2021) Vs. Market Projections (2022-2030)
During the historical period of 2017-2021, the global market for anhydrous caffeine increased at an annual growth rate of 4.4%.
Caffeine is considered one of the most widely consumed stimulants, being the major constituent of tea leaves and coffee beans. The anhydrous caffeine market is anticipated to experience optimistic growth trends in the near future due to several factors such as increasing consumers of energy-boosting supplements, rising demand from beverage manufacturers owing to a surge in the consumption of functional beverages and energy drinks, and rising health awareness among consumers.
During the initial phase of the anhydrous caffeine market, it was primarily used in the food and beverage industry, but steadily, it became popular in other industries as well such as pharmaceuticals, cosmetics and personal care, chemicals, and other end-use industries.
As such, the global market for anhydrous caffeine developed and expanded on a year-on-year basis, and is expected to expand at 4.9% CAGR during the forecasted period of 2022-2030.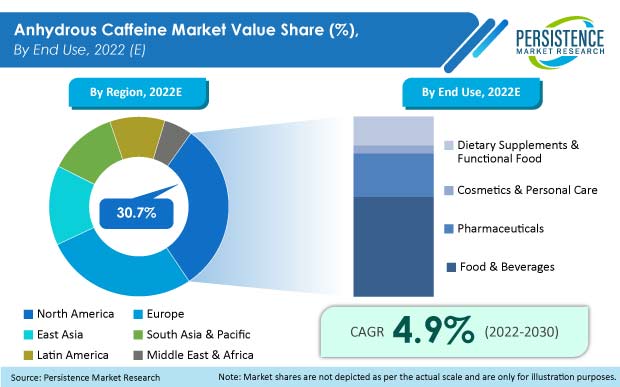 How is Anhydrous Caffeine Market Growth being Driven?
"Increasing Caffeine Intake in Asian Countries to Drive Demand Growth for Anhydrous Caffeine"
Over the years, consumption of caffeine has been on the rise across Asian countries. Asian countries have a well-developed coffee culture owing to several cafes, restaurants, pharmacies, and cosmetic shops offering both, anhydrous and regular caffeine.
Caffeine consumption in South Asia and East Asia is increasing owing to consumers developing a stronger taste for caffeine. Asian countries such as China, India, Indonesia, the Philippines, and others are mostly tea-consuming countries as tea is preferred as a traditional beverage in these countries.
Rising consumption of Western food products and caffeine-infused beverages is being witnessed. Besides, the working population is increasing at a high rate in Asia, who are shifting their interest toward caffeine to improve alertness.
Anhydrous caffeine contains a high amount of caffeine and is utilized in various food and beverage products. As Asian consumers are moving toward more caffeine consumption, anhydrous caffeine demand is expected to increase in the region over the coming years.
"Increasing Consumption of Energy Drinks to Benefit Anhydrous Caffeine Manufacturers"
The popularity of energy drinks has increased owing to their capability to enhance psychological and physical endurance. Anhydrous caffeine is regarded as one of the vital ingredients that are utilized in energy drinks. There are certain properties of caffeine that are beneficial for increasing focus & alertness and also for improving physical & mental performance.
Additionally, caffeine is also capable of reducing fatigue and sleepiness during work. People also prefer anhydrous caffeine since it is a convenient option and a symptom-free alternative as a pre-workout product. These are some of the characteristics that make caffeine an ideal choice for usage in energy drinks.
In January 2022, Starbucks announced the launch of its first ready-to-drink (RTD) beverage produced from naturally occurring caffeine contained in coffee fruit, combined with the immune-supporting antioxidant vitamin C.
"Caffeine Anhydrous Products Gaining Popularity in Supplement Stores"
Anhydrous caffeine is a processed and dehydrated form of caffeine and is mostly found in powder or granular forms. Caffeine anhydrous is also utilized as an ingredient in several supplements, including pre-workout powders and pills.
Anhydrous caffeine has become popular over the years as a supplement for weight loss and improved athletic performance. Caffeine anhydrous makes it feasible to take in higher amounts of caffeine without consuming large quantities of tea or coffee.
Caffeine anhydrous is also used in combination with other chemicals for the production of health supplements. Some of the combinations include caffeine citrate, dicaffeine malate, caffeine pterostilbene, and others, which are used for medicinal purposes and supplementation.
Certain products such as energy bars and caffeinated chewing gum also contain caffeine anhydrous. As such, the growing popularity of caffeine anhydrous as supplementation is set to propel market growth of the product going forward.
"Rising Consumption of Caffeinated Food Products to Provide Prominent Growth Opportunities"
Food products containing caffeine are becoming more and more popular among consumers. Caffeine has been used in a variety of food products by food manufacturers due to its beneficial effects on both, physical and mental health.
Due to its widespread consumption and popularity among consumers, food manufacturers frequently choose to add caffeine to bakery, dairy, and confectionery items. Caffeine is progressively taking over as a key ingredient in a variety of food products, including caffeinated energy bars, frozen yogurt, ice cream, and muffins.
What Might Restrain Market Growth of Anhydrous Caffeine to Some Extent?
"Rising Caffeine Intolerance – Matter of Concern"
Caffeine intolerance among consumers is regarded as one of the major concerns since it makes them reluctant the consumption of anhydrous caffeine. Experts are always stressing the fact that consumers should be careful about the consumption of concentrated caffeine since a small mistake while consumption of anhydrous powder can lead to dangerous side effects.
Furthermore, caffeine consumption is also associated with various side effects such as anxiety, insomnia, digestive issues, muscle breakdown, addiction, high blood pressure, and others. Moreover, the misperception about coffee is growing among consumers regarding the dosage and negative effects on the body.
Regulatory bodies across the world have imposed strong regulations on caffeine powder, which includes anhydrous caffeine. According to them, excessive consumption of caffeine powder is presumed to be unfavorable to health. The consumption dosage of anhydrous caffeine is not fixed, as the amount of caffeine that it contains is higher than hydrous caffeine.
Country-wise Insights
How is the Canada Anhydrous Caffeine Market Progressing?
The Canadian anhydrous caffeine market is anticipated to witness a growth rate of 4.1% during the forecast period (2022-2030) and reach a market valuation of US$ 71.4 Mn by 2030.
Increasing usage of anhydrous caffeine due to the ease of use offered by the product is sure to drive caffeine anhydrous consumption and increase its market share among North American countries.
Which Country Accounts for a High Market Share in Europe?
In the European anhydrous caffeine market, the U.K. holds the highest market share of 14.2% and is expected to expand at 2.8% CAGR during the forecast period.
The U.K. anhydrous caffeine market is currently valued at US$ 73.96 Mn and is anticipated to reach US$ 91.9 Mn by the end of 2030. The market share in the U.K. is relatively higher than that of other European countries because the country sees more demand for anhydrous caffeine from the food and beverage and pharmaceutical sectors, especially bakeries, foodservice, and retail.
Category-wise Insights
Which Anhydrous Caffeine Source is Mostly Preferred by Market Players?
The scope of the market report comprises five sources of anhydrous caffeine coffee beans, tea leaves, cocoa beans, guarana, and synthetic caffeine sources
Among these sources, the cocoa beans segment is set to experience the highest market growth rate of 5.8% and reach a market value of US$ 83.2 Mn by the end of 2030.
Caffeine anhydrous from cocoa beans is expected to see increasing demand from various end-use industries, which will impact the growth rate of cocoa beans.
Which End Use of Anhydrous Caffeine Brings in High Revenue for Market Participants?
Based on the end-use segment, the food and beverage category accounts for the highest market share of 55.0%. However, the pharmaceutical segment is anticipated to drive higher sales of anhydrous caffeine due to the ongoing trend of natural and clean label pharmaceutical drugs having multifunctional benefits.
The food and beverage end-use segment currently accounts for a market value of over US$ 1 Bn.
Competition Analysis
Suppliers of anhydrous caffeine are increasingly focusing on delivering quality products with an emphasis on product development and innovation. Companies are also focusing on collaborations and supply chain improvements to increase their product traceability and transparency.
Kudos Chemie Limited emphasizes product innovation and development through R&D to produce new ingredients for beverage and pharmaceutical applications.
Hangzhou Focus Corporation is a quality-focused organization that targets customer needs by providing the best possible quality ingredients. The company has a strict quality management system that enables it to ensure product quality according to international standards.
Jayanti follows the farm-to-fork quality management system, which ensures the quality and tractability of materials and ingredients at every stage of production and delivery.
Anhydrous Caffeine Industry Report Scope
Attribute

Details

Forecast period

2022-2030

Historical data available for

2017-2021

Market analysis

USD million for value
Tons for volume

Key regions covered

North America
Latin America
Europe
East Asia
South Asia and Pacific
The Middle East & Africa

Key countries covered

U.S.
Canada
Germany
U.K.
France
Italy
Poland
Spain
Russia
China
Japan
South Korea
India
Israel
Turkey
Australia
New Zealand
GCC Countries
Turkey
South Africa

Key market segments covered

Form
Type
Source
End Use
Region

Key companies profiled

Spectrum Chemical Manufacturing Corp.
Cambridge Commodities Limited
Aarti Industries Limited
BASF SE
CSPC Pharmaceutical Group Limited
LobaChemie Pvt. Ltd.
Kudos Chemie Limited
Central Drug House
Stabilimento Farmaceutico Cav. G. Testa Srl
Foodchem International Corporation
Jayanti
Hangzhou Focus Corporation
Bakul Group of Companies
PureBulk
Fooding Group Limited

Report coverage

Market Forecast
Company Share Analysis
Competition Intelligence
DROT Analysis
Market Dynamics and Challenges
Strategic Growth Initiatives

Customization & pricing

Available upon request
Segmentation of Anhydrous Caffeine Industry Research
Anhydrous Caffeine Market by Form:
Powdered Anhydrous Caffeine
Granular Anhydrous Caffeine
Anhydrous Caffeine Market by Type:
Natural Anhydrous Caffeine
Synthetic Anhydrous Caffeine
Anhydrous Caffeine Market by Source:
Coffee Beans
Tea Leaves
Cocoa Beans
Guarana
Synthetic Sources
Anhydrous Caffeine Market by End Use:
Food & Beverages
Pharmaceuticals
Cosmetics & Personal Care
Dietary Supplements & Functional Food
Anhydrous Caffeine Market by Region:
North America Anhydrous Caffeine Market
Latin America Anhydrous Caffeine Market
Europe Anhydrous Caffeine Market
South Asia and Pacific Anhydrous Caffeine Market
East Asia Anhydrous Caffeine Market
Middle East and Africa Anhydrous Caffeine Market