Wound Care sector to be Driven by Innovations and Booming Investments
---
Date : Jun 04, 2018 Author : PMR Editorial Staff Category : Healthcare
Impressive Growth Projected for NPWT Devices & Dressings Market; Diabetes Prevalence Identified to be the Key Driver over 2017 - 2027
Negative Pressure Wound Therapy (NPWT) is a known to be a cardinal medical procedure for wound care- an increasingly complex clinical practice. Although the use of NPWT is well-proven in various research and clinical studies, its applications are mostly limited in chronic skin ulcers.
First-Of-Its-Kind: NPWT Device Used for a Finger
In a bid to explore application possibilities for joints and small areas, such as the fingers and to ease the subsequent congestion such as bullae formation, severe postoperative swelling, and partial necrosis-- often developed after transplantation of arterialized venous flaps for treating finger trauma, medical practitioners of the Department of Plastic and Reconstructive Surgery, Tokyo Women's Medical University, applied single-use NPWT system to a wounded finger of which middle phalanx was fractured externally.
The practitioners used an arterialized venous flap for treating a soft tissue defect of the finger. As a result of the application of single-use NPWT system (PICO; Smith & Nephew, London, UK), the wound epithelialized in 2 months, no subsequent infection observed and congestion after the transplantation of an arterialized venous flap could be favourably managed. In addition, this NPWT device was easily used for the finger—an area difficult to perform conventional NPWT on with dressing.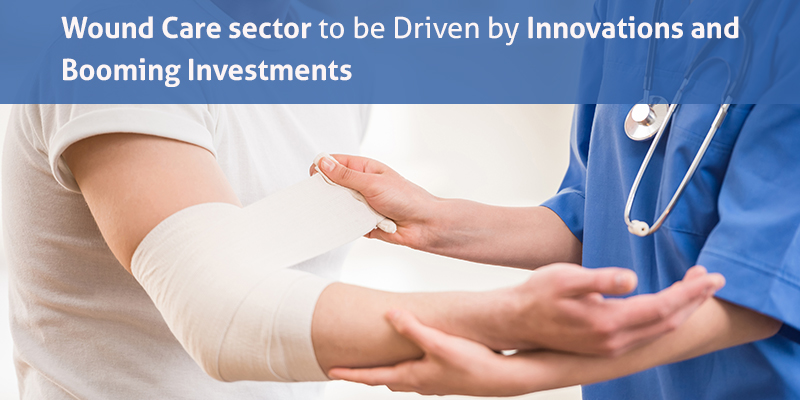 According to a study, the NPWT devices and dressings market in China and India accounted for over 44% and 17% value share in the overall Asia Pacific market respectively, owing to the vast diabetic patient population. In terms of healthcare, the highest spending countries are Australia and Japan, followed by Singapore and China. With India and China having an elevated number of diabetic cases and in turn more consumption NPWT devices and dressings—both are slated for robust CAGRs of above 8 percent, followed by Japan, Australia and New Zealand that are estimated to be over 7% over the projection period.
Home Healthcare: Emerging End-User Segment for NPWT Applications
The wound care market mostly categorizes into acute and chronic wounds, is prominently driving the demand for NPWT devices and dressings. In addition to the increasing geriatric population, the chronic wound segment comprising of diabetic ulcers, venous ulcers, and pressure ulcers are the major factors for elevating this market.
Additionally, the home healthcare segment is the fastest growing end-user segment considering the ageing population and the rising incidence of chronic diseases. Single-use disposable and portable systems such as NPWT that are used in home care are also becoming popular owing to factors like increasing volume of surgical procedures and the need to control soaring healthcare costs.
Diabetic APAC: The Future Market for NPWT
According to the National Center for Biotechnology Information (NCBI), diabetes has reached epidemic levels in the Asia Pacific region, contributing to more than 60% of the world's diabetic population, majorly in Japan, China, and India. Over the past two decades, the prevalence of T2DM has more than doubled amongst the Aboriginal Torres Strait Islander and Maori people in Australia and New Zealand respectively. This factor is the major reason for fueling the demand for NPWT devices and dressings within the Asia Pacific.
Innovation: The Driving Factor of Global Wound Care Sector
Currently, the chronic wound market is fragmented because of the many ways a typical wound can be treated, including active healing dressings, advanced passive dressings, NPWT and vacuum assisted-closure (V.A.C) therapy. Since the world is at the pinnacle of technology, the global wound care market, in the coming future, would be driven by investments and innovations. Since the global wound care market is a lucrative sector, new innovations and solutions would have to be cost-effective with high adoption rate.
---