Introduction
The stadium lighting market is growing rapidly due the shift from metal halide lights to LED lights. Metal halide lights have a shorter lifespan, and last around 6,000 hours before they burn out and need replacement of batteries. To overcome this, LED lights have been introduced, which offer shockproof and water-resistant features, with a longer battery life that last around 100,000 hours. This transformation from metal halide lights to LED lights is expected to drive the expansion of the stadium lighting market size. Therefore, companies need to focus on manufacturing a variety of LED lights that are in huge demand, for the stadium lighting market.
Stadium Lighting Market Trends
Connected Lighting in Stadiums to Propel Market Growth: Connected lighting involves activities such as connection of lighting, controls, and sensors to a local network that can be monitored and controlled through a dashboard. These can be accessed by a computer, mobile phone, or tablet. The implementation of connected lighting systems is increasing at stadiums, as connected lighting systems enable a range of dynamic lighting effects.
Furthermore, connected lighting systems also help stadium stakeholders create a multipurpose venue, optimize light performance by remote control and collect real-time data on the status of a lighting system. Using a connected lighting communication network, users can interact with fans by integrating mobile devices or other systems to improve operations. Connected lighting systems at stadiums enhance sustainability, energy efficiency, operations, and fan experience. Owing to these increasing technological enhancements, demand for connected lighting is increasing, and driving the growth of the global stadium lighting market.
Introduction of Government Regulations to Boost Demand for LED Products: Demand for LED lights is increasing for efficient lighting systems at stadiums, due growing environmental concerns. Various governments have banned the adoption of incandescent lighting products for efficient energy and to reduce CO2 emissions. They are also focusing on the implementation of minimum standards for the efficiency of lighting products. Due to this, stakeholders in the stadium lighting market are encouraged to deploy LED lighting systems, following government regulations, to increase sustainability and to save energy.
High Cost of Metal Halide Lights Hindering Market Growth: Metal halide bulbs contain metals that are evaporated into inert gas inside a glass case. Metal halide lights produce very high quality light, but these lights have long warm-up period and shorter lifespan as compared to LED lights.
Metal halide bulbs can explode in case of interruption in power source, resulting in damage or injury, and these lights are inefficient energy consumers. These lights need to be run for a longer period of time to warm up, which results in high utility bills. Maintenance costs are also higher for metal halide lights as compared to LED lights. Such aspects would hinder the growth of the stadium lighting market to some extent.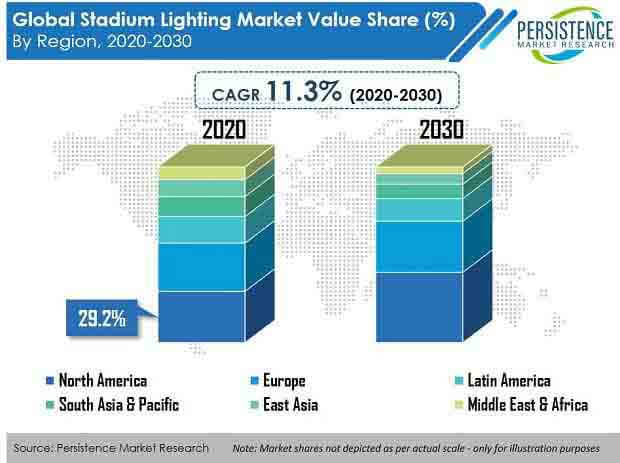 Stadium Lighting Market: Segmentation
Regional Outlook of Stadium Lighting Market
North America will hold the largest stadium lighting market share due to developments in LED lighting technology, spurring the growth of the stadium lighting market. Moreover, there is growing preferences for sports events played in stadiums in the U.S., which would enable the adoption of stadium lighting for football, baseball, and other stadiums.
Moreover, rapid urbanization and economic development in South Asia & Pacific is anticipated to account for the fastest market growth for stadium lighting. Countries such as India, Indonesia, Singapore, and Australia are rapidly adopting such LED lights to improve appearance on TV in HD, enhance presentation of play in the field, and also help improve clarity.
Stadium Lighting Market - Competition Landscape
The introduction of new product innovations and strategic partnerships are key strategies followed by top players in the stadium lighting market to increase their business revenue. Stadium lighting manufacturers are focusing on innovation in products/services to improve their market shares.
Some of the leading players in the stadium lighting market are Signify Holding (Philips), Douglas Lighting Controls (Panasonic), Cooper Lighting Solutions (Eaton Corporation), Cree Inc., Hubbell, LG Electronics, Bajaj Electricals Ltd., Zumtobel Group, General Electric, and others.
COVID-19 Impact on Stadium Lighting Market
Due to the COVID-19 outbreak, games and sporting events around the world that rely on live games have been heavily impacted, with major international sporting events either being cancelled or indefinitely postponed, as governments have announced countrywide lockdowns. According to sports marketing agency Two Circles, the global sports industry was estimated to have grown at approximately at 4.5% to 5% Y-o-Y in the pre-COVID period, and generated around US$ 129 Bn revenue during 2019. According to estimates for 2020, there will be revenue loss of US$ 61.6 Bn in the sports industry, due to the COVID-19 pandemic.
In 2020, around 48,800 sports events were scheduled prior to the COVID-19 outbreak. Out of these, approximately 26,424 sports events are expected be held by Q4 2020. As such, the stadium lighting market will witness recovery from Q4 2020 onwards.
Analysts' Viewpoint
The stadium lighting market in North America is expected to be the most dominating during the forecast period, and will offer the most lucrative opportunities to stakeholders in this space. LED lighting will witness increased demand over the next 10 years, across the world, which would further aid market growth.