RF-over-Fiber (RFoF) Solutions Market Outlook (2022-2032)
The size of the global RF-over-Fiber (RFoF) solutions market is expected to increase from US$ 827.3 Mn in 2022 to US$ 1.84 Bn by the end of 2032, expanding at a high CAGR of 8.3% during the forecast period (2022-2032).
At present, revenue from RFoF solutions accounts for almost 17% share of the global fiber optics market.
| Attribute | Key Insights |
| --- | --- |
| RF-over-Fiber (RFoF) Solutions Market Size (2022) | US$ 827.3 Mn |
| Projected Market Value (2032) | US$ 1.84 Bn |
| Global Market Growth Rate (2022-2032) | 8.3% CAGR |
| Market Share of Top 5 Vendors | 35% |
The shift from 3G and 4G to 5G has compelled equipment manufacturers and wireless providers to connect enormous numbers of devices. The conventional approach of utilizing coax cables and radio frequency switches has been taken to its limits, enforcing engineers to spend hours adjusting coax link costs.
Companies such as RFOptic declared their 5G RFoF solutions in 2019. Their proven offerings have enjoyed increasing demand from consumers to support 5G deployments, such as remote antennas for base stations and 5G telecommunication network testing.
Additionally, the company detected the demand for 5G as a DAS (Distributed Antenna System) extension solution when the cable solution cannot meet the required system parameters. They are also offering customized solutions under original equipment manufacturer agreements.
Utilizing RFoF fiber links instead of coax cables, consumers can enjoy exceptional gains, remarkable isolation for remote base stations, and bandwidth flatness. Global companies are utilizing 5G RFoF solutions for latency measurement in their systems, while others are utilizing 5G RFoF solutions for millimetre-wave direct transmission links with high SFDR (Spurious-Free Dynamic Range).
Thus, the transition to 5G and the benefits provided by 5G technology have increased the demand for RFoF solutions.
Demand Analysis of RFoF Solutions (2017-2021) Vs. Market Outlook (2022-2032)
The RF-over-Fiber solutions market expanded at 6.3% CAGR from 2017 to 2021. Technological advancements have brought improved Internet services to support the customer demand for faster Internet connections; this factor has expanded the growing count of fiber optic networks.
Nowadays, the population is getting more leaned toward digital platforms, online services, and Internet services for their regular needs. This is creating enormous demand for high-speed Internet services and high bandwidth, which is effectively offered by fiber-optic networks. Therefore, rising development of fiber optic infrastructure will drive demand for RF-over-Fiber solutions as well.
RFoF solutions offer immunity to RF interference. These solutions offer immunity against electromagnetic interference, which is a very important property of optical fiber communications, mainly for MW transmission. This is because the signal is transferred in the form of light through the fiber. Thus, the advantages offered by RF-over-Fiber solutions are driving market demand.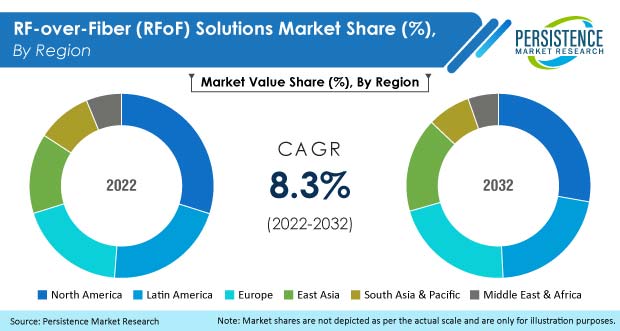 Why is the Need for RFoF Solutions Rapidly Rising?
"Increasing Demand for RFoF Technology Across Various Industry Verticals Such as Radio Astronomy Instrumentation, Cable Television (CATV), and Mobile Telecommunications"
(RFoF) Radio frequency-over-fiber technology is broadly utilized in several industry verticals such as radio astronomy instrumentation, cable television, and mobile telecom. RFoF solution technology has been utilized for years to transmit TV signals by way of intermediate and long-haul fiber network links, taking advantage of the benefits associated with the usage of optical fiber such as low attenuation, high transmission bandwidth, low cable dimensions, and protection against electromagnetic interference.
On the other hand, in recent years, RFoF solutions have transformed the mobile telecom sector by mainly providing mobile users with coverage in radio-shadowed areas such as road tunnels, large & high buildings, and underground stations. Thus, the benefits offered by RFoF technology across several industry verticals will drive market growth.
For example, RFoF links have been positioned in millions in mobile networks in emerging countries such as China as a cheaper way to increase the total coverage of base stations. As a consequence, production facilities are improved and smooth mass production is achieved.
Radio-over-fiber links utilizing high-performance lasers, such as distributed feedback (DFB) ones, and detectors, have reduced drastically in cost, and the entire industry has become well established.
"Rising Demand for Fiber to The X (FTTx) and Fiber-To-The-Home (FTTH) Infrastructure"
Fiber to the X (FTTX) is the major mode utilized to drive next-generation Internet access, which represents a remarkable upgrade to the obtainable broadband by making a step-change in the speed and quality of the service.
Fiber-to-the-home (FTTH) is the transmission of a communication signal using optical fiber from the operator's switching devices directly to the client's business or home. FTTH fiber broadband home connections are used by over 10 million homes globally because of the benefits offered by FTTH technology.
The major advantage offered by fiber-to-the-home infrastructure is that it offers much quicker connections and higher load capacity as compared to coaxial cables, digital subscriber lines, and twisted pairs. A single pair of fibers can accept more than 2.5 million phone calls at once, whereas, a single copper pair conductor can accept up to six phone calls.
Services that can be provided using a fiber-to-the-home network comprise VoIP (Voice Over Internet Protocol), RF video, HDTV, high-speed Internet, pay-per-view, video on demand, IPTV, and various others.
Thus, the benefits offered by FTTx and FTTH infrastructure and the consequently increasing demand for FTTx and FTTH infrastructure can create major revenue opportunities for key RFoF solution providers.
Which is the Largest Regional Market for RFoF Solutions?
"North America – Leading RFoF Solutions Market"
North America is dominating the worldwide market with a share of around 29.9% in the year 2022. On the other hand, South Asia and Pacific is estimated to register strong growth in the market, exhibiting a CAGR of around 10.1% during the forecast period.
Europe is estimated to be the second-fastest growing regional market for RF-over-Fiber solutions. The market is predicted to grow 2.2X during the predicted period. In Europe, RFoF solutions are utilized in weather radars and Doppler weather radars, air defense and antimissile systems, air and terrestrial traffic control, navigation radars, radars for telemetry, tracking and command, aircraft anti-collision systems, and guided-missile target locating systems. Thus, these increasing applications of RFoF solutions are driving market demand in the region.
Country-wise Insights
How Big is the Opportunity for Adoption of RF-over-Fiber Solutions in the U.K.?
The European region is predicted to remain the most attractive market during the forecast period. According to the study, the U.K. market is predicted to offer an absolute $ opportunity of US$ 57.9 Mn by the end of 2032.
Growing adoption of optical fiber cables due to their high bandwidth, immunity to electromagnetic interferences, and compact size, are important factors driving the development of the market in the U.K.
Increasing demand for advanced wireless networks such as 4G and 5G and rising utilization of advanced technologies such as RoIP (Radio Over Internet Protocol), and VoIP among end users are also expected to drive market expansion.
Why is Demand for RFoF Solutions High in the U.S.?
The U.S. RFoF solutions market is expected to account for nearly 69.6% of the North America market share by 2032.
In RoF systems, wireless radio-frequency signals are transported between a central station and a set of base stations, over radio waves. Many of the signal processing procedures (comprising multiplexing, coding, and RF generation and modulation) are executed by the central office, which makes the base station economical.
Each base station is adjusted to communicate over a radio link with at least one user's mobile location that is based within the radio range of the base station. Thus, RFoF will become a major technology in the next generation of mobile communication systems. Technologically-advanced RFoF solutions are high in demand to offer better signal quality and are anticipated to open up lucrative business opportunities for major players in the U.S.
What are the Sales Prospects for RF-over-Fiber Solutions in India?
Sales revenue from RFoF solutions in India is predicted to grow at an impressive rate of around 11.6% CAGR between 2022 and 2032.
RFoF offers higher cellular connectivity and enhanced signal quality. RFoF serves as a personal area or high-speed wireless network. The frequencies of the radio signals distributed by RFoF systems span a broad range (commonly in the GHz region) and depend on the nature of the application. Thus, the benefits offered by RFoF solutions are driving high demand in India.
Category-wise Insights
Why is the Products Segment Expected to Exhibit Highest Market Growth?
The products segment is expected to showcase a higher market share over the coming years. This segment is predicted to account for a market share of around 64.3% by the end of 2032.
RFoF solution products include RFoF links, RFoF transceivers modules, and RFoF subsystems. The RFoF subsystems segment is estimated to expand at the highest CAGR of 9.5% during the forecast period.
Many well-known companies are providing subsystems that comprise diverse enclosures such as outdoor, indoor, or mixed assisting multiple radio frequency-over-fiber links with management and tracking abilities.
Several large telecom companies are now opting for RFoF subsystems comprising RFoF enclosures with 8 Radio frequency-over-fiber links and a webserver tracking option.
Why is Demand for RFoF Solutions with Frequency Band 8 GHz-18 GHZ Surging?
The 8 GHz-18 GHz segment is expected to grow 2.3X during the forecast period.
RFoF solution with a frequency band (8 GHz-18 GHz) serves a variety of terrestrial communication requirements. In RF-over-fiber architecture, a high-frequency RF signal is imposed on a lightwave signal before being transported over the optical link.
As such, wireless signals are optically distributed to base stations before being radiated and amplified by an antenna. As a result, no frequency conversion is required at the various base stations, thereby resulting in cost-effective implementation at the base stations.
Thus, the advantages offered by the 8 GHz-18 GHz frequency band are driving segment growth.
Will Commercial Satellite Ground Stations Continue Accounting for High RFoF Solution Demand?
The commercial satellite ground stations segment is estimated to expand at the highest CAGR of 10% during the forecast period.
In teleports and satellite ground stations, RFoF links are a better alternative to copper coax cables because of the interfacility links required to carry radio frequency between the antennas and the base station.
Thus, the benefits offered by RFoF solutions as compared to copper coax cables in commercial and satellite ground stations are driving segment growth.
Impact of COVID-19 Crisis
The outbreak of COVID-19 wreaked havoc on every country and disrupted several industries. COVID-19 also increased the adoption of digital services across industries. Large enterprises, as well as SMEs, have become heavily dependent on digital platforms for business continuity and survival.
The effects of the pandemic are seen in several aspects of the RFoF industry, with massive slowing down of the supply chain and stock market volatility. The global impact of the COVID-19 outbreak has also been seen in the RFoF solutions market. Supply chain disruptions created fluctuations in the production and demand for fiber optics, slowing demand and leading to interruptions in large-scale enterprises.
However, with lockdowns easing up across nations such as China, India, the U.S., and others, and with vaccines being rolled out by several nations since December 2020, the electronics and semiconductor manufacturing sector is estimated to grow gradually, and the RF-over-fiber solutions market is expected to recover by mid-2022.
Competitive landscape
RF-over-Fiber solution providers are concentrating on various strategies for increasing their investments in R&D to support future technologies. Additionally, several companies are entering into strategic partnerships with other players to develop their RFoF solutions to serve their customers and lower the churn rate.
In November 2021, DEV Systemtechnik has developed a brand-new distributing matrix system using Archimedes Matrix, by leveraging field-proven HMI technology and introduced state-of-the-art technology and features responding to customers' needs for higher density, flexibility, and simplicity with optimized cost/performance ratio.
In April 2021, ROADMap Systems Ltd., a start-up situated in Cambridge, the U.K., was acquired by HUBER+SUHNER as part of an asset deal. The company is working on the wavelength-selective switch technology, which will be integrated into the communication section.
Radio-over-Fiber Solutions Industry Report Scope
Attribute
Details

Forecast Period

2022-2032

Historical Data Available for

2017-2021

Market Analysis

USD Million for Value

Key Regions Covered

North America
Latin America
Europe
East Asia
South Asia & Pacific
The Middle East & Africa

Key Countries Covered

U.S.
Canada
Germany
U.K.
France
Italy
Spain
Russia
China
Japan
South Korea
India
Malaysia
Indonesia
Singapore
Australia & New Zealand
GCC Countries
Turkey
Northern Africa
South Africa

Key Market Segments Covered

Component
Transceivers Modules Form Factor
Frequency Band
Application
Region

Key Companies Profiled

Optical Zonu Corp
DEV Systemtechnik GmbH
Global Foxcom
II-VI Incorporated
Syntonics LLC
Octane Wireless
APIC Corporation
Glenair
ETL Systems Ltd
Photonic Systems Inc. (PSI)
Seikoh Giken Co. Ltd

Report coverage

Market Forecast
Company Share Analysis
Competition Intelligence
DROT Analysis
Market Dynamics and Challenges
Strategic Growth Initiatives

Customization & pricing

Available upon request
RFoF Solutions Industry Survey by Category
RFoF Solutions Market by Component:
Products

RFoF Links
RFoF Transceivers Modules
RFoF Subsystems

Services

Installation Services
Repair and Maintenance Services
Support Services
RFoF Solutions Market by Transceivers Modules Form Factor:
SFF
SFP, SFP+, SFP28
QSFP, QSFP+, QSFP14, QSFP28
XFP
CFP, CFP2, and CFP4
CXP
Others
RFoF Solutions Market by Frequency Band:
Up to 3 GHz
3 GHz-8 GHz
8 GHz-18 GHz
More than 18 GHz
RFoF Solutions Market by Application:
Aerospace and Defence Communications
TV Broadcasting
Commercial Satellite Ground Stations
In-Building DAS
Others
RFoF Solutions Market by Region:
North America RFoF Solutions Market
Latin America RFoF Solutions Market
Europe RFoF Solutions Market
East Asia RFoF Solutions Market
South Asia & Pacific RFoF Solutions Market
Middle East and Africa (MEA) RFoF Solutions Market