Psoriasis Drugs Market Outlook (2022-2031)
Worldwide sales of psoriasis drugs amounted to around US$ 11.37 Bn in 2021. The global psoriasis drugs market is predicted to progress at a CAGR of 6.5% to reach a valuation of US$ 21.48 Bn by 2031.
| Attribute | Key Insights |
| --- | --- |
| Psoriasis Drugs Market Size (2021) | US$ 11.37 Bn |
| Projected Market Value (2031) | US$ 21.48 Bn |
| Global Market Growth Rate (2022-2031) | 6.5% CAGR |
| Market Share of Top 3 Countries | 35.6% |
As per Persistence Market Research's projections, in 2021, topical products held a substantial share of 41.7% in the global psoriasis drugs market. Psoriasis drugs accounted for nearly 28% of the global dermatology drugs market in 2021.
Consumption Analysis of Psoriasis Drugs from 2016 to 2021 Vs Market Outlook for 2022 to 2031
As per detailed industry analysis by Persistence Market Research, psoriasis drug sales increased at a CAGR of 7.2% from 2016 and 2021.
Psoriasis is a chronic inflammatory and a proliferative condition of the skin and is a relapsing disease needing long-term therapy. Psoriasis drugs are used for the treatment of mild to severe psoriasis, which is categorized depending on the clinical severity of the lesions on the skin as well as the affected body surface area along with the patient's quality of life.
Being an auto immune disease, psoriasis leads to severe health problems, driving the demand for effective treatments. Using a combination of treatments can be helpful as they are more effective and are better tolerated than traditional single therapy.
Prevalence of psoriasis can be seen growing across the world. According to the World Psoriasis Day consortium, 125 million people worldwide—2 to 3% of the entire population—suffer from psoriasis every year.
Doctors are approaching the systemic treatment method using oral psoriasis drugs and injectable psoriasis drugs, as it eases psoriasis symptoms rapidly with less side effects. Biologics have a slower rate of action, but combining biologics with systemic drugs such as Methotrexate is much more effective. Growing use of combination therapy is leading to the high adoption of psoriasis medications.
Market players are utilizing innovative methods such as application of biotechnology in the development of therapeutics for increasing the effectiveness of treatment. As such, many leading players are investing in R&D and are set to launch numerous products that are in the pipeline.
Overall, the global market for psoriasis drugs is expected to expand at a notable growth rate at a CAGR of around 6.5%.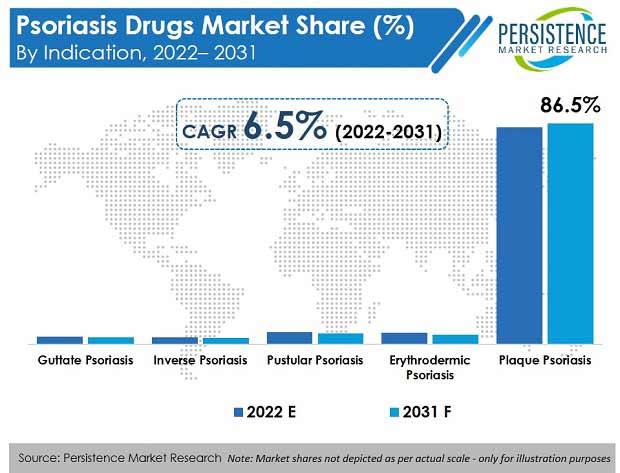 What Key Opportunities Awaiting Psoriasis Drug Manufacturers?
"Novel Biologics to Carry Market Growth Forward"
Treatment methods of psoriasis have evolved substantially over the years. Several therapies are currently available to help control psoriasis; however, these treatments are only able to relieve the symptoms and improve people's lives.
Recent associations of psoriasis leading to arthritis as well as mental disorders have surfaced as opportunistic platforms for manufacturers in terms of the development of novel biologics for long-term efficacy.
Treatment with novel biologics such as tumor necrosis factor and interleukin are proposed to effectively manage plaque psoriasis with minimal to no side-effects and long-term aid. Thus, research activities in the development of novel biologics or biological drugs have presented a resourceful approach for the management of psoriasis, and this factor is set to facilitate advanced growth in the psoriasis medicine market as an alternative to conventional treatment methods.
Additionally, rising number of identified cases of psoriasis across the globe has catalyzed manufacturing companies into research and development programs to bring about novel treatment options for psoriasis. Strong product pipeline and increasing regulatory approvals for various products such as Stelara (Janssen Pharmaceuticals) and Cimzia (UCB S.A.) are contributing to increasing psoriasis drug consumption across many regions.
What Can Restrain Demand for Psoriasis Drugs to Some Extent?
"High Cost of Psoriasis Treatment Impeding Market Expansion"
One of the major factors restraining demand for psoriasis drugs is the high medical cost for patients associated with the treatment of psoriasis.
According to a cohort study published in 2017, more than 8 million people in the U.S. have psoriasis. Presence of comorbidities was linked with greater healthcare resource consumption and costs amid patients with psoriasis.
As manufacturers are constantly trying to develop novel biological drugs, high spending on drug development for regulatory approvals and patent filing process also contribute to serve as a restraint for market growth. The National Psoriasis Foundation reports that annual expenses of psoriasis can be as high as US$ 135 Bn in the United States.
Moreover, lack of awareness about psoriasis and its associated comorbidities is a crucial factor restraining the growth of the market, as it results in under-diagnosis and ineffective therapy.
Country-wise Insights
Which is the Largest Market for Psoriasis Drugs?
"U.S. Psoriasis Drugs Market Leading Global Industry"
The U.S. psoriasis drugs market dominated the North American region with a total market share of 88.7% in 2021, and is projected to continue seeing high-value growth over the coming years.
Growth of this market is driven by high prevalence of psoriasis and increasing adoption of prescribed dermatological products for the management of psoriasis.
Additionally, established healthcare infrastructure, presence of key psoriasis medication manufacturers, favourable government initiatives, and reimbursement policies for the treatment of psoriasis attribute to the large market share of the country.
Which Country is a Lucrative Market for Psoriasis Drugs in Europe?
"U.K. Driving Europe Psoriasis Drugs Market Growth"
The U.K. psoriasis drugs market is set to exhibit a CAGR of 7.1% over the forecast period. High growth rate is associated with the emergence of breakthrough therapy for the treatment of plaque psoriasis, increasing public awareness, more research and development for psoriasis treatment, and approval for new drugs.
For instance, the University of Manchester and Salford Royal NHS Foundation Trust led studies on Bimekizumab, funded by UCB Pharma in April 2021, demonstrated high efficacy in the treatment of moderate to severe psoriasis in over 62% of patients involved in phase 3 clinical trials. The drug has been given a go-ahead by the Medicines and Healthcare Products Regulatory (MHRA) for the treatment of moderate to severe plaque psoriasis in adults.
Which Emerging Market Should Manufacturers of Psoriasis Drugs Keep An Eye On?
"China – Emerging Market for Psoriasis Drugs"
China holds 30.2% share in the APEJ psoriasis drugs market, and is projected to expand at 9.4% CAGR during the forecast period, due of patients' unmet clinical demands, rise in per capita income, increased awareness of early diagnosis, and convenient access to high-quality therapy.
Moreover, growth of the psoriasis treatment market in the country is attributed to the establishment of key manufacturers as a strategy to expand their geographical footprint.
For instance, in August 2021, Novartis secured a new approval in China for Cosentyx® (secukinumab) for the treatment of paediatric, moderate to severe plaque psoriasis.
Category-wise Insights
Which Type of Psoriasis Drug is Driving Market Growth?
"Topical Psoriasis Treatment Hugely Popular"
Topical treatment projects lucrative growth at a CAGR of 6.3% through 2031, with a market share of 41% in 2021.
The first line of therapy for psoriasis is typically topical treatment. Topical treatments can be used alone or in combination with other therapies to improve outcomes and greater patient compliance. Growth is associated with ease of application of topical psoriasis drugs due to their effective association with skin permeation.
Which Psoriasis Drug Class is Widely Adopted across Regions?
"Corticosteroids to Remain Widely Adopted Psoriasis Drug Class"
Corticosteroids held a revenue share of 34.9% in 2021, which is projected to increase to 37.1% by 2031.
High segment growth is associated with the generalized preference of topical application of corticosteroids as ointments for the treatment of mild to limited psoriasis, as it reduce psoriasis redness, swelling, scale, and itching, while also clearing the skin.
Impact of COVID-19 on Market
The COVID-19 pandemic had a negative impact on the sales of psoriasis drugs, owing to guidelines by several regulatory authorities claiming that patients undergoing psoriasis treatment are more likely to contract COVID-19.
The International Psoriasis Council (IPC), in March 2020, mentioned that physicians should suspend or reschedule the prescription of immunosuppressant medications. Though, in September 2020, investigators from the Perelman School of Medicine (University of Pennsylvania) and sixteen additional research institutions from the U.S. and Canada, in alliance with the National Psoriasis Foundation, generated guiding principles for patient care and the treatment of psoriasis during the global COVID-19 pandemic.
Researchers insinuated the absence of evidence related to medical interventions to treat psoriasis and psoriatic arthritis with the risks related to infections associated with COVID-19. These guidelines have established as a base for steady growth of the psoriasis drugs market going forward.
Competitive Landscape
Leading manufacturers of psoriasis drugs are focusing on launching new products and promoting their brands in order to gain maximum market share.
To boost product penetration, psoriasis medication manufacturers are focused on new marketing strategies. Companies continue to see approval and product launch as a critical component of their growth strategy. They are also concentrating on developing a value chain for major regional market, as well as developing new psoriasis drugs and long-term solutions.
For instance:
In February 2021, Amgen announced the submission of a supplemental New Drug Application (sNDA) to the U.S. Food and Drug Administration (FDA) for Otezla® (apremilast) for the treatment of adults with mild-to-moderate plaque psoriasis.
In April 2021, AbbVie announced that it has submitted applications seeking approval for SKYRIZI® (risankizumab-rzaa, 150 mg) to the U.S. Food and Drug Administration (FDA), and for SKYRIZI® (risankizumab, 150 mg) to the European Medicines Agency (EMA), for the treatment of adults with active psoriatic arthritis.
Psoriasis Drugs Industry Report Scope
Attribute
Details

Forecast Period

2022-2031

Historical Data Available for

2016-2021

Market Analysis

US$ Mn for Value

Key Regions Covered

North America
Latin America
Europe
South Asia
East Asia
Oceania
The Middle East & Africa

Key Countries Covered

US
Canada
Brazil
Mexico
Argentina
Germany
U.K.
France
Italy
Spain
Russia
BENELUX
China
Japan
South Korea
India
Thailand
Indonesia
Malaysia
Australia
New Zealand
South Africa
GCC Countries
Turkey

Key Market Segments Covered

Product
Drug Class
Distribution Channel
Indication
Region

Key Companies Profiled

Janssen Biotech, Inc.
Novartis International Ltd.
Amgen Inc.
Pfizer Inc.
Takeda Pharmaceutical Company Ltd.
Merck & Co, Inc.
Abb Vie Inc.
Eli Lilly and Company
Boehringer Ingelheim GmbH
Sun Pharmaceutical Industries Ltd.

Pricing

Available upon Request
Key Segments Covered in Psoriasis Drugs Industry Research
Psoriasis Drugs Market by Product:
Topical Psoriasis Drugs
Oral Psoriasis Drugs
Injectable Psoriasis Drugs
Psoriasis Drugs Market by Drug Class:
Interleukin Inhibitors
Corticosteroids
Anti-inflammatory
Tumor Necrosis Factor Inhibitors
Psoriasis Drugs Market by Distribution Channel:
Hospital Pharmacies
Retail Pharmacies
e-Commerce
Psoriasis Drugs Market by Indication:
Guttate Psoriasis
Inverse Psoriasis
Pustular Psoriasis
Erythrodermic Psoriasis
Plaque Psoriasis
Psoriasis Drugs Market by Region:
North America Psoriasis Drugs Market
Latin America Psoriasis Drugs Market
Europe Psoriasis Drugs Market
South Asia Psoriasis Drugs Market
East Asia Psoriasis Drugs Market
Oceania Psoriasis Drugs Market
Middle East and Africa (MEA) Psoriasis Drugs Market