Polyhedral Oligomeric Silsesquioxane Market
Global Market Study on Polyhedral Oligomeric Silsesquioxane (POSS): Growth of Plastic & Polymer Industry Opening Up New Opportunities
Polyhedral Oligomeric Silsesquioxane Market is Segmented by applications include antistatic and shielding plastics for displays, computers, electronic packaging, business equipment products, and aircraft canopies.
Introduction
Polyhedral oligomeric silsesquioxane (POSS) is used to upgrade the properties of existing patented compositions, while enabling the patentability of the new material composition. POSS is used by manufacturers and end users to develop new enhanced products.
The synthesized products can be patented in the future and could develop into a new chain of products. In addition to being biocompatible and recyclable, POSS releases no volatile organic compounds (VOCs), thus coming across as an environmentally-friendly product.
So far, there are over 800 patents and around 2,300 published papers on POSS, numbers that indicate a very high level of interest. Publications reflect academic interest, and the patents indicate the level of commercial interest. Commercial applications have increased steadily over the years, and we see new applications all the time.
Applications are in diverse areas, including packaging, dental, aerospace, electronics, and adhesives. One or two very niche applications exist already, and it is expected that new applications will gradually be found over the coming decades, thereby aiding the growth of the polyhedral oligomeric silsesquioxane market in the future.
Find Out More about the Report Coverage
Companies
Hybrid Plastics Inc.
Sigma-Aldrich (Merck KGaA)
Reade International Corp
Nanoshel LLC
CONSTRUE CHEMICAL Co., LTD
Alfa Chemistry
Novachemistry
Product Enhancement Advantage of POSS
Manufacturers use POSS segments for enhancing the physical and chemical properties of the composition of products. These segments are used in plastics, which results in enhanced fire retardation, lightweight, improved mechanical properties, and others.
POSS is used for improvement or enhancement of products, which gives manufacturers the liberty to develop custom products, Because of its chemical nature, POSS technology can be tailored to meet resin and consumer compatibility needs.
Owing to such properties, the popularity of POSS is increasing significantly among end users, which is propelling the growth of the polyhedral oligomeric silsesquioxane market.
Customize this Report
Explore Intelligence Tailored to Your Business Goals.
POSS Implementation in Defense & Air Force Systems
The defense services have portrayed high interest in developing products with POSS.
Air Force Research Laboratory - Aerospace Systems Directorate have also registered multiple patents in the POSS market.
EagleShield's rifle bore cleaner has earned approval from the United States Department of Defense, making it just the second such product to meet military specifications.
The POSS market hasn't matured completely, and holds high potential in the future, as new applications are yet to be explored.
Market Research Methodology - Perfected through Years of Diligence
A key factor for our unrivaled market research accuracy is our expert- and data-driven research methodologies. We combine an eclectic mix of experience, analytics, machine learning, and data science to develop research methodologies that result in a multi-dimensional, yet realistic analysis of a market.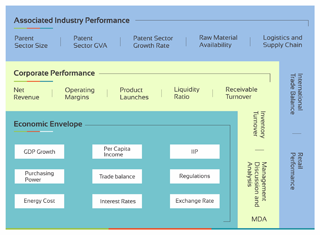 Polyhedral Oligomeric Silsesquioxane Market Trends
The polyhedral oligomeric silsesquioxane market holds high potential in the elastomer and plastic industry. Market participants in the plastic industry invest extensively in R&D to develop better quality products, so as to decrease VOC emissions and introduce environmentally-friendly products. With over 800 patents on POSS having been introduced in recent years, market is expected to develop extensively in the coming years.
POSS additives are becoming well-known for coating applications, which include optical coatings, antireflective coatings, and photolithography.
Studies have shown the benefits of incorporating POSS in polyphenylenesulfide (PPS) and polyetheretherketone (PEEK). Effective loading levels are low, and thereby provide economic and manufacturing advantages with broad appeal.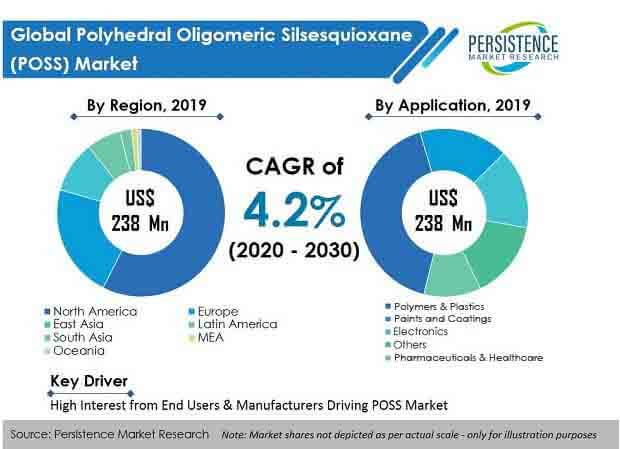 Explore Persistence Market Research's expertise in promulgation of the business !
Polyhedral Oligomeric Silsesquioxane Market: Structure Analysis
The polyhedral oligomeric silsesquioxane market is still in an initial phase of development. Hybrid Plastics Inc. is an innovator and the sole manufacturer of POSS as of today, thereby holding the whole polyhedral oligomeric silsesquioxane market share.
The company owns/controls the basic composition of matter and synthesis patents covering POSS compounds. Its extensive intellectual property portfolio allows the company to support its customers commercializing POSS in their products.
Due to its monopoly in POSS manufacturing, cost is on the higher side. Several prominent suppliers are involved in the global POSS market, such as Sigma-Aldrich (Merk KGaA), Reade International Corp, Grafen Co., Nanoshel LLC, and others.
POSS Market: COVID-19 Impact Analysis
Since the polyhedral oligomeric silsesquioxane market is still in its growth stage, the coronavirus pandemic is anticipated to have a detrimental impact on its expansion prospects. The pandemic's outbreak has impacted a number of end-use industries, resulting in supply chain and production cycle disruptions in response to countries' decisions to impose nationwide lockdowns.
At the same time, industries such as plastics have received a significant boost, attributed to the need for essential personal protective equipment such as gloves, gowns, face shields, and masks. An increase in plastic ventilator components and single-use packaging for medical equipment has also been witnessed. Owing to such developments, the scope of POSS is set to expand during the course of the pandemic.
However, the overall economic trough experienced as a result of business shutdowns will restrain the growth of the polyhedral oligomeric silsesquioxane market. For instance, the aerospace industry has been experiencing a downturn in its operations, owing to suspension of flight operations.
Airline bookings have plummeted in response to regulations and business restrictions on travel. With falling airline operations, the need for airplane maintenance has also declined. Since aerospace makes extensive usage of POSS-based nanocomposite particles for the manufacturing airplane spare parts, the industry will face a dip throughout the duration of the pandemic.
Analysts' Viewpoint
Research into polymers incorporating polyhedral oligomeric silsesquioxane has intensified over the past several years, revealing new fundamental polymer physics, new synthetic routes, and unexpected applications. Several research laboratories across the globe are emphasizing on the development of POSS products. The polyhedral oligomeric silsesquioxane market size hasn't matured completely, and holds high potential in the future, as new applications are still being explored.
Key Segments of Polyhedral Oligomeric Silsesquioxane Market
PMR's study on the polyhedral oligomeric silsesquioxane market is divided into four significant segments – type, form, function, application, and region. This report offers comprehensive data and information about important market dynamics and growth parameters related to these categories.
Type

Molecular Silica POSS
Monofunctional POSS
Multifunctional POSS

Form

Function

Additives
Chemical Intermediate
Others

Application

Polymers & Plastics
Electronics
Pharmaceuticals & Healthcare
Paints & Coatings
Others

Region

North America
Latin America
Europe
South Asia
East Asia
MEA
Oceania
Key Questions Answered in PMR's Polyhedral Oligomeric Silsesquioxane Market Report
Which region is anticipated to hold a prominent share in the global POSS market over the forecast period?
What will be the key driving factors propelling the demand for polyhedral oligomeric silsesquioxane during the forecast period?
How will current trends will impact the polyhedral oligomeric silsesquioxane market?
Who are the significant market participants in the polyhedral oligomeric silsesquioxane market?
What are the crucial strategies of prominent players in the polyhedral oligomeric silsesquioxane market to upscale their positions in this landscape?
Our Clients