Introduction
The high demand for pallets for creating a cold environment owing to the convenience of surface and height optimization is driving the growth in the market. The growing regional food sector is expected to drive the demand in the global market for storage networking. Smart pallets comprising of RFID microchips place inside the plank are the latest advancements in the market, thereby propelling the growth ahead.
The integration of RFID tags is highly sought after in the market on the pretext of different functionalities such as product tracking, inventory management, and asset tracking. Its widespread application in different industrial sectors including warehousing., manufacturing, and construction has substantially increased its consumption across the globe. The growing quest to automate the supply chains is further creating growth prospects for the manufacturers of these smart commodities.
Non-wooden pallets are picking up pace as ideal alternatives in regions such as North America and Europe. The Plastics material is expected to emerge as a highly popular material owing to the ease of cleaning. Recyclability has emerged as a major trend in the market, driving market progress. Leading players profiled in the global pallets market are Palettes Gestion Services, Craemer Holding GmbH, Shanghai Lika Plastic Pallet Manufacturing Co., Ltd., ORBIS Corporation, and Rehrig Pacific Company, Inc.
Surge in Automation and Digitalization of Pallets
The use of radio-frequency identification (RFID) tags for product tracking, especially in plastic pallets, is increasing rapidly since the recent past. These tags can contain more information and can easily be located within the warehouse.
Vendors have started using robots for processes such as pallet nailing, pallet dismantling, and pallet repair. In future, robots are expected to boost production with limited personnel requirement. This factor is likely to contribute significantly towards the growth of global pallet market over the forecast period.
Clad-rack Warehouses - Optimum Solution for Cold Storage
Pallets are anticipated to witness significant demand in the foreseeable future as these are utilized to create a cold environment. Pallets are stacked together to develop clad-rack warehouses as they support their own weight along with providing a vertical cladding.
These racks are widely used in cold storage due to surface and height optimization. As a result, manufacturers of storage pallets will witness huge demand in the future from the growing regional food processing equipment industry.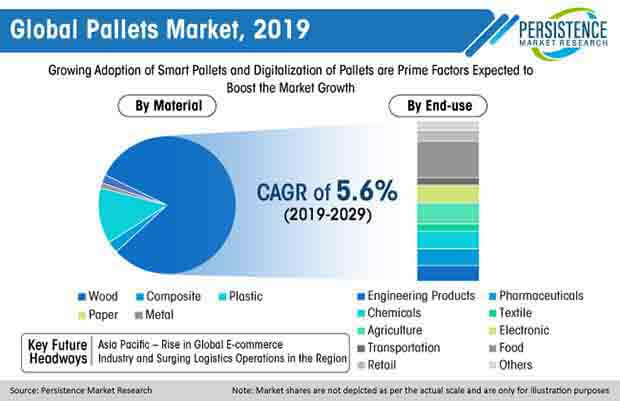 Increasing Adoption of Smart Pallets
Increasing deployment of smart pallets in most regions is expected to propel the demand for pallets in the coming years. Smart pallets comprise of an RFID microchip placed inside the central plank of the pallet, to collect information in real time. Smart pallets offer a solution for product tracking, asset tracking, and inventory management.
In the coming years, the need of smarter pallets is anticipated to increase as the supply chain is likely to become automated. Moreover, utilization of pallets is gaining attraction among new users. Owing to growth of manufacturing, construction, warehousing, and construction sectors globally, pallet utilization will readily increase.
Preference of New Users for Recyclable Pallets
Non-wood pallets or alternative pallets are anticipated to witness massive increase in demand in several regions such as Europe and North America. Among these, plastic pallets will remain the most attractive option due to the ease with which these can be cleaned. In addition, they are not only more likely to be made from recycled materials, but also be recyclable themselves. This is a very attractive benefit for companies, which are focused on being sustainable in the long run.
Pallets Market Remains a Fragmented Landscape
The global pallets market is identified to be fairly fragmented market with key market players holding around 8-10% market share. Around half of the global pallets market value is accounted by a large number of smaller pallet manufacturing companies that operate in regional and local markets. This makes the pallet market highly fragmented. Furthermore, partnerships and collaborations with other market players remain key trends among pallet manufacturers.
In May 2017, Brambles' subsidiary CHEP signed a new agreement with Cott to become its pallet provider in the U.S.
Analyst's Viewpoint
While the global pallet market will reach the whopping US$ 95 billion in value by the end of next decade, wood-based pallets are most likely to be dominating the market in terms of sales volume. We expect the growth of global pallets market to follow a healthy trail, whereas that of the market in Asia Pacific would also be at a promising 6% CAGR during 2019 - 2029. Europe will also be among the key markets for pallets manufacturers, as concluded by the analysis.
Key Segments of the Pallets Market
PMR's study on the pallets market is divided into three segments- gas type, application, and region. This report offers comprehensive data and information about the important market dynamics and growth parameters related to these categories.
Attribute
Details
Material

Wood
Composite
Plastic
Paper
Metal

Structural Design

Block
Stringer
Customized

End Use

Engineering Products
Pharmaceuticals
Chemicals
Textile
Agriculture
Electronic
Transportation
Food
Retail
Others

Region

North America
Europe
Latin America
Asia Pacific
Middle East & Africa (MEA)
Key Questions Answered in PMR's Pallets Market Report
Which region is anticipated to hold a prominent market share over the forecast period?
What will be the key driving factors propelling demand for pallets during the forecast period?
How will current trends impact the pallets market?
Who are significant market participants in the pallets market?
What are the crucial strategies of key players in the pallets market to improve their market positions?